December 6th: The Biggest Music Headlines
Scroll down the page to see all the music headlines, stories and events for December 6 throughout music history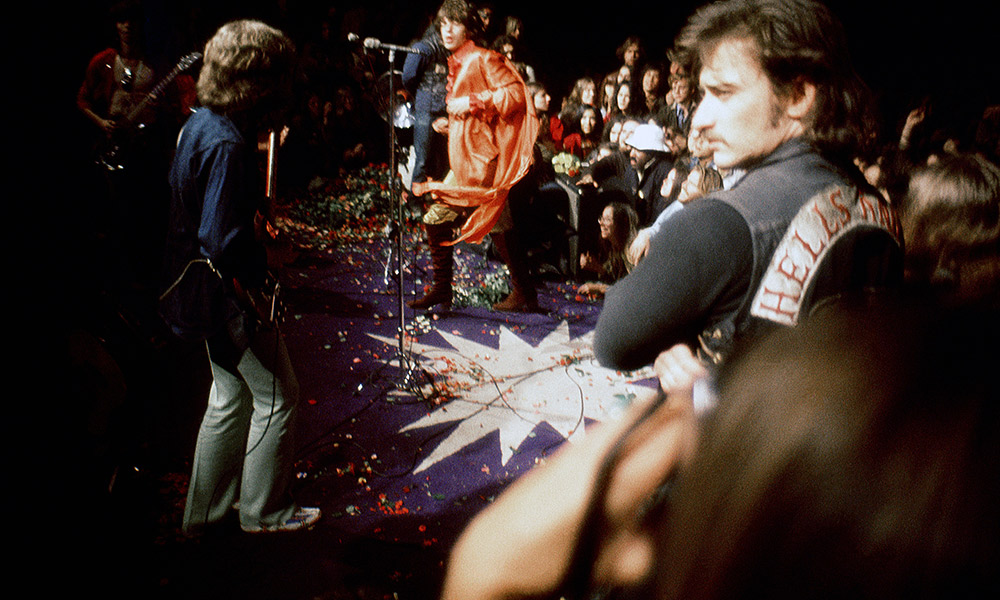 The Peace, Love, and Music Era Ends at Altamont
On this day in music, December 6, 1969, nearly 300,000 people in California's Bay Area trekked to the Altamont Speedway for a free day of music, headlined by The Rolling Stones. The highly-anticipated festival (which many hoped would be "Woodstock West") offered a stellar line-up, including Santana, Jefferson Airplane, the Flying Burrito Brothers, and Crosby, Stills, Nash & Young. Unfortunately, Altamont would soon be declared "rock and roll's all-time worst day," by Rolling Stone, as the day turned increasingly violent. Antagonistic crowds clashed with the Hell's Angels, who were hired as security for the day. One man, Meredith Hunter, was killed by the motorcycle gang, while two accidental deaths and dozens of injuries occurred. Captured in the documentary Gimmie Shelter, Altamont is frequently considered the metaphorical end of the '60s.
In 1988, singer and songwriter Roy Orbison, who pioneered rockabilly and country rock, died at the age of 52. Known for his expressive vocals and vulnerable lyricism, "The Big O" was signed by Sun Records in 1956, where he created several hits, but his greatest days came with Monument Records. Between 1960 and 1966, a remarkable 22 of Orbison's singles reached the Billboard Top 40, including "Only the Lonely," "Crying," and "Oh, Pretty Woman."
In 2008, Beyoncé debuted at the top of the Billboard 200 with I Am… Sasha Fierce , the pop icon's third studio album. The feat made the superstar the third female artist of the new millennium – alongside Britney Spears and Alicia Keys – to see her first three albums debut in the top spot.
In 1986, Europe reached No.1 on the UK singles chart with "The Final Countdown." The iconic track from the Swedish band was originally penned as a concert opener.
In 2019, after scoring his 13th No.1 with The Christmas Present, Robbie Williams was tied with Elvis Presley for being the most successful solo act in UK album chart history.
In 1975, Paul Simon scored his first No.1 album as a solo artist with Still Crazy After All These Years.
In 2018, Pete Shelley, founder of punk icons the Buzzcocks, died at the age of 63.
In 1968, The Rolling Stones released Beggars Banquet, their seventh UK studio album (and ninth in the US). Featuring songs like "Sympathy for the Devil," and "Street Fighting Man," it was the band's first collaboration with producer Jimmy Miller, who would shape some of the band's most successful projects.
In 1969, Led Zeppelin made their debut on the US singles chart with "Whole Lotta Love."
Looking for more things that happened on this day in music?
Keep scrolling for all of the headlines for December 6.
BORN ON DECEMBER 6:
1920: Dave Brubeck
1955: Rick Buckler (The Jam)
1956: Peter Buck (R.E.M.)
1956: Randy Rhoads (Quiet Riot, Ozzy Osbourne)
1961: David Lovering (The Pixies)
1970: Ulf Ekberg (Ace of Base)
Looking for more artists born on this day?
Keep scrolling for all of our December 6 birthdays.
---
What to find another day?
---
December 6th
6 Dec 2022
Jet Black English drummer and founding member of punk rock/new wave band The Stranglers died aged 84. He last performed with the band in 2015, and officially retired in 2018. The Stranglers scored 23 UK top 40 singles and 19 UK top 40 albums in a career spanning five decades, and are one of the longest-surviving bands to have originated in the UK punk scene.
6 Dec 2019
Robbie Williams became the joint most successful solo act in UK album chart history after scoring his 13th No.1, with The Christmas Present - level with
Elvis Presley
.
The Beatles
hold the overall record with 15 UK No.1 albums.
6 Dec 2018
English singer, songwriter and guitarist Pete Shelley died of a suspected heart attack aged 63. He formed the new wave/punk rock band
Buzzcocks
with Howard Devoto in 1976, (who latter left to form Magazine).
Buzzcocks
had the 1978 UK No.12 single 'Ever Fallen In Love, With Someone You Shouldn't've' and was know for the hits 'Orgasm Addict', 'What Do I Get?'and 'Everybody's Happy Nowadays'. Shelley also had a solo career: his song 'Homosapien' charted in the US in 1981.
6 Dec 2016
It was reported that more money had been spent on vinyl than downloaded albums for the first time. Vinyl sales made the record industry £2.4m, while downloads took in £2.1m, the Entertainment Retailers Association (ERA) said. It marked a big shift in music consumption. In the same week the previous year, vinyl albums made £1.2m while digital ones made £4.4m.
6 Dec 2013
The electric guitar played by
Bob Dylan
at the 1965 Newport Folk Festival was sold at auction in New York for a record $965,000. The Fender Stratocaster had been in the possession of a New Jersey family for 48 years after Dylan left it on a private plane.
6 Dec 2011
American singer and songwriter Dobie Gray died from complications of cancer surgery in Nashville, Tennessee at the age of 71. His hit records included 'The 'In' Crowd' in 1965 and 'Drift Away', which was one of the biggest hits of 1973, and went on to sell over one million copies.
6 Dec 2008
Beyonce went to No.1 on the US album chart with 'I Am' Sasha Fierce', the singers third studio album. It debuted at No.1, making Knowles the third female artist this decade after
Britney Spears
and Alicia Keys to have her first three albums debut in the top spot.
6 Dec 2005
Robbie Williams accepted substantial libel damages over claims that he was secretly homosexual. The People newspaper, Star and Hot Stars magazines in 2004 published stories alleging Mr Williams had engaged in casual homosexual sex. The publications' owners, MGN Limited and Northern & Shell plc, now accepted the stories were untrue and had agreed undisclosed damages. Tom Shields QC, told the court: "Mr Williams is not, and has never been, homosexual."
6 Dec 2003
Elvis Costello married jazz artist Diana Krall in a ceremony at
Elton John
's UK mansion. About 150 guests, including
Paul McCartney
attended the wedding. It was Costello's third marriage.
6 Dec 1994
Tower Records released
The Beatles
'Live At The BBC', a 69 track, double album of tunes recorded for BBC shows such as Top Gear, Easy Beat, Saturday Club and Pop Go
The Beatles
. The LP will rise straight to the top of the UK chart, selling over 600,000 copies by the end of the year and 2,000,000 in the US four weeks later.
6 Dec 1988
American singer songwriter
Roy Orbison
died of a heart attack aged 52. Scored the 1964 UK & US No.1 single 'Pretty Woman', plus over 20 US & 30 UK Top 40 singles including 'Only the Lonely' and 'Crying'. Formed his first band The Wink Westerners in 1949, was a member of The
Traveling Wilburys
(known as Lefty Wilbury) with
Bob Dylan
,
George Harrison
, Jeff Lynne and
Tom Petty
and had the 1988 UK No.21 single 'Handle With Care'. Orbison endured a great deal of tragedy in his life. His first wife, Claudette died in a motorcycle accident in 1966 and two of his three sons, died in a house fire.
6 Dec 1986
Europe were at No.1 on the UK singles chart with 'The Final Countdown'. They became only the second Swedish act to score a UK No.1. The song reached No.1 in 25 countries and the song's lyrics were inspired by
David Bowie
's song '
Space Oddity
'
6 Dec 1983
Duran Duran
appeared live at the Apollo, Manchester, England.
6 Dec 1978
Sex Pistols
Sid Vicious smashed a glass in the face of Patti Smith's brother Todd Smith during a fight at New York City club Hurrah.
6 Dec 1975
Paul Simon
went to No.1 on the US album chart with 'Still Crazy After All These Years', his first US No.1 solo album.
6 Dec 1975
Rev Charles Boykin of Tallahassee, Florida organised the burning of
Elton John
and The
Rolling Stones
records, claiming they were sinful. Boykin was reacting to the results from a survey that said, 984 of the 1,000 local unmarried mothers had sex when listening to rock music.
6 Dec 1972
While reading the morning newspaper in Nice, France, Rolling Stone
Keith Richards
was surprised to learn that arrest warrants had been issued for him and his girlfriend, Anita Pallenberg for drug possession.
6 Dec 1969
Led Zeppelin
made their debut on the US singles chart with 'Whole Lotta Love', it went on to make No.4 on the chart and was the first of six Top 40 singles for the group in the US. During the bands career, Zeppelin never released any singles in the UK.
6 Dec 1969
One Hit Wonders
Steam started a two week run at No.1 on the US singles chart with 'Na Na Hey Hey Kiss Him Goodbye'. The song was actually recorded by Gary De Carlo, who intended it to be the "B" side of his first single. Gary didn't like the song and when record executives wanted to issue it as the "A" side, he insisted it be released under an assumed name. The song became a UK No.5 single for girl group Bananarama in 83.
6 Dec 1969
The
Rolling Stones
played a free festival at Altamont in California, along with Jefferson Airplane,
Santana
, The Flying Burrito Brothers and
Crosby Stills Nash & Young
.
Rolling Stones
fan Meredith Hunter was stabbed to death as the group played by Hell's Angels who'd been hired to police the event. It's claimed Hunter was waving a revolver. One other man drowned, two men were killed by in a hit-and run accident and two babies were born.
6 Dec 1968
The
Rolling Stones
released
Beggars Banquet
their seventh UK studio album. For the album, (which included 'Street Fighting Man', and 'Sympathy for the Devil'), the Stones had gone to great lengths to toughen their sound and banish the haze of psychedelia, and in doing so, they launched a five-year period in which they would produce their very greatest records.
6 Dec 1966
The Beatles
recorded Christmas and New Year's greetings for pirate radio stations Radio Caroline and Radio London. Both stations were broadcasting from ships anchored off the British coastline.
6 Dec 1965
The
Rolling Stones
recorded '19th Nervous Breakdown' and 'Mother's Little Helper' at RCA's Hollywood Studios in Los Angeles.
6 Dec 1964
The film 'Ferry Cross The Mersey' premiered in London. Featuring Gerry And The Pacemakers, Cilla Black and other Liverpool acts. It was written by Tony Warren, creator of the UK's longest running TV soap 'Coronation Street'.
6 Dec 1962
During sessions for the 'Freewheelin'
Bob Dylan
' album,
Bob Dylan
recorded 'A Hard Rain's A-Gonna Fall' and versions of 'Hero Blues', 'Whatcha Gonna Do', 'Oxford Town', and 'I Shall Be Free', at Studio A, Columbia Recording Studios in New York City.
6 Dec 1961
John Lennon
,
Paul McCartney
,
George Harrison
and Pete Best met with Brian Epstein for further discussions about his proposal to manage them. Epstein wanted 25% of their gross fees each week. He promises that they will never again play for less than £15, except for The Cavern lunchtime sessions, for which he will get their fee doubled to ten pounds. Lennon, as leader of
The Beatles
accepts on their behalf.
6 Dec 1949
American blues artist, Leadbelly died. Huddie William Ledbetter wrote many songs including 'Goodnight Irene', 'Cotton Fields', 'The Rock Island Line', and 'The Midnight Special'. Leadbelly was jailed several times for fights and knife related incidents, he was once jailed for shooting a man dead during an argument over a woman.
Born on this day in music
6 Dec 1970
Ulf Ekberg, keyboards, vocals with Swedish pop group Ace Of Base who had the 1993 UK No.1 single 'All That She Wants' and the 1994 US No.1 single 'The Sign'. The group sold more than 30 million albums worldwide, making it the third-most successful Swedish band of all time, after
ABBA
and Roxette.
6 Dec 1969
Mark Gardener, Ride, (1992 UK No.9 single 'Leave Them All Behind').
6 Dec 1962
Ben Watt, Everything But The Girl, (1995 UK No.3 & 1996 US No.2 single 'Missing').
6 Dec 1961
David Lovering, drummer who with American alternative rock band Pixies, who released the 1988 album Surfer Rosa. They influenced bands such as
Nirvana
,
Radiohead
, Bush, Blur and Weezer.
6 Dec 1956
American heavy metal guitarist Randy Rhoads from Quiet Riot and later the Ozzy Osbourne band. A devoted student of classical guitar, (and guitar teacher), Rhoads combined his classical music influences with his own heavy metal style. He died in an aircraft crash while on tour with Osbourne in Florida on 19 March 1982.
6 Dec 1956
Peter Buck, guitar,
R.E.M.
(1991 UK No.6 & US No.10 single 'Shiny Happy People', plus over 20 Top 40 UK singles, 1992 UK No.1 & US No.2 album 'Automatic For The People').
6 Dec 1955
Edward Tudor-Pole, vocals, actor, Tenpole Tudor, (1981 UK No.6 single 'Swords Of A Thousand Men'), appeared in the film 'Absolute Beginners' and became the presenter on TV's Crystal Maze.
6 Dec 1955
Rick Buckler, drummer with
The Jam
who had 18 consecutive Top 40 singles in the United Kingdom, from their debut in 1977 to their break-up in December 1982, including four No.1 hits. 'That's Entertainment' and 'Just Who Is the 5 O'Clock Hero?' remained the best-selling import singles of all time in the UK.
6 Dec 1948
Linda Creed (also known by her married name Linda Epstein), American singer-songwriter and lyricist who teamed up with songwriter-producer Thom Bell and co wrote hits for the Stylistics, including 'You Are Everything', 'Betcha by Golly, Wow' and 'You Make Me Feel Brand New'. Diagnosed with breast cancer at 26, Creed kept on working. Whitny Houston recorded her song 'The Greatest Love of All' for her 1985 self-titled debut album. Creed died of breast cancer on 10 April 1986, at the age of 37.
6 Dec 1947
Miroslav Vitous, Weather Report who had the 1976 single 'Birdland' and the 1977 album Heavy Weather.
6 Dec 1947
Fritz Fryer, from English 1960s pop group The Four Pennies who had the 1964 UK No.1 single 'Juliet'.
6 Dec 1944
Jonathan King, UK pop mogul, singer, producer, TV presenter, (1965 UK No.4 single 'Everyone's Gone To The Moon', plus 12 other UK Top 40 singles under various names, Bubblerock, Shag, Weathermen, Father Abraphart, Sakkarin). King was jailed for seven years in 2001 for sex attacks on five boys.
6 Dec 1943
Keith West, (Keith Hopkins), UK singer, (1967 UK No.2 single 'Excerpt From A Teenage Opera').
6 Dec 1942
Robb Royer, American musician and songwriter, best known as a founding member of Bread from 1968 to 1971. While he was with the band, they had a UK No. 5 and US No. 1 hit single with 'Make It With You'.
6 Dec 1935
American soul singer George Williams. With The Tymes he had the 1963 US No.1 hit 'So Much in Love' and the 1975 UK No.1 hit 'Ms Grace'. He died on 28 July 2004.
6 Dec 1920
Dave Brubeck, jazz pianist, (1962 UK No.12 album 'Time Further Out'). Brubeck died of heart failure one day before his 92nd birthday on December 5, 2012.
6 Dec 1916
Hugo Peretti, songwriter, producer. Wrote many classic hits including, 'Twistin' The Night Away', 'Shout', 'You Make Me Feel Brand New.' Died on 1st May 1986.