February 10th: The Biggest Music Headlines
Scroll down the page to see all the music headlines, stories, and events for February 10 throughout music history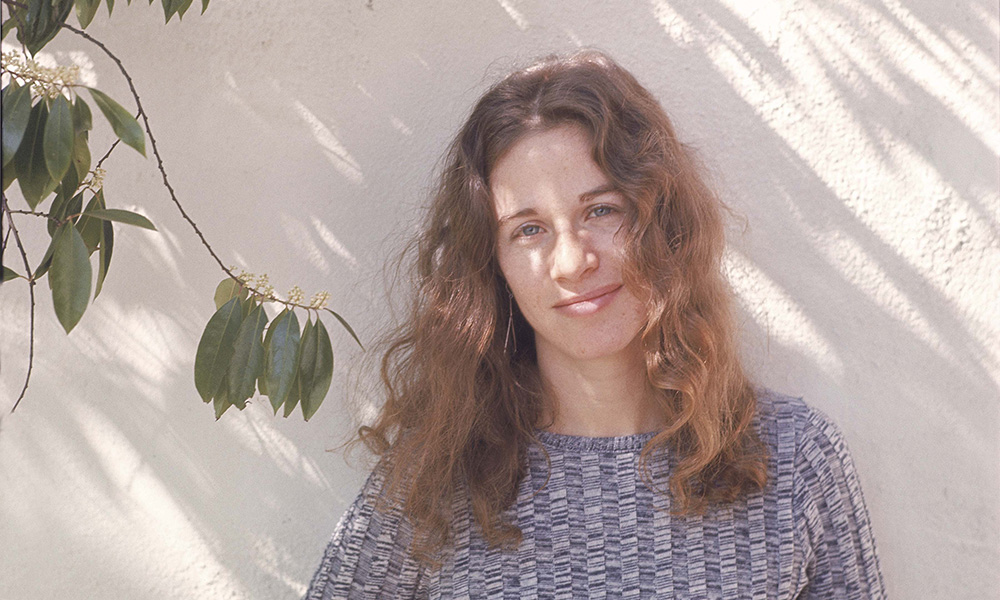 Carole King Releases 'Tapestry'
On this day in music, February 10, 1971, Carole King released her chart-topping masterpiece, Tapestry. The singer-songwriter's sophomore album not only featured some of her most iconic hits, including "I Feel the Earth Move" and "It's Too Late," but also included several of her compositions that found success in the hands of other artists ("Will You Love Me Tomorrow" and (You Make Me Feel Like) A Natural Woman" among them). Tapestry and its songs earned King four Grammy Awards (including Album of the Year) and made her the first solo female artist to win Record of the Year and Song of the Year. In the decades since its release, the album has sold more than 30 million copies worldwide, making it one of the best-selling albums of all time.
In 1978, Van Halen released their self-titled debut album. Comprised of some of the band's best-loved hits, including "Running with the Devil," and a cover of the Kinks' "You Really Got Me," Van Halen also showcased guitarist Eddie Van Halen's otherworldly talents (including his signature two-handed tapping on tracks like "Eruption"). The album, which peaked at No.19 on the Billboard 200, went on to become one of the band's best-selling releases, while it remains one the greatest debuts in rock history.
In 1942, "Chattanooga Choo Choo" by Glenn Miller and His Orchestra became the first recording to be awarded a Gold record in the US. As a publicity stunt, RCA Records sprayed a master copy of the disc with gold lacquer, but the Gold Record recognized today by the RIAA would not be created until 1958. The first single to earn a Gold Record from the RIAA was Perry Como's 1957 hit, "Catch a Falling Star," while the 1955 Oklahoma! soundtrack was the first Gold-certified album.
In 1977, The Clash began work on their self-titled debut at London's CBS Studios. Recorded and mixed for just £4000 over three weekend sessions in February, the album was released in the UK that April and featured some of the earliest charting punk singles, "Janie Jones" and "White Riot." The Clash was released two years later in America and featured a different track listing.
In 1997, Blur released their self-titled fifth album. A classic of the Britpop era, Blur found the band adopting influences from American indie rock bands. Despite the stylistic departure, the album was a commercial success, helping the band breakthrough in the US, with hits like "Song 2." In the UK, the album hit No.1, as did its lead single, "Beetlebum."
Looking for more things that happened on this day in music?
Keep scrolling for all of the headlines for February 10.
BORN ON FEBRUARY 10:
1929: Jerry Goldsmith (Composer)
1937: Roberta Flack
1958: Walter Afanasieff (Producer, songwriter)
1962: Cliff Burton (Metallica)
Looking for more artists born on this day?
Keep scrolling for all of our February 10 birthdays.
---
What to find another day?
---
February 10th
10 Feb 2017
Universal Records struck a deal to release much of the late musician
Prince
's private archive. Universal said the deal gave it exclusive licensing rights to Prince's "highly anticipated trove of unreleased works". It had also acquired the rights to 25 albums that Prince released through NPG Records, the label that he founded.
10 Feb 2014
A Seattle woman was charged for allegedly sending Soundgarden singer Chris Cornell a number of chilling death threats and threats to harm his children. The singer was sent over 100 different messages by Elizabeth Walden who had nine different Twitter accounts. Prosecutors said the tweets constituted cyber-stalking and filed criminal charges against her.
10 Feb 2008
Amy Winehouse
won five prizes at this year's Grammy Awards, including song of the year and record of the year, both for her single 'Rehab', and best new artist. The UK singer was not at the Los Angeles ceremony to collect them due to visa problems. Instead, she made an acceptance speech by satellite, paying tribute to her husband, "my Blake incarcerated", who was in custody awaiting trial on charges of attempting to pervert the course of justice and grievous bodily harm.
10 Feb 2006
American record producer and MC James Dewitt Yancey, (A.K.A. J Dilla or Jay Dee), died of a rare blood disease, at his home in Los Angeles, California. Yancey had toured Europe in 2005 performing from a wheelchair.
10 Feb 2005
Prince
topped Rolling Stone magazine's annual list of the years biggest money earners after his 2004 tour grossed over $90 million (£53 million).
Madonna
came in second place after earning $54.9 million (£34.3 million) and
Metallica
came third with $43 million (£25.3 million).
10 Feb 2005
Who
singer Roger Daltrey was awarded the CBE by The
Queen
at Buckingham Palace for services to the music industry.
10 Feb 2004
Diana Ross was sentenced to two days in jail after pleading 'no contest' to a drink driving charge. She was allowed to enter her plea over the telephone from New York; her lawyer said the singer would serve her term at a prison near her Los Angeles home. Ross was arrested in December 2002 after tests indicated she was twice over the drink- drive limit.
10 Feb 2002
American folk singer Dave Van Ronk died aged 65. An important figure in the American folk music revival and New York City's Greenwich Village scene in the Sixties, he was nicknamed the "Mayor of MacDougal Street".
Bob Dylan
recorded Van Ronk's arrangement of the traditional song 'House of the Rising Sun' on his first album, which The Animals turned into a No.1 UK single in 1964, helping inaugurate the folk-rock movement.
10 Feb 2001
Police were investigating
Eminem
over suspected drugs offences after he appeared to consume Ecstasy pills and encouraged the audience at his Manchester show to take drugs. Over 100 gay rights protesters picketed the show.
10 Feb 1998
Axl Rose
was charged with disorderly conduct following a row with a baggage handler at Arizona Airport, Rose was later released on bail.
10 Feb 1997
Blur released their eponymous fifth studio album. As well as lead single, 'Beetlebum', reaching the top of the UK charts the album also reached the top 20 in six other countries. The success of 'Song 2' led to Blur becoming the band's most successful album in the US where the Britpop scene had been largely unsuccessful.
10 Feb 1993
On a special edition of the Oprah Winfrey show,
Michael Jackson
gave his first TV interview for 14 years, live from his Neverland Valley Ranch.
10 Feb 1990
Paula Abdul started a three week run at No.1 on the US singles chart with 'Opposites Attract', her fourth US No.1, a No.2 hit in the UK.
10 Feb 1984
Frankie Goes To Hollywood were at No.1 on the UK singles chart for the third week with 'Relax.' Eurythmics had the UK No.1 album with 'Touch.'
10 Feb 1979
Rod Stewart
started a four week run at No.1 on the US singles chart with 'Da Ya Think I'm Sexy', his third US No.1. (and a No.1 hit in the UK). Also today Rod started a three-week run at No.1 on the US album chart with Blondes Have More Fun.
10 Feb 1978
Van Halen
released their self-titled debut studio album. Peaking at No.19 on the Billboard 200 the album went on to sell more than 10 million copies in the US. The album contains some of Van Halen's most well-known songs, including 'Runnin' with the Devil', 'Ain't Talkin' 'bout Love', 'Jamie's Cryin'', and their cover of The Kinks' 'You Really Got Me'. The 1 minute and 42 second Eddie Van Halen instrumental 'Eruption' featured on the album is considered one of the best electric guitar solos of all time and popularised the technique of two-handed tapping.
10 Feb 1977
The Clash
started recording their debut album at CBS studios in London, England. The album was recorded over three weekend sessions at CBS Studio 3 in February 1977. By the third of these sessions the album was recorded and mixed to completion, with the tapes being delivered to CBS at the start of March. It cost just £4000 to produce.
10 Feb 1975
Dave Alexander, the original bassist for The Stooges died from pneumonia aged 27. Alexander met Iggy Pop and formed The Stooges in 1967 and had a hand in arranging, composing and performing all of the songs that appeared on the band's first two albums, The Stooges and Fun House. He was fired from the band in August 1970 after showing up at a gig too drunk to play.
10 Feb 1974
Record producer Phil Spector was injured in a car crash. He needed extensive plastic surgery that dramatically altered his looks. Details of how the accident happened were kept secret.
10 Feb 1973
Elton John
had his first UK No.1 album when Don't Shoot Me I'm Only The Piano Player started a six-week run at the top of the charts. The title of the album came from comic actor Groucho Marx of The Marx Brothers who referred to him as 'John Elton' whilst holding out his middle and index finger in the style of a pistol. Elton then retaliated saying "Don't shoot me, I'm only the piano player" at Marx's gun imitation.
10 Feb 1972
David Bowie
appeared at the Tolworth Toby Jug, London, on the opening date of his
Ziggy Stardust
tour playing to around 60 people in the room. The character of Ziggy was initially inspired by British rock 'n' roll singer Vince Taylor. The
Ziggy Stardust
tour played a total of 182 dates.
10 Feb 1971
American singer-songwriter
Carole King
released her second studio album Tapestry. It is one of the best-selling albums of all time, with over 25 million copies sold worldwide. The lead single from the album 'It's Too Late'/'I Feel the Earth Move' spent five weeks at No.1 on the Billboard Hot 100. The cover photograph was taken at King's Laurel Canyon home. It shows her sitting in a window frame, holding a tapestry she hand-stitched herself, with her cat Telemachus at her feet.
10 Feb 1968
The
Four Tops
'Greatest Hits' was at No.1 on the UK album chart, the first No.1 album for the Tamla
Motown
label.
10 Feb 1967
The Beatles
recorded the orchestral build-up for the middle and end of
'A Day in the Life'
. At the Beatles' request, the orchestra members arrived in full evening dress along with novelty items. One violinist wore a red clown's nose, while another, a fake gorilla's paw on his bow hand. Others were wearing funny hats and other assorted novelties. The recording was filmed for a possible 'Sgt. Pepper's Lonely Hearts Club Band' television special which was ultimately abandoned.
Mick Jagger
,
Keith Richards
, Mike Nesmith from The
Monkees
and Donovan also attended the session.
10 Feb 1942
'Chattanooga Choo Choo' by Glenn Miller and his Orchestra became the first recording to be awarded a Gold record. It was actually just a master copy of the disc sprayed with gold lacquer by RCA as a publicity stunt. The actual award recognized today as a Gold Record would not be initiated for another sixteen years when the Recording Industry Association of America (RIAA) borrowed the idea and trademarked the Gold Record. The first Gold single was awarded to Perry Como in 1958 for 'Catch A Falling Star' and the first Gold album was given to Gordon McRae for the soundtrack to 'Oklahoma'.
Born on this day in music
10 Feb 1977
Rosanna Tavarez, singer from Eden's Crush, the American girl group who were created on the American television series Popstars who scored the 2001 Canadian No.1 and US No. 8 single 'Get Over Yourself'.
10 Feb 1962
Cliff Burton
bass player with
Metallica
. Burton was killed on September 27th 1987, when the band's tour bus crashed as it was travelling between Stockholm and Copenhagen. He was found crushed to death under the bus.
10 Feb 1958
Brazilian-American musician Walter Afanasieff known for his long association with
Mariah Carey
, for whom he was co-producer and co-writer for several years, beginning in 1990. He won the 1999 Grammy Award in the Record of the Year category for producing 'My Heart Will Go On' by
Celine Dion
.
10 Feb 1958
Norman Harris, guitarist, songwriter and producer. He worked with The Delfonics, The Trammps and MFSB. Harris died of a heart attack on March 21st 1987.
10 Feb 1949
Nigel Olsson, drummer with the
Elton John
band who has played on some of John's classic albums including Don't Shoot Me I'm Only the Piano Player, Honky Chateau, and Goodbye Yellow Brick Road.
10 Feb 1947
American country rock bass guitarist Chris Ethridge. He was a member of the International Submarine Band and The Flying Burrito Brothers. Ethridge also worked with Nancy Sinatra, Leon Russell, Delaney Bramlett, Johnny Winter, Randy Newman, Ry Cooder, Linda Ronstadt, The Byrds, Jackson Browne, and Willie Nelson. Ethridge died on April 23, 2012 at age 65 from pancreatic cancer.
10 Feb 1946
Clifford T. Ward, UK, singer, songwriter who had the 1973 UK No.8 single 'Gaye'). Ward died on the 18th December 2001.
10 Feb 1946
Kenny Edwards, American singer, songwriter, bassist, guitarist, mandolinist, and session musician. He was a founding member of the Stone Poneys and Bryndle and a long-time collaborator with Linda Ronstadt and Karla Bonof. He died on 18 August 2010 age 64.
10 Feb 1943
Ral Donner, US singer, who had the 1961 US No.4 & UK No.25 single 'You Don't Know What You've Got Until You Lose It'. Donner died on April 6th 1984.
10 Feb 1940
Jimmy Merchant singer with American-Puerto Rican doo wop group Frankie Lymon And The Teenagers, who had the 1956 UK No.1 & US No.6 single 'Why Do Fools Fall In Love'. They are also noted for being rock's first all-teenaged act.
10 Feb 1937
American musician Don Wilson, guitarist with The Ventures who had the 1960 UK No.4 single 'Perfidia', and the 1960 US No.2 single 'Walk Don't Run'.
10 Feb 1937
Roberta Flack, US singer, songwriter, who had the 1972 US No.1 single 'The First Time Ever I Saw Your Face', 1973 US No.1 & UK No.6 single 'Killing Me Softly With His Song'.
10 Feb 1929
Jerry Goldsmith. Created the music for scores of classic movies and television shows 'Star Trek', 'Planet of the Apes', 'The Man from U.N.C.L.E.' and 'Dr. Kildare.' He died after a long battle with cancer on July 21st 2004, aged 75.
10 Feb 1914
Larry Adler, mouth organist, worked as a soloist with many of the world's major symphony orchestras. He played with countless artists from Fred Astaire to George Gershwin and later with
Elton John
and Sting. Recorded the 1994 tribute album 'Glory Of Gershwin'. He died on August 7th 2001, aged 87.