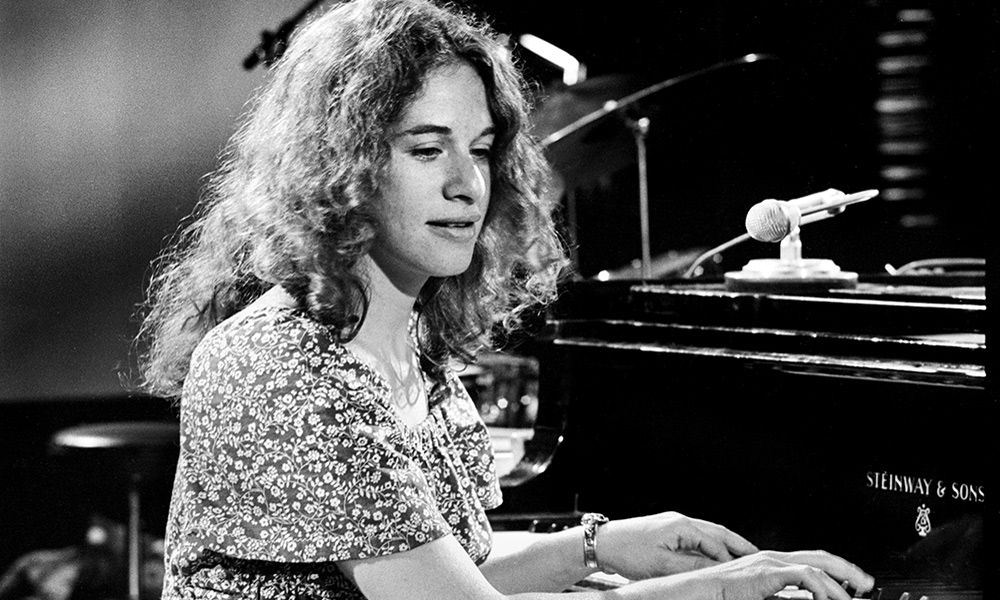 Carole King brought the fledgling singer/songwriter phenomenon to the masses with Tapestry. The first three songs on side one helped make it one of the most successful albums of the seventies: The raunchy "I Feel the Earth Move," "So Far Away" and one of the world's greatest break-up songs, "It's Too Late," co-written with Toni Stern who wrote the lyrics in a day, after her love affair with James Taylor ended. Tapestry stayed at number one for 15 weeks, and enjoyed more than 300 weeks on Billboard's album chart and remained the best-selling album by a female artist for 25 years.
Carole King was born Carol Joan Klein on 9th February 1942 in Manhattan. Her mother, Eugenia was a teacher, and her father, Sidney N. Klein, was a fire fighter for the New York City Fire Department. Carole had an insatiable curiosity about music in general from the time she was about three years old, so her mother began teaching her piano. When Carole was four years old, her parents discovered she had developed a sense of absolute pitch, which enabled her to often name a note correctly by just hearing it.
She attend James Madison High School in the borough of Brooklyn in New York City where she formed a band called the Co-Sines, changed her name to Carole King and made demo recordings with her friend Paul Simon. Her first official recording was the 1958 promotional single "The Right Girl / Goin' Wild", released by ABC-Paramount – with both tracks penned by King.
King met her future song writing partner Gerry Goffin whilst attended Queens College and they married when she was just 17, in a Jewish ceremony on Long Island in August 1959 after King had become pregnant with her first daughter, Louise. With both holding down day jobs, Goffin and King would write songs together in the evening.
The couple's first major success was The Shirelles' 1960/61 Billboard number one and UK number four hit "Will You Love Me Tomorrow", (the first number one by a black all-girl group). Ten years later King recorded her own version for Tapestry, with Joni Mitchell and James Taylor on background vocals.
Over the next 10 years, they wrote some of the sixties biggest songs: "The Loco-Motion," (for their babysitter Little Eva), "Up on the Roof," for the Drifters, "I'm into Something Good" for Earl-Jean (later recorded by British group Herman's Hermits), and "Pleasant Valley Sunday" for the Monkees.
Another classic song by Goffin and King was "(You Make Me Feel Like) A Natural Woman" the 1967 hit for Aretha Franklin, which was inspired by Atlantic Records producer Jerry Wexler. As recounted in his autobiography, Wexler, had been mulling over the concept of the "natural man", when he drove by King on the streets of New York. He shouted out to her that he wanted a "natural woman" song for Aretha Franklin's next album. King went home and wrote the song that night. Over 50 years later Aretha Franklin performed the song at the 2015 Kennedy Center Honors, to honor award-recipient Carole King.
By 1968, Goffin and King were divorced and King moved to Laurel Canyon in Los Angeles to join the bohemian singer-songwriter set. She reactivated her recording career by forming 'The City', a music trio consisting of Charles Larkey, her future husband, on bass and Danny Kortchmar on guitar. The City produced one album, Now That Everything's Been Said in 1968. A change of distributors meant that the album was quickly deleted resulting in the group disbanding the following year.
Still living in Laurel Canyon, King was hanging out with James Taylor and Joni Mitchell and released her debut solo album, Writer, (1970) with Taylor playing acoustic guitar and providing backing vocals, but the album failed to reach the Top 75. Writer features the much covered Goffin and King song "Goin' Back" – Dusty Springfield, The Byrds, Deacon Blue and Nils Lofgren all recorded versions as well as Queen singer Freddie Mercury (on a Larry Lurex single).
King followed Writer in 1971 with Tapestry, which featured new compositions as well as reinterpretations of "Will You Love Me Tomorrow" and "(You Make Me Feel Like) A Natural Woman." The album was recorded concurrently with Taylor's Mud Slide Slim, with an overlapping set of musicians including Danny Kortchmar, keyboardist Ralph Schuckett and Joni Mitchell. Both albums included the warm, mellow "You've Got a Friend", which became a number one hit for Taylor in the summer of '71 and won a Grammy Awards both for Taylor (Best Male Pop Vocal Performance) and King (Song of the Year).
Other new songs like the hits "It's Too Late" and "I Feel the Earth Move" rank solidly with past glories, while songs like "Will You Still Love Me Tomorrow," and "(You Make Me Feel Like) A Natural Woman" take on added resonance when delivered in her own warm, compelling voice.
Tapestry was recorded in just three weeks, as the composer was trying to raise three young children. It's an intensely emotional record, King's everyday voice and personal lyrics connected with a huge audience, and it remains an illuminating experience decades later.
The cover photograph was taken at King's Laurel Canyon home and shows the bare footed 29 year-old sitting in the living room, holding a tapestry she hand-stitched herself, with her cat Telemachus at her feet. Captured by photographer Jim McCrary, an interesting side-note is that King's cat was moved while sitting on the pillow from across the room by McCrary to be used in the final cover shot.
Tapestry received four Grammy Awards in 1972, including Album of the Year and remained on the Billboard charts for 313 weeks and still holds the record for most consecutive weeks at number one by a female solo artist. By singing the songs that made her famous as a songwriter, King found her voice on Tapestry.
Carole's many late-career achievements include a 50th anniversary Troubadour reunion run 
with James Taylor inspiring the pair's 60-concert Troubadour Reunion world tour in 2010. She published her memoir, A Natural Woman, in 2012, which debuted on The New York Times best-seller list and in January 2014, Beautiful: The Carole King Musical opened on Broadway. The show became 
the hit of the season and won a Grammy for Best Musical Theater Album and two Tony awards. In 2015 it opened on London's West End, garnering 2 Olivier Awards.
The tribute performance of "(You Make Me Feel Like A) Natural Woman" by Aretha Franklin when Carole received the Kennedy Center Honors in 2015 brought President Barack Obama to tears.