February 11th: The Biggest Music Headlines
Scroll down the page to see all the music headlines, stories, and events for February 11 throughout music history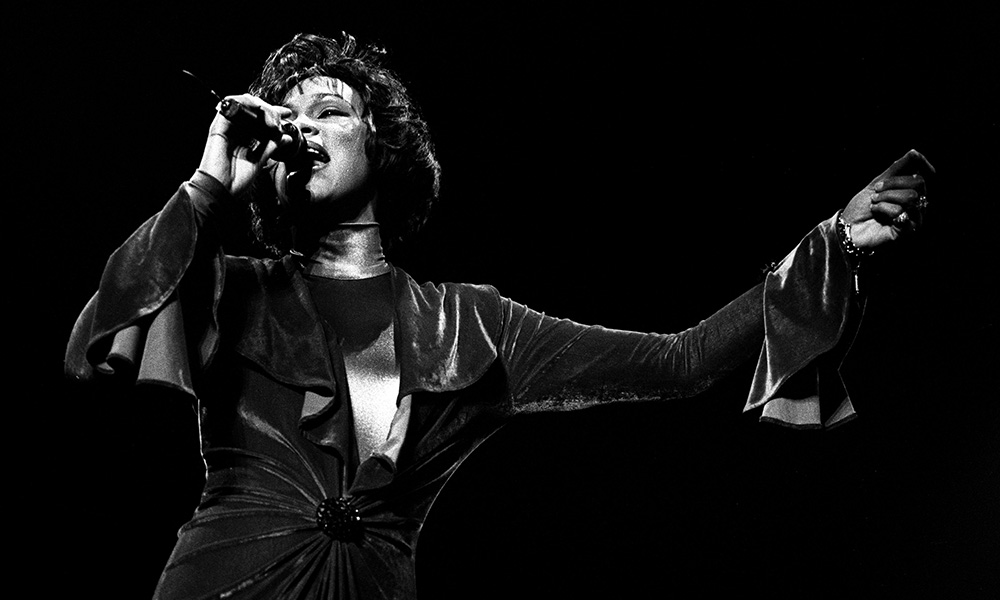 Whitney Houston Found Dead in Beverly Hills
On this day in music, February 11, 2012, Whitney Houston was found dead at the Beverly Hills Hilton Hotel, on the eve of the 54th annual Grammy Awards. The following day, members of the Recording Academy scrambled to organize a tribute to the 48-year-old superstar. Despite her troubled life, Houston possessed one of the greatest voices in music and was one of the best-selling artists of all time, with enduring hits like "I Wanna Dance with Somebody (Who Loves Me)," "The Greatest Love of All," and "I Will Always Love You." In addition to being the only artist to score seven consecutive No.1 singles on the Billboard Hot 100, Houston earned six Grammy Awards, 28 Guinness World Records, and inductions into the Grammy, Rhythm and Blues Music, and Rock and Roll Halls of Fame during her career.
In 1964, The Beatles played their first show on US soil at the nation's capital, performing at the Washington Coliseum. Over 8,000 fans showed up, requiring more than 350 police officers at the venue. Due to the stage's circular setup, the band stopped their set several times to turn Ringo Starr's drum kit and reposition their microphones. Playing 12 songs, including their single "I Want To Hold Your Hand," the band's performance was captured by CBS and played as a telecast in cinemas in March 1964.
In 2014, Queen became the first act in the UK to sell 6 million copies of an album with their 1981 Greatest Hits LP. The Official Charts Company determined that one in three British families owned a copy of the record, which featured such tracks as "Bohemian Rhapsody," "Killer Queen," and "Somebody to Love."
In 1967, The Monkees made history when their second album, More of The Monkees, jumped from No. 122 to No. 1 on the Billboard Hot 100, where it remained for 18 weeks. Eventually certified 5 x Platinum by the RIAA, More of The Monkees became the first pop/rock album to be the top-selling title of the year in the United States.
In 1963, in a marathon day-long session, The Beatles recorded ten songs for their debut album, plus four additional tracks, including their next two singles. Before wrapping at 10:45 PM, the band recorded a cover of the Isley Brothers' "Twist and Shout," a favorite at their live shows. John Lennon led the vocal performance, and his first take was chosen for Please Please Me.
Looking for more things that happened on this day in music?
Keep scrolling for all of the headlines for February 11.
BORN ON FEBRUARY 11:
1939: Gerry Goffin (songwriter)
1941: Sergio Mendes
1962: Sheryl Crow
1974: D'Angelo
1977: Mike Shinoda (Linkin Park)
1979: Brandy
1981: Kelly Rowland (Destiny's Child)
Looking for more artists born on this day?
Keep scrolling for all of our February 11 birthdays.
---
What to find another day?
---
February 11th
11 Feb 2020
American drummer Paul English died after a bout of pneumonia age 87. He was Willie Nelson's long-time drummer and was the titular "Paul" of the Willie Nelson album Me and Paul as well as the title track of that album. English also had a role in Nelson's movie Red Headed Stranger (1986).
11 Feb 2014
Queen
made UK chart history by becoming the first act to sell six million copies of an individual album. Their first Greatest Hits collection, which includes the hits 'We Will Rock You' and '
Bohemian Rhapsody
' had extended its lead after being Britain's highest-selling album for several years. The Official Charts Company said one in three British families now owned a copy of the 1981 compilation.
11 Feb 2012
Whitney Houston
was found dead in suite 434 at the Beverly Hilton Hotel, submerged in the bathtub. Beverly Hills paramedics arrived at approximately 3:30 p.m. and found the singer unresponsive and performed CPR. Houston was pronounced dead at 3:55 p.m. Local police said there were "no obvious signs of criminal intent." It was later ruled by the coroner to have been an "accidental drowning"
11 Feb 2009
Ronettes singer Estelle Bennett died at her home in Englewood, N.J. She was 67. The 60s girl group best known for their work with producer Phil Spector had the 1963 hit 'Be My Baby' which epitomized the famed "wall of sound" technique.
11 Feb 2008
Heather Mills and Sir
Paul McCartney
appeared at the High Court in London for a hearing to reach a financial settlement for their divorce. The hearing in the Family Division, which was taking place in private, was expected to last five days. The couple, who had a four-year-old daughter, Beatrice, announced the end of their four-year marriage in 2006. There had been speculation among divorce experts, based on recent cases, that the settlement could reach £60m.
11 Feb 2003
The British Phonographic Industry reported its biggest sales decline in decades, with the biggest slump in a single year since the birth of the CD market in the early 1980s. Piracy, illegal duplication and distribution by international criminals of CD's were all blamed for the decrease.
11 Feb 2000
Spice Girls
Geri Halliwell appeared in court to give evidence over the dispute with Aprilla Motorcycles. The company were suing the
Spice Girls
for £1.6 million ($2.72 million) over lost advertising as sponsors for the 1998 Spiceworld World tour.
11 Feb 1998
The hand-written lyrics to 'Candle in the Wind' by Bernie Taupin were auctioned off at Christie's in LA for £278,512.
11 Feb 1992
Motley Crue fired their singer Vince Neil when he turned up for rehearsals, claiming that he had lost his passion for the band and was now more involved with racing cars.
11 Feb 1989
Paula Abdul started a three week run at No.1 on the US singles chart with 'Straight Up', the first of three No.1's in 1989, a No.3 hit in the UK.
11 Feb 1987
The Smiths
were at No.1 in the UK indie charts with 'Shoplifters Of The World Unite.' The title alludes to the communist slogan "Workers of the world, unite!", and the 1966 David and Jonathan hit 'Lovers of the World Unite'. The photograph on the sleeve is of a young
Elvis Presley
.
11 Feb 1985
The Police
won Outstanding Contribution to British music at the fourth annual Brit Awards held in London. Other winners included
Prince
for best International Act and Best Soundtrack for Purple Rain, British Single was Frankie Goes To Hollywood 'Relax', British Video was
Duran Duran
for 'Wild Boys', British Comedy Recording Neil 'Hole In My Shoe', British Album went to Sade for 'Diamond Life', British Male Solo Artist was won by Paul Young, British Female Solo Artist, Alison Moyet and Best British Group went to Wham!
11 Feb 1978
The Brotherhood Of Man were at No.1 on the UK singles chart with 'Figaro', the group's third and last UK No.1.
11 Feb 1977
David Bowie
released 'Sound and Vision' as a single, which was taken from his latest album Low. 'Sound and Vision' was used by the BBC in the UK on trailers at the time, providing considerable exposure, much needed as Bowie opted to do nothing to promote the single himself, and helped the song to No.3 on the UK charts.
11 Feb 1973
A local charity raised over £500 ($850) selling bedsheets and pillowcases used by The
Rolling Stones
after a show at Western Springs Stadium in Auckland, New Zealand.
11 Feb 1972
Led Zeppelin
scored their third US Top 20 hit single with 'Black Dog / Misty Mountain Hop', peaking at No.15, and taken from their fourth album. The song's title is a reference to a nameless black Labrador retriever that wandered around the Headley Grange studios during recording. Robert Plant recorded his vocal for the track in two takes.
11 Feb 1967
The
Monkees
set a new record when their second album, More Of The Monkees jumped from No.122 to the top of the US chart. The album then stayed in pole position for eighteen weeks.
11 Feb 1964
The Beatles
made their live concert debut in the US at the Washington Coliseum. Over 350 police surrounded the stage to keep the 8,000 plus screaming fans in control. One police officer who found the noise so loud stuck a bullet in each ear as ear plugs.
The Beatles
had to stop three times and turn Ringo's drum kit around and re-position their microphones so that they faced a different part of the audience. The set list: 'Roll Over Beethoven', 'From Me to You', 'I Saw Her Standing There', 'This Boy', 'All My Loving', 'I Wanna Be Your Man', 'Please Please Me', 'She Loves You', 'I Want to Hold Your Hand', 'Twist and Shout', and 'Long Tall Sally'.
11 Feb 1963
In less than ten hours,
The Beatles
record ten new songs for their first album plus four other tracks which would be the next two singles.
John Lennon
's vocal on The Isley Brothers 'Twist & Shout' was recorded in one take to complete the album.
11 Feb 1958
English singer Michael Holliday was at No.1 on the UK singles chart with 'The Story Of My Life.' The song gave writers Bacharach and David their first UK No.1 hit.
11 Feb 1956
Born on this day in music
11 Feb 1984
Aubrey O'Day, singer, with American girl group Danity Kane, (formed on the
MTV
reality show Making the Band 3). They became the first female group in Billboard history to debut their first two albums at the top of the charts.
11 Feb 1981
Kelly Rowland, singer with Destiny's Child who had the 2000 US No.1 & UK No.3 single 'Say My Name', and the 2001 US & UK No.1 single & album 'Survivor'. as a solo artist had the 2003 UK No.2 single 'Stole', and the 2002 US & UK No.1 single with Nelly 'Dilemma'. Rowland joined the judging panel on the eighth series of the British reality television competition The
X Factor
in 2011.
11 Feb 1979
Brandy, American singer, who had the 1998 US No.1 and UK No.2 single with Monica, 'The Boy Is Mine'. In 2002, she starred in the reality series Brandy: Special Delivery, documenting the birth of her daughter. She served as a judge on the first season of America's Got Talent before being involved in a widely publicised car accident in 2006.
11 Feb 1977
Mike Shinoda, guitar, vocals, with
Linkin Park
, who had the 2002 US No.2 & UK No.4 single 'In The End', and the 2002 US No.2 & 2001 UK No.4 album Hybrid Theory.
11 Feb 1974
D'Angelo, (Michael Archer), who had the 1996 UK No. 21 single 'Lady'.
11 Feb 1972
Craig Jones, American metal musician best known as the sampler and keyboardist in Slipknot, in which he chose #5. Jones joined the band in 1996.
11 Feb 1969
Andrew Lovell, percussion, with English group M People, who had the 1993 UK No.2 single 'Moving On Up', plus over 15 other UK Top 40 singles.
11 Feb 1962
Sheryl Crow, US singer, songwriter, who had the 1994 US No.2 & UK No.4 single 'All I Wanna Do', from her 1993 album 'Tuesday Night Music Club' as well as hits with 'If It Makes You Happy' (1996), 'Everyday Is a Winding Road' (1996), 'Tomorrow Never Dies' (1997) the theme song for the James Bond film of the same name. Crow worked as a backing singer on the
Michael Jackson
'Bad' tour has now sold more than 50 million albums worldwide and garnered nine Grammy Awards from the National Academy of Recording Arts and Sciences.
11 Feb 1953
Alan Rubin, The Blues Brothers, who had the 1990 UK No.12 single 'Everybody Needs Somebody To Love'.
11 Feb 1953
Neil Henderson, guitarist from Scottish pop group Middle Of The Road, who had the 1971 UK No.1 single 'Chirpy Chirpy Cheep Cheep', which is one of only a few singles to have sold in excess of 10 million physical copies.
11 Feb 1950
Rochelle Fleming, singer, with First Choice who had the 1973 UK No.9 single 'Smarty Pants.
11 Feb 1947
Derek Shulman, Simon Dupree And The Big Sound who had the 1967 UK No.9 single 'Kites' and then became a member of Gentle Giant. He later became a successful record exec, signing
Bon Jovi
, Pantara, Nickleback and others.
11 Feb 1946
Ray Lake, singer with British soul group The Real Thing, who had the 1976 UK No.1 single 'You To Me Are Everything'.
11 Feb 1942
Otis Clay, American R&B and soul singer, who started in gospel music. He recorded the original version of 'The Only Way Is Up' in 1980 which later became a chart-topping single for Yazz and the Plastic Population. Clay died on January 8, 2016.
11 Feb 1941
Sergio Mendes, Brazilian singer, who had the 1983 US No.4 & UK No.45 single 'Never Gonna Let You Go'.
11 Feb 1940
Bobby 'Boris' Pickett, who had the 1962 US No.1 & 1973 UK No.3 single 'The Monster Mash'. The song was a spoof on the dance crazes popular at the time, including the Twist and the Mashed Potato. Pickett died of leukaemia at the age of 69 on April 25th 2007.
11 Feb 1939
Gerry Goffin, American songwriter of over 20 US hits with his then wife Carol King, including The Shirelles 'Will You Love Me Tomorrow', The Drifters 'Up On The Roof', The Chiffons, 'One Fine Day', Herman's Hermits, 'I'm Into Something Good'. Goffin died on 19th June 2014 at the age of 75 in Los Angeles. After he and King divorced, Goffin wrote with other composers, including Barry Goldberg and Michael Masser, with whom he wrote 'Theme from Mahogany (Do You Know Where You're Going To)' and 'Saving All My Love for You', also No.1 hits. During his career Goffin wrote over 114 Billboard Hot 100 hits, including eight chart-toppers, and 72 UK hits.
11 Feb 1935
Gene Vincent, (born Eugene Craddock), US rock 'n' roll singer with His Blue Caps who had a 1956 US No.7 & UK No.16 single with 'Be Bop A Lula'. Vincent died on October 12th 1971.