February 19th: The Biggest Music Headlines
Scroll down the page to see all the music headlines, stories, and events for February 19 throughout music history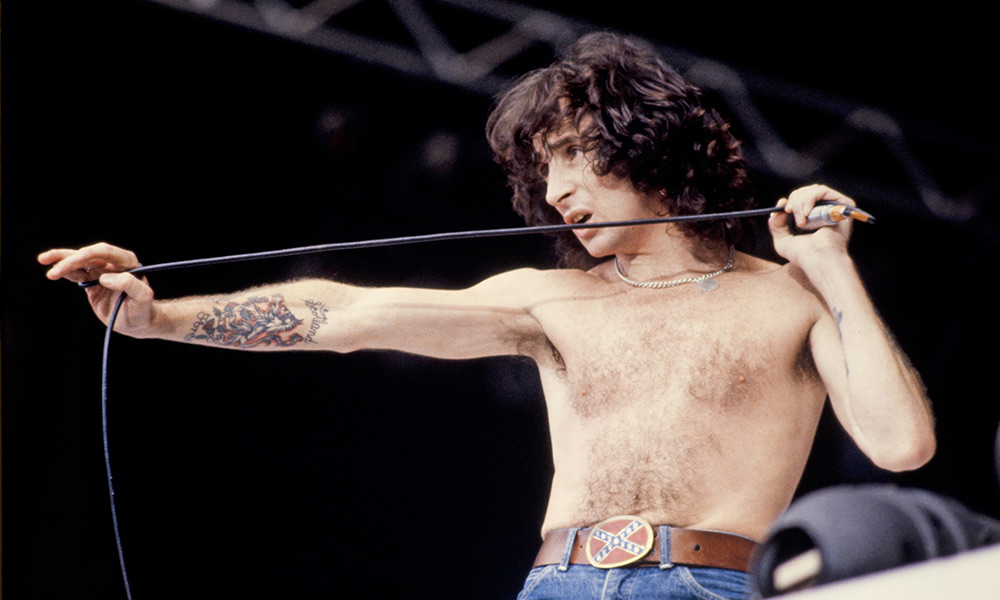 AC/DC Frontman Bon Scott Dies At Age 33
On this day in music, February 19, 1980, AC/DC's frontman and lyricist, Bon Scott, died at the age of 33. One of the greatest vocalists in hard rock, Scott joined AC/DC in 1974, not long before the Australian band recorded their debut, High Voltage. Over the next six years, Scott would perform on seven albums with AC/DC, including their 1979 masterpiece, Highway to Hell. Tragically, the hard-partying frontman died just as the group was about to have their commercial breakthrough. While AC/DC would continue on, recruiting Brian Johnston as their new singer, they paid tribute to their fallen bandmate in their best-selling follow-up, Back in Black.
In 2020, rapper Pop Smoke was fatally shot during a home invasion at his Hollywood residence. Born Bashar Barakah Jackson, he ideated his artist name as a combination of Poppa, a nickname from his Panamanian grandmother, and Smocco Guwop, his nickname from his childhood friends. His posthumously-released debut, Shoot for the Stars, Aim for the Moon, reached No.1 in several countries, while all 19 songs on the album charted on the Billboard Hot 100.
In 1995, Roxette became one of the first Western pop groups to perform in Beijing. The Swedish duo, who formed in 1986 and found success after the release of their second album, Look Sharp! , appeared at Workers' Indoor Arena to play a 22-song set. The concert was part of an extensive international tour, during which they performed to over one million people.
In 2014, at the 34th annual BRITs, Arctic Monkeys made history as the first act to receive awards for British Group and British Album of the Year for the third time. Several other remarkable moments took place during the ceremony, including the BRITs' first backstage livestream and David Bowie becoming the oldest winner of the award for British Male Solo Artist at 67.
In 1994, Mariah Carey's cover of Badfinger's "Without You" became her first UK No.1 hit. Coincidentally, Harry Nilsson's cover of the ballad also hit No. 1 on the same date in 1972. Once described by Paul McCartney as "the killer song of all time," the tune was penned by Badfinger members Pete Ham and Tom Evans and released on their 1970 album, No Dice. In 1972, Ham and Evans received the Ivor Novello Award from the British Academy for Best Song Musically and Lyrically.
Looking for more things that happened on this day in music?
Keep scrolling for all of the headlines for February 19.
BORN ON FEBRUARY 19:
1940: Smokey Robinson
1943: Lou Christie
1948: Toni Iommi (Black Sabbath)
1960: Prince Mark Dee (Fat Boys)
1975: Daniel Adair (Nickelback)
Looking for more artists born on this day?
Keep scrolling for all of our February 19 birthdays.
---
What to find another day?
---
February 19th
19 Feb 2020
American rapper, singer, and songwriter Pop Smoke died after being shot twice in the chest during a home invasion in Hollywood Hills, California. His debut studio album, Shoot for the Stars, Aim for the Moon, was posthumously released in July 2020 and debuted at number one on the Billboard 200, with all 19 tracks from the album charting on the Billboard Hot 100.
19 Feb 2015
Iron Maiden
frontman Bruce Dickinson was being treated for cancer after a small cancerous tumour was found at the back of his tongue.
19 Feb 2014
David Bowie
was named best British male at the Brit Awards in London, although he was not there in person to collect his award. Arctic Monkeys won both best group and best album for the third time - the first act to achieve that milestone. Ellie Goulding won best British female, while pop act One Direction were honoured for their global success for the second year running. Bowie's prize came at the expense of four much younger hopefuls - Jake Bugg, Tom Odell, John Newman and Mercury Prize winner James Blake.
19 Feb 2008
Two releases by
Oasis
were voted the best British albums ever recorded in a poll of 11,000 people. Their 1994 album
Definitely Maybe
came top, while their 1995 follow-up (What's the Story) Morning Glory was second in the vote for Q magazine and HMV.
Radiohead
's OK Computer finished third, followed by
Revolver
by
The Beatles
and the Stone Roses' self-titled debut. The full list of 50 British albums included five by
The Beatles
.
19 Feb 2004
Johnny Cash
's family blocked an attempt by advertisers to use his hit song 'Ring of Fire' to promote haemorrhoid-relief products. The idea is said to have been backed by Merle Kilgore, who co-wrote the song with Cash's wife, June Carter Cash. Cash's daughter Rosanne said the family "would never allow the song to be demeaned like that."
19 Feb 1996
Bjork was shown on UK breakfast TV attacking a news reporter as she arrived at Bangkok International Airport. The footage showed the singer pulling the female reporter to the floor and banging her head on the ground. Bjork later apologised for the attack.
19 Feb 1996
Winners at this year's Brit Awards included Paul Weller who won British Male Solo Artist, British Female Solo Artist went to Annie Lennox,
Oasis
won British Group, Best Album for '(What's The Story) Morning Glory' and Best British Video for 'Wonderwall. British Breakthrough Act went to Supergrass, International Group was
Bon Jovi
, International Breakthrough Act went to
Alanis Morissette
and
David Bowie
was awarded Outstanding Contribution to music. Pulp singer Jarvis Cocker was arrested after a stage invasion during
Michael Jackson
's appearance, (who won Artist of a Generation). Cocker was accused of attacking children who were performing with Jackson; all charges against Cocker were dropped on March 11th of this year.
19 Feb 1995
Roxette became the first Western group to perform in Beijing since
George Michael
in 1984 when they played a concert celebrating the Chinese New Year.
19 Feb 1995
Motley Crue drummer
Tommy Lee
married Baywatch actress Pamela Anderson on a Cancun beach, Mexico, the bride wore a white bikini. Anderson and Lee who married only four days after meeting had videotaped their sexual activities while on vacation which was later stolen and released on the Internet. After suing the video company who released the tape, the Lees entered into a confidential settlement agreement. The couple divorced in 1998.
19 Feb 1994
Mariah Carey
had her first UK No.1 with her version of the Peter Ham and
Tom Evans
song 'Without You'. Nilsson also took the song to No.1 in 1972. (Carey's version was released on January 24, 1994, just over a week after Nilsson had died following a heart attack). Both Ham and Evans committed suicide, (Ham in 1975 and Evans in 1983) after an ongoing battle to receive royalties from the song.
19 Feb 1992
During their Use Your Illusion Tour Guns N' Roses played the first of three nights at the Tokyo Dome in Tokyo, Japan. The 55,000-seat baseball stadium (The Big Egg) is the largest concert hall in Japan.
19 Feb 1983
Kajagoogoo had their only UK No.1 single with 'Too Shy'. Also a hit in other European countries, 5 weeks at No.1 in Germany, a Top 5 hit in Switzerland, Sweden, Austria, and Netherlands. The group had four other Top 40 hits UK hits.
19 Feb 1982
Ozzy Osbourne
was arrested in San Antonio, Texas for urinating on the cenotaph at the Alamo, which honors the Alamo defenders. Osbourne was wearing a dress at the time of his arrest, (due to his wife Sharon hiding all his clothes so he couldn't go outside). Osbourne was banned from ever playing in San Antonio, Texas again, (a ban which was lifted in 1992). When later interviewed, Ozzy said his next goal was to urinate on the White House lawn.
19 Feb 1980
AC/DC
singer
Bon Scott
was pronounced dead on arrival at a London hospital after a heavy night's drinking. Scott was found in the passenger seat of a friend's parked car. The official coroner's report stated that he had "drunk himself to death", after suffocating on his own vomit.
19 Feb 1977
Leo Sayer had his only UK No.1 single with the Albert Hammond and Carole Bayer Sager song 'When I Need You.' Both
Celine Dion
and Cliff Richard have scored hits with the song.
19 Feb 1977
Manfred Mann's Earth Band scored a No.1 single in the US with their version of the
Bruce Springsteen
song 'Blinded By The Light.' The track was the first single from Springsteen's 1973 debut album Greetings from Asbury Park N.J. The Earth Band's version features several changed lyrics. The most prominent change is in the chorus, where Springsteen's "cut loose like a deuce" is replaced with "revved up like a deuce." Springsteen himself has said that it was not until Manfred Mann rewrote the song to be about a "feminine hygiene product" that it became popular.
19 Feb 1972
Harry Nilsson started a four week run at No.1 on the US singles chart with his version of the
Badfinger
song 'Without You.' His vocal was recorded in a single take and his performance was rewarded with Nilsson's second Grammy Award.
19 Feb 1972
Led Zeppelin
appeared at the Memorial Drive, Adelaide in Australia. A local paper who reviewed the show printed: Singer Robin Plant (sic) overcame an 'Australian bug' in his throat and broke into his own in 'Black Dog' and 'Stairway To The Stars' (sic).
19 Feb 1966
Lou Christie went to No.1 on the US singles chart with 'Lightnin Strikes', a No.11 hit in the UK. Nancy Sinatra held the UK No.1 single position with 'These Boots Are Made For Walkin'
19 Feb 1965
Working at Abbey Road studios in London,
The Beatles
recorded a new
John Lennon
song 'You're Going To Lose That Girl' in two takes. The track was released on the
Help!
album.
19 Feb 1964
A British company shipped ½ ton of Beatle wigs to the US. An American reporter later asked
John Lennon
, "How do you feel about teenagers imitating you with Beatle wigs?" John replied "They're not imitating us because we don't wear Beatle wigs."
Born on this day in music
19 Feb 1975
Daniel Adair, drummer from Canadian rock band, Nickelback who are one of the most commercially successful Canadian groups, having sold more than 50 million albums worldwide. Adair joined Nickelback in 2005.
19 Feb 1965
Kate Radley, keyboards, from English space rock band Spiritualized. They released the critically acclaimed 1997 Ladies and Gentlemen We Are Floating in Space, which NME magazine named as their Album of the Year.
19 Feb 1963
British singer-songwriter Henry Samuel, singer, songwriter, (Seal). He had the 1991 UK No.2 single 'Crazy', and the 1995 US No.1 & UK No.4 single 'Kiss From A Rose'. His 1991 self-titled album spent 65 weeks on the UK chart. Seal has won multiple awards throughout his career, including three Brit Awards; he won Best British Male in 1992, as well as four Grammy Awards and an
MTV
Video Music Award.
19 Feb 1960
Prince Mark Dee, rapper with the American hip hop trio Fat Boys who had the 1988 UK No.2 single 'Wipeout'. The Fat Boys were one of the first rap groups to release full-length rap albums, along with Run-D.M.C., Whodini and Kurtis Blow. He deid on 18 February 2021 age 52.
19 Feb 1958
Steve Nieve, English musician and composer who has been a member of Elvis Costello and the Attractions, the Imposters and Madness. As a session musician Nieve has worked with the Neville Brothers, Hothouse Flowers, Graham Parker, Squeeze, Tim Finn, Kirsty MacColl, Madness, Nick Heyward and
David Bowie
19 Feb 1957
Falco, (Hans Holzl), who had the1986 UK & US No.1 single 'Rock Me Amadeus'. Falco became the first-ever Austrian act to score a UK and US No.1 hit single. He was killed in a car accident on 6th February 1998.
19 Feb 1956
Dave Wakeling, from British group The Beat who had a string of UK hit singles in the 80s, including 'Mirror in the Bathroom,' 'Can't Get Used to Losing You' and 'Hands Off, She's Mine'.
19 Feb 1951
American vocalist, guitarist, songwriter Alan Merrill. He was the co-writer of, and lead singer on, the first released version of the song 'I Love Rock 'n' Roll', which was recorded by the Arrows in 1975. The song became a breakthrough hit for Joan Jett in 1982. He died on 29 March 2020 age 69.
19 Feb 1950
Andy Powell, guitarist from British rock band Wishbone Ash who scored the 1972 UK No.3 album Argus and eight other Top 40 albums. Wishbone Ash are noted for their extensive use of the harmony twin lead guitar.
19 Feb 1948
Toni Iommi, guitarist with English rock band
Black Sabbath
who had the 1970 UK No.4 single '
Paranoid
'. The bands self-titled album was voted as the best British rock album ever by Kerrang! in 2005. At the age of 17 and on his last day of work in a sheet metal factory, he lost the tips of the middle and ring finger of his right hand. After attempting to learn to play right-handed, Iommi instead strung his guitars with lighter strings and made thimbles to extend his fingers.
19 Feb 1948
Mark Andes, from American group Spirit who had the 1969 US No.25 single 'I Got A Line On You'. Also joined Jo Jo Gunne, who had the 1972 UK No.6 & US No. 27 single 'Run Run Run'.
19 Feb 1946
Pierre Van Den Linden, drummer with Dutch progressive rock band Focus who had the 1973 UK No.4 single 'Sylvia' and the 1973 US No. 9 single 'Hocus Pocus'.
19 Feb 1943
Lou Christie, US singer, who had the 1966 US No.1 single 'Lightnin Strikes', and the 1969 UK No.2 single 'I'm Gonna Make You Mine'.
19 Feb 1940
American musician and tenor singer Bobby Rogers, singer with The Miracles who had the 1970 UK & US No.1 single with
Smokey Robinson
'Tears of a Clown'. Rogers died on March 3, 2013, at the age of 73.
19 Feb 1940
American singer, songwriter, record producer, and former record executive
Smokey Robinson
. With The Miracles he had the 1970 UK & US No.1 single 'The Tears Of A Clown'. As a solo artist Robinson scored the 1981 UK No.1 & US No.2 single 'Being With You'. He became the vice President of
Motown
Records in 1972. During the course of his 50-year career in music, Robinson has accumulated more than 4,000 songs to his credit.
19 Feb 1924
American film and television actor Lee Marvin, who had a UK 1970 UK No.1 single with 'Wand'rin Star', taken from the film Paint Your Wagon'. A prominent television role Marvin played was that of Detective Lieutenant Frank Ballinger in the crime series M Squad (1957–1960). Marvin died on August 29th 1987.