February 20th: The Biggest Music Headlines
Scroll down the page to see all the music headlines, stories, and events for February 20 throughout music history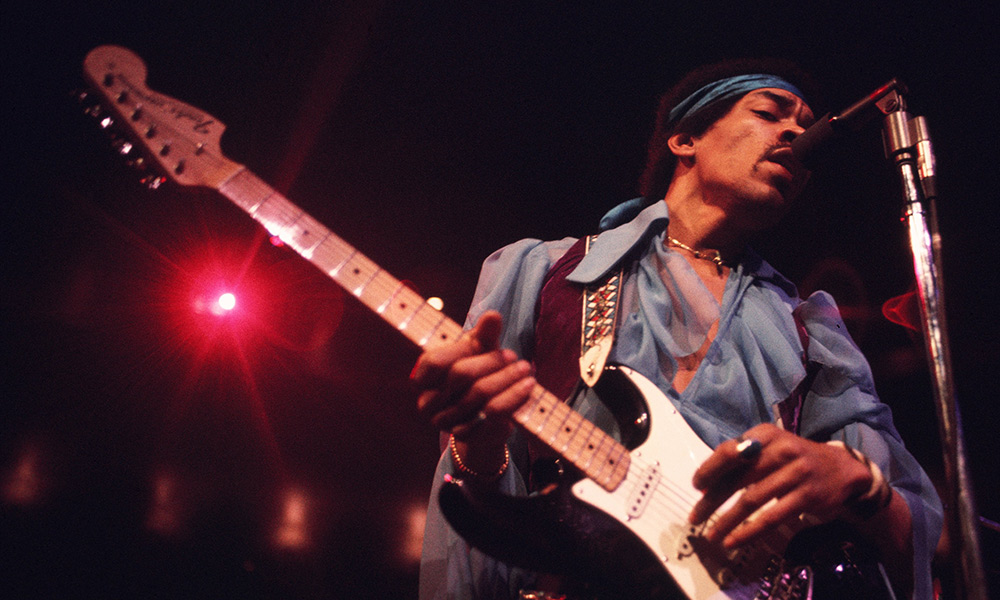 Jimi Hendrix Makes Stage Debut at Age 16
On this day in music, February 20, 1959, 16-year-old Jimi Hendrix made his stage debut with an unnamed band at a room in Seattle's Temple De Hirsch Sinai synagogue. Inspired by blues artists like Muddy Waters and B.B. King, Hendrix purchased a guitar for $5 and began teaching himself the instrument as a teenager. While he would be fired from his first gig "for showing off," Hendrix's innovative techniques (including tone-altering effects, such as fuzz distortion and wah-wah) would soon find him droves of fans and inspire musicians around the world to follow suit.
In 2003, a pyrotechnic accident at a Great White show in Rhode Island resulted in the deaths of 100 people, including the band's guitarist, Ty Longley. After the tragic incident, the band's surviving members embarked on a benefit tour, to raise funds for the victims of the fire and their loved ones.
In 1970, The Plastic Ono Band released their single "Instant Karma!" in the US. Recorded weeks earlier, on January 27, 1970, the John Lennon-penned track quickly became one of the fastest-released songs in pop music history – having been written, recorded, and released in the UK in 10 days. While release across the Atlantic took slightly longer, it was still a remarkable feat – and a Top Ten hit on the Billboard Hot 100.
In 1988, Kylie Minogue topped the UK singles chart with "I Should Be Lucky." While the Australian singer and actress recorded the song in less than an hour, it spent a whopping 17 weeks on the chart, including five weeks at No.1.
In 1958, the six-date "Big Gold Record Stars" tour kicked in Daytona Beach, FL. The lineup consisted of Bill Haley & His Comets, The Everly Brothers, Buddy Holly & The Crickets, Jerry Lee Lewis, and Jimmie Rodgers.
Looking for more things that happened on this day in music?
Keep scrolling for all of the headlines for February 20.
BORN ON FEBRUARY 20:
1941: Buffy Sainte-Marie
1956: J Geils
1950: Walter Becker (Steely Dan)
1953: Poison Ivy (The Cramps)
1954: Jon Brant (Cheap Trick)
1963: Ian Brown (Stone Roses)
1967: Kurt Cobain (Nirvana)
1975: Brian Littrell (Backstreet Boys)
1988: Rihanna
2003: Olivia Rodrigo
Looking for more artists born on this day?
Keep scrolling for all of our February 20 birthdays.
---
What to find another day?
---
February 20th
20 Feb 2021
American pianist Gene Taylor died age 68 after being found dead at his home in his bed in Austin, Texas. The cause of death is believed to have been related to the house having been without heat in the dead of winter due to the state-wide power outages caused by the 2021 Texas power crisis. He was best known for his boogie-woogie style and worked with Big Joe Turner and T-Bone Walker, was briefly part of Canned Heat, toured with The Blasters, and later with The Fabulous Thunderbirds.
20 Feb 2017
David Cassidy told People magazine that he was suffering from dementia two days after giving what appeared to be a drunken performance at a concert in California. He told the magazine that both his grandfather and mother (actress Evelyn Ward) had the disease in later life. Cassidy died from liver and kidney failure on 21 November 2017 age 67.
20 Feb 2014
The British Phonographic Industry reported that Digital revenues now accounted for 50% of the total UK record industry income. Digital album sales and a surge in streaming had boosted total digital revenue in 2013 to £365m - up from £326m (a 45.5% share) in 2012. Streaming revenue increased by 41%, bringing total UK revenue to £730.4m - the first growth since 2009.
20 Feb 2010
An event was staged at The Barbican in London where 40 zebra finches made music by landing on guitars and cymbals. The flock of finches would land on Gibson Les Paul guitars, which were plugged into amplifiers and land on upturned cymbals being used as bird feeders to make random sounds. A video clip of the installation, on YouTube had been watched more than 520,000 times.
20 Feb 2008
A 1976
Rolling Stones
album bought for £2 at a car boot sale sold for £4,000 at an auction. The 'Black and Blue' LP was signed by
John Lennon
, Yoko Ono, Paul and Linda McCartney and
George Harrison
as well as members of the
Rolling Stones
. The seller obtained the album after haggling the cost down from £3.
20 Feb 2008
Winners at this year's Brit Awards in London, included
Take That
who won the trophies for best British live act and British single, The Arctic Monkeys won best British group and album - both for the second year in a row and
Foo Fighters
won best international group and album. Kate Nash won best British female and Mark Ronson was named best British male.
Kylie Minogue
won best international female and Mika was named best British breakthrough act. Sir
Paul McCartney
performed a medley of hits, including 'Live and Let Die',
'Hey Jude'
and 'Lady 'Madonna' after he was honoured with an outstanding contribution award. The show was presented by Sharon Osbourne.
20 Feb 2007
The US hair salon where pop star
Britney Spears
shaved her head set up a website to auction her hair for more than $1m (£512,500). The website, buybritneyshair.com, claimed to have been set up by salon owner Esther Tognozzi included photos of the hair, saying it was "absolutely authentic". As well as the hair, the winning bidder would also get the hair clippers Spears used, a blue lighter she left at the salon and the can of Red Bull she was drinking at the time. Meanwhile, Spears has been spotted in Hollywood sporting a short blonde wig.
20 Feb 2004
Brian Wilson
kicked off an 11-date UK tour at London's Royal Festival Hall. The shows saw Wilson performing the full suite of songs from his unreleased masterpiece 'Smile' Wilson's 'teenage symphony to God.
20 Feb 2003
Winners at this years Brit Awards included Robbie Williams for British male solo artist, Ms Dynamite won British female artist, Best British album went to
Coldplay
for A Rush Of Blood, Best British group went to
Coldplay
,
Red Hot Chili Peppers
won International Group, Blue won Best Pop Act and Liberty X won Best single for 'Just A Little.'
20 Feb 2003
100 people died after pyrotechnics ignited a club during a gig by Great White in West Warwick, Rhode Island. Great White guitarist Ty Longley was also killed in the accident. Two brothers who owned the club were charged, along with the former tour manager with involuntary manslaughter. Foam soundproofing material at the edge of the stage set alight and the blaze spread quickly in the one-storey wooden building as fans all tried to escape through the same exit. Great White began a tour in July 2003 to raise money for the survivors and families of victims.
20 Feb 1991
Bob Dylan
was awarded a lifetime achievement award at the 33rd annual Grammy' Awards.
20 Feb 1988
Kylie Minogue
was at No.1 on the UK singles chart with 'I Should Be So Lucky.' Minogue had become a household name playing Charlene Ramsey in Australian soap Neighbours. After every major UK record company turned down the track, producer Pete Waterman released the single on his own PWL label. Kylie has gone on to score over 30 hit singles.
20 Feb 1977
Winners at this years Grammy Awards included
Stevie Wonder
for Best album with 'Songs In The Key Of Life', and Best Vocal performance for 'I Wish.' Best album went to Chicago for 'Chicago X' and Best new artist went to the Starland Vocal Band.
20 Feb 1976
All four members of
Kiss
had their footprints implanted on the pavement outside Grauman's Chinese Theatre in Hollywood.
20 Feb 1972
Chicory Tip were at No.1 on the UK singles chart with 'Son Of My Father.' Written by Giorgio Moroder, it was the first UK number one single to prominently feature a synthesizer, in this case a Moog synthesizer.
20 Feb 1970
The single '
Instant Karma
!' by The Plastic Ono Band was released in the US.
John Lennon
had written, recorded and mixed the track all in one day on the 27th January 1970.
20 Feb 1963
The Beatles
drove through the night from Liverpool to London to appear on the live lunchtime BBC radio program "Parade of the Pops." Performing '
Love Me Do
' and 'Please Please Me', the appearance lasted just over 4 minutes. They then drove another 180 mile trip back north for their performance that night at the Swimming Baths, Doncaster, Yorkshire.
20 Feb 1959
16 year old
Jimi Hendrix
made his stage debut when he played a show at the Temple De Hirsch Sinai synagogue in Seattle
20 Feb 1958
Billed as 'The Big Gold Record Stars'
Bill Haley
and his Comets, The Everly Brothers,
Buddy Holly
& The Crickets, Jerry Lee Lewis and Jimmie Rodgers all appeared on the first date of a six day tour of Florida.
Born on this day in music
20 Feb 2003
American singer-songwriter Olivia Rodrigo. She gained recognition with her lead roles in Bizaardvark and High School Musical: The Musical: The Series. Her debut single the 2021 'Drivers License' broke various records and became one of the best-selling songs of the year and her 2021 debut studio album, Sour earned her three Grammy Awards.
20 Feb 1988
Rihanna
, Barbadian R&B singer who had 2007 world-wide No.1 single 'Umbrella' featuring Jay-Z. 'Umbrella' became the longest running UK No.1 in the 21st Century. The song debuted at No.1 on the chart based on digital sales alone. Rihanna has sold more than 20 million albums and 60 million singles which makes her one of the best selling artists of all time. She is the youngest solo artist in Billboard charts history to achieve eleven No.1 singles.
20 Feb 1985
Volkova Olegovna, singer, with Russian music duo Tatu who had the 2003 UK No.1 single 'All The Things She Said' which also topped the charts in Australia, New Zealand, Italy, Switzerland and other European countries. The duo represented Russia in the Eurovision Song Contest 2003 with the song 'Ne Ver', Ne Boysia', finishing third.
20 Feb 1981
Edward Lay, drummer, with English rock band The Editors, who had the 2007 UK No.1 album An End Has a Start and earned the band a Brit Awards nomination for best British Band.
20 Feb 1979
Coy Bowles American guitarist with the Grammy Award winning country music group, Zac Brown Band. Their 2015 album Jekyll + Hyde which debuted at No.1 on the US chart featured the single 'Heavy Is the Head' with vocals from Chris Cornell.
20 Feb 1977
Edwin Graham, drummer with The Darkness who had the 2003 UK No.2 single 'I Believe In A Thing Called Love', and the 2003 UK No.1 album 'Permission To Land'. The album was certified quadruple platinum in the United Kingdom, with sales of over 1,300,000 and in 2004 the band won three Brit Awards.
20 Feb 1975
Brian Littrell, singer with Backstreet Boys who had the 1997 US No.2 single 'Quit Playing Games With My Heart' and the 1999 UK No.1 single 'I Want It That Way'.
20 Feb 1972
Neil Primrose, drummer with Scottish rock band Travis. Their 1999 UK album The Man Who spent nine weeks at No.1 on the UK Charts and one-hundred and thirty-four weeks in the top 100 of the chart. Travis had and 1999 UK No.10 single 'Why Does It Always Rain On Me', plus over 10 other UK Top 40 singles.
20 Feb 1967
Kurt Cobain
guitarist, singer, songwriter with
Nirvana
who had the 1991 hit '
Smells Like Teen Spirit
'. Their 1991 album '
Nevermind
' spent over two years on the UK chart. During the last years of his life, Cobain struggled with heroin addiction, illness and depression. Cobain committed suicide on April 5th 1994. Cobain has been remembered as one of the most iconic rock musicians in the history of alternative music.
20 Feb 1963
Ian Brown, lead singer of the alternative rock band the Stone Roses who had the 1989 UK No.8 single 'Fool's Gold', taken from their 1989 self title album Brown had the the 1998 solo UK No.5 single 'My Star'. Brown is also known for a cameo role in Harry Potter and the Prisoner of Azkaban.
20 Feb 1954
Jon Brant from from American rock band, Cheap Trick, who had the 1979 hit single 'I Want You To Want Me', and the 1988 US No.1 single 'The Flame'.
20 Feb 1953
Poison Ivy, (Kristy Wallace), guitar, The Cramps. Wallace was married to Cramps singer Lux Interior who died in Glendale, California on February 4, 2009.
20 Feb 1951
Randy California, guitarist, singer with Spirit, who had the 1969 US No.25 single 'I Got A Line On You', and the 1981 UK No.40 album 'Potato Land'. He died on 2nd January 1997 when rescuing his 12 year-old son after he was sucked into a riptide in surf off Hawaii.
20 Feb 1950
Walter Becker, bass, guitar, vocals, songwriter with American group Steely Dan. Can't Buy a Thrill, Steely Dan's debut album, was released in 1972. Its hit singles 'Do It Again' and 'Reelin' In the Years' reached No. 6 and No. 11 respectively on the Billboard singles chart and the songs became staples on progressive radio. Steely Dan's Two Against Nature won a Grammy in 2001 for Album of the year. Becker has produced records for Rickie Lee Jones, China Crisis and Michael Franks. Becker died on 3 September 2017 aged 67.
20 Feb 1946
J Geils, American guitarist, with The J. Geils Band who had the 1982 US No.1 & UK No.3 single 'Centerfold', which was taken from their US No.1 1981 album Freeze Frame. On April 11, 2017, Groton Police conducted a well-being check on Geils and found him unresponsive at his home. He was pronounced dead from natural causes at age 71.
20 Feb 1945
Alan Hull, guitarist, singer, songwriter with English group Lindisfarne who had the 1970s hit singles 'Meet Me on the Corner', 'Lady Eleanor and 'Run For Home'. Their album Fog on the Tyne became the biggest selling UK album in 1972. Hull also worked as a solo artist. He died of a heart attack on 17 November 1996.
20 Feb 1944
Lew Soloff, from jazz-rock American music group Blood Sweat & Tears. They scored the 1969 US No.2 single 'Spinning Wheel', and the 1969 US No.12 single 'You've Made Me So Very Happy'. They had a US No.1 with their second album Blood, Sweat & Tears in 1968.
20 Feb 1941
Buffy Sainte-Marie, Canadian singer, songwriter who had the 1971 UK No.7 single 'Soldier Blue'. She wrote 'Up Where We Belong' the 1982 US No.1 & UK No.7 for Joe Cocker and Jennifer Warnes.