January 12th: The Biggest Music Headlines
Scroll down the page to see all the music headlines, stories and events for January 12 throughout music history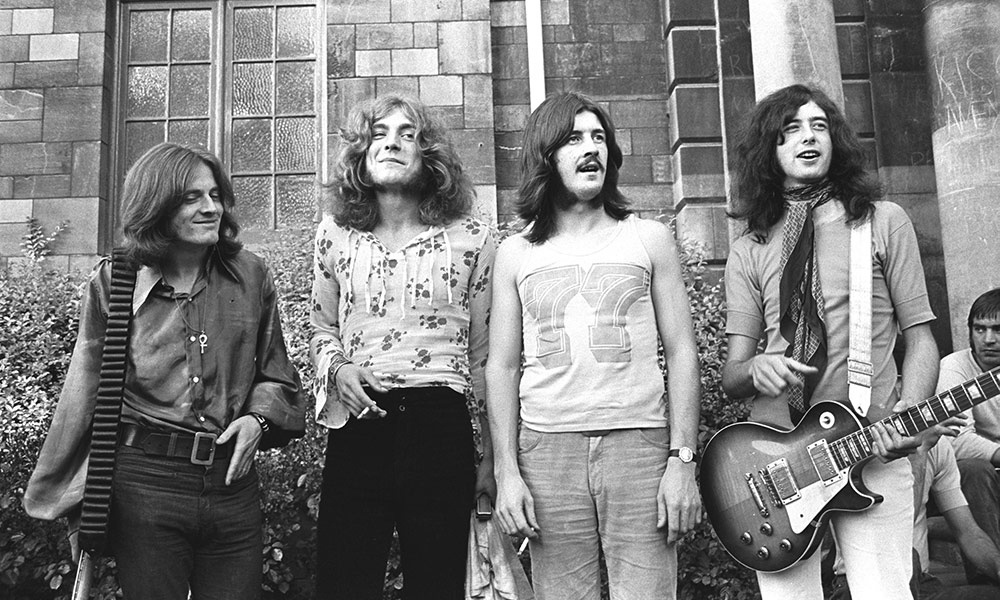 Led Zeppelin Release Their Self-Titled Debut
On this day in music, January 12, 1969, Led Zeppelin released their self-titled debut in the UK. Featuring a mix of blues covers and hard-rocking originals (including "Good Times Bad Times" and "Communication Breakdown"), the album was recorded in a mere 36 hours, not long after the band had formed. Initially called The New Yardbirds (an offshoot of the legendary blues-rock band), the group was forced to change their name. "Led Zeppelin" jokingly referred to the band's chances at success, but their album proved otherwise, spending more than a year on the UK chart (where it peaked at No.6), and landing in the Top Ten in the US, Australia, Spain, and beyond.
In 2003, founding Bee Gees member Maurice Gibb unexpectedly passed away at the age of 53, following complications from surgery. With a seemingly endless stream of hits like "How Can You Mend a Broken Heart," "Massachusetts," "How Deep Is Your Love," and "Stayin' Alive," Gibb and his brothers made a deep cultural impact during their lengthy career together.
In 2002, memories of the late R&B star Aaliyah continued to shine bright when her posthumous single, "More Than A Woman," topped the UK pop chart. The singer was killed in a plane crash months earlier, while she was en route to shoot a video for her hit, "Rock The Boat."
In 1977, The Police held their first rehearsal at drummer Stewart Copeland's London flat, with Henri Padovani on guitar. The band would release their debut single, "Fall Out" (their only recording featuring Padovani, before he was replaced by Andy Summers) in May.
In 1974, The Steve Miller Band scored their first No.1 hit on the Billboard Hot 100 with "The Joker."
In 1964, as their fame continued to grow, The Beatles appeared on the British TV show, Sunday Night At The London Palladium. Their five-song set included such hits as "I Wanna Hold Your Hand," "Twist and Shout," and "All My Loving."
Looking for more things that happened on this day in music?
Keep scrolling for all of the headlines for January 12.
BORN ON JANUARY 12:
1926: Ray Price
1946: George Duke
1951: Chris Bell (Big Star)
1954: Felipe Rose (Village People)
1968: Raekwon (Wu-Tang Clan)
1970: Zach de la Rocha (Rage Against the Machine)
1974: Mel C (Spice Girls)
1993: Zayn Malik (One Direction)
Looking for more artists born on this day?
Keep scrolling for all of our January 12 birthdays.
---
What to find another day?
---
January 12th
12 Jan 2023
Miley Cyrus released 'Flowers' as the lead single from her eighth studio album, Endless Summer Vacation. The song was a massive commercial success, setting several records and becoming Cyrus' biggest hit. It broke the record as the most streamed song in a week on Spotify during both its first and second week, and broke the record as the fastest song in Spotify history to surpass one billion streams, doing so in 112 days. It debuted atop the Billboard Global 200 chart and reached number one in 43 countries.
12 Jan 2023
Canadian drummer Robbie Bachman died aged 69. He was the youngest brother of guitarist, singer and songwriter Randy Bachman and with Bachman Turner Overdrive they had the 1974 US No.1 & UK No.2 single 'You Ain't Seen Nothing Yet'. BTO enjoyed a period of peak popularity between 1973 and 1976, releasing five Top 40 albums, six US Top 40 singles, and eleven Top 40 singles in Canada.
12 Jan 2022
American singer Ronnie Spector died aged 78. She co-founded and fronted the girl group The Ronettes, which had a string of hits in the 1960s, including 'Be My Baby' (1963), 'Baby, I Love You' (1963), '(The Best Part of) Breakin' Up' (1964), and 'Walking in the Rain' (1964). She married producer Phil Spector in 1968. Ronnie alleged in her 1990 memoir, Be My Baby, that following their marriage, Phil subjected her to years of psychological torment and sabotaged her career.
12 Jan 2017
Richard Carpenter said he was owed at least $2m (£1.6m) in royalties for the hits he recorded in The
Carpenters
. He claimed Universal Music had only paid the band a "minuscule fraction" of the money they were owed from downloads on sites like iTunes and Amazon. The musician was suing for compensation, according to legal documents filed in Los Angeles.
12 Jan 2013
The 1974 Rolls-Royce Silver Shadow used by
Freddie Mercury
until his death in November 1991, sold at auction for £74,000 to a Russian businessman. The 62,000-mile classic Rolls-Royce which had a guide price of just £9,000-£11,000 featured grey leather, wood trim, electric windows, automatic gearbox, a car phone and radio cassette player and a 6.75-litre V8 engine. It was sold as part of the Coys auction at Autosport International.
12 Jan 2010
Shakin' Stevens was found guilty of hitting a press photographer with a microphone stand during a concert at a hotel in Ballymena. The Welsh singer who scored No.1's in the 80s was fined £300 for assault and criminal damage and ordered to pay the photographer £479 to compensate for his damaged camera lens.
12 Jan 2007
Toni Braxton filed a lawsuit at the U.S District Court in Manhattan against her former manager Barry Hankerson for $10 million, alleging "fraud, deception and double dealing." According to Braxton, Hankerson placed his own personal financial interests ahead of hers by using "double-talk" to compromise the relationship between Braxton and her former recording label, Arista Records.
12 Jan 2005
It was announced that the Strawberry Field children's home immortalised by
The Beatles
was to close. The home in Woolton, Liverpool was made famous when
John Lennon
wrote 'Strawberry Fields Forever' after playing there as a child.
12 Jan 2004
American songwriter and guitarist Randy VanWarmer died from leukaemia aged 48. (1979 US No.4 & UK No.8 single 'Just When I Needed You Most'). Also wrote The Oak Ridge Boys No.1 US Country hit 'I Guess It Never Hurts to Hurt Sometimes.' VanWarmer's had arranged for a space burial and his cremated remains were sent into space in 2007.
12 Jan 2003
Singer-songwriter
Maurice Gibb
from The
Bee Gees
died aged 53 in Miami Hospital, Florida following a heart attack during abdominal surgery. The
Bee Gees
released over 20 albums and had the 1979 world-wide No.1 album 'Spirits Having Flown', and 'How Deep Is Your Love, 'Stayin' Alive', and 'Night Fever' from the soundtrack 'Saturday Night Fever' were all US No.1 singles. Gibb was married to the Scottish singer Lulu from 1969 to 1973. In 2002, Maurice was made a Commander of the British Empire (CBE), along with his brothers.
12 Jan 2002
Aaliyah had the posthumous UK No.1 single with 'More Than A Woman'. Aaliyah was killed in Aug 2001 in a plane crash in the Bahamas aged 22. The Cessna plane crashed a few minutes after take off killing everyone on board. Aaliyah had been filming a video on the island for her latest release 'Rock The Boat'.
12 Jan 2001
British Airways staff complained about
Oasis
singer
Liam Gallagher
after he had grabbed a stewardess' bottom, refused to stop smoking and threw objects around the cabin during a flight from London to Rio De Janeiro.
12 Jan 1996
AC/DC
played the first date on their Ballbreaker World Tour in Greensboro, North Carolina. The world tour would last for 11 months finishing on November 30, 1996 in Christchurch, New Zealand.
12 Jan 1995
Snoop Doggy Dogg was charged in Los Angeles with possession of marijuana and drug paraphernalia.
12 Jan 1993
Van Morrison failed to turn up at the Rock And Roll Hall Of Fame induction dinner, making him the first living inductee not to attend.
12 Jan 1992
Bob Geldof
was arrested after a disturbance on a Boeing 727, which had been grounded for 5 hours at Stansted Airport.
12 Jan 1983
12 Jan 1981
It was reported that the White House had expanded its record library by including albums by
Bob Dylan
,
Kiss
and the
Sex Pistols
.
12 Jan 1977
EMI Records issued a statement saying it felt unable to promote The
Sex Pistols
records in view of the adverse publicity generated over the last two months.
12 Jan 1977
Rolling Stone
Keith Richards
was fined £750 ($1,275) for possession of cocaine found in his car after the guitarist had been involved in a car crash.
12 Jan 1977
The Police
had their first rehearsal, held at drummer's Stewart Copeland's London flat, with Henri Padovani on guitar.
12 Jan 1975
The first night of a UK tour kicked off under the banner of The Warner Brothers Music Show. It featured Little Feat, Montrose, Tower Of Power, The Doobie Brothers and Graham Central Station. Also released was an album sampler featuring all the acts that was priced at 69p ($1.17).
12 Jan 1974
The Steve Miller Band were at No.1 on the US singles chart with 'The Joker', the group's first of three No.1's. It reached No.1 on the UK chart in 1990.
12 Jan 1969
Led Zeppelin
's debut album was released in the UK. Recorded at Olympic Studios in Barnes, London, the album took only about 36 hours of studio time to complete at a cost of just £1,782, most of the tracks being recorded 'live' in the studio with very few overdubs. The album spent a total of 71 weeks on the UK chart.
12 Jan 1964
The Beatles
appeared on the ATV show Sunday Night At The London Palladium performing 'I Wanna Hold Your Hand', 'This Boy', 'All My Loving', 'Money' and 'Twist And Shout'. The compere for the evening was Bruce Forsyth. When
The Beatles
appeared on this show on October 13, 1963, their fee had been £250, now, just three months later, their fee was £1,000.
Born on this day in music
12 Jan 1996
Ella Henderson, British singer-songwriter. She was a finalist on the ninth series of The
X Factor
in 2012. Her debut single, 'Ghost' went to No.1 in 2014.
12 Jan 1993
Zayn Malik from English-Irish pop boy band One Direction who formed after finishing third in the seventh series of The
X Factor
in 2010. Scored the 2011 UK No.1 single 'What Makes You Beautiful' and the 2013 No.1 'One Way or Another (Teenage Kicks)'.
12 Jan 1991
Pixie Lott, British singer, 2009 UK No.1 with her debut single 'Mama Do (Uh Oh, Uh Oh)'.
12 Jan 1975
Jason Freese, American musician, songwriter, record producer who has performed on over 50 albums by more than 35 different artists, including multiple albums by the Goo Goo Dolls,
Green Day
and Jewel.
12 Jan 1974
Melanie Chisholm, Mel C, Sporty Spice, The
Spice Girls
who scored the 1996 UK No.1 & 1997 US No.1 single 'Wannabe'. Her first solo attempt was collaborating with
Bryan Adams
on a hit "When You're Gone". She then released her debut solo studio album, Northern Star in 1999, which sold four million copies.
12 Jan 1970
American musician Zack de la Rocha, from Rage Against The Machine, who had the 1996 US No.1 album Evil Empire and the 1993 UK No.16 single 'Bullet In The Head'. He also co-founded One Day as a Lion in 2008.
12 Jan 1968
American rapper Raekwon from Wu-Tang Clan who had the 1997 US & UK No.1 album Wu-Tang Forever.
12 Jan 1965
Greg Kriesel, bassist from American punk rock band The Offspring, who had the 1999 UK No.1 single 'Pretty Fly, (For A White Guy)', and the 1999 US No.6 & UK No.10 album Americana.
12 Jan 1963
Guy Chambers, singer, songwriter, producer, member of The Waterboys, World Party, The Lemon Trees. Worked with Robbie Williams from 1997 as co-songwriter and producer penning tracks including 'Angels', 'Rock DJ', 'Millennium' and 'Let Me Entertain You'.
12 Jan 1960
Charlie Gillingham, keyboards, from American rock band Counting Crows, who had the 1994 UK hit single 'Mr Jones', and the 1996 US No.1 album Recovering The Satellites. They received a 2004 Academy Award nomination for their song 'Accidentally in Love', which was included in the film Shrek 2.
12 Jan 1959
Blixa Bargeld, from Australian rock band Nick Cave And The Bad Seeds who have released over 15 studio albums including the 2013 Australian No.1 Push the Sky Away.
12 Jan 1959
Swedish pop singer-songwriter, guitarist, Per Gessle, with Swedish group Roxette, who had the 1990 US No.1 & UK No.3 single 'It Must Of Been Love'. Roxette have sold an estimated 75 million records worldwide.
12 Jan 1954
Felipe Rose, from American disco group The Village People. They had the hit singles 'Macho Man', 'In the Navy', 'Go West and the 1978 US No.2 hit 'YMCA'. The group's name refers to New York City's Greenwich Village, at the time known for its large gay population.
12 Jan 1951
Chris Bell, American singer, songwriter and guitarist with Big Star. Bell was killed in a car accident on 27/12/78.
12 Jan 1946
Cynthia Robinson, vocals, Sly and the Family Stone who had the 1968 US No.1 singles 'Everyday People', the 1971 US No.1 'Family Affair' and the 1971 US No.1 album There's a Riot Goin' On. She died on November 23, 2015.
12 Jan 1946
American musician, composer, singer and producer George Duke. He released over thirty solo albums, of which A Brazilian Love Affair from 1980 was his most popular. Duke worked with other musicians, particularly
Frank Zappa
and also appeared on
Michael Jackson
's Off
The Wall
album. He died on August 5, 2013 aged 67.
12 Jan 1945
Maggie Bell, singer, The Power, Stone The Crows & solo, (UK No.11 solo single 'Hold Me').
12 Jan 1945
Abe Tilmon, Detroit Emeralds, (1973 UK No.7 single 'Feel The Need In Me'). Died of a heart attack in 1982
12 Jan 1941
Long John Baldry, vocals, Bluesology and solo artist, (1967 UK No.1 single 'Let The Heartaches Begin'). Baldry died of a chest infection on 21st July 2005.
12 Jan 1939
American country music singer William Lee Golden from the Oak Ridge Boys, (1981 US No.5 single 'Elvira').
12 Jan 1932
Des O'Connor, UK singer, comedian, TV presenter, (1968 UK No.1 single 'I Pretend'. Plus seven other UK Top 40 singles). Toured the UK with
Buddy Holly
in 1958.
12 Jan 1926
Ray Price, singer, songwriter and guitarist. His wide-ranging baritone has often been praised as among the best male voices of country music. Price died on 16th Dec 2013 aged 87 at his ranch outside Mount Pleasant, Texas.