January 20th: The Biggest Music Headlines
Scroll down the page to see all the music headlines, stories and events for January 20 throughout music history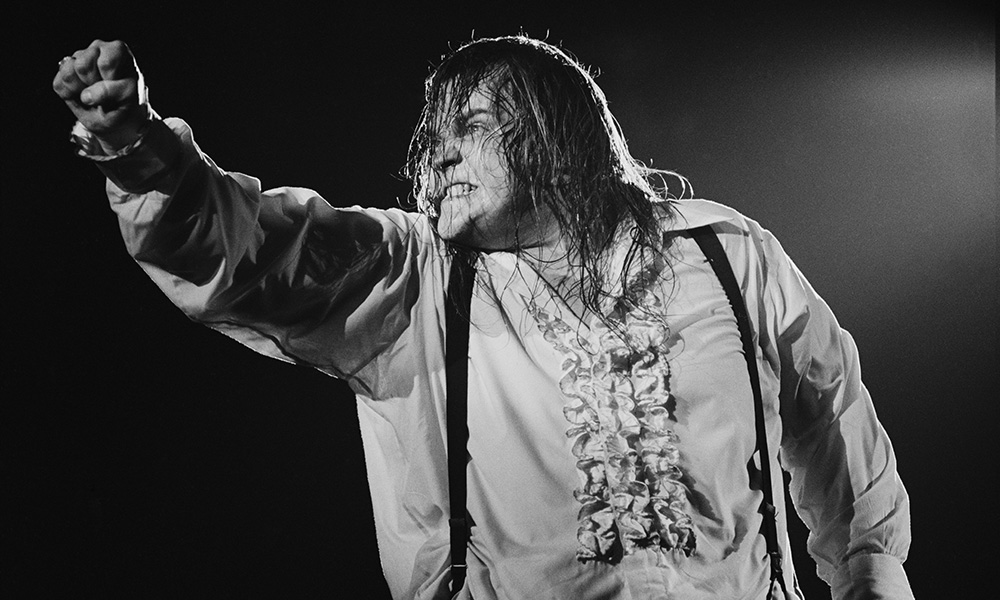 Meat Loaf Passes Away
On this day in music, January 20, 2022, the Grammy Award-winning singer and actor, Meat Loaf, died at age 74. Born Marvin Lee Aday, the operatic vocalist was famous for his bombastic performances. His monstrously popular Bat Out Of Hell trilogy, which was released over the course of 29 years, collectively sold more than 100 million copies worldwide, while his 1977 debut, Bat Out of Hell remained on the charts for an astonishing nine years. As an actor, Meat Loaf rose to fame with a show-stopping performance in The Rocky Horror Picture Show and appeared in more than 50 films and TV shows during his life.
In 1982, during an Ozzy Osbourne concert in Des Moines, IA, an audience member threw a bat onto the stage. Initially thinking the bat to be fake, the singer attempted to bite the object's head off in a wild display. Ozzy quickly realized that it had, in fact, been a living creature. After the show, Ozzy was immediately rushed to the nearest hospital for rabies shots.
In 1997, Vermont ice cream company, Ben and Jerry's, introduced Phish Food, a new flavor named after the popular jam band.
In 1988, The Beatles were inducted into the Rock and Roll Hall of Fame, alongside Bob Dylan, The Supremes, The Beach Boys, and The Drifters, during the third annual ceremony.
In 1983, Def Leppard released their third studio album, Pyromania. The record, which featured new guitarist Phil Collen, was produced by "Mutt" Lange and found the British rockers moving away from their heavy metal roots. Led by the hit "Photograph" the album has since sold over 10 million copies in the US.
In 2012, singer Etta James, most often remembered for her signature hit, "At Last," died at the age of 73, following a battle with leukemia. The six-time Grammy winner and Rock and Roll Hall of Famer was revered for her versatile vocals.
Looking for more things that happened on this day in music?
Keep scrolling for all of the headlines for January 20.
BORN ON JANUARY 20:
1899: Leadbelly
1924: Slim Whitman
1945: Eric Stewart (Mindbenders, 10cc)
1949: Ian Hill (Judas Priest)
1952: Paul Stanley (KISS)
1971: Gary Barlow (Take That)
1979: Rob Bourdon (Linkin Park)
1980: Matthew Tuck (Bullet for My Valentine)
1981: Nathan Connolly (Snow Patrol)
Looking for more artists born on this day?
Keep scrolling for all of our January 20 birthdays.
---
What to find another day?
---
January 20th
20 Jan 2022
American musician, singer, songwriter, record producer, and actor Meat Loaf died aged 74. His record-breaking 1978 album
Bat Out Of Hell
spent 457 weeks on the UK album chart. His Bat Out of Hell trilogy of albums (consisting of Bat Out of Hell, Bat Out of Hell II: Back into Hell, and Bat Out of Hell III: The Monster Is Loose) has sold more than 50 million copies worldwide. Meat Loaf has also appeared in over 50 movies and television shows.
20 Jan 2021
Some of the UK's biggest music stars sent an open letter to the British government demanding action to ensure visa-free touring in the European Union. Sir
Elton John
,
Liam Gallagher
,
Ed Sheeran
,
Sting
and
Radiohead
were among 110 artists who signed the letter. It said they had been "shamefully failed" by the government over post-Brexit travel rules for UK musicians.
20 Jan 2017
Sir
Paul McCartney
was suing Sony over control of
The Beatles
' back catalogue. McCartney had gone to a US court, seeking to regain the publishing rights to 267 of the band's classic songs. He had been trying to get them back since the 1980s, when
Michael Jackson
famously out-bid him for the rights. Jackson's debt-ridden estate sold the songs to Sony in 2016.
20 Jan 2012
Etta James, most often remembered for her signature song, 'At Last', which reached No. 2 on the Billboard R&B chart, died from complications of leukemia at the age of 73. She also placed nine other songs in the American Top 40, won three Grammy Awards and was inducted into the Rock and Roll Hall of Fame in 1993.
20 Jan 2006
American music executive Johnny Bienstock died of complications from heart disease aged 83. Owned Moss Rose Music, worked with Ernest Tubb, Hank Snow,
Elvis Presley
, The
Bee Gees
,
Eric Clapton
, Del Shannon and
Meat Loaf
.
20 Jan 2003
8 Mile, starring
Eminem
toppled The Lord of the Rings: The Two Towers from its four-week hold at the top of the UK box office. The story of a Detroit rapper took £4,440,334 at 423 cinemas in the UK and Ireland.
20 Jan 2002
George Harrison
had the posthumous UK No.1 single with the re-release of the 1971 former No.1 '
My Sweet Lord
'. Harrison's single replaced Aaliyah's 'More Than A Woman', the only time in chart history that one deceased artist had taken over from another at No.1. '
My Sweet Lord
'.
20 Jan 2001
A memorial service was held for Kirsty MacColl who was killed in a boating accident off the coast of Mexico in December 2000. Bono from
U2
and Billy Bragg were among friends and fans that packed St Martin-in-the-fields church in London.
20 Jan 2000
Tourism chiefs in Liverpool were banned from putting up motorway signs saying 'Liverpool, the Birthplace Of
The Beatles
because the Highways Agency thought the signs would distract motorists.
20 Jan 2000
English bassist Ray Jones from The Dakotas died. They had the 1964 UK No.1 & US No.7 single 'Little Children' as Billy J Kramer and The Dakotas. In addition to backing Kramer, the group itself is best known for their instrumental single 'The Cruel Sea', that reached No.18 in the UK charts in July 1963. The track was re-titled 'The Cruel Surf' in the US, and was subsequently covered by The Ventures.
20 Jan 1999
Bill Albaugh drummer from the Sixties psychedelic group The Lemon Pipers died aged 53. The Lemon Pipers scored the 1967 US No.1 single 'Green Tambourine'. The song has been credited as being the first bubblegum pop chart-topper and it was also the first US No.1 hit for the Buddah label.
20 Jan 1997
Ben and Jerry's introduced 'Phish food', a new flavor of ice cream named after the rock group Phish. The ingredients were chocolate ice cream, marshmallows, caramel and fish-shaped fudge.
20 Jan 1988
The Beatles
were inducted into the Rock and Roll Hall of Fame.
George Harrison
,
Ringo Starr
and Yoko, Sean, and Julian Lennon all attend.
Paul McCartney
did not attend, sending instead a letter stating that continuing business differences with the other ex-Beatles was the reason for his absence.
20 Jan 1983
Def Leppard
released their third studio album 'Pyromania' which featured new guitarist Phil Collen and was produced by Robert John "Mutt" Lange. The album has now sold over 10 million copies in the US.
20 Jan 1982
During an
Ozzy Osbourne
concert in Des Moines, Iowa, a member of the audience threw a bat onto the stage. Stunned by the light, the bat lay motionless, and thinking it was a rubber fake, the singer picked it up and attempted to bite its head off. As he did this, the bat started to flap its wings and Ozzy soon realized it wasn't fake but in fact a living thing. After the show Ozzy was immediately rushed to the nearest hospital for rabies shots.
20 Jan 1972
On the first date of a UK tour at The Dome, Brighton, England,
Pink Floyd
attempted to premiere their new album
The Dark Side Of The Moon
but due to technical problems this was abandoned after a performance of the track 'Money'.
20 Jan 1969
Bruce Springsteen
had two of his poems published in the Ocean County College Literary Yearbook Seascapes. Springsteen was in his second semester at the Toms River, New Jersey College.
20 Jan 1969
Led Zeppelin
appeared at the Wheaton Youth Center, Wheaton, during their first North American tour. Some reports suggest that only 55 fans attended this show, (if so, this would make it the smallest audience they ever played to). This show was on a Monday and the night of Richard Nixon's inauguration. Zeppelin were paid $250 to appear.
20 Jan 1968
One Hit Wonders
John Fred and the Playboy Band started a two week run at No.1 on the US singles chart with 'Judy In Disguise, (With Glasses)', it made No.3 in the UK. The song was inspired by
The Beatles
'Lucy In The Sky'.
20 Jan 1967
The
Monkees
TV show was shown for the first time in the UK. The series followed the adventures of four young men (the
Monkees
) trying to make a name for themselves as rock 'n roll singers. They went on to sell more than 75 million records worldwide and had international hits, including 'Last Train to Clarksville', 'Pleasant Valley Sunday', 'Daydream Believer', and 'I'm a Believer'.
20 Jan 1965
American disc-jockey Alan Freed died from uraemia and cirrhosis brought on by alcoholism at the age of 42. Freed called himself the "father of rock and roll", appeared in the movies such as Rock Around the Clock and Don't Knock the Rock. His career was destroyed by the payola scandal that hit the broadcasting industry in the early 1960s.
Born on this day in music
20 Jan 1981
Nathan Connolly, from Northern Irish rock band Snow Patrol, who scored the 2006 UK No.1 album Eyes Open and the 2006 UK No.6 single 'Chasing Cars'.
20 Jan 1980
Matthew Tuck lead vocalist and rhythm guitarist in the Welsh metalcore band Bullet for My Valentine. Their second album Scream Aim Fire peaked at No.2 on the UK chart and US Rock chart in 2008. He is singer and guitarist in the supergroup AxeWound, which was formed in 2012.
20 Jan 1979
Rob Bourdon, drummer with
Linkin Park
who had the 2002 US No.2 & UK No.4 single 'In The End', and the 2002 US No.2 & 2001 UK No.4 album Hybrid Theory.
20 Jan 1979
Will Young, singer, UK TV's Pop Idol winner, (2002 UK No.1 single 'Anything Is Possible / Evergreen').
20 Jan 1977
Sid Wilson, American DJ, keyboardist and pianist, best known as the turntablist of the Grammy Award-winning band Slipknot. Outside Slipknot, Wilson has made a following in Japan as a jungle musician, under the pseudonym DJ Starscream.
20 Jan 1971
Gary Barlow, vocals, piano, songwriter,
Take That
(1995 UK No.1 single 'Back For Good' plus eight other UK No.1 singles, 1993 UK No.1 album 'Everything Changes spent 78 weeks on the UK chart). Solo, (1996 UK No.1 single 'Forever Love'). Written songs for Donny Osmond Charlotte Church, Bryan McFadden and Atomic Kitten. Re-formed
Take That
without Robbie Williams in 2006 for a sold-out European tour. Topped the UK singles and album charts simultaneously for the first time in their career when the single 'Patience' and album 'Beautiful World' both reached No.1 in Dec 2006.
20 Jan 1969
Nicholas Allen Jones, Manic Street Preachers, (1996 UK No.2 single 'A Design For Life' 1998 UK No.1 album 'This Is My Truth Tell Me Yours').
20 Jan 1969
Tina O'Neill, drummer, from English alternative rock group We've Got A Fuzzbox And We're Gonna Use It who had the 1989 UK No.11 single 'International Rescue'.
20 Jan 1965
Heather Small, singer, M People, (1993 UK No.2 single 'Moving On Up' plus over 15 other UK Top 40 singles).
20 Jan 1959
American guitarist and singer-songwriter, Rusty Anderson, best known as the accompanying lead guitarist for
Paul McCartney
's tours since 2001. Anderson has also worked with Gwen Stefani, Steven Tyler, Richie Sambora, Regina Spektor, Dido, Cat Stevens, Miley Cyrus, Eros Ramazzotti, Nelly Furtado and
Meat Loaf
.
20 Jan 1952
Ian Hill, English musician, best known as the bassist of the heavy metal band Judas Priest who have released over 15 studio albums.
20 Jan 1952
Paul Stanley, guitarist and singer with American hard rock band
Kiss
who had 1976 US No.11 album Rock and Roll Over which spent 26 weeks on the chart and the 1987 UK No.4 single 'Crazy Crazy Nights'. Kiss have been awarded 24 gold albums to date, the most of any American rock band - selling more than 40 million albums. Stanley established The Starchild character for his Kiss persona.
20 Jan 1948
Mel Pritchard, drummer with the British progressive rock band, Barclay James Harvest. He died on 28 January 2004 aged 56.
20 Jan 1947
George Grantham, drums, Poco, (1979 US No.17 single 'Crazy Love').
20 Jan 1946
Jimmy Chambers, singer, Londonbeat, (1990 UK No.2 & 1991 US No.1 single 'I've Been Thinking About You').
20 Jan 1945
English singer-songwriter and multi-instrumentalist Eric Stewart who with the Mindbenders had the 1966 UK No.2 single 'Groovy Kind Of Love'. With Hotlegs the 1970 UK No.2 single 'Neanderthal Man' and as a member of 10cc the 1975 UK No.1 & US No. 2 single 'I'm Not In Love' plus 10 other Top 30 hits). Stewart co-owned Strawberry Studios in Stockport, England from 1968 to the early 1980s. He also collaborated with
Paul McCartney
extensively in the mid-1980s, playing on or co-writing songs for McCartney's solo albums Tug of War (1982), Pipes of Peace (1983), Give My Regards to Broad Street (1984), and Press to Play (1986).
20 Jan 1943
Rick Evans, singer, Zager and Evans, (1969 US & UK No.1 single 'In The Year 2525').
20 Jan 1942
Billy Powell, vocals, The O'Jays, (1973 US No.1 & UK No.9 single 'Love Train'). Powell died on 26th May 1982.
20 Jan 1933
Ron Townson, The 5th Dimension, (1969 US No.1 & UK No.11 single 'Aquarius'). Died on 3rd August 2001.
20 Jan 1924
American country music, western music and folk music artist singer-songwriter Slim Whitman. He had the 1955 UK No.1 single 'Rose Marie'. Known for his yodeling abilities and his smooth, high, three-octave-range falsetto in a style christened as "countrypolitan". In the 1990s and 2000s a new generation was exposed to Whitman through his songs featured in the film Mars Attacks!; his famed 'Indian Love Call' would kill the invading Martians every time the record was played. He died of heart failure on June 19, 2013 aged 90.
20 Jan 1889
Leadbelly, (Huddi William Ledbetter), Blues musician, who wrote 'Goodnight Irene', 'The Rock Island Line', and 'The Midnight Special'. He was once jailed for shooting a man dead during an argument over a woman. Leadbelly died on 6th December 1949.