January 22nd: The Biggest Music Headlines
Scroll down the page to see all the music headlines, stories and events for January 22 throughout music history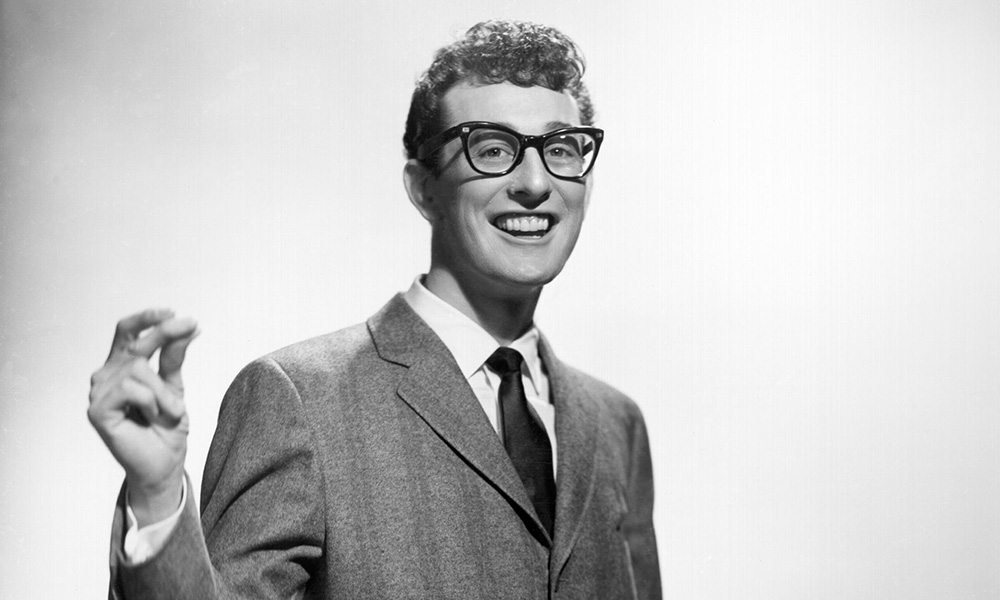 Buddy Holly Makes His Final Recordings
On this day in music, January 22, 1959, 22-year-old Buddy Holly made his final recordings in his New York City apartment. Armed with just an acoustic guitar and a tape recorder, Holly performed the songs "Peggy Sue Got Married," "Crying, Waiting, Hoping," "That's What They Say," "What To Do," "Learning The Game," and "That Makes It Tough." The following day, Holly and his band embarked on The Winter Dance Party Tour. Less than two weeks later, he would be killed in a plane crash, alongside Ritchie Valens and The Big Bopper. These final recordings were overdubbed and released, posthumously, on Coral Records.
In 1983, after nearly two years on air, MTV began broadcasting to the West Coast of America. The 24-hour music video network fundamentally changed the way the world interacted with music and was, for many years, the ultimate youth culture tastemaker.
In 2012, British superstar Adele broke an American chart record previously held by the likes of The Beatles and Pink Floyd when her second album, 21, hit 16 weeks at No.1. The feat found Adele matching the success of the massively popular Titanic soundtrack.
In 1977, Paul McCartney proved his post-Beatles prowess when he topped the US album chart for the sixth time with Wings Over America.
In 1972, Don McLean's sophomore album, American Pie, began a seven-week run at the top of the Billboard 200. The release was spurred by the success of the nearly nine-minute-long title track, as well as McClean's ode to Vincent van Gogh, "Vincent," both of which topped the US pop chart.
In 1966, The Beach Boys entered Gold Star Studios to record "Wouldn't It Be Nice," the opening track on their forthcoming album, Pet Sounds. With help from legendary studio musicians The Wrecking Crew (including drummer Hal Blaine and bassist Carol Kaye), the song would become one of the group's most identifiable anthems.
Looking for more things that happened on this day in music?
Keep scrolling for all of the headlines for January 22.
BORN ON JANUARY 22:
1931: Sam Cooke
1940: Addie Harris (The Shirelles)
1949: Steve Perry (Journey)
1960: Michael Hutchence (INXS)
1965: Steven Adler (Guns N' Roses)
1965: DJ Jazzy Jeff
1990: Logic
Looking for more artists born on this day?
Keep scrolling for all of our January 22 birthdays.
---
What to find another day?
---
January 22nd
22 Jan 2021
James Purify died Pensacola, Florida, of complications due to COVID-19. The R&B singing duo, James & Bobby Purify biggest hit was 'I'm Your Puppet' in 1966, which reached No.6 in the US Billboard Hot 100.
22 Jan 2017
English bass guitar player Pete Overend Watts and founding member of the 1970s rock band, Mott the Hoople died from throat cancer aged 69. Watts helped start the Buddies with guitarist Mick Ralphs, a band that evolved into Mott the Hoople after periods in which it was known as the Doc Thomas Group, the Shakedown Sound, then Silence. They became Mott the Hoople after Ian Hunter joined in 1969. Watts continued with Dale Griffin, Morgan Fisher and Ray Major in the Mott successor British Lions. He later became a record producer, producing albums for artists including Hanoi Rocks and Dumb Blondes.
22 Jan 2017
German drummer Jaki Liebezeit died of pneumonia aged 78. He was best known as a founding member of the experimental rock band Can who were hailed as pioneers of the German krautrock scene. He also worked with Jah Wobble, Depeche Mode and Brian Eno.
22 Jan 2015
In the first successful celebrity case of its kind,
Rihanna
won a legal battle against UK high street store Topshop over a T-shirt bearing her image. The Court of Appeal in London upheld a ban on the store selling a sleeveless T-shirt featuring a photo of the star without obtaining her permission. The star had sued Topshop's parent company Arcadia for $5m (£3.3m) back in 2013 over the T-shirts, which featured a photo taken during a video shoot in 2011.
22 Jan 2012
Adele
broke an American chart record that has stood for years after being set by
The Beatles
and
Pink Floyd
. The singers second album 21 clocked up 16 weeks at No.1 on the US chart matching the success of the Titanic original soundtrack. '21', released last January had now beaten
The Beatles
'
Sgt Pepper
's and
Pink Floyd
's
The Wall
which had previously held the accolade with runs of 15 weeks at No.1.
22 Jan 2006
Arctic Monkeys scored their second UK No.1 single with 'When The Sun Goes Down', from their debut album, Whatever People Say I Am, That's What I'm Not. The song contains the line, "and he told Roxanne to put on her red light," a reference to
The Police
song, Roxanne.
22 Jan 2005
One of the biggest charity concerts since
Live Aid
raised £1.25 million ($2 million) for victims of the tsunami disaster in Asia. The concert held at The Millennium Stadium, Cardiff featured
Eric Clapton
, Manic Street Preachers, Keane, Charlotte Church, Snow Patrol, Embrace, Feeder, Craig David and Liberty X, who appeared before 60,000 fans at the sold-out concert.
22 Jan 2004
Ryan Adams broke a wrist after falling during a gig at the Royal Court Theatre in Liverpool. Adam's fell from the stage and suffered a fractured wrist. A fan said, 'One minute he was on the stage and the next he had disappeared. He went down with a thud and we couldn't believe he was trying to continue singing'.
22 Jan 2002
English keyboardist Peter Bardens died from lung cancer aged 57. He was a founder member of the British progressive rock group Camel and during his career, Bardens also worked alongside
Rod Stewart
,
Mick Fleetwood
and Van Morrison, and recorded solo albums.
22 Jan 1997
Scottish singer Billy MacKenzie from The Associates committed suicide aged 39 after he overdosed on a combination of paracetamol and prescription medication in the garden shed of his father's house in Auchterhouse, Scotland. The Associates debut single, a cover of
David Bowie
's 'Boys Keep Swinging', was released June 1979, just six weeks after Bowie's version hit the UK Top 10 in April.
22 Jan 1994
D:Ream had their first UK No.1 single with 'Things Can Only Get Better', it stayed at No.1 for four weeks. In 1997 the track was adopted by the UK Labour Party as their theme for the 1997 UK General Election. Keyboard player Brian Cox became a renowned physicist and science broadcaster on the BBC.
22 Jan 1994
American actor and singer Telly Savalas died of prostate cancer aged 72. He scored the 1975 UK No.1 single 'If'. Played Lt. Theo Kojak a bald New York City detective in the television series Kojak, with a fondness for lollipops and whose trademark line was "Who loves ya, baby?"
22 Jan 1994
American musician Rhett Forrester was shot and killed at a Northwest Atlanta intersection after he refused to give up his vehicle in an attempted carjacking, he was 37 years old. He was best known as the lead singer for New York-based band Riot from 1981 until 1984.
22 Jan 1987
One Hit Wonder Steve 'Silk' Hurley was at No.1 on the UK singles chart with 'Jack Your Body', the first 'House' record to top the UK chart.
22 Jan 1983
The new 24-hour music video network
MTV
started broadcasting to the West Coast of America after being picked up by Group W Cable, Los Angeles.
22 Jan 1977
22 Jan 1972
David Bowie
'came out' as bisexual during an interview in the British music weekly Melody Maker.
22 Jan 1972
Don McLean's album 'American Pie' started a seven week run at No.1 in the US album chart.
22 Jan 1970
Steel Mill, (featuring
Bruce Springsteen
) opened for The Elvin Bishop Band at The Matrix in San Francisco, California. Steel Mill were paid only $5 for the gig, The Elvin Bishop Band received $90 as headliner.
22 Jan 1969
The Beatles
moved from Twickenham Film Studios to Apple studios in London to start recording the "Get Back" LP. Billy Preston was brought into the sessions (John, Paul, and George knew Preston from 1962, when he was a member of
Little Richard
's backing group).
The Beatles
were determined to record the album "live", flaws and all.
22 Jan 1967
The
Monkees
performed live for the very first time at The Cow Palace, San Francisco to a sell-out crowd.
22 Jan 1966
The Beach Boys
went into Gold Star studios to record 'Wouldn't It Be Nice', which would be the opening track on their forthcoming album
Pet Sounds
. The musicians present on the day were The Wrecking Crew including Hal Blaine on drums and Carol Kaye on electric bass.
22 Jan 1963
The Beatles
appeared on three UK radio programs. First
The Beatles
recorded a session for the show Pop Inn at the BBC Paris studio, they then went to the Playhouse Theatre also in London, to tape a radio appearance on Saturday Club, recording five songs. Then the Beatles went back to the BBC Paris studio to record an appearance on The Talent Spot recording 'Please Please Me', 'Ask Me Why' and 'Some Other Guy' before a live audience.
22 Jan 1959
Alone with an acoustic guitar and tape recorder in his New York City apartment
Buddy Holly
made his last recordings, including 'Peggy Sue Got Married', 'Crying, Waiting, Hoping', 'That's What They Say', 'What To Do', 'Learning The Game' and 'That Makes It Tough'. The recordings would be overdubbed posthumously and were later released by Coral Records.
Born on this day in music
22 Jan 1990
American rapper and record producer Sir Robert Bryson Hall II, known professionally as Logic. He has released six studio albums and received two Grammy Award nominations. His 2017 album Everybody charted at No.1 in the United States.
22 Jan 1965
DJ Jazzy Jeff, (1993 UK No.1 single 'Boom! Shake The Room').
22 Jan 1965
Roachford, UK singer, (1989 UK No.4 single 'Cuddly Toy').
22 Jan 1965
American drummer Steven Adler, a member of Guns N' Roses, from 1985 - 1990. He appeared in the reality TV show Celebrity Rehab with Dr. Drew, as well as on the first season of its spin-off Sober House.
22 Jan 1960
Michael Hutchence
, singer, songwriter from Australian rock band INXS, who had the 1988 UK No.2 & US No.1 single 'Need You Tonight'. Their 1987 album Kick has sold over 10m copies in the US alone and features four Top 10 singles; 'Need You Tonight,' 'Devil Inside', 'New Sensation,' and 'Never Tear Us Apart.' INXS has sold over 55 million records worldwide. Hutchence was found dead in his hotel suite in Sydney on 22nd Nov 1997 age 37.
22 Jan 1949
Steve Perry, vocals, Journey, who had the 1982 US No.2 single 'Open Arms', and the solo 1984 US No.3 hit single, Oh, Sherrie'.
22 Jan 1949
English drummer Nigel Pegrum who was in an early line-up of the
Small Faces
, then played drums with Lee Grant And The Capitols before joining Spice, who subsequently changed their name to Uriah Heep. He was also a member of English folk rock band Steeleye Span who formed in 1969. They had the 1975 UK No.5 single 'All Around My Hat'.
22 Jan 1949
American drummer Vini Lopez. Between 1968 and 1974 Lopez backed
Bruce Springsteen
in several bands, including Steel Mill and the E Street Band. He also played on Springsteen's first two albums, Greetings from Asbury Park, N.J. and The Wild, the Innocent and the E Street Shuffle.
22 Jan 1947
Malcolm Mclaren, manager of the
Sex Pistols
and solo artist, (1983 UK No.3 single 'Double Dutch'). Died aged 64 from cancer on 8th April 2010.
22 Jan 1940
Addie Harris, singer with American girl group The Shirelles, notable for their popularity in the early 1960s. They were the first all-female black group to have a No.1 hit record with 'Will You Love Me Tomorrow' in 1961. Harris died on 10th June 1982.
22 Jan 1931
American singer, songwriter, and entrepreneur
Sam Cooke
who had the 1957 US No.1 & UK No.29 single 'You Send Me' and a 1986 UK No.2 single with 'Wonderful World', (which was first released in 1960). He began singing as a child and joined The Soul Stirrers before moving to a solo career. Cooke died on December 11th 1964 at the Hacienda Motel, at 9137 South Figueroa Street, in Los Angeles, California after he sustained a gunshot wound to the chest.