January 3rd: The Biggest Music Headlines
Scroll down the page to see all the music headlines, stories and events for January 3 throughout music history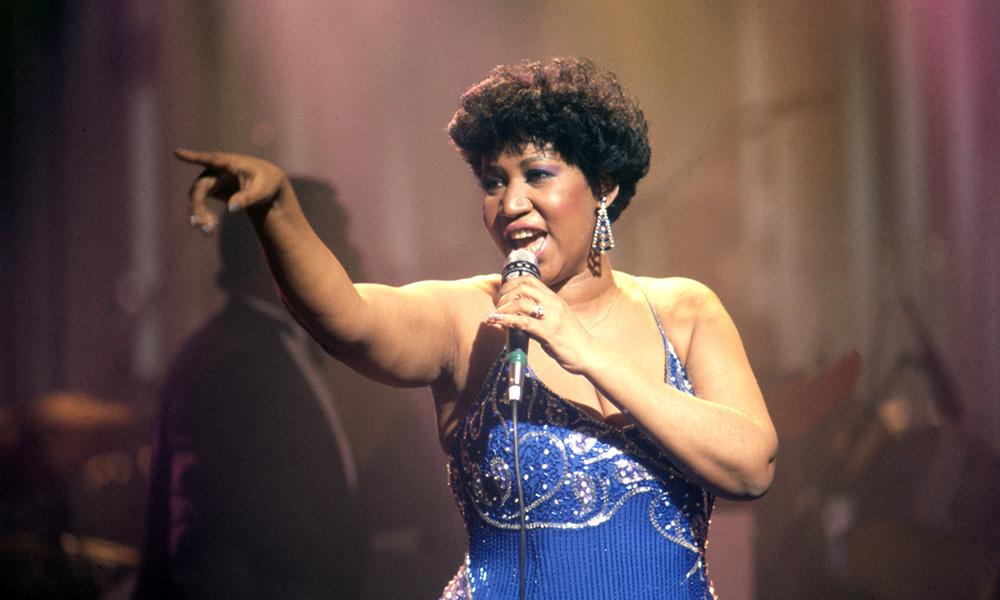 Aretha Franklin Is the First Female Rock and Roll Hall of Fame Inductee
On this day in music, January 3, 1987, Aretha Franklin became the first woman to be inducted into the Rock and Roll Hall of Fame. From her midwestern gospel roots, "The Queen of Soul" rose to become one of the biggest stars in the world, with 100 entries on the R&B chart, 73 on the Billboard Hot 100, and 17 Top Ten hits, including her chart-topping cover of Otis Redding's "Respect," "(You Make Me Feel Like) A Natural Woman," and "Chain of Fools." Franklin was inducted during the Hall of Fame's second annual ceremony, alongside such fellow trailblazers as Marvin Gaye, Bo Diddley, Roy Orbison, and Muddy Waters.
In 2014, Phil Everly, one half of the Everly Brothers, died of complications from lung disease at the age of 74. The legendary duo, which was responsible for such hits as "Wake Up Little Susie" and "All I Have To Do is Dream," was a major influence on artists like the Beach Boys.
In 1976, amid a sea of political discourse regarding the wrongful conviction of boxer Rubin "Hurricane" Carter, Bob Dylan's protest song, "Hurricane," peaked at No.33 on the Billboard Hot 100. The Top 40 hit spread awareness about Carter's story and, eventually, stirred up enough media attention to help Carter get released from prison.
In 1967, having received a US army draft notice, Beach Boy Carl Wilson refused to be sworn in, declaring himself a conscientious objector. As a high-profile objector, Wilson made the news with his anti-war stance.
In 1964, The Beatles appeared on American TV for the second time when The Jack Paar Show rebroadcast a BBC session, featuring the British band performing "She Loves You." The Fab Four made their debut just a few weeks earlier.
In 1970, B.J. Thomas began a four-week run at the top of the Billboard Hot 100 with "Raindrops Keep Fallin' On My Head." The Burt Bacharach/Hal David-penned song was featured in the film Butch Cassidy and the Sundance Kid.
Looking for more things that happened on this day in music?
Keep scrolling for all of the headlines for January 3.
BORN ON JANUARY 3:
1916: Maxene Andrews (The Andrews Sisters)
1926: George Martin (Producer)
1943: Van Dyke Parks (Songwriter, Producer)
1945: Stephen Stills (Buffalo Springfield, Crosby, Stills, Nash & Young)
1946: John Paul Jones (Led Zeppelin)
1975: Thomas Bangalter (Daft Punk)
Looking for more artists born on this day?
Keep scrolling for all of our January 3 birthdays.
---
What to find another day?
---
January 3rd
3 Jan 2021
English musician Gerry Marsden died age 78 after being diagnosed with a blood infection in his heart. With Gerry And The Pacemakers he had the 1963 UK No.1 single 'How Do You Do It' and the 1965 US No.6 single, 'Ferry Cross The Mersey'. In common with
The Beatles
they came from Liverpool, were managed by Brian Epstein, and were recorded by George Martin. Their cover of 'You'll Never Walk Alone' was released in 1963, peaking at No.1. After becoming a chart hit the song gained popularity on the Anfield terraces, and the song quickly became the football anthem of Liverpool F.C., which adopted 'You'll Never Walk Alone' as its official motto on its coat of arms.
3 Jan 2020
Swedish singer and guitarist Bo Winberg died. He was a member of The Spotnicks, who together with the Shadows and the Ventures are counted as one of the most famous instrumental bands during the 1960s. The Spotnicks were famous for wearing 'space suit' costumes on stage, and for their innovative electronic guitar sound.
3 Jan 2020
Sir
Rod Stewart
was charged by police following an alleged altercation at a hotel in Florida on New Year's Eve. A police document released in the US accused Stewart of punching a security guard after he and his companions, including his son Sean, attempted to get into a private party in a children's area at the Breakers Palm Beach Hotel.
3 Jan 2017
Vinyl sales topped three million last year, the highest UK total in 25 years. More than 3.2 million records were sold in 2016, a rise of 53% on the previous year, according to the BPI, which represents the music industry.
David Bowie
's Blackstar was the most popular album on vinyl, selling more than double the number of copies of 2015's biggest-seller,
Adele
's 25.
3 Jan 2014
Phil Everly, one half of the Everly Brothers, died of complications from lung disease aged 74, in California. In their heyday between 1957 and 1962, the Everly Brothers had 19 Top 40 hits, including 'Bye Bye Love', 'Wake Up Little Susie' and 'All I Have to Do Is Dream' and influenced acts such as
The Beatles
and
The Beach Boys
. The Everly Brothers had 35 Billboard Top-100 singles, 26 in the top 40. They hold the record for the most Top-100 singles by any duo. In the UK, they had 30 chart singles, 29 in the top 40, 13 top 10, and 4 at No. 1 between 1957 and 1984.
3 Jan 2012
British musician Bob Weston died age 64. He had a brief role as guitarist and songwriter with
Fleetwood Mac
in the early 1970s. He also recorded and performed with a number of other musicians, including Graham Bond, Long John Baldry, Murray Head, Sandy Denny and Danny Kirwan.
3 Jan 2002
Zak Foley bassist with British group EMF died aged 31 of a drug overdose. EMF had the 1990 world wide hit single 'Unbelievable' which reached No.3 on the UK singles chart, and was a No.1 hit on the US Billboard Hot 100 chart. The name EMF is believed to be an abbreviation of Epsom Mad Funkers.
3 Jan 2002
Liam and Noel Gallagher topped a poll of celebrities you would least like to live next to, getting 40% of the vote. Readers of Your Home magazine voted the brothers from
Oasis
as 'Neighbours From Hell'.
3 Jan 2000
Luciano Pavarotti agreed to pay the Italian authorities £1.6 million ($2.72 million) after losing an appeal against tax evasion charges. It was reported that the singer was worth £300 million ($510 million) at the time.
3 Jan 1987
Aretha Franklin
became the first woman inducted into the Rock and Roll Hall of Fame. Despite the enormity of the milestone, Franklin wasn't actually able to attend the ceremony herself, so instead, Rolling Stones' guitarist Keith Richards, Clive Davis and her brother Cecil inducted Franklin with her poignant speech, "To be the first woman inductee into the Rock and Roll Hall of Fame is a historical moment and indeed a milestone in my career..."
3 Jan 1981
David Bowie
made his final appearance as the Elephant Man at The Booth Theatre, Broadway in New York City.
3 Jan 1980
American rhythm and blues singer Amos Milburn died aged 52. Famous for his drinking songs including, 'Let Me Go Home, Whiskey' and 'One Scotch, One Bourbon, One Beer.'
3 Jan 1976
The Bay City Rollers went to No.1 on the US singles chart with 'Saturday Night.' At the height of their US success, the Scottish group signed a deal to promote breakfast cereal.
3 Jan 1976
Bob Dylan
's song, 'Hurricane', peaked at No.33 on the Billboard singles chart, helping to cause enough publicity to eventually get former boxer Rubin 'Hurricane' Carter released from jail. The song promoted Carter's innocence and a movie about Carter's life, starring Denzel Washington, was released in 2000.
3 Jan 1972
3 Jan 1970
B J Thomas started a four week run at No.1 on the US singles chart with 'Raindrops Keep Falling On My Head.' The song was featured in the film Butch Cassidy and the Sundance Kid.
3 Jan 1970
Working on the Get Back sessions at Studio Two of EMI Studios, London, three Beatles (Paul, George, and Ringo) record 16 takes of the
George Harrison
song 'I Me Mine'.
John Lennon
was away in Denmark at the time. A decade later it became the title of
George Harrison
's auto-biography.
3 Jan 1969
Appearing live on The Lulu show on UK TV, The
Jimi Hendrix Experience
were booked to perform two songs, 'Voodoo Child', (which was performed in full), then Hendrix stopped performing his new single 'Hey Joe' after a verse and chorus and instead launched into a version of the
Cream
song 'Sunshine Of Your Love' as a tribute to the band who had split a few days earlier. Hendrix then proceeded to continuing jamming, running over their allocated time slot on the live show, preventing the show's host Lulu from closing the show properly.
3 Jan 1967
Having received a US army draft notice,
Beach Boy
Carl Wilson refused to be sworn in, saying he was a conscientious objector.
3 Jan 1964
The Beatles
were seen for the second time on US TV when a clip from the BBC's 'The Mersey Sound' showing the group playing 'She Loves You' was shown on The Jack Paar Show. The first US airing showing
The Beatles
was on Nov 18, 1963, on the NBC news program "The Huntley-Brinkley Report" (albeit pre-recorded) of
The Beatles
in concert.
3 Jan 1963
Cliff Richard was at No.1 on the UK singles chart with his sixth UK No.1 'The Next Time / Bachelor Boy.' Both songs were taken from the film Summer Holiday.
3 Jan 1957
Guy Mitchell was at No.1 on the UK singles chart with 'Singing The Blues.' (Tommy Steele and Marty Robbins had also released versions and Steele would replace this version at No.1). Also a US No.1.
3 Jan 1955
Elvis Presley
appeared in Boonesville, Virginia. The 20 year-old singer was still a regional star, but by the end of 1956 he had become a national sensation, recording two albums, (which included '
Heartbreak Hotel
' and 'Blue Suede Shoes'), appeared on national television 11 times, played over 100 concerts and signed a seven year contract with Paramount Pictures.
Born on this day in music
3 Jan 1975
Thomas Bangalter, French electronic musician with Daft Punk, 1997 UK No.5 single 'Around The World', remixed Gabrielle, Chemical Brothers. Scored the 2013 UK No.1 hit 'Get Lucky' featuring Pharrell Williams.
3 Jan 1964
Raymond McGinley, guitar & vocals, Teenage Fanclub, 1992 UK No.31 single 'What You Do To Me.'
3 Jan 1946
John Paul Jones, bass, keyboards, producer with
Led Zeppelin
who had the 1969 US No.4 single Whole Lotta Love. The bands fourth album released in 1971 featuring the rock classic
Stairway To Heaven
, has sold over 37 million copies. As a session player in the 1960s he worked with The
Rolling Stones
, The Yardbirds, Donovan,
Jeff Beck
, Hermans Hermits, Lulu, Tom Jones. In recent years Jones has worked with
R.E.M.
on 1992 Automatic For The People album and is a member of Them Crooked Vultures.
3 Jan 1946
Robert John, American singer-songwriter best known for his 1979 US No.1 hit single, 'Sad Eyes'. He also had a No. 3 hit with a cover version of The Tokens' 1961 hit, 'The Lion Sleeps Tonight', in 1972.
3 Jan 1945
American singer, songwriter Stephen Stills who was a member of Buffalo Springfield,
Crosby Stills Nash & Young
and Manassas. With CS&N he had the 1969 UK No.17 single 'Marrakesh Express' and the 1970 US No.1 album Deja Vu plus the 1971 solo UK No.37 single 'Love The One Your With.' Stills's first solo album, Stephen Stills, (1970) went gold and is the only album to feature both
Jimi Hendrix
and
Eric Clapton
.
3 Jan 1943
Van Dyke Parks, US songwriter, producer. Worked with
Brian Wilson
on the 'Smile' album, played keyboards on The Byrds 'Eight Miles High', produced Ry Cooder, Randy Newman, Judy Collins.
3 Jan 1926
Sir George Martin, English record producer, arranger, composer, conductor, audio engineer and musician. He worked as EMI records in-house record producer and became the so-called fifth Beatle. Martin produced all but one of
The Beatles
albums giving him 30 No.1 hit singles in the UK and 23 No.1 hits in the US. He also worked with comedy acts The Goons and Beyond The Fringe. Martin received a Knighthood in 1996. He died on March 8 2016 aged 90.
3 Jan 1916
Maxene Andrews from The Andrews Sisters who were an American close harmony singing group of the swing and boogie-woogie eras. Throughout their long career, the sister's sold over 75 million records. Their 1941 hit 'Boogie Woogie Bugle Boy' can be considered an early example of rhythm and blues. She died on 21 October 1995.