July 1st: The Biggest Music Headlines
Scroll down the page to see all the music headlines, stories and events for July 1 throughout music history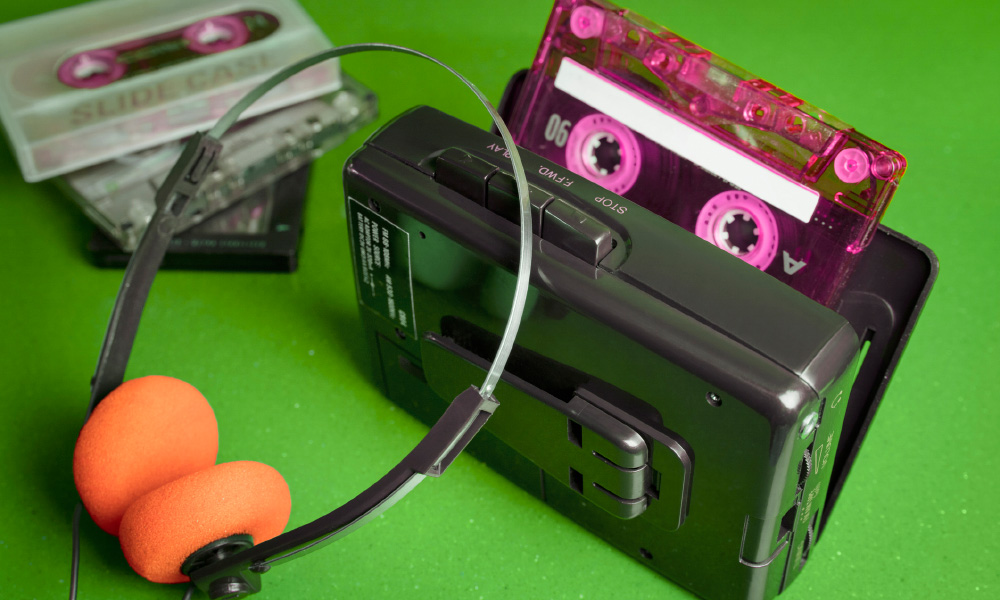 Sony Introduces The Walkman
On this day in music, July 1, 1979, Sony changed the musical landscape with the introduction of the Walkman in Japan. The first portable audio cassette player was revolutionary – allowing music fans to listen to entire albums anywhere. The battery-powered device was marketed under a variety of names around the world, including the "Sound-About" in the US, the "Stowaway" in the UK, and the "Freestyle" in Australia. But within a few years, "Walkman," had become the de-facto name for the technology. By the end of the decade, more than 100 million Walkmans had been sold worldwide.
In 1968, The Band released their debut album, Music from Big Pink. The five-piece first served as the backing band for Ronnie Hawkins and then for Bob Dylan, before breaking out on their own in late 1967. Named for a house shared by several of the band members, Big Pink spanned a variety of genres – from country and rock to folk and soul – and featured their most enduring hit, "The Weight." Upon its release, the album was a critical success and established The Band as an independent force.
In 1956, a "tamed" Elvis Presley made his debut on The Steve Allen Show, during which he was forced to don a tuxedo and perform "Hound Dog" to an actual basset hound. The embarrassing gimmick was in response to the young star's appearance on The Milton Berle Show several weeks earlier, from which he drew criticism for his "lewd" dancing moves. Amid pressures from the network, Allen booked Presley on the basis that he would deliver a toned-down performance.
In 1967, The Beatles dominated the Summer of Love when they began a 15-week run at the top of the US album chart with Sgt. Pepper's Lonely Hearts Club Band. A critical and commercial success, the Grammy-winning album also owned the charts in the UK, spending 27 weeks at No.1.
In 2000, with the success of "Spinning Around," Kylie Minogue became the third artist in UK chart history to have a No.1 single in the 1980s, 90s, and 2000s. The song, which was co-written by Paula Abdul, marked the Australian artist's fifth chart-topping hit in the UK.
In 1983, Bon Jovi signed with Mercury Records. The New Jersey quintet had been performing under the name Johnny Electric, but an employee of their manager suggested that they follow the example of bands like Van Halen, and name themselves after frontman Jon Bon Jovi. Less than a year later, they would score their first of many hits with "Runaway."
Looking for more things that happened on this day in music?
Keep scrolling for all of the headlines for July 1.
BORN ON JULY 1:
1915: Willie Dixon
1935: James Cotton
1939: Delaney Bramlett
1945: Debbie Harry (Blondie)
1951: Fred Schneider (The B-52's)
1959: Phil Solem (The Rembrandts)
1960: Evelyn "Champagne" King
1971: Missy Elliot
Looking for more artists born on this day?
Keep scrolling for all of our July 1 birthdays.
---
What to find another day?
---
July 1st
1 Jul 2020
American musician Max Crook died age 83. A pioneer of electronic music he was the featured soloist on Del Shannon's 1961 hit 'Runaway', which he co-wrote and on which he played his own invention, the Musitron. Crook also recorded a series of instrumentals, credited as Maximilian.
1 Jul 2017
Ed Sheeran
returned to No.1 for the forth time with his third studio album ÷ (pronounced 'divide'). The album also topped the charts in 14 other countries and won the Grammy Award for Best Pop Vocal Album at the 60th Annual Grammy Awards.
1 Jul 2013
Boston guitarist Tom Scholz was ordered to pay $132,000 in court fees to the Boston Herald after he unsuccessfully sued the newspaper. The Herald had suggested that Scholz was responsible for the 2007 suicide of Boston lead singer Brad Delp, but a Superior Court judge ruled that the paper could not be held liable for defaming Scholz because it's impossible to know what caused Delp to kill himself.
1 Jul 2009
The week after
Michael Jackson
's death, the singer dominated the Top Ten of Billboard's album chart. Leading the pack was Number Ones, followed by The Essential Michael Jackson at No.2,
Thriller
was No.3 and Off
The Wall
was No.4. The
Jackson 5
's Ultimate Collection held the No.5 spot, Bad was No.6, Dangerous was No.7, Greatest Hits - HIStory - Vol. 1 came in at No.8 and Michael's Ultimate Collection occupied the No.9 position. Collectively, Jackson's solo albums sold 415,000 copies for the week, 58% of which were digital downloads. The week before his death, his titles sold a combined 10,000 units.
1 Jul 2009
Sir Cliff Richard was ordered to demolish a £30,000 conservatory at his home in Surrey after the local council ruled that the conservatory should never have been built. The planning committee said the building contravened policy on green belt areas because it added more than 30% extra floor space.
1 Jul 2008
Whitesnake guitarist Mel Galley, died at the age of 60 from cancer of the oesophagus. Galley also played with Trapeze, Glenn Hughes, Cozy Powell and the Blue Jays.
1 Jul 2005
Four Tops
singer Renaldo "Obie" Benson died aged 69 in a Detroit hospital from lung cancer. He was diagnosed after having a leg amputated due to circulation problems. The Four Tops sold over 50 million records and had hits including 'Reach Out (I'll be There)' and 'I Can't Help Myself.' Benson also co-wrote 'What's Going On' which became a No.2 hit for
Marvin Gaye
.
1 Jul 2005
American R&B and soul singer-songwriter, record producer Luther Vandross died at the age of 54 at the JFK Medical Centre in New Jersey, two years after suffering a major stroke. His 'Never Too Much', was a No.1 R&B hit, worked with Diana Ross, Carly Simon, Chaka Khan, Donna Summer, Barbra Streisand,
Mariah Carey
and
David Bowie
. Vandross had won four Grammys for his final album 'Dance With My Father.'
1 Jul 2004
Glen Campbell
began serving 10 nights in jail along with two years of probation for a November 2003 drink-driving, hit-and-run collision. The 68 year old entertainer was also sentenced to 75 hours of community service and fined $900.
1 Jul 2002
Six postage stamps designed by
Paul McCartney
went on sale in The Isle Of Man. With proceeds from their sale going to the Adopt-A- Minefield charity.
1 Jul 2001
Rolling Stone
Ronnie Wood
was commissioned to paint a group portrait of diners who are regulars at the West End London restaurant The Ivy.
Elton John
and Pet Shop Boy Neil Tennant were two pop stars to be included in the portrait.
1 Jul 2000
Kylie Minogue
was at No.1 on the UK singles chart with 'Spinning Around', the singers fifth No.1 was co-written by Paula Abdul, (it was originally intended for Abdul's "comeback" album). 'Spinning Around' gave Minogue the honor of being one of three artists (the others being
Madonna
and
U2
) to have a No.1 in the 1980s, 1990s and 2000s.
1 Jul 1999
American singer Guy Mitchell, (born Albert George Cernik) died aged 72 at Desert Springs Hospital in Las Vegas. He had the 1957 UK & US No.1 single 'Singing The Blues' plus over 10 other UK Top 40 singles. Mitchell also appeared as George Romack in the 1961 NBC western detective series Whispering Smith.
1 Jul 1999
Jamaican reggae singer Dennis Brown died aged 42, the official cause of his death was a collapsed lung. During his career, he recorded more than 75 albums and had the 1979 UK No.14 single 'Money In My Pocket.'
Bob Marley
cited Brown as his favourite singer, naming him 'The Crown Prince of Reggae."
1 Jul 1995
DJ Wolfman Jack died of a heart attack. He was the master of ceremonies for the rock 'n' roll generation of the '60s on radio, and later on television during the '70s.
1 Jul 1983
A New Jersey-based quintet calling themselves
Bon Jovi
signed to Phonogram's Mercury records, although they had also been considering the name Johnny Electric. The group have since sold over 130 million records worldwide, and performed more than 2,600 concerts in over 50 countries for more than 34 million fans.
1 Jul 1981
Rushton Moreve bassist with Steppenwolf, was killed in motorcycle accident in Santa Barbara, California, aged 32. He co-wrote their hit 'Magic Carpet Ride' with lead singer John Kay; Steppenwolf also had the 1968 US No.2 single 'Born To Be Wild'. Moreve left the band in late 1968 when he refused to fly back to California at that time, fearing it would sink into the Pacific Ocean after an imminent earthquake.
1 Jul 1979
Sony introduced the Walkman, the first portable audio cassette player. Over the next 30 years they sold over 385 million Walkmans in cassette, CD, mini-disc and digital file versions, and were the market leaders until the arrival of Apple's iPod and other new digital devices.
1 Jul 1975
10cc were at No.1 on the UK singles chart with 'I'm Not In Love'. Known for its innovative and distinctive backing track, composed mostly of the band's multitracked vocals, it became the second of the group's three No.1 singles in the UK and reached No.2 on the US chart.
1 Jul 1973
Slade and The Sensational Alex Harvey Band appeared at Earl's Court London, tickets cost £1.00-£2.00. Special 'Slade' trains were running form Brighton, Bristol, Birmingham and Manchester to take fans to the show.
1 Jul 1972
Neil Diamond
went to No.1 on the US singles chart with 'Song Sung Blue', his second US No.1. A No.14 hit in the UK.
1 Jul 1972
Slade were at No.1 on the UK singles chart with 'Take Me Bak 'Ome', the group's second No.1. The song was produced by the bands manager Chas Chandler.
1 Jul 1969
John Lennon
Yoko Ono and family were involved in a car accident in Golspie, Scotland. Both John and Yoko needed hospital treatment. Lennon later had the car crushed into a cube and exhibited it on his lawn at Tittenhurst Park.
1 Jul 1968
The Band released their debut album Music From Big Pink. The album, which features their first hit single 'The Weight', was recorded in studios in New York and Los Angeles in 1968, and followed the group's backing of
Bob Dylan
on his 1966 tour (as The Hawks).
1 Jul 1967
The Beatles
started a 15 week run at No.1 on the US album chart with
Sgt Pepper
's Lonely Hearts Club Band, the group's 10th US No.1 album. Recorded over a 129-day period beginning in December 1966, the album widely regarded as one of the greatest of all time, includes songs such as 'Lucy in the Sky with Diamonds' and 'A Day in the Life'.
1 Jul 1963
The Beatles
recorded their next single 'She Loves You' / 'I'll Get You', at EMI Studios, London, completing the two songs in less than four hours. Released in August this year, 'She Loves You' went on to become The Beatles' first million-selling single.
1 Jul 1956
Elvis Presley
appeared on NBC- TV's 'The Steve Allen Show' and performed 'Hound Dog', to a live Hound Dog. US TV critic John Crosby panned Elvis' performance, calling him an 'unspeakable, untalented and vulgar young entertainer.'
Born on this day in music
1 Jul 1971
Missy Elliott, singer, (1998 UK No.1 single with Melanie B, 'I Want You Back').
1 Jul 1971
Adam MacDougall, keyboardist with The Black Crowes. Previously, he was a member of The Ben Taylor Band and Furslide, and he has also toured with Macy Gray and Patti Rothberg.
1 Jul 1964
Pol Burton, drummer with English group Transvision Vamp who had the 1989 UK No.3 single 'Baby I Don't Care'.
1 Jul 1963
Roddy Bottum, keyboards, from American rock band, Faith No More who had the 1993 UK No.3 and US No.4 hit single with their version of The Commodores 'I'm Easy'. They had the best-selling albums The Real Thing (1989) and Angel Dust (1992).
1 Jul 1960
Evelyn Champagne King, US soul singer, (1982 UK No.7 single 'Love Come Down').
1 Jul 1960
Ted Key from English alternative rock band The Housemartins. The group's a cappella cover version of 'Caravan of Love' (originally by Isley-Jasper-Isley) was a UK No.1 single in December 1986.
1 Jul 1959
Edem Ephraim, singer, from German-based English dance-pop duo The London Boys who had the UK No.2 single 'London Nights'. He was killed in a car crash with London Boy partner Dennis Fuller on 21st January 1989.
1 Jul 1956
Phil Solem, singer, songwriter, from American pop rock duo The Rembrandts, who had the 1990 US Top 20 hit 'Just the Way It Is, Baby', and the 1995, UK No. 3 single 'I'll Be There For You', Theme from Friends.
1 Jul 1952
Leon Chancler, drummer, percussionist. Worked with Herbie Hancock, Miles Davis,
Michael Jackson
's ('Billie Jean'), Donna Summer,
Carlos Santana
, The Crusaders,
Frank Sinatra
, Weather Report, Lionel Richie, Kenny Rogers, Thelonious Monk, Herbie Hancock and John Lee Hooker. Chancler died in Los Angeles, California on February 3, 2018 of prostate cancer, at the age of 65.
1 Jul 1952
American actor Dan Aykroyd, who played 'Elwood Blues, in The Blues Brothers, (1980 UK No.12 single 'Everybody Needs Somebody To Love').
1 Jul 1951
Fred Schneider, singer with the American new wave band The B-52's. Best known for their 1978 debut single 'Rock Lobster and the 1990 UK No.2 & US No.3 single 'Love Shack'.
1 Jul 1949
John Farnham, Australian singer, songwriter, (1987 UK No.6 single 'You're The Voice').
1 Jul 1948
John Ford, with English folk rock group The Strawbs who scored the 1973 UK No.2 single with 'Part Of The Union'. Formed Hudson Ford who had the 1973 UK No.8 single 'Pick Up The Pieces'.
1 Jul 1946
June Montiero, singer, The Toys, 1965 US No. 2 & UK No.5 single 'A Lover's Concerto').
1 Jul 1945
Deborah Harry, American singer, songwriter, and actress with
Blondie
who scored five UK No.1 singles including the 1979 UK & US No.1 single 'Heart Of Glass' and the 1978 world-wide No.1 album Parallel Lines. As a solo artists she scored the 1986 UK No. 8 single 'French Kissing In The USA'. A former Playboy Bunny, her acting career spans over thirty film roles and numerous television appearances.
1 Jul 1939
Delaney Bramlett, Delaney & Bonnie, (1971 US No.13 single 'Never Ending Song Of Love', worked with
Eric Clapton
during the early 70s). Died on 27th Dec 2008.
1 Jul 1935
American blues harmonica player, singer and songwriter James Cotton. He worked in Howlin' Wolf's band in the early 1950s. In 1955, he was recruited by Muddy Waters to come to Chicago and join his band. In 2006, Cotton was inducted into the Blues Hall of Fame. He died from pneumonia aged 81 on 16 March 2017.
1 Jul 1928
Bobby Day, US singer, had the 1958 hit 'Rockin Robin', one half of the duo, Bob And Earl (recorded 'Harlem Shuffle' in 1963). Day died on July 27, 1990.
1 Jul 1915
Willie Dixon, blues singer, guitarist, 'the poet laureate of the blues'. Credited with writing more than 500 songs by the end of his life. Wrote classic songs: 'Hoochie Coochie Man', 'I'm Ready', 'You Shook Me', 'I Can't Quit You Baby', 'Little Red Rooster.' Major influence on The
Rolling Stones
and
Led Zeppelin
. Dixon died on 29th January 1992.