July 25th: The Biggest Music Headlines
Scroll down the page to see all the music headlines, stories and events for July 25 throughout music history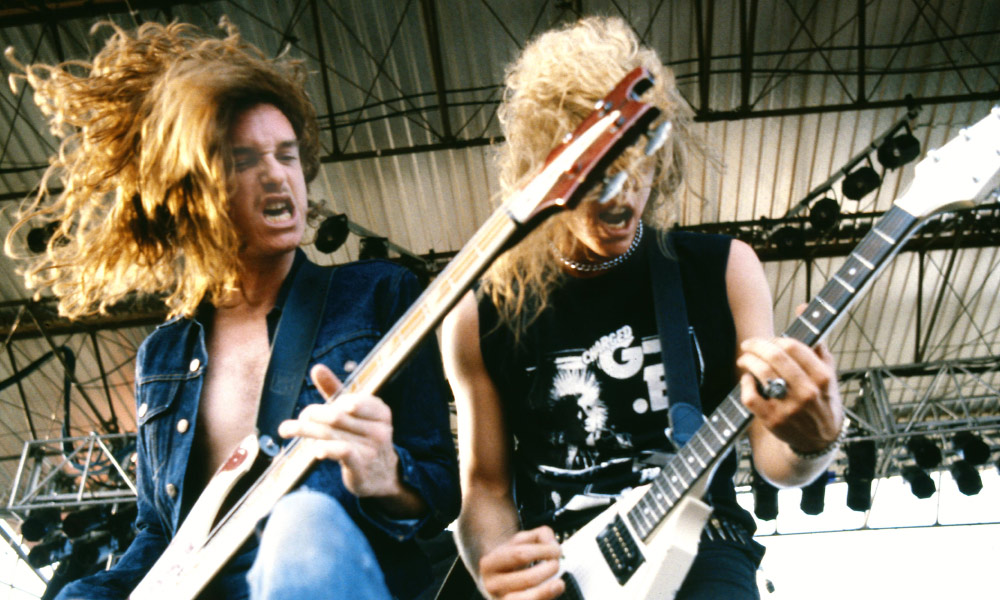 Metallica Release Their Debut Album
On this day in music, July 25, 1983, Metallica released their landmark debut album, Kill 'Em All. Defined by a combination of screamed vocals, granite guitar riffs, and blisteringly fast punk-like tempos, the album established the blueprint for thrash metal. Though not a huge commercial success at the time of its release, Kill 'Em All eventually shifted three million copies.
In 1999, the violence-filled Woodstock '99 concluded. A turning point in millennial pop culture, the event was anything but the "peace, love, and music" that its namesake touted. Instead, the weekend found festival-goers rioting, amid overpriced concessions, harsh weather conditions, and poor sanitation. Cases of arson, sexual assault, and looting were prevalent throughout the event. Among the performers were Kid Rock, Creed, Limp Bizkit, and Alanis Morrisette.
In 1980, Australian hard rockers AC/DC released their seventh album, Back In Black. It was their first LP with new singer Brian Johnson, who replaced original frontman Bon Scott after his untimely death earlier that year. The album's sales would eclipse the band's previous recordings and eventually, it would become the best-selling heavy metal LP of all time with an estimated 49 million copies sold worldwide.
In 2014, the quirky comedian-musician "Weird Al" Yankovic, renowned for his clever wordplay and pop star parodies, topped the US albums chart for the first time with his 14th LP, Mandatory Fun. It was the first comedy album to hit No.1 since Allan Sherman's My Son, The Nut in 1963.
In 1969, Neil Young made his debut performing with folk-rock supergroup Crosby, Stills & Nash at New York's Fillmore East. The Canadian singer-songwriter and former Buffalo Springfield member was initially hired to assist on their live dates, but his value to the trio soon became apparent and he was quickly made a full and equal band member. In 1970, the group released their first album as a quartet, Déjà Vu.
In 1998, Jamiroquai, the British funk group led by singer-songwriter Jay Kay, scored their first and only No.1 UK single with "Deeper Underground." The track appeared on the soundtrack to the blockbuster monster movie Godzilla.
In 1995, singer-songwriter Charlie Rich died aged 62. The Arkansas-born artist began his career as a jazz musician but soon reinvented himself as an Elvis Presley-influenced rockabilly musician in the late 50s. In the late 60s, Rich morphed again, this time into a country musician, and soon began tasting success. He's best remembered for two big international hits from 1973: the Grammy-winning "Behind Closed Doors" and the US chart-topper, "The Most Beautiful Girl."
Looking for more things that happened on this day in music?
Keep scrolling for all of the headlines for July 25.
BORN ON JULY 25:
1925: Bennie Benjamin (The Funk Brothers)
1930: Annie Ross
1941: Manuel Charlton (Nazareth)
1943: Jim McCarty (The Yardbirds)
1944: Tom Dawes (Cyrkle)
1951: Verdine White (Earth, Wind & Fire)
1958: Thurston Moore (Sonic Youth)
1966: Maureen Herman (Babes In Toyland)
1974: Paul Epworth (Producer, Songwriter)
Looking for more artists born on this day?
Keep scrolling for all of our July 25 birthdays.
---
What to find another day?
---
July 25th
25 Jul 2020
British musician, author, broadcaster and lecturer CP Lee died age 70. He was a member of the band Greasy Bear and became a linchpin of the punk rock explosion with Alberto y Lost Trios Paranoias. In 1977 Lee wrote the 'snuff-rock' musical Sleak.
25 Jul 2017
Justin Bieber apologised to his fans after cancelling the remaining dates of his Purpose World Tour because of "unforeseen circumstances". The move affects 14 dates in Asia and North America which were coming up over the next three months. The singer had performed more than 150 shows on the tour, promoting his 2015 album Purpose, since March 2016. The tour had grossed $93.2m (£71.5m) in the first half of 2017.
25 Jul 2014
The pop star parodist, Weird Al Yankovic became the first comedy act to hit the top spot for more than 50 years. Mandatory Fun, Yankovic's 14th album, and his best-selling since Straight Outta Lynwood, which was released in 1991 went to No.1 on the US album chart. The last comedy album to reach No 1 in the US was Allan Sherman's My Son, the Nut in 1963.
25 Jul 2010
Paul McCartney
's former wife, Heather Mills, told the press that the trauma and pain she went through after losing her leg in a traffic accident was nothing compared to the way she felt after she and the former Beatle split up. The two separated in 2006 after four years of marriage and went on to fight an bitter public divorce battle which saw her gain a $38.9 million settlement.
25 Jul 2003
Erik Braunn from American psychedelic rock band
Iron Butterfly
died of cardiac failure at the age of 52. Braunn was just 16 years old when he joined Iron Butterfly who had the 1968 US No.14 single 'In-A- Gadda-Da-Vida'.
25 Jul 2002
Two former members of Destiny's Child settled out of court over the lyrics to 'Survivor', which they claimed were libellous. LeToya Luckett and LaTavia Roberson, who left the group in 2000, said that the song broke an agreement, which stops both sides making 'any public comment of a disparaging nature concerning one another'. The line, which they were suing over, said 'You thought that I'd be stressed without you, but I'm chillin'. You thought I wouldn't sell without you, sold nine million'.
25 Jul 1999
This years
Woodstock
Festival ended with riots resulting in 120 people being arrested. Three people died during the 3-day festival in separate incidents and many were hospitalised after drinking polluted water.
25 Jul 1998
Jamiroquai went to No.1 on the UK singles chart with 'Deeper Under Ground', their thirteenth hit and first UK No.1.
25 Jul 1995
Grammy Award winning country singer, songwriter Charlie Rich died in his sleep aged 62 years old. Rich began as a Rockabilly artist for Sun Records in Memphis in 1958. He scored the 1974 US No.1 & UK No.2 single 'The Most Beautiful Girl' and 'Behind Closed Doors', was a No.1 country hit.
25 Jul 1987
Terence Trent D'arby went to No.1 on the UK album chart with 'Introducing The Hardline According to Terence Trent D'arby'.
25 Jul 1984
Willie Mae 'Big Mama' Thornton died at the age of 58 died in Los Angeles of heart and liver complications. She had a No.1 R&B hit in 1953 with 'Hound Dog' (later covered by
Elvis Presley
). She also wrote and recorded 'Ball 'n' Chain,' which
Janis Joplin
recorded.
25 Jul 1983
American heavy metal band
Metallica
released their debut studio album Kill 'Em All. The release is regarded as a groundbreaking album for thrash metal because of its precise musicianship, which fuses new wave of British heavy metal riffs with hardcore punk tempos.
25 Jul 1981
Air Supply went to No.1 on the US singles chart with 'The One That I Love', the group's only US No.1 and the first Australian band to top the US singles chart.
25 Jul 1980
AC/DC
released their sixth internationally released studio album Back In Black, the first AC/DC album recorded without former lead singer
Bon Scott
who died on 19 February 1980 at the age of 33. The album has sold an estimated 49 million copies worldwide to date, making it the second highest-selling album of all time, and the best-selling hard rock or heavy metal album.
25 Jul 1971
T Rex
were at No.1 on the UK singles chart with 'Get It On', the group's second UK No.1 which spent four weeks at the top of the charts. In the US it was retitled Bang A Gong, (Get It On). Power Station had a UK & US hit with their version of the song in 1985.
25 Jul 1970
The
Carpenters
started a four week run at No.1 on the US singles chart with '(They Long To Be) Close To You'. The first of three US No.1's and 17 other Top 40 hits. The song was written in 1963 by Hal David and Burt Bacharach and was first offered to Herb Alpert, who said he didn't feel comfortable singing the line 'so they sprinkled moon dust in your hair'.
25 Jul 1969
The Seattle Pop Festival took place at the Gold Creek Park, Woodinville, Washington. Acts who appeared over three days included,
Chuck Berry
, Tim Buckley, The Byrds, Chicago Transit Authority, Albert Collins,
Bo Diddley
,
The Doors
, The Flock, The Flying Burrito Brothers, Guess Who, It's A Beautiful Day,
Led Zeppelin
,
Santana
, Spirit, Ten Years After, Ike & Tina Turner, Vanilla Fudge, Alice Cooper and The Youngbloods.
25 Jul 1969
Neil Young
appeared with
Crosby, Stills and Nash
for the first time when played at The Fillmore East in New York. Young was initially asked to help out with live material only, but ended up joining the group on and off for the next 30 years.
25 Jul 1965
Dressed in Carnaby Street threads, the ever-changing
Bob Dylan
plugged in for his headlining set backed by the Butterfield Blues Band at The Newport Folk Festival in Newport, Rhode Island. Folk music 'purists' tried to boo him off the stage, while the rest of the audience gave him an enthusiastic response. It is usually said that the reason for the crowd's hostile reception was Dylan's 'abandoning' of the folk orthodoxy, or poor sound quality on the night (or a combination of the two).
25 Jul 1964
The Beatles
third album 'A Hard Day's Night' started a twenty-one week run at the top of the UK charts. This was the first Beatles album to be recorded entirely on four-track tape, allowing for good stereo mixes.
25 Jul 1963
Cilla Black made a recording test for EMI Records after George Martin had spotted her while at a Gerry And The Pacemakers gig in Liverpool.
25 Jul 1960
Roy Orbison
reached No.2 on the US singles chart with 'Only the Lonely,' his first hit. The song was turned down by The Everly Brothers and
Elvis Presley
, so Orbison decided to record the song himself.
Born on this day in music
25 Jul 1974
English music producer, musician, and songwriter Paul Epworth who has worked with
Adele
, Florence and the Machine,
Coldplay
, Cee Lo Green,
U2
, John Legend,
Paul McCartney
, Bruno Mars and many other artists.
25 Jul 1966
American musician Maureen Herman known as the bassist for the Minneapolis-based band Babes in Toyland, who released three studio albums: Spanking Machine (1990), Fontanelle (1992), and Nemesisters (1995).
25 Jul 1958
Thurston Moore, American musician with Sonic Youth, who had the 1990 album Goo which featured the single 'Kool Thing'. In the early 1990s, Moore formed the side band Dim Stars, with Richard Hell. Moore was ranked 34th in Rolling Stone's 2004 edition of the "100 Greatest Guitarists of All Time."
25 Jul 1951
Verdine White, bassist with Earth, Wind & Fire, who had the 1975 US No.1 single 'Shining Star', and the 1981 UK No.3 single 'Let's Groove'. The band has received 20 Grammy nominations and were the first African-American act to sell out Madison Square Garden. Verdine is the only remaining founding member left in the band.
25 Jul 1950
Mark Clarke, from English rock band Uriah Heep who had the 1975 UK No.7 album Return To Fantasy. They have sold over 40 million albums worldwide.
25 Jul 1946
Nicaraguan percussionist Jose Chepito Areas who was a member of
Santana
from 1969 - 1977. During this time Santana had the 1970 US No.4 single 'Black Magic Woman', 1977 UK No.11 single 'She's Not There'.
25 Jul 1944
Tom Dawes from American rock and roll band Cyrkle who had the 1966 US No.2 single 'Red Rubber Ball'. They were signed by Brian Epstein and supported
The Beatles
on their 1966 US tour. He died on 13 October 2007.
25 Jul 1943
English musician Jim McCarty best known as the drummer for the Yardbirds and Renaissance. With The Yardbirds he had the 1965 UK No.3 & US No.6 single 'For Your Love').
25 Jul 1942
Bruce Woodley, from Australian folk-influenced pop quartet The Seekers who scored the 1965 UK No.1 single 'I'll Never Find Another You'. They were the first Australian group to achieve major chart and sales success in the UK and the US.
25 Jul 1941
Manuel Charlton, from Scottish hard rock band Nazareth, who had the 1973 UK No.9 single 'Broken Down Angel', and the 1976 US No.8 single, 'Love Hurts'.
25 Jul 1925