July 9th: The Biggest Music Headlines
Scroll down the page to see all the music headlines, stories and events for July 9 throughout music history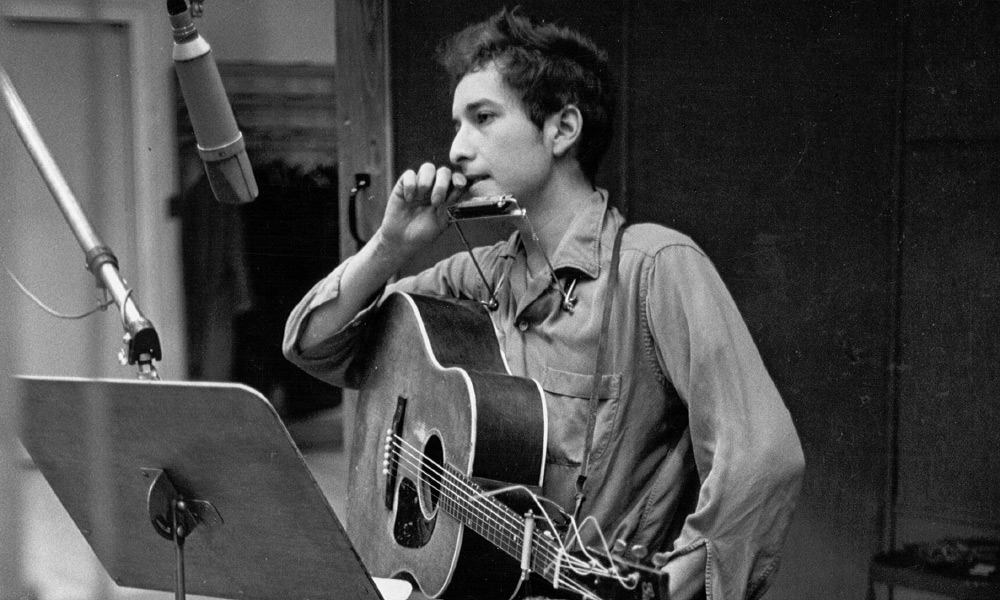 Bob Dylan Records An Enduring Anthem
On this day in music, July 9, 1962, Bob Dylan recorded "Blowin' In the Wind" at New York's Columbia Recording Studios, during sessions for his sophomore album, The Freewheelin' Bob Dylan. A working version of the song was performed that April at Gerde's Folk City, while its lyrics were published a month later in the Pete Seeger-run magazine, Broadside. The song quickly became an anthem for peace and freedom, resonating amid the Civil Rights movement, the Vietnam War, and beyond. The oft-covered tune was inducted into the Grammy Hall of Fame in 1994 and frequently ranks among the world's greatest songs.
In 1995, the Grateful Dead played their final concert with frontman Jerry Garcia. The show, which closed out a two-night engagement at Chicago's Soldier Field, marked the end of a lengthy spring-summer tour. Among the songs performed were "Touch of Grey," "So Many Roads," "Shakedown Street," and "Box of Rain," which concluded the set. Garcia, who had been markedly struggling with his health and sobriety throughout the run of dates, died exactly one month later.
In 1955, Bill Haley & His Comets began an eight-week run at the top of the Billboard pop chart with "Rock Around the Clock." The iconic rock'n'roll song went on to become one of the biggest-selling singles of all time – and was the first record of its genre to hit No.1 in both the US and the UK.
In 1983, The Police began an eight-week run at the top of the Billboard Hot 100 with "Every Breath You Take." The haunting track, which marked their only No.1 on that chart, was later named the biggest hit of 1983 in both the US and Canada. In the band's native UK, the song topped the pop chart for four weeks and marked their fifth No.1 single.
In 1972, Paul McCartney and Wings kicked off their Wings Over Europe Tour in Ollioules – a small town in the South of France. The show was a momentous one for Beatles fans, marking McCartney's first performance in Europe since 1966.
In 2006, Lily Allen scored her first No.1 hit on the UK pop chart with "Smile." The song, which was Allen's earliest composition, heavily samples the Soul Brothers' 1960 rocksteady track, "Free Soul."
Looking for more things that happened on this day in music?
Keep scrolling for all of the headlines for July 9.
BORN ON JULY 9:
1929: Lee Hazlewood
1946: Bon Scott (AC/DC)
1947: Mitch Mitchell (The Jimi Hendrix Experience)
1954: Debbie Sledge (Sister Sledge)
1959: Marc Almond (Soft Cell)
1959: Jim Kerr (Simple Minds)
1964: Courtney Love
1965: Frankie Bello (Anthrax)
1975: Jack White
1975: Isaac Brock (Modest Mouse)
Looking for more artists born on this day?
Keep scrolling for all of our July 9 birthdays.
---
What to find another day?
---
July 9th
9 Jul 2020
American rock band Haim were at No.1 on the UK chart with their third studio album Women in Music Pt. III. The album which peaked at No.13 on the US chart was later nominated for Album of the Year at the 63rd Grammy Awards.
9 Jul 2015
Phil Rudd, a drummer with
AC/DC
was sentenced in New Zealand to eight months house detention for drug possession and making threats to kill. The court heard how Rudd had fired several employees after the failure of his solo album, Head Job, in August last year, Rudd had also called one victim saying: "I'm going to come over and kill you." His sentence would be served at his beachfront home in Tauranga, with Judge Thomas Ingram warning he would be face jail if he breached the conditions.
9 Jul 2015
Transport for London, the government body that runs the metro rail system in the UK, banned posters promoting The
Rolling Stones
' forthcoming exhibition, 'Exhibitionism', at London's Saatchi gallery, because of its artwork. The neon advert showed the Rolling Stones iconic tongue and lips design plastered over a woman's bikini bottoms.
9 Jul 2013
Former Fugees singer Lauryn Hill began a three-month prison sentence in Connecticut for tax evasion. The 38-year-old was sentenced in May for failing to pay tax on $1.8m (£1.2m) of her earnings between 2005-07. After her release, Hill would be under parole supervision for a year, with the first three months to be spent confined to her home.
9 Jul 2013
32 year-old Junior Bradshaw who was involved in a plot to rob and murder soul singer Joss Stone was jailed for 18 years. Both he and Kevin Liverpool, were found guilty at Exeter Crown Court three months ago. The pair were found near the singers home with a body bag and a variety of weapons including a Samurai sword, two hammers and knives.
9 Jul 2011
Former
Led Zeppelin
frontman Robert Plant joined three local musicians at a fundraising charity show in Monmouth Wales, where tickets cost £3. The event was a tribute to his friend, former Led Zeppelin producer Pat Moran, who died of a rare dementia in January. Plant delighted the small crowd in the Monmouthshire town with songs from his Led Zeppelin days as well as tunes from his solo career.
9 Jul 2010
During a
Santana
concert at First Midwest Bank Amphitheatre in Tinley Park, Illinois, guitarist Carlos Santana proposed to his girlfriend, Cindy Blackman who had just finished a drum solo during the band's set. The couple married in December 2010.
9 Jul 2007
Happy Mondays' frontman Shaun Ryder was in trouble after he smoked several cigarettes on stage during a concert at The Ritz in Manchester. Smoking had been banned in all enclosed public places in England on 1 July of this year, and anyone flouting the law faced a £50 fine. Performers were only exempt from the smoking ban if the "artistic integrity" of their act required it.
9 Jul 2006
Lily Allen scored her first UK No.1 single with 'Smile'. The organ riff is a sample of Jackie Mittoo playing keyboards on 'Free Soul' by The Soul Brothers. Lily's actor dad, Keith Allen, was part of the Fat Les band who had a hit with 'Vindaloo' in 1998.
9 Jul 2006
Muse started a two week run at No.1 on the UK album chart with 'Black Holes & Revelations' the bands fifth album release and second No.1.
9 Jul 2004
David Bowie
was forced to cancel a string of European shows after emergency heart surgery. The 57 year-old singer had an operation last month in Germany, where he was on tour, to treat "an acutely blocked artery". The star's cancellation last month of 11 European dates was originally attributed to a shoulder injury.
9 Jul 1999
Elton John
had a pacemaker fitted in an operation at a London hospital following reports about his ill health. Sir Elton was forced to cancel a series of concerts.
9 Jul 1995
The
Grateful Dead
gave their last concert with leader
Jerry Garcia
at Chicago's Soldier Field. Jerry would die of a heart attack a month later while in drug rehab.
9 Jul 1989
New Edition's production manager was charged with criminal homicide after allegedly shooting the support acts security man after they ran over their stage time.
9 Jul 1988
Cheap Trick went to No.1 on the US singles chart with The Flame, the group's only US No.1.
9 Jul 1988
Glenn Medeiros was at No.1 on the UK singles chart with 'Nothing's Gonna Change My Love For You'. The 18 year old from Hawaii was one of the youngest males to reach the top of the charts.
9 Jul 1983
The Police
started an eight week run at No.1 on the US singles chart with 'Every Breath You Take' also No.1 in the UK. Taken from the bands album Synchronicity, Sting won Song of the Year and The Police won Best Pop Performance for the song at the 1984 Grammy Awards.
9 Jul 1983
Wham! went to No.1 on the UK album chart with their debut release 'Fantastic!', which went on to spend 116 weeks on the chart.
9 Jul 1977
Elvis Costello quit his day job at Elizabeth Arden Cosmetics to become a full time musician.
9 Jul 1976
The Pretty Things, Supercharge and third on the bill the
Sex Pistols
all appeared at The Lyceum, London, England, tickets £1.75.
9 Jul 1972
Paul McCartney
and Wings kicked off their first European tour in the small French town of Ollioules. The band included Denny Laine, Denny Seiwell, Henry McCullough and Paul's wife, Linda. It was McCartney's first time on the road since The Beatles quit touring in 1966. The band travelled on a double Decker London bus with a psychedelic interior.
9 Jul 1971
David Bowie
started recording sessions at Trident Studios in London, for what would become the concept album The Rise and Fall of
Ziggy Stardust
and the Spiders From Mars. The character of Ziggy was initially inspired by British rock 'n' roll singer Vince Taylor, whom Bowie met after Taylor had had a breakdown and believed himself to be a cross between a god and an alien.
9 Jul 1969
Working at Abbey Road studios in London
The Beatles
recorded 'Maxwell's Silver Hammer.'
John Lennon
returned to the studio after recovering from a car crash in Scotland, and a bed was installed in the Abbey Road studio for Yoko, who was pregnant, and who had been more seriously injured in the car accident.
9 Jul 1967
On a US tour supporting The
Monkees
, The
Jimi Hendrix Experience
appeared at the Convention Hall, Miami, Florida. After it became plainly apparent that the group is not suited to teenybopper audiences, the tour's promoter Dick Clark and Hendrix's manager Chas Chandler concoct a story saying that the conservative Daughters of the American Revolution group had complained at Jimi's act and so the Experience left the tour after just six shows.
9 Jul 1965
Otis Redding
started recording sessions at Stax Studios in Memphis, Tennessee for what would become his third studio album Otis Blue. The album mainly consists of cover versions of other R&B and soul artists hits, and, bar one track, was recorded in a 24-hour period. According to the drummer, Al Jackson, Redding wrote 'Respect', after a conversation they had during a break in the recording session, in which he told Redding: "You're on the road all the time. All you can look for is a little respect when you come home."
9 Jul 1962
Bob Dylan
recorded 'Blowin' In the Wind' at Columbia Recording Studios in New York City during an afternoon session. Dylan originally wrote and performed a two-verse version of the song, as in its first public performance, at Gerde's Folk City on April 16th, 1962. Shortly after this, he added the middle verse.
9 Jul 1958
Johnny Cash
signed with Columbia Records, where he would remain for the next 30 years releasing over 60 albums.
9 Jul 1956
After the June 30th trouble at Asbury Park,
Bill Haley
and His Comets were denied permission to play at the Roosevelt Stadium in Jersey City. A city ordnance was passed that read: "Rock and roll music encouraged juvenile delinquency and inspired young females in lewd bathing suits to perform obscene dances on the city's beaches."
9 Jul 1955
Bill Haley
& His Comets went to No.1 on the US singles chart with 'Rock Around the Clock', staying at No.1 for eight weeks and becoming one of the biggest selling singles of all time.
9 Jul 1954
Elvis Presley
recorded 'Blue Moon of Kentucky', (the B-side for his first single) at Sun Studio in Memphis, Tennessee. Presley had recorded the A-side 'That's Alright' four days earlier.
Born on this day in music
9 Jul 1980
American drummer Aaron Sterling who has drummed for John Mayer since 2011. As a session musician Sterling has played on hundreds of recodings including acts such as
Taylor Swift
,
Glen Campbell
, Richie Sambora, Natalie Maines, Shakira and Kelly Clarkson.
9 Jul 1976
Dan Estrin, guitarist, Hoobastank, 2004 US No.2 hit 'The Reason.'
9 Jul 1975
Isaac Brock, singer, guitarist, Modest Mouse, (2007 US No.1 album 'We Were Dead Before the Ship Even Sank').
9 Jul 1975
American singer, songwriter, multi-instrumentalist and producer Jack White, (John Gillis). With The White Stripes, he had the 2003 UK No.1 album Elephant which spent 46 weeks on the UK chart. White is also a member of The Raconteurs and The Dead Weather. Three of his solo albums have reached No.1 on the Billboard charts.
9 Jul 1971
Kelvin Grant, vocals, Musical Youth, best remembered for their successful 1982 single 'Pass the Dutchie', which became a No.1 hit around the world. It was a cover version of two songs: 'Gimme the Music' by U Brown, and 'Pass the Kouchie' by Mighty Diamonds, which deals with the recreational use of cannabis (kouchie being slang for a cannabis pipe).
9 Jul 1965
Frankie Bello, bassist with American heavy metal band Anthrax. The group is considered one of the leaders of the thrash metal scene from the 1980s.
9 Jul 1965
Tom Hingley, from English alternative rock band Inspiral Carpets who had the 1990 UK No.14 single 'This Is How It Feels'.
9 Jul 1964
American singer, songwriter, actress Courtney Love, who was a notable presence in the punk and grunge scenes of the 1990s. She married
Kurt Cobain
from
Nirvana
on 24th Feb 1992.
9 Jul 1959
D.H. Peligro, American punk rock musician and the second drummer for the Dead Kennedys from February 1981 until their breakup in December 1986. In 1988, Peligro joined the
Red Hot Chili Peppers
replacing drummer Jack Irons for a short time.
9 Jul 1959
Jim Kerr, singer, songwriter with Scottish rock band,
Simple Minds
, who had the 1985 US No.1 single 'Don't You, Forget About Me', and the 1989 UK No.1 single 'Belfast Child', plus over 20 other UK Top 40 singles. In 2016, they won the British Academy's Ivor Novello Award for Outstanding Song Collection.
9 Jul 1959
English singer-songwriter Marc Almond, who with Soft Cell had the 1981 UK No.1 single 'Tainted Love', (an obscure 1965 northern soul track originally released by Gloria Jones, the girlfriend of
Marc Bolan
). Solo hits include the 1989 UK No.1 single with Gene Pitney, 'Something's Gotten Hold Of My Heart'.
9 Jul 1954
Debbie Sledge, singer, Sister Sledge, (1979 US No.2 single 'We Are Family', 1985 UK No.1 single 'Frankie').
9 Jul 1953
Kate Garner, vocals, Haysi Fantayzee, (1982 UK No.11 single \'John Wayne Is Big Leggy\').
9 Jul 1950
American singer-songwriter and pianist Gwen Guthrie who had the 1986 UK No.5 single 'Ain't Nothing Goin' But The Rent'. She also sang backing vocals for
Aretha Franklin
,
Billy Joel
,
Stevie Wonder
, Peter Tosh, and
Madonna
, among others, and wrote songs made famous by Ben E. King and Roberta Flack. Guthrie died on 4 February 1999 aged 48.
9 Jul 1947
Mitch Mitchell, drums, The
Jimi Hendrix Experience
(1967 UK No.3 single 'Purple Haze', 1970 UK No.1 single Voodoo Chile'). Mitchell had been in the ITV's 'Ready Steady Go!' house band. Mitchell was found dead in his US hotel room on 12th Nov 2008 aged 61.
9 Jul 1946
British singer
Bon Scott
(Ronald Belford Scott), with Australian rock band
AC/DC
from 1974 until his death in 1980. He was brought up in Kirriemuir, Scotland before moving to Melbourne, Australia, with his family in 1952 at the age of six. Having arrived from 'Bonnie Scotland', he was dubbed 'Bon', and the nickname stuck. After a night of heavy drinking, Scott was found dead in the backseat of a friend's car in South London on 19 February 1980, the cause of death being subsequently listed as 'acute alcohol poisoning'.
9 Jul 1946
Joe Micelli, from John Fred and His Playboy Band who had the 1968 US No.1 & UK No.3 single 'Judy in Disguise (With Glasses)' which was a parodic play on the title of
The Beatles
' song
'Lucy in the Sky with Diamonds'
.
9 Jul 1941
Don McPherson, singer with American soul and R&B group Main Ingredient, best known for their 1972 hit song 'Everybody Plays the Fool'. He died on 4th July 1971.
9 Jul 1929
Lee Hazlewood, US male singer, (1967 US No.14 & UK No. 11 single 'Jackson', 1971 UK No.2 single with Nancy Sinatra). Wrote the Nancy Sinatra hit, 'These Boots Are Made for Walkin.' Died of cancer on 4th Aug 2007 at his home near Las Vegas aged 78.
9 Jul 1925
Alan Dale, US singer. He had his own TV & radio show during the 50s and scored the 1955 US No.7 single 'Cheery Pink and Apple Blossom White'. Dale died on 20th April 2002.