June 12th: The Biggest Music Headlines
Scroll down the page to see all the music headlines, stories and events for June 12 throughout music history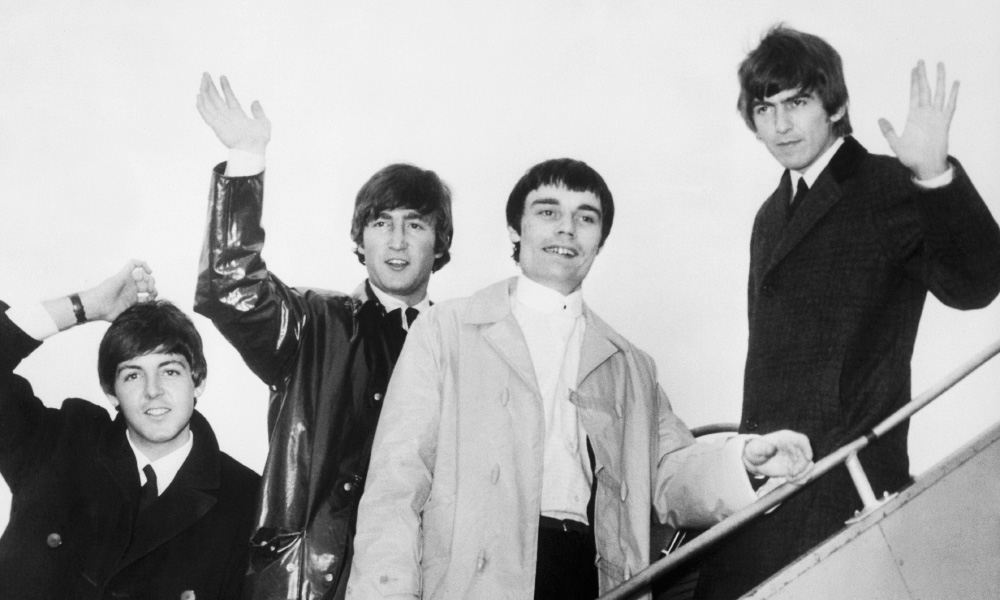 The Beatles Land in Australia
On this day in music, June 12, 1964, The Beatles arrived in Adelaide, Australia for their first and only tour of Oceania. As they deplaned, they were met by an estimated 300,000 fans, who lined a ten-mile route into the city center. Over the next two weeks, the band performed shows across Australia and New Zealand, including 3-night engagements in Sydney and Melbourne. The dates were part of the band's 1964 World Tour, during which Ringo was hospitalized with tonsillitis, and replaced temporarily with drummer Jimmie Nicol. On June 15, Ringo flew into Sydney to complete the rest of the run.
In 1965, with "Back in My Arms Again," The Supremes became the first act to score five consecutive No.1 hits on the Billboard Hot 100. The Motown classic also topped the Billboard R&B chart and went to No.1 in Canada.
In 1967, Bob Dylan's Greatest Hits broke the Top Ten of the Billboard 200. The album, which marked the singer-songwriter's first compilation, featured a now-iconic backlit profile photo of Dylan, captured by Rowland Scherman at a 1965 show. The cover image later earned a Grammy Award, while the LP would become Dylan's highest-selling title in the US.
In 1966, Pink Floyd had a lucky night at London's Marquee Club, where manager Peter Jenner caught their show. Several months later, Jenner and Andrew King would sign a joint management contract with the British band.
In 2006, Prince, who was the first major artist to release an album exclusively online (1997's Crystal Ball), received a Webby Lifetime Achievement Award.
Looking for more things that happened on this day in music?
Keep scrolling for all of the headlines for June 12.
BORN ON JUNE 12:
1941: Reg Presley (The Troggs)
1941: Roy Harper
1941: Chick Corea
1951: Bun E. Carlos (Cheap Trick)
1951: Brad Delp (Boston)
1959: John Linnell (They Might Be Giants)
1979: Robyn
Looking for more artists born on this day?
Keep scrolling for all of our June 12 birthdays.
---
What to find another day?
---
June 12th
12 Jun 2020
Welsh singer Ricky Valance died at his home in Spain at the age of 84. He became the first Welshman to have a solo UK No.1 hit with the song 'Tell Laura I Love Her' in 1960. The song tells the tragic story of a boy called Tommy and his love for a girl called Laura. It was was considered controversial at the time and was reportedly banned from airplay by the BBC.
12 Jun 2019
Radiohead
scuppered a blackmail attempt by releasing 18 hours of music recorded during the making of their classic album OK Computer. Tapes from the sessions had been stolen by hackers who demanded $150,000 for their return. Instead, the band released the tapes in full, with profits going to climate crisis activists Extinction Rebellion. "For £18 you can find out if we should have paid that ransom," said guitarist Jonny Greenwood in a statement.
12 Jun 2013
An inquest jury was told how Reggae star Smiley Culture had plunged a kitchen knife into his own chest after being arrested at his home in Surrey, England. Police had arrived at to arrest the singer and search his premises as part of an inquiry into allegations of conspiring to import Class A drugs into the UK. The singer later died from his injuries.
12 Jun 2013
Mumford & Sons bassist Ted Dwane was rushed into hospital to have an operation to remove a blood clot on his brain. Scans revealed a blood clot on the surface of his brain that required an operation.
12 Jun 2008
Amy Winehouse
performed an exclusive gig at a Moscow art gallery for Chelsea FC owner Roman Abramovich and his girlfriend Dasha Zhukova. It was reported that the singer was paid £1m for the gig at the launch of The Garage gallery, which has been set up by Ms Zhukova.
12 Jun 2006
Prince
received a Webby Lifetime Achievement Award in recognition of his "visionary" use of the Internet;
Prince
was the first major artist to release an entire album, 1997's Crystal Ball, exclusively on the internet.
12 Jun 2005
Pink Floyd
announced they would reunite with former bassist Roger Waters, who left the band in 1985, on July 2 for the Live 8 London concert. This would be the first time the band had played together as a quartet since
The Wall
tour in 1981.
12 Jun 2004
Lee Ryan from Blue was found guilty of criminal damage and ordered to pay £500 ($850) compensation from charges relating to an incident outside London nightclub 10 Rooms the previous December. Ryan admitted to throwing punches at a photographer after being bombarded by snappers when leaving the club, but argued that he was provoked into doing so. Judge Caroline Tubbs accepted that Lee was acting in self-defence, so dismissed any assault charges.
12 Jun 2002
Clive Calder the man who is credited with discovering
Britney Spears
, sold his record company Zomba to BMG Music for $2 billion. Calder started Zomba in 1975 and had hits with Billy Ocean, Sam Fox and Tight Fit.
12 Jun 2000
Sinead O'Connor
announced that she was a lesbian. The mother of two told the American magazine Curve that she had been in the closet for years saying "I am a lesbian. I haven't been very open about that, I've gone out with blokes because I haven't necessarily been terribly comfortable about being a lesbian."
12 Jun 1999
It was reported that
Oasis
had paid Gary Glitter £200,000 ($340,000) as an out-of-court settlement after being accused of using the Gary Glitter lyric, 'Hello, hello, it's good to be back' in the song 'Hello'.
12 Jun 1989
The
Elvis Presley
Autoland Museum opened at Graceland. The museum contained over 30 cars which were owned by Presley including his famous Pink Cadillac, Harley-Davidson motorcycles, Stutz Blackhawks, a 1975 Dino Ferrari, a 1956 Cadillac Eldorado Convertible, and the red MG that Elvis drove in the film Blue Hawaii.
12 Jun 1982
Bruce Springsteen
, James Taylor, Jackson Browne, Linda Ronstadt and Gary 'US' Bonds all appeared at a rally for nuclear disarmament in Central Park, New York to over 450,000 fans.
12 Jun 1976
The Who
, The Sensational Alex Harvey Band, Little Feat, Outlaws and Streetwalkers all appeared at Swansea City Football Club, Swansea, Wales, Tickets cost £4 ($7).
12 Jun 1972
With the help of her mother, a bare footed Ronnie Spector left her husband Phil's Beverly Hills mansion for the last time, leaving behind her adopted sons, three year old Donté and six year old twins, Louis and Gary. Within days she filed for a divorce that would be granted in 1974.
12 Jun 1970
David Bowie
released the single 'Memory of a Free Festival', which featured guitarist
Mick Ronson
and drummer Mick Woodmansey's studio debut with Bowie's band, bringing together the line-up that would shortly record The Man Who Sold the World. The track also featured
Marc Bolan
on lead guitar and backing vocals.
12 Jun 1967
Bob Dylan
's album Greatest Hits peaked at No.10 in the US chart. The cover photograph of the album was taken by Rowland Scherman at Dylan's November 28th, 1965, concert in Washington, D.C., winning the 1967 Grammy award for Best Album Cover, Photography. The original album package also included Milton Glaser's now-familiar psychedelic poster depicting Dylan.
12 Jun 1966
Pink Floyd
appeared at The
Marquee Club
in Wardour Street, London, England. It was at this show that future co-manager Peter Jenner saw the band live for the first time. Floyd went on to sign a management contract with Peter Jenner and Andrew King on 31st Oct of this year.
12 Jun 1965
The Beatles
were included in the Queen's birthday honours list to each receive the MBE. Protests poured into Buckingham Palace, MP Hector Dupuis said 'British Royalty has put me on the same level as a bunch of vulgar numbskulls'.
12 Jun 1965
The
Supremes
scored their fifth consecutive US No.1 single (they were the first American group to accomplish this feat), when 'Back In My Arms Again', went to the top of the charts.
12 Jun 1964
The Beatles
arrived in Adelaide, Australia and were greeted by an estimated 300,000 fans, (the biggest welcome the band would ever receive), who lined the ten mile route from the airport to the city centre. The group gave their first four shows in Australia at the Centennial Hall, Adelaide over two nights, playing: I Saw Her Standing There, I Want To Hold Your Hand, All My Loving, She Loves You, Till There Was You, Roll Over Beethoven, Can't Buy Me Love, This Boy, Long Tall Sally and Twist And Shout. Temporary member Jimmy Nicol was standing in for Ringo on drums who was recovering from having his tonsils removed.
Born on this day in music
12 Jun 1979
Robyn (born Robyn Carlsson), Swedish singer, songwriter, and producer, who had the 2007 UK No.1 single 'With Every Heartbeat' and the No.2 smash hit, 'Dancing on My Own' in 2010.
12 Jun 1959
John Linnell, accordion, keyboards, sax, from American alternative rock band They Might Be Giants, who scored the 1990 UK No.6 single, 'Birdhouse In Your Soul'. The band has won two Grammy Awards, one in 2002 for their song 'Boss of Me, and in 2009 for 'Here Come the 123s'.
12 Jun 1952
Junior Brown, country guitarist and singer. Brown's signature instrument is the "guit-steel" double neck guitar, a hybrid of electric guitar and lap steel guitar. In 1996 he won the CMA Country Music Video of the Year for his video, "My Wife Thinks You're Dead," which featured 6-foot-7-inch Gwendolyn Gillingham.
12 Jun 1952
Pete Fardon, bass player with English-American rock band The Pretenders, who had the 1980 UK No.1 single with 'Brass In Pocket'. He died of a drug overdose on April 14th 1983.
12 Jun 1951
Brad Delp, guitarist and singer with Boston who had the 1977 UK No. 22 single 'More Than A Feeling' and the 1986 US No.1 single, 'Amanda.' Delp took his own life at his home in New Hampshire on March 9th 2007.
12 Jun 1951
Bun E Carlos, drummer from American rock band, Cheap Trick, who had the 1979 hit single 'I Want You To Want Me', and the 1988 US No.1 single 'The Flame'.
12 Jun 1949
John Wetton, bass, vocals, with Mogul Thrash, Family, King Crimson, Roxy Music, Bryan Ferry, Uriah Heep and Wishbone Ash. Wetton died in his sleep at his home in Bournemouth, Dorset, UK on 31 January 2017, from colon cancer.
12 Jun 1948
Barry Bailey, from American southern rock band Atlanta Rhythm Section who had the 1977 US No.7 single 'So in to You'.
12 Jun 1944
Harold Cowart, from John Fred and His Playboy Band who had the 1968 US No.1 & UK No.3 single 'Judy in Disguise (With Glasses)' which was a parodic play on the title of
The Beatles
' song 'Lucy in the Sky with Diamonds'.
12 Jun 1941
American jazz pianist, electric keyboardist and composer Chick Corea who has worked with Miles Davis, Stanley Clarke, Bobby McFerrin. In the 1970s he formed the fusion band Return to Forever. Corea died of a rare form of cancer on February 9, 2021, at age 79.
12 Jun 1941
English folk rock singer, songwriter Roy Harper.
Led Zeppelin
wrote 'Hat's Of To Roy Harper' featured on the bands third album. In 2005, Harper was awarded the MOJO Hero Award, and in 2013 a Lifetime Achievement Award at the BBC Radio 2 Folk Awards.
12 Jun 1941
Reg Presley, singer, songwriter with English garage rock band The
Troggs
, who had the 1966 US No.1 & UK No.2 single 'Wild Thing' and the hits 'With a Girl Like You' and 'Love Is All Around' (which was covered by Wet Wet Wet in 1994, and stayed at No.1 in the UK for fifteen weeks). In 1990 Presley began to develop an interest in the paranormal, in particular crop circles. He used the royalties 'Love Is All Around' to fund his research into the area and outlined his findings in a book, Wild Things They Don't Tell Us, which was published in 2002. Presley died on 4th Feb 2013.
12 Jun 1940
Bertha Barbee-McNeal, a co-founder of Motown hitmakers the Velvelettes. In 1963, the group released the non-charting 'There He Goes' before making a mark with 'Needle in a Haystack' and 'He Was Really Sayin' Somethin', Both became trademarks for the group, who were also especially noted for 1966's 'These Things Will Keep Me Loving You.' She died on December 15 2022 at the age of 82.
12 Jun 1928
American traditional pop and big band singe Vic Damone, who had the 1958 UK No.1 & US No.4 single 'On The Street Where You Live'.