June 15th: The Biggest Music Headlines
Scroll down the page to see all the music headlines, stories and events for June 15 throughout music history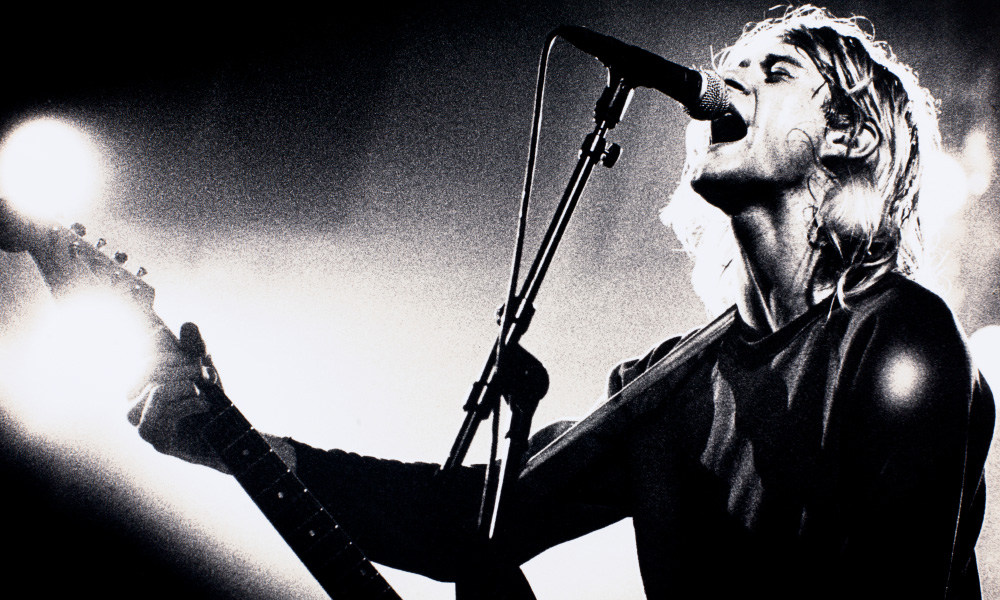 Nirvana Release Their Debut Album, Bleach
On this day in music, June 15, 1989, Nirvana released their debut album, Bleach. Recorded at Seattle's Reciprocal Recording and produced by Jack Endino (whose credits include projects for Mudhoney, Soundgarden, and the Screaming Trees), the album marked the trio's only release on Sub Pop Records and their sole LP to feature drummer Chad Channing. Despite critical acclaim, the album initially only sold 40,000 copies in the US. After the breakout success of 1991's Nevermind, however, Bleach returned to the charts and was eventually certified Platinum by the RIAA. In 1994, track "About a Girl" also found new audiences, after a live version (recorded during Nirvana's MTV Unplugged session) became a Top 40 hit.
In 1996, legendary jazz singer Ella Fitzgerald died at the age of 79. Known as "The First Lady of Song," Fitzgerald was long celebrated for her extraordinary vocals – particularly her improvisational scat singing. In addition to her prolific solo career, the 14-time Grammy Winner and National Medal of the Arts recipient also collaborated with the likes of Louis Armstrong, Duke Ellington, and Joe Pass.
In 1985, Dire Straits began a nine-week run at the top of the Billboard 200 with Brothers In Arms. The British band's fifth studio album, which featured the No.1 US hit, "Money for Nothing," was also a massive success in the UK (spending a non-consecutive 14 weeks at the top of the album chart) and Australia, where it held the No.1 spot for 34 weeks. Brothers In Arms has since become one of the world's best-selling albums.
In 1981, Duran Duran released their self-titled debut. Featuring their first Top Ten UK hit, "Girls on Film," and "Planet Earth" (No.12), the album eventually peaked at No.3 on the Official Charts. While the New Wave LP didn't find initial success in the US, a reissue in 1983 landed in the Billboard 200's Top 10.
In 1973, Marvin Gaye's sultry classic, "Let's Get It On," was released on Motown Records. The song, which served as the title track of the artist's 13th studio album, topped Billboard's pop and R&B charts.
In 1963, Japanese singer Kyu Sakamoto became the first Asian recording artist to top the Billboard Hot 100 with his hit "Sukiyaki." The Japanese-language song eventually sold more than 13 million copies worldwide, making it one of the best-selling singles at the time.
Looking for more things that happened on this day in music?
Keep scrolling for all of the headlines for June 15.
BORN ON JUNE 15:
1937: Waylon Jennings
1941: Harry Nilsson
1943: Johnny Hallyday
1946: Leo Nocentelli (The Meters)
1946: Noddy Holder (Slade)
1947: Demis Roussos (Aphrodite's Child)
1949: Russell Hitchcock (Air Supply)
1951: Steve Walsh (Kansas)
1976: Gary Lightbody (Snow Patrol)
1981: Billy Martin (Good Charlotte)
1985: Nadine Coyle (Girls Aloud)
Looking for more artists born on this day?
Keep scrolling for all of our June 15 birthdays.
---
What to find another day?
---
June 15th
15 Jun 2022
Rare items from the late veteran BBC DJ John Peel's home collection sold for a total of £465,784 at an auction held by Bonhams in Knightsbridge, London, UK. A signed Lennon/Ono album went for £15,300, while the highest bid was for a Sex Pistols test pressings single 'Anarchy In The UK/I Wanna Be Me' from 1976 that went for £20,400.
15 Jun 2016
Brian May of
Queen
posted a note on his website objecting to Donald Trump's use of 'We Are The Champions' at campaign events. "Regardless of our views on Mr. Trump's platform, it has always been against our policy to allow Queen music to be used as a political campaigning tool," May wrote. The following month, Trump used the song as his entrance music when he made his first appearance at the Republican convention.
15 Jun 2016
Led Zeppelin
's guitarist
Jimmy Page
denied stealing the riff to '
Stairway To Heaven
' when he took the stand at a copyright trial in the US. The band were accused of lifting the opening guitar line from 'Taurus', a 1968 track by the band Spirit. Page testified that he had never heard the song until people started posting comparisons online a few years ago. Page admitted to owning several Spirit albums, but only remembered buying two of them, neither of which contained Taurus. Under questioning, he conceded that he did own a copy of the band's self-titled debut, on which the track appears, but could not recall how it came to be part of his collection.
15 Jun 2013
A 24-year-old woman died in hospital after falling at the Stone Roses concert in Glasgow. The woman was among 50,000 fans who attended a gig at Glasgow Green to hear the Manchester indie band. Police also Police made a total of 24 arrests during and after the concert for anti-social and drugs offences.
15 Jun 2011
Two men from Manchester were held on suspicion of conspiracy to rob and murder after being arrested close to the Devon home of the singer Joss Stone. The men, aged 33 and 30, were arrested after residents reported a suspicious looking vehicle in the Cullompton area. A UK police source said they were found with swords, and a body bag, as well as detailed maps and aerial photos of Stone's property.
15 Jun 2010
A case against a man accused of threatening
Elton John
's life was withdrawn just hours before his trial was due to begin. Neal Horsley had responded to Elton's suggestion that Jesus Christ was gay in a Parade magazine interview by writing an angry online response entitled "Why
Elton John
Must Die". After being held in an Atlanta, Georgia jail since last March, Fulton County Superior Court Judge Kimberly Esmond Adams dismissed the case against Horsley because his actions did not warrant criminal charges.
15 Jun 2008
Liverpool was voted England's most musical city in a national campaign set up by the Arts Council. The home of
The Beatles
Frankie Goes To Hollywood,
Orchestral Manoeuvres in the Dark
and The Zutons took 49% of the vote in an online poll set up by the funding body. Sheffield - which brought the world the Arctic Monkeys and Pulp - came second, while Manchester with
Oasis
, Stone Roses and
The Smiths
came third.
15 Jun 2005
Coldplay
went straight to No.1 on US album chart with their third album 'X&Y', having already entered at number one in the UK. The last time a British artist had a simultaneous US and UK number one was in November 2000 with '1', a compilation of hits by
The Beatles
. The last studio album to reach number one on both sides of the Atlantic was
Radiohead
's 'Kid A' in October 2000. 'X&Y' went on to top over 30 global charts.
15 Jun 2003
Radiohead
scored their fourth UK No.1 with their sixth studio album 'Hail To The Thief'. The title Hail to the Thief – a phrase used by anti-George W. Bush activists during the controversy surrounding the 2000 US presidential election was a play on 'Hail to the Chief', a march played to announce the arrival of the President of the United States.
15 Jun 2002
A rare autographed copy of
The Beatles
' album
Sgt Pepper
's Lonely Hearts Club Band sold at auction for £34,000 ($57,800), more than five times the estimated price.
15 Jun 1996
US jazz singer Ella Fitzgerald died in Beverly Hills, California, aged 79. Already blinded by the effects of diabetes, Fitzgerald had both her legs amputated in 1993. Winner of 13 Grammy Awards, the 1956 'Ella Fitzgerald Sings the Cole Porter Songbook' was the first of eight "Songbook" sets. Appeared in the TV commercial for Memorex, where she sang a note that shattered a glass while being recorded on a Memorex cassette tape. The tape was played back and the recording also broke the glass, asking "Is it live, or is it Memorex"
15 Jun 1989
Nirvana
's debut album Bleach was released in the US. The title for the album came from a poster 'Bleach Your Works' urging drug users to bleach their needles.
Kurt Cobain
claimed that most of the lyrics on the album were written the night before recording while he was feeling "pissed off", and that he did not regard them highly.
15 Jun 1988
During
Bruce Springsteen
's stay in Rome during a world tour a photographer took a shot of Bruce in his underpants sharing an intimate moment with his backing singer Patti Scialfa. The picture confirmed the rumours that Bruce and Patti were having an affair.
15 Jun 1985
Dire Straits
started a nine-week run at No.1 on the US album chart with, Brothers In Arms. The album is the seventh best-selling album in UK chart history and won two Grammy Awards at the 28th Grammy Awards, and also won Best British Album at the 1987 Brit Awards.
15 Jun 1981
Duran Duran
released their debut studio album which reached No.3 on the UK Albums Chart and remained in the UK top 100 for 118 weeks. In the US the album reached No.10 on the Billboard 200, and spent 87 weeks on that chart. Singles from the album included the UK top 10 hits 'Planet Earth' and 'Girls on Film'.
15 Jun 1974
ABBA
's second album (but first UK release), 'Waterloo' entered the UK chart for the first time peaking at No.28. The album's title track won
ABBA
the 1974 Eurovision Song Contest.
15 Jun 1973
Motown
Records released 'Let's Get It On' by
Marvin Gaye
. The track became Gaye's most successful single for Motown and one of his most well-known songs, with the help of the song's sexually explicit content.
15 Jun 1969
During a short 5 date UK tour
Led Zeppelin
appeared at The Free Trade Hall, Manchester, England supported by Blodwyn Pig and The Liverpool Scene. The flyer for the tour stated: 'Come & take off, levitate with the Led Zeppelin album'.
15 Jun 1963
Kyu Sakamoto started a three week run at No.1 on the US singles chart with 'Sukiyaki', the first-ever Japanese song to do so. It made No.6 on the UK chart in 1963 and was also a No.10 UK single for Kenny Ball in the same year.
15 Jun 1958
The first teenage all-music TV show Oh Boy!, was broadcast for the first time in the UK. Each week Oh Boy! featured resident artists plus a selection of special guests. The residents included Cuddly Dudley, who sang on 21 shows, Cliff Richard (20 shows), The Drifters (Later to become The Shadows) (17 shows) and Marty Wilde (17 shows). Guests included Billy Fury, Tony Sheridan, Shirley Bassey and Lonnie Donegan; with occasional US stars, such as The Inkspots, Conway Twitty and Brenda Lee.
Born on this day in music
15 Jun 1985
Nadine Coyle, from English-Irish pop girl group Girls Aloud, which was created through the ITV talent show Popstars: The Rivals in 2002. They scored the 2002 UK No.1 single 'Sound Of The Underground' and over 20 UK Top 20 singles. They hold the record for "Most Consecutive Top Ten Entries in the UK by a Female Group.
15 Jun 1981
Billy Martin, guitarist, from American rock bandGood Charlotte, who had the 2002 US No.7 album, The Young And The Hopeless, and the 2003 UK No.6 single 'Girls and Boys'.
15 Jun 1976
Gary Lightbody, guitar, vocals, from Northern Irish rock band Snow Patrol, who scored the 2006 UK No.1 album Eyes Open and the 2006 UK No.6 single 'Chasing Cars'.
15 Jun 1969
American rapper and actor Ice Cube, rapper, who had the 1992, US No.1 US album The Predator.
15 Jun 1966
Michael Britt, guitarist, with American country group Lonestar who had the 2000 US No.1 & UK No.21 single 'Amazed'. Lonestar has charted more than 20 singles on the Hot Country Songs chart, including 9 that reached No.1.
15 Jun 1965
British guitarist Mark Thwaite who has worked with The Mission, Gary Numan, Roger Daltrey, P.J. Harvey,
Alanis Morissette
, Sex Gang Children.
15 Jun 1958
Neil Arthur, from English synth-pop band Blancmange, who had the 1982 UK No.7 single 'Living On The Ceiling'.
15 Jun 1956
David Hinds from roots reggae group Steel Pulse who had the 1978 UK hit single 'Prodigal Son'. Steel Pulse were the first non-Jamaican act to win the Grammy Award for Best Reggae Album.
15 Jun 1951
Steve Walsh, from American rock band Kansas, who scored the 1978 US No.3 single 'Dust In The Wind', and the 1978 hit single 'Carry On Wayward Son'. which was the second-most-played track on US classic rock radio in 1995 and No.1 in 1997.
15 Jun 1949
Australian musician Russell Hitchcock singer for the soft rock band Air Supply who scored the 1980 UK No.11 single 'All Out Of Love' and the 1981 US No.1 single 'The One That You Love'.
15 Jun 1947
Greek singer Demis Roussos, who had the 1976 UK No.1 EP, featuring 'Forever And Ever'. In the 1970s he was a member of Aphrodite's Child, a progressive rock group that also included Vangelis. Roussos died on 25 January 2015 from stomach cancer, pancreatic cancer and liver cancer.
15 Jun 1946
Noddy Holder, guitar, vocals with English rock band Slade who scored 17 consecutive top 20 hits and six No.1's on the UK Singles Chart becoming the most successful British group of the 1970s based on sales of singles. Holder is now a TV actor, (The Grimleys) and radio and TV presenter.
15 Jun 1946
American musician and songwriter Leo Nocentelli best known as a founding member and lead guitarist of the funk band The Meters. Nocentelli has also worked with Dr. John, Robert Palmer and Etta James and did session work for Motown acts including the Supremes, Temptations, and Spinners.
15 Jun 1943
Johnny Hallyday, 'the French Elvis', major star in Europe he was credited for having brought rock and roll to France and sold more than 110 million records worldwide.
Jimmy Page
, Peter Frampton and Foreigner's Mick Jones have all played on his records. He died of lung cancer on 6 December 2017 age 74.
15 Jun 1943
Muff Winwood, The Spencer Davis Group, who scored 1966 UK No.1 single 'Keep On Running' and the 1967 US No.7 single 'Gimme Some Lovin'. He became a producer and A&R man for Sony Records.
15 Jun 1941
American singer-songwriter Harry Nilsson, who had the 1972 UK & US No.1 single with his version of The
Badfinger
song 'Without You', and the 1969 US No.6 single 'Everybody's Talkin' from the film Midnight Cowboy'. The
Monkees
, Three Dog Night & Ronettes all covered his songs. He died on January 14th 1994 after he suffered a massive heart attack.
15 Jun 1937
American singer, songwriter, and musician Waylon Jennings. He worked as a DJ, played bass with
Buddy Holly
, (Jennings unintentionally missing flying with Holly, The Big Bopper and Ritchie Valens on the flight on which they died). In 1976 he released the album Wanted! The Outlaws with Willie Nelson, Tompall Glaser and Jessi Colter, which became the first platinum country music album, and he was also a member of the country supergroup The Highwaymen with Willie Nelson, Kris Kristofferson and
Johnny Cash
. Jennings, who died on 13 February 13, 2002, was also the narrator for the TV show the Dukes of Hazzard.
15 Jun 1934
Ruby Nash, American singer who led the rhythm and blues group Ruby & the Romantics who scored the 1963 US No.1 hit 'Our Day Will Come'.
15 Jun 1929
Nigel Pickering, from American 1960s sunshine pop band Spanky And Our Gang, who had the 1967 US No.9 single 'Sunday Will Never Be The Same Again'.