June 23rd: The Biggest Music Headlines
Scroll down the page to see all the music headlines, stories and events for June 23 throughout music history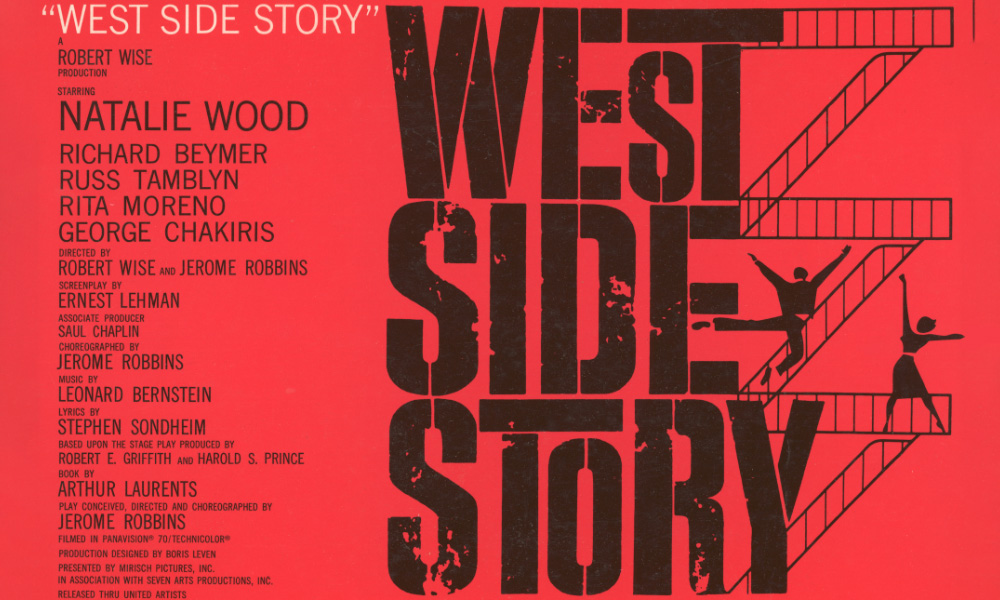 The 'West Side Story' Soundtrack Takes Over UK and US Charts
On this day in music, June 23, 1962, the film soundtrack to West Side Story topped the UK album chart, where it would remain for a total of 13 non-consecutive weeks. Featuring music and lyrics by Leonard Bernstein and Stephen Sondheim, the soundtrack broke records in the US, spending 54 weeks at No.1 – the longest stay of any album in history. One of the best-selling albums of the decade in the US, West Side Story later earned a Grammy Award for Best Soundtrack Album – Original Cast.
In 1990, Elton John scored his first UK No.1 hit as a solo artist with "Sacrifice/Healing Hands." The feat arrived 14 years after he topped the chart alongside Kiki Dee with "Don't Go Breaking My Heart." In the US, the singer-songwriter had already racked up multiple solo No.1 hits, including "Bennie and the Jets," "Crocodile Rock," and a cover of The Beatles' "Lucy in the Sky with Diamonds," among others.
In 1984, Duran Duran topped the Billboard Hot 100 for the first time with "The Reflex." The song, which also hit No.1 in the UK, was a cut from the British group's third album, Seven and the Ragged Tiger..
In 1965, The Miracles released their enduring hit, "The Tracks of My Tears." The single, which has appeared on numerous lists, including the National Endowment for the Arts' "Songs of the Century," Rolling Stones' 500 Greatest Songs of All Time, and the Rock and Roll Hall of Fame's 500 Songs that Shaped Rock and Roll, was a top-seller for the Motown group, landing in the US Top 20 and peaking at No.2 on Billboard's R&B chart. While the song did not find initial success in the UK, a 1969 reissue landed in the Top Ten.
In 1960, it was a moment of tragic irony when "Three Steps to Heaven," by the late teen idol Eddie Cochran, topped the UK pop chart. The 21-year-old American singer and songwriter died three months earlier in a car accident while on tour in England.
In 1957, "Gamblin' Man/Putting on the Style," from "King of Skiffle" Lonnie Donegan, marked the final UK No.1 single to be released as a 78 rpm disc. The older format was quickly being overtaken by the more popular 45 rpm vinyl 7-inch.
Looking for more things that happened on this day in music?
Keep scrolling for all of the headlines for June 23.
BORN ON JUNE 23:
1929: June Carter Cash
1940: Stuart Sutcliffe (The Beatles)
1962: Steve Shelley (Sonic Youth)
1965: Bonehead (Oasis)
1975: KT Tunstall
1984: Duffy
Looking for more artists born on this day?
Keep scrolling for all of our June 23 birthdays.
---
What to find another day?
---
June 23rd
23 Jun 2021
British engineer and composer Peter Zinovieff died age 88. In the late 1960s, his company, Electronic Music Studios (EMS), made the VCS3, a synthesizer used by many early progressive rock bands such as
Pink Floyd
and Krautrock groups as well as more pop-orientated artists, including Todd Rundgren and
David Bowie
.
23 Jun 2019
American musician Dave Bartholomew died of heart failure age 100. Many musicians recorded Bartholomew's songs, but his partnership with Fats Domino produced some of his greatest successes. In the mid-1950s they wrote more than forty hits for Imperial Records, including the Billboard No.1 pop chart hit "Ain't That a Shame". Bartholomew's other hit songs as a composer include 'I Hear You Knocking', 'Blue Monday', 'I'm Walkin'', 'My Ding-A-Ling', and 'One Night.'
23 Jun 2016
American bluegrass artist Ralph Stanley who was known for his distinctive singing and banjo playing, died aged 89. With his brother Carter, he helped popularise the bluegrass genre. Stanley won new fans when his work featured in the Coen brothers film O Brother, Where Art Thou?
23 Jun 2010
62-year-old
Gregg Allman
underwent a successful liver transplant operation at the Mayo Clinic in Jacksonville, Florida. Allman had begun a series of treatments for Hepatitis C, but chronic damage of his liver led doctors to recommend a transplant. In a statement to the press, Allman said "I changed my ways years ago, but we can't turn back time. Every day is a gift."
23 Jun 2009
Chris Brown pleaded guilty to one count of assault on his former girlfriend,
Rihanna
. The 19 year-old R&B singer was sentenced to five years probation and ordered to do six months community service. Brown had faced charges of assaulting Rihanna, 21, during a row in February. The last-minute plea deal came before a hearing at a Los Angeles court at which Rihanna was due to give evidence. The Los Angeles County Superior Court judge also ordered Brown and Rihanna to stay at least 50 yards from each other, except at entertainment industry events when the distance is reduced to 10 yards.
23 Jun 2004
Bob Dylan
was awarded an honorary degree by the University of St. Andrews Scotland's oldest University and made a "Doctor of Music."
23 Jun 2003
Diana Ross appeared in court and testified that she was coerced and felt intimidated into taking a breath test that showed her blood alcohol level was 0.2 (well over the 0.08 limit). The singer said, "If I didn't take the breath tests, I was either going to go to the hospital or to jail". After the hearing, Ross asked the judge if it would be possible to have court paperwork processed using her married name of Diana Naess. The City Magistrate said he thought it was "a little late" for that now.
23 Jun 1996
Bryan Adams
went to No.1 on the UK album chart with '18-Till I Die'.
Metallica
went to No.1 on the US album chart with their sixth studio album 'Load'. The album has now sold over five million copies in America alone.
23 Jun 1995
Drummer Alan White made his live debut with
Oasis
at Glastonbury Festival. Also former
Take That
member Robbie Williams appeared on stage with the band during the show.
23 Jun 1990
13-year-old Keith Sorrentino filed a $500,000 (£294,118) lawsuit against
Madonna
, claiming he suffered nightmares and bed-wetting problems after an incident outside
Madonna
's home when she allegedly flung him to the ground.
23 Jun 1990
Elton John
had his first UK solo No.1 single with 'Sacrifice / Healing Hands' after achieving over 50 previous UK hits and 6 chart toppers in the US.
23 Jun 1990
Buddy Holly
's Gibson acoustic guitar sold for £139,658 ($237,419) in a Sotheby's auction. The guitar was in a tooled leather case made by Holly himself.
23 Jun 1989
George Michael
received the Silver Clef Award for outstanding achievements to British Music.
23 Jun 1984
Duran Duran
started a two week run at No.1 on the US singles chart with 'The Reflex', the group's first US No.1, was taken from their third album, Seven and the Ragged Tiger.
23 Jun 1976
Paul McCartney
and Wings played the last date on their Wings Over America tour at the Forum in Los Angeles.
23 Jun 1975
During his 'Welcome To My Nightmare' tour in Vancouver, Canada, Alice Cooper fell from the stage and broke six ribs.
23 Jun 1973
10cc were at No.1 on the UK singles chart with 'Rubber Bullets', the first of three UK No.1's for the band, (who also had a No.1 as Hotlegs).
23 Jun 1973
23 Jun 1966
The Beatles
had their tenth consecutive UK No.1 single with '
Paperback Writer
' / 'Rain.' The track is marked by the boosted bass guitar sound throughout, partly in response to
John Lennon
demanding to know why the bass on a certain Wilson Pickett record far exceeded the bass on any Beatles records. It was also cut louder than any other Beatles record, due to a new piece of equipment used in the mastering process.
23 Jun 1965
The Miracles released 'The Tracks of My Tears' on
Motown
's Tamla label. Written by Smokey Robinson, Pete Moore, and Marv Tarplin, the song became a US Top 20 hit and peaked at No.2 on Billboard's R&B chart. The broadly acclaimed song was reissued in the UK in 1969, where became a Top Ten hit.
23 Jun 1962
The film soundtrack to 'West Side Story' went to No.1 on the UK charts for the first time. It spent a total of 13 weeks at No.1 on seven different occasions.
23 Jun 1960
Eddie Cochran was at No.1 in the UK with the single 'Three Steps To Heaven'. The American singer had been killed three months earlier in a car crash while touring the UK.
23 Jun 1957
Lonnie Donegan was at No.1 on the UK singles chart with 'Gamblin' Man / Putting On The Style', the singers second UK No.1. It was the last UK No.1 to be released as a 78rpm as well as a 7' vinyl record.
Born on this day in music
23 Jun 1989
Lauren Bennett, English singer, best known as a member of the girl group G.R.L.. She is also known for her work with the Paradiso Girls, CeeLo Green, Robin Antin of the Pussycat Dolls, and most notably with LMFAO, where she was featured on the 2011 summer hit 'Party Rock Anthem'.
23 Jun 1984
Aimee Anne Duffy, (Duffy) Welsh singer-songwriter who had the 2008 UK No.1 single 'Mercy'. Her debut studio album Rockferry released in 2008 won a number of awards including the Grammy Award for Best Pop Vocal Album.
23 Jun 1981
Anthony Costa, singer with English boyband, Blue who had the 2002 UK No.1 single 'If You Come Back'. The group also worked alongside artists such as
Stevie Wonder
,
Elton John
and Lil' Kim.
23 Jun 1980
Jessica Taylor, singer, from British-Irish group Liberty X, who had the 2002 UK No.1 single 'Just A Little'. The group was formed by the five finalists of the British talent show Popstars who failed to make it into the group Hear'Say. Liberty X went on to achieve ten consecutive UK Top 20 singles.
23 Jun 1975
Scottish singer-songwriter KT Tunstall, who had the 2005, UK No.3 album, Eye To The Telescope. Her hit 'Suddenly I See' won the Ivor Novello Award for Best Song in 2006 and was used as a campaign song of the US presidential campaign of Hillary Clinton in 2008.
23 Jun 1973
Carter Albrecht, American musician best known for his keyboard and guitar work in Edie Brickell & New Bohemians. He was shot and killed by his girlfriend's neighbour early in the morning on 3 September 2007.
23 Jun 1966
Mark Chadwick, guitarist, singer with English folk rock band The Levellers who had the 1995 UK No.12 single 'Just The One'.
23 Jun 1965
English musician Paul 'Bonehead' Arthurs, one of the founder members of
Oasis
. Thier first single 'Supersonic' was released in 1994 and their 1994 UK No.1 album
Definitely Maybe
became the fastest selling UK debut album ever'. Arthurs, quit the band in Aug 1999.
23 Jun 1962
Richard Coles from British pop duo The Communards who had the 1986 UK No.1 single with a cover version of the Thelma Houston hit 'Don't Leave Me This Way'. Coles is now a Church of England priest.
23 Jun 1962
Steve Shelley, drummer with American alternative rock band Sonic Youth, who had the 1993 UK hit single 'Sugar Kane'. The band is considered to be a pivotal influence on the alternative and indie rock movements.
23 Jun 1957
Lee John, from English three piece band Imagination, who had the 1982 UK No.2 single 'Just An Illusion'.
23 Jun 1956
Randall Darius Jackson, American musician and record producer, now best known for being a judge on the US television show American Idol.
23 Jun 1952
American bassist Anthony Jackson, who has performed as a session musician and live artist. He is also credited with the development of the modern six-string bass. As a member of the Billy Paul band, Jackson played on the 1972 hit 'Me and Mrs. Jones'. He has worked with many artists includung
Madonna
, Roberta Flack, Chaka Khan, Donald Fagen and
Simon & Garfunkel
.
23 Jun 1951
American singer Larry Cunningham best known as a member of the R&B/soul group The Floaters who scored the 1977 US No.2 and UK No.1 hit 'Float On.' The song was adapted in the early 1990s to advertise Cadbury's Crème Eggs. Cunningham died of a heart attack on 10 January 2019 age 67.
23 Jun 1941
Robert Hunter, American lyricist, singer-songwriter and poet, best known for his work with the
Grateful Dead
and for collaborating with singer-songwriter
Bob Dylan
. An early friend of
Jerry Garcia
, they played together in bluegrass bands (such as the Tub Thumpers). He died on 23 September 2019 age 78.
23 Jun 1940
British teen idol, singer, actor and financial journalist Adam Faith, who had the 1959 UK No.1 single 'What Do You Want', plus over 20 other UK Top 40 singles. Acting roles include the TV series Love Hurts. Faith died of a heart attack on March 8th 2003.
23 Jun 1940
Stuart Sutcliffe, original bassist of
The Beatles
for eighteen months (January 1960 - June 1961). Sutcliffe was living in Hamburg, Germany at the time of his death, he died of a brain haemorrhage in an ambulance on the way to hospital on April 10th 1962, aged 22.
23 Jun 1938
Alan Vega, American vocalist and visual artist, primarily known for his work with the electronic protopunk duo Suicide. Vega died on 16th July 2016.
23 Jun 1937
Niki Sullivan, guitarist, singer, one of the three original members of
Buddy Holly
's backing group, The Crickets. He co-wrote a number of his hit songs and sang back-up vocals on 27 of the 32 songs Buddy recorded over his brief career. Sullivan died suddenly of a heart attack on April 6th 2004, at his home in Independence, Missouri aged 66.
23 Jun 1929
American singer, songwriter, actress June Carter Cash, wife of
Johnny Cash
. Had hits with
Johnny Cash
, 'Ring Of Fire', 'Jackson', 'If I Were A Carpenter' and won five Grammy Awards and was inducted into the Christian Music Hall of Fame in 2009. She died 15th May 2003 aged 73.