June 26th: The Biggest Music Headlines
Scroll down the page to see all the music headlines, stories and events for June 26 throughout music history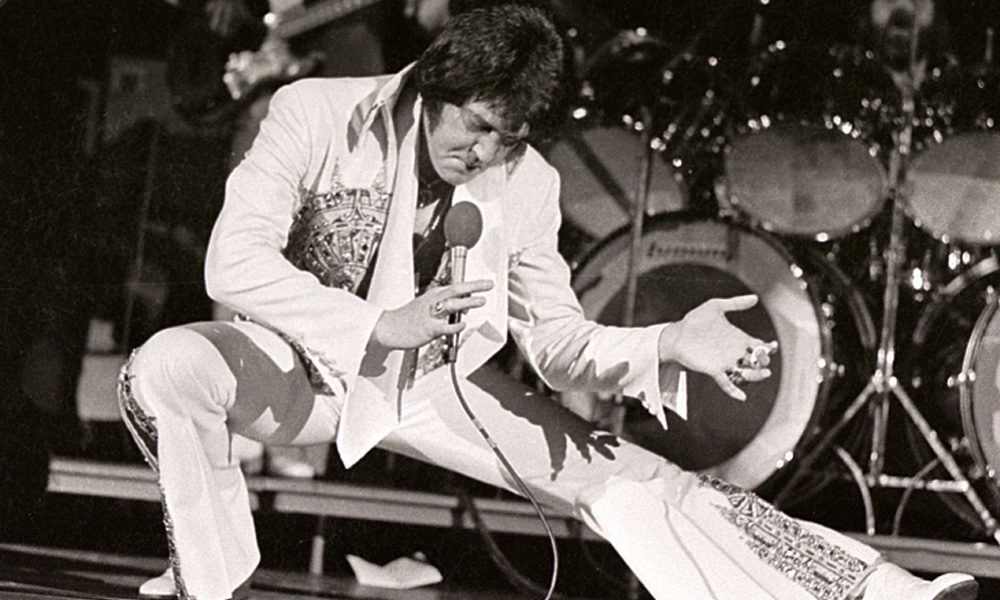 Elvis Presley Plays His Final Concert
On this day in music, June 26, 1977, 42-year-old Elvis Presley played his final concert at Indianapolis' Market Square Arena, just two weeks before his sudden death. Donning his signature white-and-gold suit, The King performed classics like "Can't Help Falling in Love," "Jailhouse Rock," and "Don't Be Cruel," plus covers of "Unchained Melody" and "Bridge Over Troubled Water." While the subsequent CBS TV special, Elvis in Concert, was often touted as capturing this particular show, it actually featured footage from two earlier dates on the tour (Omaha, NE on June 19 and Rapid City, SD on June 21).
In 1993, single "Dreams," by British singer Gabrielle, began a three-week run at the top of the UK pop charts. The song made UK chart history as the highest entry (No.2) for a debut single.
In 1965, The Byrds scored their first No.1 hit on the Billboard Hot 100 with a cover of Bob Dylan's "Mr. Tambourine Man." The song, which also topped the charts in the UK, popularized the influential sound of jangle pop.
In 1974, Cher and Sonny Bono divorced after ten years of marriage – effectively ending their reign as one of the era's biggest pop culture duos. The couple rose to fame in the mid-60s with hits like "I Got You Babe" and "Baby Don't Go," and they hosted two popular TV variety shows in the 70s. Together, they sold more than 40 million records worldwide and earned two Grammy nods.
Looking for more things that happened on this day in music?
Keep scrolling for all of the headlines for June 26.
BORN ON JUNE 26:
1910: Colonel Tom Parker (Manager)
1955: Mick Jones (The Clash)
1956: Chris Isaak
1961: Terri Nunn (Berlin)
1963: Harriet Wheeler (The Sundays)
1966: Pär Wiksten (The Wannadies)
1973: Gretchen Wilson
1979: Nathan Followill (Kings of Leon)
1979: Ryan Tedder (OneRepublic)
1993: Ariana Grande
Looking for more artists born on this day?
Keep scrolling for all of our June 26 birthdays.
---
What to find another day?
---
June 26th
26 Jun 2021
American singer-songwriter Johnny Solinger died one month after he revealed that he was suffering from liver failure. He was 55 years old. He was best known for being the lead vocalist of Skid Row from 1999 to 2015.
26 Jun 2020
American soul singer Tami Lynn died. She scored a Top Ten hit on the UK Singles Chart in 1971 with "I'm Gonna Run Away From You". She sang on all Dr. John's albums as well performing backing vocals on the Rolling Stones album
Exile on Main St
, and worked with Wilson Pickett, Sonny & Cher and Miles Davis.
26 Jun 2017
Former N-Dubz rapper Dappy was given a suspended jail sentence for arming himself with a butcher's knife during a row with his partner. The star, whose real name is Costas Contostavlos, admitted having the knife outside the home he shared with Imani Campbell. He was given nine months in jail suspended for two years.
26 Jun 2016
An electric guitar owned by
Prince
and a lock of
David Bowie
's hair sold at auction in the US for a total of more than $150,000 (£110,000). The Yellow Cloud guitar, said to be one of
Prince
's favourites, was bought for $137,500. Bowie's hair, which sold for $18,750, came from a former employee of Madame Tussauds in London who had used it to recreate the music icon's 1983 hairdo.
26 Jun 2012
Hundreds of fans were set to miss The Stone Roses' reunion concerts in Manchester this weekend, after websites took their money, but failed to deliver tickets. Two sites, Aossatickets.com and theticketwebsite.net, who had sold tickets had since disappeared. Several major tours had been targeted by ticket fraudsters in recent years, with fans of
Take That
,
Bruce Springsteen
,
Rihanna
and Michael Buble among those who found themselves out of pocket.
26 Jun 2008
Total Guitar magazine voted
Celine Dion
's rendition of the
AC/DC
track 'You Shook Me All Night Long' as the world's worst cover version ever. In the best cover versions list,
Jimi Hendrix
was voted into first place with his version of the
Bob Dylan
song 'All Along the Watchtower,'
The Beatles
rendition of 'Twist and Shout', (first recorded by the Top Notes), was in second place, followed by the Guns N' Roses version of the Wings song 'Live and Let Die'.
26 Jun 2005
Tickets for a forthcoming
Rolling Stones
gig at the Hollywood Bowl were set to become the most expensive in rock 'n' roll history. Fans would have to pay up to £249 for a seat - £2 per minute to watch the Stones.
26 Jun 2001
The Archbishop of Canterbury George Carey caused uproar among theologians after rejecting an application from a rock star for a degree course on religious grounds. Former Cockney Rebel member Andrew Brown who was now a minister of the Unitarian church wanted to complete a MA in theology but Carey had rejected his application because Brown did not belong to a mainstream church.
26 Jun 2000
Britney Spears
hometown of Kentwood, Louisiana announced that a new museum, due to open early next year, would include a section including fan mail, platinum records and genuine items of the singers clothing.
26 Jun 1993
Gabrielle started a three-week run at No.1 on the UK singles chart with 'Dreams'. The single entered the British charts at No.2 which was the highest chart entry for a debut act. Jamiroquai started a three-week run at No.1 on the UK album chart with 'Emergency On Planet Earth'.
26 Jun 1988
Bros were at No.1 on the UK singles chart with 'I Owe You Nothing'. It was the only No.1 for the Boy band comprising of twins Luke & Matt Goss and Craig Logan.
26 Jun 1982
American singer and One Hit Wonder Charlene was at No.1 on the UK singles chart with 'I've Never Been To Me'. The song was recorded in 1976 and was reissued by
Motown
records in 1982 by which time Charlene had moved to England and was working in a sweet shop in Ilford, east London.
26 Jun 1977
Elvis Presley
made his last ever live stage appearance when he appeared at the Market Square Arena in Indianapolis. Presley would die less than two months later. The last two songs he performed were 'Hurt' and '
Bridge Over Troubled Water
.' Before the show Elvis was presented with a plaque commemorating the 2 billionth record to come out of RCA's pressing plant.
26 Jun 1976
TV talent show winners from Liverpool The Real Thing were at No.1 on the UK singles chart with 'You To Me Are Everything', the group's only No.1 hit. It was the first single by a Black British band to top the UK charts.
26 Jun 1974
Cher divorced Sonny Bono after 10 years of marriage. Four days later, Cher married guitarist
Gregg Allman
, the couple split 10 days after that, got back together and split again. They did stay married for three years, producing Elijah Blue Allman.
26 Jun 1973
Rolling Stone
Keith Richards
and his girlfriend Anita Pallenberg were arrested at their home in Chelsea, London on drugs and gun charges.
26 Jun 1972
During sessions at Olympic Studios, London, England,
David Bowie
recorded 'John, I'm Only Dancing', with
Mick Ronson
on lead guitar and Lou Reed on rhythm guitar. The track which was released and became a hit single in the UK in September of this year was not released in America, being judged too risqué by RCA Records. The original video directed by Mick Rock, featuring androgynous dancers from Lindsay Kemp's mime troupe, was banned by British music show
Top Of The Pops
.
26 Jun 1966
During a North American tour, The
Rolling Stones
played two shows, a matinee show at The Coliseum in Washington DC and an evening show at The Baltimore Civic Centre in Maryland. The McCoys and The Standells were the support acts.
26 Jun 1965
The Byrds went to No.1 on the US singles chart with their version of
Bob Dylan
's 'Mr Tambourine Man'. Only Roger McGuinn from the band played on the song, the drummer
Hal Blaine
who played on the track also played on '
Bridge Over Troubled Water
'.
26 Jun 1964
During a world tour,
The Beatles
played two shows at Town Hall, Dunedin, South Island, New Zealand. The flight from Auckland to Dunedin was tense due the receipt of an anonymous threat that a "germ bomb" had been placed on board the aircraft.
26 Jun 1961
Gary U.S. Bonds started a two-week run at No.1 on the US charts with 'Quarter To Three', a No.7 hit in the UK. Before Bonds recorded this, it was an instrumental by The Church Street Five called 'A Night With Daddy G.' Bond's manager added lyrics to it and had him record it. This is often covered by
Bruce Springsteen
who is a big fan. In 1981, Springsteen produced a successful comeback album for Bonds.
26 Jun 1955
Elvis Presley
(with Scotty Moore and Bill Black) played the first of three nights at the Keesler Air Force Base in Biloxi, Mississippi. The local paper ran a preview which read; 'A good looking youngster who has become a juke-box favorite with his That's Alright, Mama, and Blue Moon of Kentucky. Presley is expected to repeat some of his hit tunes at the Airmen's Club show in addition to mixing up a few country tunes with some "bop" and novelty numbers.'
Born on this day in music
26 Jun 1993
Ariana Grande, American singer, songwriter, and actress. Grande's second studio album, My Everything (2014), reached No.1 in the US, and contained the hit singles 'Problem' and 'Break Free'.
26 Jun 1979
Ryan Tedder, US singer, songwriter with OneRepublic who had the 2013 UK No.1 hit 'Counting Stars'. As a songwriter and producer Tedder has worked with
Madonna
,
U2
,
Adele
, Beyoncé, Maroon 5, Ellie Goulding, Carrie Underwood, Jennifer Lopez, Leona Lewis, One Direction, James Blunt,
Taylor Swift
, Gwen Stefani and many others.
26 Jun 1979
Nathan Followill, drummer from American rock band Kings of Leon who had the 2007 UK No.1 album Because Of The Times, and the 2008 UK No.1 single 'Sex on Fire'. The band has sold over 21 million albums worldwide and 38 million singles.
26 Jun 1973
Female US country singer, Gretchen Wilson, who had the 2004 US country No.1 album 'Here For The Party', and the 2005 US No.1 album 'All Jacked Up'.
26 Jun 1972
Jussi Syd'nmaa, guitarist, Lordi. Became Finland's first ever Eurovision Song Contest winners after their song 'Hard Rock Hallelujah' won the contest held in Athens in 2006.
26 Jun 1969
Colin Greenwood, bass,
Radiohead
. Their 1993 debut single 'Creep' was initially unsuccessful, but it became a worldwide hit several months after the release of their debut album, 'Pablo Honey'. Their 1997 album OK Computer appeared in many 1997 critics' lists and listener polls for best album of the year.
26 Jun 1969
Mark Decloedt drummer from British dance music/rock band EMF who had the 1990 UK No.3 & US No.1 single 'Unbelievable'. Their debut album, Schubert Dip, went to No.3 on the UK albums chart.
26 Jun 1966
Pär Wiksten, guitar, vocals, with alternative Swedish rock band The Wannadies who had the 1996 UK No. 18 single, 'You And Me Song'.
26 Jun 1963
Harriet Wheeler, singer, songwriter with English alternative rock band The Sundays. Their first album, Reading, Writing and Arithmetic, was released in 1990 and was a UK Top 5 hit along with the single 'Here's Where the Story Ends'.
26 Jun 1961
Terri Nunn, singer from American new wave band Berlin, who scored the 1986 UK & US No.1 single 'Take My Breath Away' which was featured in the 1986 film Top Gun.
26 Jun 1956
American rock musician and occasional actor Chris Isaak, who scored the 1990 UK No.10 & 1991 US No.6 single 'Wicked Game'. Film director David Lynch, has used his music in numerous films and gave him a large role in the film Twin Peaks: Fire Walk With Me.
26 Jun 1955
Mick Jones, guitarist, singer with
The Clash
, who had the 1979 UK No. 11 single London Calling and the 1982 US No. 8 single 'Rock The Casbah. Their 1991 UK No.1 single 'Should I Stay Or Should I Go', was first released 1982. And with Big Audio Dynamite had the 1986 UK No.11 single 'e=mc2'. Jones plays with Carbon/Silicon and also toured the world as part of the Gorillaz live band.
26 Jun 1955
Ivan Julian, from American punk rock band Richard Hell And The Voidoids. Their 1977 album Blank Generation features the track 'Love Comes In Spurts'.
26 Jun 1950
Junior Daye, from British soul group Sweet Sensation who scored the 1974 UK No.1 and US No.14 single 'Sad Sweet Dreamer'.
26 Jun 1948
Richard McCarken, bassist from Irish rock and blues band Taste who had the 1970 UK No.18 album 'On The Boards'. Its founder was songwriter and musician
Rory Gallagher
.
26 Jun 1943
Georgie Fame, UK singer, keyboards, (1965 UK No.1 single 'Yeh Yeh'. 1968 UK No.1 single 'The Ballad Of Bonnie and Clyde').
26 Jun 1942
Larry Taylor, bassist with American rock band Canned Heat. Two of their songs 'Going Up the Country' and 'On the Road Again' became international hits. He died on 19 August 2019 age 77.
26 Jun 1940
American musician Billy Davis Jr, who had the 1977 US No.1 & UK No.7 single 'You Don't Have To Be A Star'. He is best known as a member of the 5th Dimension along with his wife, Marilyn McCoo.
26 Jun 1910
Dutch-born American manager Colonel Tom Parker, who became
Elvis Presley
's manager. Before working in the music business Parker ran a troupe of dancing chickens. His exceptionally high earnings have led some to question whether it came at the detriment of his client. He died on January 21st 1997 age 87 after he suffered a stroke.