June 30th: The Biggest Music Headlines
Scroll down the page to see all the music headlines, stories and events for June 30 throughout music history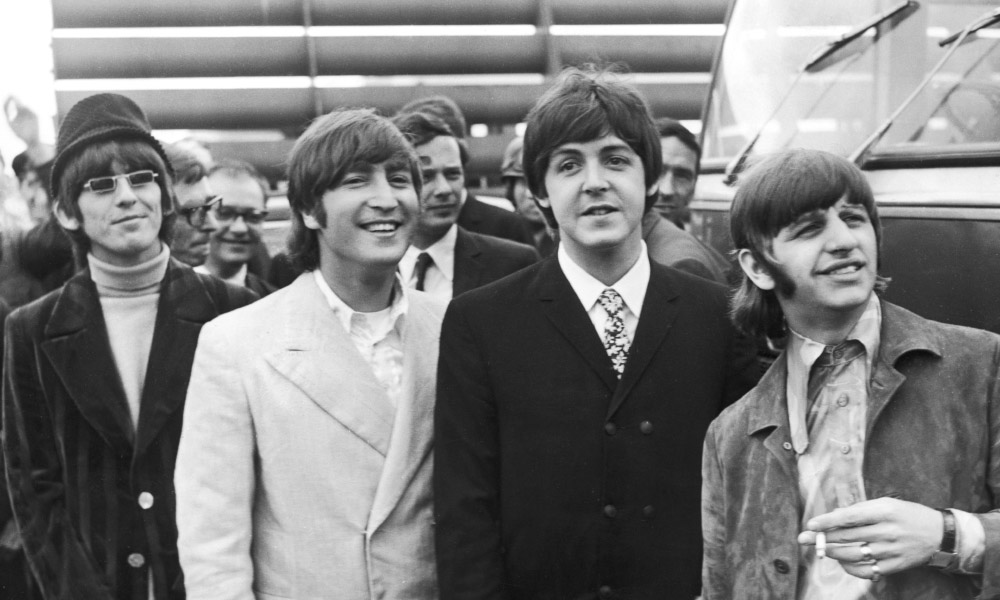 The Beatles Arrive in Japan, Amid Controversy
In 1966, just two months before they ended their touring career, The Beatles made their long-awaited debut in Japan. But not everyone was happy about the Fab Four's five-night engagement at Tokyo's Budokan arena (then a recently-built martial arts venue and national shrine). The band's visit drew harsh criticisms from many public figures and highlighted a growing division between conservative traditionalists and liberal youth culture. Despite death threats, the band played to tens of thousands of adoring fans (and a variety of curious celebrities), marking a tense yet important moment in Japanese pop culture history. The Nippon Budokan, meanwhile, would soon open its doors to many iconic rock shows.
In 2007, R.E.M. kicked off a five-night residency at Dublin's Olympia Theatre. The unique engagement was promoted as a "working rehearsal" for the band's 14th studio album, Accelerate, while recordings from the shows were later released as Live at the Olympia.
In 2001, legendary guitarist and producer Chet Atkins, who was instrumental in creating the pop-forward "Nashville Sound," died at the age of 77. The influential country artist recorded more than 90 studio and live albums and produced records for the likes of Elvis Presley, Dolly Parton, and Waylon Jennings. Among his many honors and awards, Atkins was a Grammy Lifetime Achievement winner, a Country Music Hall of Famer, and a Rock and Roll Hall of Fame inductee.
In 2001, "Lady Marmalade," performed by Christina Aguilera, Lil' Kim, Mya, and Pink, topped the UK pop chart. The record-breaking song, originally made famous in 1974 by Labelle, also appeared at No.1 three years earlier, when All Saints released their rendition. This all-star collaboration, recorded for the film Moulin Rouge!, was the most successful, however. In the US, it remained atop the Billboard Hot 100 for five weeks and later earned a Grammy Award for Best Pop Collaboration with Vocals.
In 1973, it was Beatle-against-Beatle on the Billboard Hot 100 when George Harrison's "Give Me Love (Give Me Peace on Earth)" knocked Paul McCartney's "My Love" off the No.1 spot, after a four-week run. The single, off Living in the Material World, marked Harrison's second No.1 hit in the US.
Looking for more things that happened on this day in music?
Keep scrolling for all of the headlines for June 30.
BORN ON JUNE 30:
1936: Dave Van Ronk
1943: Florence Ballard (The Supremes)
1949: Andy Scott (Sweet)
1951: Stanley Clarke (Return to Forever)
1956: Adrian Wright (The Human League)
1960: Brendan O'Brien (Producer)
1963: Yngwie Malmsteen
1968: Philip Anselmo (Pantera)
1983: Cheryl Cole (Girls Aloud)
1984: Fantasia Barrino
Looking for more artists born on this day?
Keep scrolling for all of our June 30 birthdays.
---
What to find another day?
---
June 30th
30 Jun 2019
Taylor Swift
's former label, Big Machine, was sold to Scooter Braun's company for an estimated $300 million, giving him control of her back catalog, including the master recordings. In response, Swift accused Braun of bullying her and said she would re-record all her old albums to devalue his purchase.
30 Jun 2014
Ed Sheeran
's second album X became the fastest-selling UK album of the year so far after selling 182,000 copies in its first week, 14,000 more than
Coldplay
managed with Ghost Stories which was released in May.
30 Jun 2007
R.E.M.
played a five-night series of shows at Dublin's Olympia Theatre. Dubbed 'working rehearsals' by the band, many songs from their forthcoming album 'Accelerate' were debuted, with many of them still as works in progress.
30 Jun 2005
Nick Carter from The Backstreet Boys was fined $1,200 (£664) after admitting to drink-driving in California. The 25-year-old singer was also put on probation for three years, ordered to attend an alcohol education course and banned from driving for 90 days.
30 Jun 2004
Kinks
founder member Dave Davies was left paralysed on the right-hand side of his body after suffering a stroke. The 57-year-old guitarist and brother of fellow Kinks star Ray Davies had been promoting his solo material when he collapsed.
30 Jun 2001
Christina Aguilera, Lil' Kim, Mya and
Pink
were at No.1 on the UK singles chart with 'Lady Marmalade.' A hit for LaBelle in 1975; then it was at No 1 in 1998 for All Saints. This version was from the Baz Luhrmann film Moulin Rouge.
30 Jun 2001
Beach Boys
member Al Jardine went to court in a bid to sue his former band mates, claiming he had been frozen out of the Beach Boys. The $4 million (£2.35 million) suit was filed against Mike Love,
Brian Wilson
, the Carl Wilson Trust and Brother Records Incorporated in a New York Superior Court. In 1998 a US judge temporarily barred Jardine from performing under the name Beach Boys Family And Friends after representations from Mike Love and Brother Records. Jardine lost the case in 2003.
30 Jun 2001
American guitarist and producer Chet Atkins died in Nashville aged 77. Recorded over 90 albums during his career, produced records for Perry Como,
Elvis Presley
, Don Gibson, Jim Reeves and Waylon Jennings. He was a major influence on
George Harrison
and
Mark Knopler
.
30 Jun 2000
Eight men were trampled to death during
Pearl Jam
's performance at The Roskilde festival, near Copenhagen. Police said the victims had all slipped or fallen in the mud in front of the stage.
30 Jun 1995
45-year-old American soul singer Phyllis Hyman took her own life in her New York City apartment. She was found hours before she was scheduled to perform at the Apollo Theatre.
30 Jun 1990
New Kids On The Block started a three week run at No.1 on the US singles chart with 'Step By Step'. The group's third US No.1, a No.2 hit in the UK. Their album 'Step By Step' also went to No.1 on the UK album chart today.
30 Jun 1989
Police were called in to control over 4,000 Bobby Brown fans trying to see him at the HMV Record store in London's Oxford Street, six fans were hospitalised and one had to be given the kiss of life.
30 Jun 1984
Bruce Springsteen's
'Dancing In The Dark' peaked at No.2 on the US chart, the first of six singles from his seventh studio album Born In The U.S.A. which all hit the US Top 10. The video was shot at the Saint Paul Civic Center in Saint Paul, Minnesota, and shows Springsteen pulling a young Courteney Cox from the audience to dance along with him on the stage.
30 Jun 1979
Tubeway Army started a four-week run at No.1 on the UK singles chart with 'Are 'Friends' Electric'. The song by Gary Numan was the first electronic/synthesizer-based record to become a hit in the post-punk era.
30 Jun 1979
One Hit Wonder Anita Ward started a two week run at No.1 on the US singles chart with 'Ring My Bell', also a UK No.1.
30 Jun 1978
United Artists released The
Buzzcocks
single 'Love You More', at 1 minute 29 seconds it was the second shortest single ever released. Maurice Williams and the Zodiacs 1960 hit 'Stay' was the shortest hit at one minute 28 seconds.
30 Jun 1977
Marvel Comics launched a comic book based on the rock group
Kiss
.  Blood from each band member was drawn by a registered nurse, witnessed by a notary public, and poured into the vats of red ink used for printing the comic at Marvel's Borden Ink plant in Depew, New York.
30 Jun 1976
Police raided the home of
Neil Diamond
searching for drugs. Durung the search they found less than one ounce of marijuana.
30 Jun 1976
Stuart Goddard, (Adam Ant), placed the following ad in the classified section of the Melody Maker, 'Beat on a bass, with the B-Sides.' Andy Warren answered the ad and the pair went on to form Adam and The Ants.
30 Jun 1975
The Jackson Five announced that they were leaving
Motown
Records for Epic Records. The brothers were forced to change their name to The Jacksons since Motown owned the other name.
30 Jun 1975
Cher married Greg Allman four days after her divorcing Sonny Bono, the couple split after ten days, followed by a three year on and off marriage.
30 Jun 1973
George Harrison
knocked
Paul McCartney
from the top of the US singles chart with 'Give Me Love (Give Me Peace On Earth)'. His second US No.1, a No.8 hit in the UK was the opening track on his 1973 album Living in the Material World.
30 Jun 1973
Slade were at No.1 on the UK singles chart with 'Skweeze Me Pleeze Me', the group's fifth UK No.1 and second single to enter the chart at No.1.
30 Jun 1966
The Beatles
played the first of three concerts at the Nippon Budokan Hall, Japan. The concert was filmed with The Beatles wearing black suits. The following day's first performance was also filmed; with The Beatles wearing white suits. There was a strict police presence with 3,000 police observing each concert played in front of 10,000 fans.
Born on this day in music
30 Jun 1985
T-Pain, (Faheem Najm), American hip-hop and R&B singer, who scored the 2007 US No.1 'Buy U a Drank, Shawty Snappin'.
30 Jun 1984
Fantasia Barrino, singer, American Idol winner, (2004 US No.1 single 'I Believe'). The first time in US history a debut single has topped the Billboard Hot 100 chart.
30 Jun 1983
Anton Gordon, from British boy band One True Voice, created on the ITV television series Popstars: The Rivals who had the 2002 UK No.2 single 'Sacred Trust / After You're Gone'.
30 Jun 1983
Cheryl Cole, from English-Irish pop girl group Girls Aloud, which was created through the ITV talent show Popstars: The Rivals in 2002. They scored the 2002 UK No.1 single 'Sound Of The Underground' and over 20 UK Top 20 singles. They hold the record for "Most Consecutive Top Ten Entries in the UK by a Female Group. Became a judge on the UK version of The
X Factor
in 2008. Scored the 2009 UK No.1 solo single 'Fight For This Love.'
30 Jun 1979
Andrew Burrows, drummer, with English indie rock band Razorlight who had the 2006, UK No.1 single 'America' and their 2006 UK No.1 self titled album.
30 Jun 1968
Philip Anselmo, from American heavy metal band, Pantera, who had the 1994 UK hit single 'I'm Broken'. Pantera released four albums during the 1980s. Anselmo is the frontman for the Louisiana-based heavy metal supergroup Down and is also the owner of Housecore Records.
30 Jun 1967
Peter James Camell, guitarist with Liverpool group The La's, who scored the 1990 UK No.13 single 'There She Goes'.
30 Jun 1963
Yngwie Malmsteen, Swedish guitarist, songwriter and bandleader. Malmsteen first became known in the 1980s for his neoclassical metal playing style in heavy metal.
30 Jun 1962
Julianne Regan, singer, songwriter from English group All About Eve, who had the 1988 UK No.10 single 'Martha's Harbour'.
30 Jun 1960
American record producer, mixer, engineer, and musician Brendan O'Brien, who has produced, to date, 14 US No.1 albums for acts such as
Pearl Jam
,
Bruce Springsteen
,
AC/DC
, The Black Crowes,
Red Hot Chili Peppers
and
Aerosmith
.
30 Jun 1956
Adrian Wright, The Human League. Formed in Sheffield, England in 1977 the group attained widespread commercial success with their third album Dare in 1981. The album contained four hit singles, including the UK/US No.1 hit 'Don't You Want Me'.
30 Jun 1951
30 Jun 1949
Andy Scott, guitarist with English group Sweet, who had the 1973 UK No.1 single 'Blockbuster', plus 14 other UK Top 40 singles. Sweet scored four top-ten hits in the US: 'Little Willy', 'Ballroom Blitz', 'Fox On The Run', and 'Love Is Like Oxygen'.
30 Jun 1946
American singer Billy Brown from The Moments who had the 1970 US No. 3 single ' 'Love on a Two-Way Street'. For contractual reasons they changed their name to Ray, Goodman & Brown and had further hits, including 'Special Lady'.
30 Jun 1944
Glenn Shorrock, from Australian group, Little River Band who scored the 1978 US No.3 single 'Reminiscing' plus 12 other US Top 40 singles selling more than 30 million records.
30 Jun 1943
American vocalist Florence Ballard, The
Supremes
(1964 US & UK No.1 single 'Baby Love' plus 11 other US No.1 singles). Ballard sang on 16 top forty singles with the group, including ten No.1 hits. She died February 21st 1976.
30 Jun 1936
Bon on this day, American folk singer Dave Van Ronk who was an important figure in the American folk music revival and New York City's Greenwich Village scene in the Sixties, he was nicknamed the "Mayor of MacDougal Street".
Bob Dylan
recorded Van Ronk's arrangement of the traditional song 'House of the Rising Sun' on his first album, which The Animals turned into a No.1 UK single in 1964, helping inaugurate the folk-rock movement. He died on 10 February 2002 aged 65.