March 10th: The Biggest Music Headlines
Scroll down the page to see all the music headlines, stories, and events for March 10 throughout music history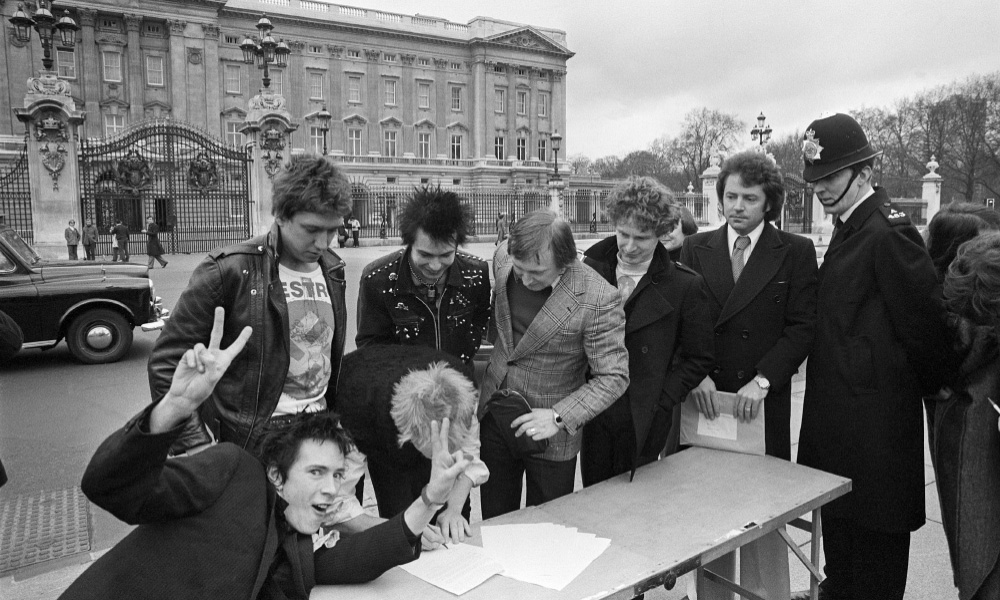 The Sex Pistols Ink Record Deal Outside Buckingham Palace
In 1977, The Sex Pistols signed with A&M Records, following their controversial departure from EMI over their bad behavior. While the punk pioneers privately inked the contract one day earlier, the label held a press conference outside Buckingham Palace where they took part in a public signing ceremony. Afterward, the band celebrated with a boozy party at the label's offices where all kinds of mayhem ensued, including bassist Johnny Rotten verbally abusing staff and Sid Vicious smashing a toilet bowl and cutting his foot open. Two days later, the band got in a fight in a club that saw Rotten threatening the life of a record executive, and on March 16th, A&M terminated their contract with the band, paying them a £75,000 settlement fee.
In 2009, tickets for a Las Vegas concert by Sir Paul McCartney sold out in seven seconds. The ex-Beatle was playing a one-off show, marking the April 19 launch of the 4,000-capacity New Joint at the Hard Rock Hotel and Casino. Tickets were priced at $750 and sold at a rate of almost 600 a second.
In 1958, Simon & Garfunkel, who were both fifteen years old and still in high school, released "Our Song," the second of two singles via Big Records under the name Tom and Jerry. Alluding to his interest in math, Garfunkel called himself Tom Graph while Simon adopted the surname of a former girlfriend, calling himself Jerry Landis.
In 1979, disco queen Gloria Gaynor topped the Billboard Hot 100 with "I Will Survive." A female empowerment anthem welded to a disco beat, the tune began life as the B-side to a single called "Substitute" before a DJ flipped the record over and exposed it to a wider audience. It also went to No.1 in the UK and won a Grammy in 1980 for Best Disco Recording.
In 1960, the trade paper Record Retailer published the UK's first-ever EP and LP charts. Topping the EP charts was Cliff Richard & The Shadows' "Expresso Bongo" while The Explosive Freddy Cannon was the top-selling LP.
In 2017, Sister Sledge's Joni Sledge, the second eldest of the Philadelphia group, died at the age of 60. The sisters began recording in 1971 but didn't make a breakthrough until 1979 when they hooked up with Chic's Nile Rodgers and Bernard Edwards who masterminded their blockbuster album, We Are Family.
Looking for more things that happened on this day in music?
Keep scrolling for all of the headlines for March 10.
BORN ON MARCH 10:
1940: Dean Torrence (Jan and Dean)
1947: Tom Scholz (Boston)
1955: Bunny DeBarge (DeBarge)
1963: Rick Rubin (Producer)
1964: Neneh Cherry
1966: Edie Brickell
1971: Timbaland
1983: Carrie Underwood
1987: Emeli Sandé
Looking for more artists born on this day?
Keep scrolling for all of our March 10 birthdays.
---
What to find another day?
---
March 10th
10 Mar 2019
American guitarist, singer, and songwriter Asa Brebner died age 65. He was a member of The Modern Lovers led by Jonathan Richman. They are best know for their 1976 hit 'Roadrunner' which Rolling Stone ranked it Number 274 on their list of the 500 Greatest Songs of All Time.
10 Mar 2017
American singer–songwriter, actress and producer Joni Sledge died from natural causes age 60. She was best known as a founding member of Sister Sledge, who were best known for their hits 'We Are Family' and 'He's The Greatest Dancer'.
10 Mar 2010
Pink Floyd
won a court battle with EMI that prevented the record company from selling single downloads and ringtones on the Internet from the group's albums.
Pink Floyd
's back catalogue was second only in sales to
The Beatles
.
10 Mar 2009
Tickets for a one-off gig by Sir
Paul McCartney
in Las Vegas sold out seven seconds after going on sale. The former Beatle was booked to perform at the opening of the New Joint at the Hard Rock Hotel and Casino on 19 April 2009 in-front of 4,000 fans. Tickets cost $750 each.
10 Mar 2005
Michael Jackson
arrived in a Santa Barbara court an hour late dressed in his pyjamas after being treated for a back injury. Jackson was attending the Santa Moria court for his child abuse trial.
10 Mar 2005
A survey carried out by Music Choice concluded that 'Angels' by Robbie Williams was the song Britons would most like played at their funeral.
Frank Sinatra
's 'My Way' was second and Monty Python's 'Always Look on the Bright Side of Life' was voted into third place.
10 Mar 2003
During a concert in London, England, Dixie Chicks lead singer Natalie Maines said that the band was "ashamed the President of the United States is from Texas" (referring to Maines' hometown of Lubbock and President Bush hailing from the same state). This was during the run-up to the invasion of Iraq, the comment sparked intense controversy and outrage among Americans, including a large share of country music fans.
10 Mar 2000
Pretenders singer Chrissie Hynde was arrested for leading an animal rights protest against the clothing firm Gap, who were accused of using leather from cows slaughtered 'illegally and cruelly'. The protest took place in a store in Manhattan.
10 Mar 1997
American rhythm and blues singer Lavern Baker died from coronary complications aged 57. Had the 1958 US No.6 single 'I Cried A Tear.'
10 Mar 1996
Alanis Morissette
won Best Album for Jagged Little Pill, Best Female singer, Best Rock Album, Best songwriter and best single at the 25th Juno Awards held in Hamilton, Canada.
10 Mar 1995
Former Stone Roses' manager Gareth Evans' £10 million ($17 million) lawsuit with the band was settled out of court over alleged wrongful dismissal for an undisclosed sum.
10 Mar 1988
Younger brother of The
Bee Gees
, Andy Gibb died in hospital. His death from myocarditis (inflammation of the heart) followed a long battle with cocaine addiction, which had weakened his heart.
10 Mar 1979
Gloria Gaynor started a three week run at No.1 on the US singles chart with 'I Will Survive', also a No.1 in the UK. The song was originally released as the B-side to a song first recorded by The
Righteous Brothers
called 'Substitute.'
10 Mar 1977
At 7am in the morning on a trestle table set up out-side Buckingham Palace, London, the
Sex Pistols
signed to A&M Records, (the real signing had taken place the day before). An after party was held at the offices of A&M records following the signing where the group set about reeking unforeseen havoc on the posh building, with Sid Vicious smashing a toilet and cutting his foot, trailing blood everywhere he went, while Rotten cursed and threatened every upscale executive in sight and guitarist Steve Jones getting it on with an unnamed fan in the restrooms.The contract lasted for six days.
10 Mar 1964
Paul Simon
and Art Garfunkel recorded 'The Sounds Of Silence' as an acoustic duo. It wasn't until record company producers added electric guitar, bass and drums, without the knowledge of Paul and Art, that the song would become a hit in late 1965.
10 Mar 1962
Bruce Channel started a three week run at No.1 on the US singles chart with 'Hey! Baby'. The song features a prominent riff from harmonica player Delbert McClinton, who while touring the UK in 1962 with
The Beatles
, McClinton met
John Lennon
and gave him some harmonica tips. Lennon put the lessons to use right away on '
Love Me Do
'.
10 Mar 1960
UK trade paper Record Retailer published the UK's first ever EP (extended player) chart and LP chart. No. 1 EP was 'Expresso Bongo' by Cliff Richard & The Shadows and No.1 LP 'The Explosive Freddy Cannon.'
10 Mar 1958
Big Records released 'Our Song' by a teenage duo from Queens, New York, Tom and Jerry. The duo will become famous in the '60s under their real names,
Paul Simon
and Art Garfunkel.
10 Mar 1956
RCA Records placed a half page advert in Billboard Magazine claiming that
Elvis Presley
was 'the new singing rage.'
Born on this day in music
10 Mar 1987
Emeli Sandé, Scottish singer, songwriter. Sandé has three UK No.1 singles with 'Read All About It' with Professor Green, 'Next to Me' and 'Beneath Your Beautiful'.
10 Mar 1983
Carrie Underwood, American pop country music singer, winner of the fourth season of American Idol. Her debut album 'Some Hearts' is the fastest selling debut country album in Nielsen SoundScan history. In 2010, when Carrie garnered her second win as ACM Entertainer of the Year, she became the first female artist to win the award twice, and only the 7th female to take the award in the 40-year history of the ACM category, among Loretta Lynn,
Dolly Parton
, Barbara Mandrell, Reba McEntire, Shania Twain, and the Dixie Chicks.
10 Mar 1977
Robin Thicke, singer-songwriter, record producer, actor and musician. His mother is American actress-singer Gloria Loring, who appeared on US daytime drama Days of Our Lives, and his father was Canadian actor Alan Thicke, who was known for his role on the TV sitcom Growing Pains. In the US, 'Blurred Lines' topped the Billboard Hot 100 for twelve consecutive weeks, becoming the longest running No.1 single of 2013 and of the 2010s decade. The song peaked at No.1 in 25 countries. Thicke has also written hits for Christina Aguilera, Jennifer Hudson, Usher and Mary J. Blige.
10 Mar 1973
John Charles LeCompt, guitar, with American rock band Evanescence who had the 2003 UK No.1 & US No.5 single 'Bring Me To Life', and the 2003 UK No.1 & US No.3 album Fallen.
10 Mar 1971
Timothy Z. Mosley (Timbaland), R&B producer and rapper. With partner Magoo, he is a member of hip-hop duo Timbaland & Magoo. Produced hits for Nelly Furtado, Missy Elliott, Aaliyah, Jay-Z, Justin Timberlake, Utada Hikaru, Ludacris and The Pussycat Dolls.
10 Mar 1967
Susie Q, (Susie Banfield), from English rap duo Cookie Crew who had the 1988 UK No.5 single 'Rok Da House'.
10 Mar 1966
American drummer Dave Krusen best known for being the original drummer for
Pearl Jam
. Krusen was also a member of the bands Hovercraft, Unified Theory and Candlebox.
10 Mar 1966
Edie Brickell, US singer, (1989 UK No.31 single with the New Bohemians, 'What I Am', also a 1999 hit for
Spice Girl
Emma Bunton. Edie married
Paul Simon
in 1992.
10 Mar 1964
Neneh Cherry, singer, songwriter, (1988 UK & US No.3 single with 'Buffalo Stance' and a 1994 UK No.3 single with '7 Seconds' with Youssou N'dour).
10 Mar 1964
Patrick Kane, Hue and Cry, (1987 UK No.6 single 'Labour Of Love').
10 Mar 1963
Jay "Rick" Rubin, American record producer and former co-president of Columbia Records. Along with Russell Simmons, Rubin is the founder of Def Jam Records and also established American Recordings. 
10 Mar 1963
Jeff Ament, bassist for
Pearl Jam
who had the 1992 single 'Jeremy', have scored 5 US No.1 albums and have sold more than 85 million albums worldwide. One of the key bands in the grunge movement of the early 1990s they are considered one of the most influential bands of the decade.
10 Mar 1962
Eliot Lewis, American singer, keyboardist, guitarist, bassist, drummer, songwriter, and producer. He is best known for his work with Average White Band (1989-2002) and Hall & Oates. Lewis is also an integral part of Live From
Daryl's House
.
10 Mar 1962
Gary Clark, guitarist from Scottish pop group Danny Wilson who had the 1988 UK No.3 single 'Mary's Prayer'. Clark become a successful songwriter for other artists including Natalie Imbruglia, Liz Phair, k.d. lang and former
Spice Girls
Melanie C and Emma Bunton.
10 Mar 1955
Bunny DeBarge singer from American family group DeBarge who had the 1983 US No.17 single 'All This Love', and the 1985 UK No.4 single 'Rhythm Of The Night'.
10 Mar 1954
Tina Charles, (1976 UK No.1 single 'I Love to Love, But My Baby Loves to Dance').
10 Mar 1950
Scottish drummer, Ted McKenna who has played with bands Tear Gas, The Sensational Alex Harvey Band,
Rory Gallagher
, The Sensational Party Boys and The Michael Schenker Group. He also toured with Ian Gillan for a short period in 1990. McKenna died on 19 January 2019 at the age of 68, of a hemorrhage during a routine operation for a hernia.
10 Mar 1947
Tom Scholz, guitar, keyboards, Boston, (1977 UK No.23 single 'More Than A Feeling', 1986 US No.1 single 'Amanda'). Boston have sold more than 75 million records worldwide, including 31 million albums in the United States, of which 17 million were from their self-titled debut album and seven million were for their second album, Don't Look Back, making them one of the world's best-selling artists.
10 Mar 1945
Pete Nelson, from English pop group The Flowerpot Men who had the 1967 UK No.4 single 'Let's Go To San Francisco'.
10 Mar 1940
Dean Torrence, who with Jan and Dean had the 1963 US No.1 & UK No.26, single 'Surf City', co written by The Beach Boys,
Brian Wilson
). Jan and Dean were pioneers of the California Sound and vocal surf music styles. Other hits include, Subsequent top 10 hits included 'Drag City' , 'Dead Man's Curve' and 'The Little Old Lady from Pasadena.'