March 11th: The Biggest Music Headlines
Scroll down the page to see all the music headlines, stories, and events for March 11 throughout music history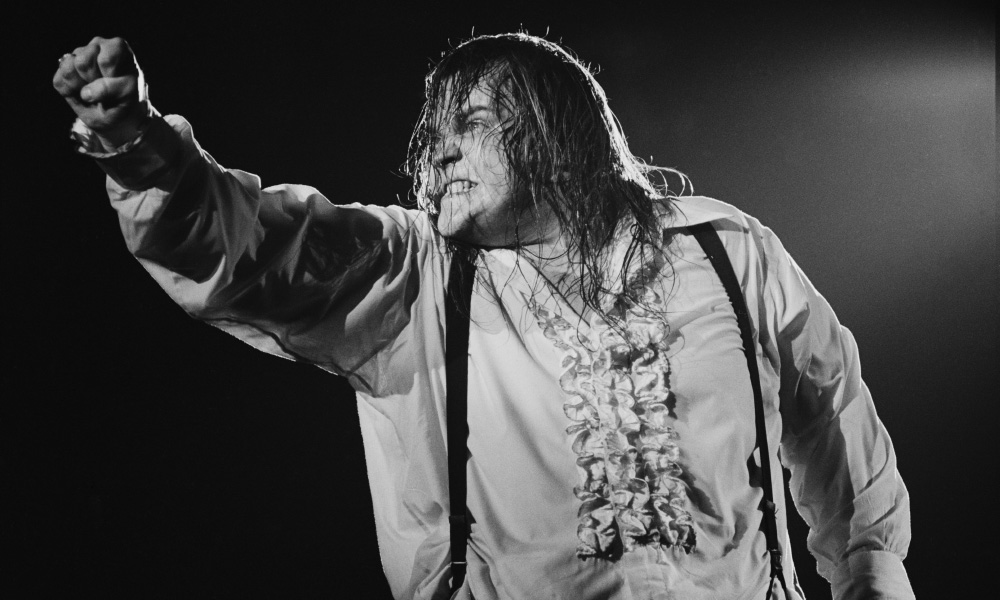 Meat Loaf's 'Bat out of Hell' Begins Long UK Chart Reign
On this day in music, March 11, 1978, Meat Loaf's debut album Bat Out Of Hell began its record-breaking 416-week run on the UK chart. Despite spending almost nine years on the best-sellers list, it never reached the top spot, peaking at No. 9. In America, the album (which began Meatloaf's long association with noted songwriter and producer Jim Steinman) plateaued at No.13 during an 83-week chart reign. To date, it has sold in excess of 43 million copies worldwide and has been certified 14x Platinum by the RIAA.
In 2016, 71-year-old prog-rock pioneer Keith Emerson took his own life. The virtuosic, classically trained keyboardist, songwriter, and producer initially rose to fame leading The Nice and in 1970, co-founded Emerson, Lake & Palmer, a supergroup with Greg Lake and Carl Palmer. Together, they made eight albums between 1970 and 1978 and reached No. 2 in the UK charts with their version of Aaron Copland's "Fanfare For The Common Man."
In 2015, a Los Angeles jury ruled in the favor of Marvin Gaye's family, who claimed that Robin Thicke's 2013 US chart-topper, "Blurred Lines," copied elements from the soul icon's 1977 hit, "Got To Give It Up." Thicke, along with co-writers Pharrell Williams and T. I., strenuously denied copying the Motown song but jurors decided that "Blurred Lines" infringed Gaye's copyright and awarded his family $7.3m in damages.
In 1967, Lennon and McCartney's publisher, Dick James, announced that 446 different versions of The Beatles' "Yesterday" had been recorded since it was first released in 1965. In 1986, the Guinness Book Of Records estimated that 1,600 cover versions existed.
In 1965, Welsh singer Tom Jones reached No.1 on the UK singles chart with "It's Not Unusual," the first of sixteen British chart-toppers. The song, co-written by Jones' manager Gordon Mills, was originally earmarked for Sandi Shaw but when she heard Jones' demo version, she recommended he cut it instead.
In 1993, Oasis recorded their first demos at The Real People's studio in Liverpool, which led them to sign with Creation Records. The demo was officially released in 2014 as a limited edition cassette called Live Demonstration, coinciding with the 20th Anniversary of their debut album, Definitely Maybe.
Looking for more things that happened on this day in music?
Keep scrolling for all of the headlines for March 11.
BORN ON MARCH 11:
1947: Mark Stein (Vanilla Fudge)
1950: Bobby McFerrin
1961: Bruce Watson (Big Country)
1964: Vinnie Paul (Pantera)
1968: Lisa Loeb
1979: Joel and Benji Madden (Good Charlotte)
1981: LeToya Nicole Luckett (Destiny's Child)
Looking for more artists born on this day?
Keep scrolling for all of our March 11 birthdays.
---
What to find another day?
---
March 11th
11 Mar 2021
American singer and musician Ray Campi died age 86. Nicknamed "The King of Rockabilly", he first recorded in the mid-1950s. Campi's trademark was his white double bass, which he often jumped on top of and "rode" while playing.
11 Mar 2019
Drummer
Hal Blaine
, one of the most recorded musicians in pop music history died of natural causes at his home in Palm Desert, California age 90. As a member of the The Wrecking Crew his drumming can be heard on songs such as Presley's 'Return to Sender,' the Byrds' 'Mr. Tambourine Man,'
The Beach Boys
'Good Vibrations,' Simon & Garfunkel's '
Bridge Over Troubled Water
' and dozens of hits produced by Phil Spector, and the theme songs to 'Batman,' 'The Partridge Family' and dozens of other shows.
11 Mar 2019
Danny Kustow, best known for his work with the Tom Robinson Band, died. He was mentored by the blues legend Alexis Korner and joined the early Tom Robinson Band in December 1976. '2-4-6-8 Motorway' was their first single, released in late 1977, which climbed into the top five of the UK singles charts. Kustow later played with The Planets and also alongside
Sex Pistols
' Glen Matlock in The Spectres and recorded with Gen X.
11 Mar 2016
71-year-old English musician Keith Emerson took his own life, after struggling for years with nerve damage in his hands, which hampered his playing. The celebrated keyboardist, songwriter, and producer found his first commercial success with the Nice in the late 1960s and was a founding member of Emerson, Lake & Palmer (ELP), one of the early progressive rock supergroups.
11 Mar 2015
A jury in the United States ruled that the writers of 'Blurred Lines', copied a
Marvin Gaye
track. Jurors in Los Angeles decided that the 2013 single by Pharrell Williams and Robin Thicke breached the copyright of Gaye's 1977 hit 'Got To Give It Up'. The family of the late soul singer were awarded $7.3m (£4.8m) in damages. Thicke and Williams denied copying the hit, and their lawyer said the ruling set a 'horrible precedent'.
11 Mar 2015
Jimmy Greenspoon, keyboardist with Three Dog Night died after a long battle with cancer at the age of 67. During the course of their career, Three Dog Knight had 21 top 40 hits, including three No.1 singles.
11 Mar 2013
The Gig in the Sky, an acoustic show for 128 passengers on board a Boeing 767 aeroplane set a new world record for the highest ever gig. Tony Hadley, Kim Wilde, Bananarama and Go West all performed at 43,000ft (13,000m) beating the previous record of 42,080ft (12,825m) set by James Blunt in 2010. The event was held to raise money for Comic Relief.
11 Mar 2011
The former singer with
Iron Maiden
was jailed for nine months for fraudulently claiming benefits. Paul Andrews, fronted the band between 1978 and 1981, under the stage name Paul Di'Anno. Andrews, 52, was jailed at the city's crown court after earlier admitting falsely claiming more than £45,000. Fraud investigators had viewed online videos and read about gigs on the performer's website.
11 Mar 2010
Pete Doherty was banned from driving for 12 months after admitting allowing his manager to use his Daimler car without insurance. Doherty's manager Andrew Boyd, admitted dangerous driving and failing to stop at the scene of an accident and was jailed for 12 months. The court was told how the victim Chris Corder suffered 'catastrophic' brain injuries and was left in a coma after the crash.
11 Mar 2009
Iron Maiden
's tour manager criticised people who were arrested for trying to gatecrash a concert in Bogota. Colombian police arrested more than 100 people after stones were thrown hours before the group were due to perform. In a statement posted on the band's website, Rod Smallwood said: 'We abhor the inane behaviour of a small minority of people outside.' Riot police fired tear gas canisters at those who tried to enter the concert without tickets.
11 Mar 2008
Madonna
was inducted into the US Rock and Roll Hall of Fame at a star-studded ceremony in New York City, she received her honour at the Waldorf Astoria Hotel from singer Justin Timberlake. The 49-year-old thanked her detractors in an acceptance speech, including those who 'said I couldn't sing, that I was a One Hit Wonder'. Rock star John Mellencamp, Leonard Cohen, The Ventures and The Dave Clark Five were also among the inductees.
11 Mar 2005
The front door of
Ozzy Osbourne
's childhood home in Birmingham went up for sale because the current owner was fed up with fans defacing it. Ali Mubarrat, who now owned the house in Lodge Road, Aston, said over the years it had become a pilgrimage destination. He was now auctioning the door on eBay and giving the money to charity.
11 Mar 1996
Pulp singer Jarvis Cocker walked free from Kensington police station after police failed to charge him with any criminal offence following his 'stage invasion', during
Michael Jackson
's performance at the Brit Awards on 19th February 1996.
11 Mar 1993
Oasis
recorded their first demos at The Real People's studio in Liverpool. The set included 'Rock 'n' Roll Star', 'Columbia' and 'Fade Away.'
11 Mar 1989
Australian actor turned singer Jason Donovan scored his first UK No.1 single with 'Too Many Broken Hearts' which was written and produced by Stock, Aitken and Waterman.
11 Mar 1978
French singer Claude Francois was electrocuted changing a light bulb while standing in his bathtub. He had the 1976 UK hit, 'Tears On The Telephone'.
11 Mar 1978
Meat Loaf's
Bat Out Of Hell
album began a 416-week run on the UK chart. The album went on to become one of the most influential and iconic albums of all time and its songs have remained classic rock staples.
11 Mar 1978
The debut single from
Kate Bush
, 'Wuthering Heights' a song inspired by the Emily Bronte novel, started a four-week run at No.1 on the UK singles chart. Record company, EMI had originally chosen another track, 'James and the Cold Gun' as the lead single, but Bush was determined that 'Wuthering Heights' would be the first release from the album.
11 Mar 1975
The Original Soundtrack, the third album by 10cc was released. It featured the world wide, multi million selling single 'I'm Not in Love' notable for its innovative and distinctive backing track, composed mostly of the band's multitracked vocals. The song was the band's breakthrough hit worldwide, reaching No.1 in Ireland and Canada and No.2 in the US, as well as reaching the top ten in Australia, New Zealand and several European countries.
11 Mar 1972
Neil Young
went to No.1 on the US & UK album chart with his fourth studio album 'Harvest.' The album featured the US No.1 hit single 'Heart Of Gold.'
11 Mar 1972
Harry Nilsson was at No.1 on the UK singles chart with his version of The Peter Ham and
Tom Evans
song 'Without You'. First recorded by
Badfinger
in 1970, the song was also a No.1 for
Mariah Carey
in 1994.
11 Mar 1971
Jim Morrison of
The Doors
arrived in Paris booking into The Hotel George's. The following week he moved into an apartment at 17 Rue Beautreillis in Paris. Morrison lived in Paris until his death on July 3rd 1971, (two years to the day after the death of the
Rolling Stones
guitarist
Brian Jones
, and approximately nine months after the deaths of
Jimi Hendrix
and
Janis Joplin
).
11 Mar 1970
Deja Vu, the first album by
Crosby, Stills Nash & Young
, (and the second by the trio configuration of Crosby, Stills, and Nash), was released. It topped the pop album chart for one week and spawned three US Top 40 singles: 'Teach Your Children', 'Our House', and '
Woodstock
'.
11 Mar 1968
The
Otis Redding
single '(Sittin' On) The Dock Of The Bay' went gold in the US three months after the singer was killed in a plane crash. Recorded just days before his death, it became the first posthumous single to top the charts in the US.
11 Mar 1967
Music publisher, Dick James, announced that 446 different versions of the
Paul McCartney
song '
Yesterday
' had been recorded so far.
11 Mar 1966
This week's ITV music show 'Ready Steady Go', shown in the UK was entirely devoted to the music of 'The Godfather Of Soul -
James Brown
.
11 Mar 1965
Tom Jones was at No.1 on the UK singles chart with 'It's Not Unusual.' The Welsh singer's first of 16 UK Top 40 hits during the 60s. Written by Les Reed and Gordon Mills, the song was first offered to Sandie Shaw. Jones recorded a demo for Shaw, and when she heard it she was so impressed with Jones's delivery that she declined the song and recommended that Jones release it himself.
11 Mar 1964
The Beatles
spent the day filming at Twickenham Studios for A Hard Day's Night. Filming on a stage set made to look like a train guard's cage, where the Beatles played cards and mimed to 'I Should Have Known Better'.
11 Mar 1956
The Dream Weavers were at No.1 on the UK singles chart with 'Its Almost Tomorrow'. The Miami based studio band's only chart hit in the UK, thus condemning The Dream Weavers to the One Hit Wonder tag.
Born on this day in music
11 Mar 1981
Paul Wall, US rapper, features on the US No.1 single 'Grillz' by Nelly with Ali & Gipp.
11 Mar 1981
LeToya Nicole Luckett, American singer, Destiny's Child (2000 US No.1 and worldwide hit single 'Independent Woman Part 1'). Quit the group in 2000, had the 2006 US No.1 self-titled debut solo album.
11 Mar 1979
Twins Joel Madden and Benji Madden from American rock band Good Charlotte, who had the 2002 US No.7 album, The Young And The Hopeless, and the 2003 UK No.6 single 'Girls and Boys'.
11 Mar 1969
Rami Jaffee, American musician who is the keyboardist for
Foo Fighters
and the Wallflowers. He has worked for many artists including Pete Yorn, Soul Asylum, Stone Sour, Joseph Arthur and Coheed and Cambria.
11 Mar 1968
Lisa Loeb, US singer who had the 1994 US No.1 & UK No.6 single 'Stay, I Missed You', from the film 'Reality Bites'. She became the first artist to have a No.1 single without a recording contract.
11 Mar 1968
Paul Taylor, English bassist with Annie Lennox since 2002 and from Jamiroquai since 2005. Taylor has also worked with the likes of Tina Turner, Bryan Ferry, Tom Jones,
George Michael
,
Take That
and Gary Barlow.
11 Mar 1964
Vinnie Paul, heavy metal drummer and producer and co-founder of Pantera. He co-founded the heavy metal band Damageplan in 2003 with his late brother, Dimebag Darrell.
11 Mar 1961
Bruce Watson, guitarist with Scottish rock band Big Country, who had the 1983 UK No.10 single 'Fields Of Fire' plus 14 other UK Top 40 singles.
11 Mar 1961
Mike Percy, from English pop band, Dead Or Alive, who scored the 1985 UK No.1 single 'You Spin Me Round, Like A Record'.
11 Mar 1955
Flinto Chandia, bassist with English group Jimmy The Hoover who had the 1983 UK No.18 single 'Tantalise, (Wo Wo Ee Yeh Yeh').
11 Mar 1955
Nina Hagen, German singer, songwriter, The Nina Hagen Band. She rose to prominence during the punk and new wave movements in the late 1970s and early 1980s.
11 Mar 1951
Katie Kissoon, Mac & Katie Kissoon, (1971 US No.20 single 'Chirpy Chirpy Cheep Cheep', 1975 UK No.3 single 'Sugar Candy Kisses'). Katie Kissoon's career has continued working as a backing singer for Van Morrison,
Eric Clapton
, Roger Waters,
Elton John
,
George Harrison
,
George Michael
and Robbie Williams.
11 Mar 1950
Bobby McFerrin, American jazz vocalist and conductor known for his 1988 US No.1 & UK No.2 single 'Don't Worry Be Happy'. The track won Song of the Year and Record of the Year at the 1989 Grammy Awards.
11 Mar 1948
Dutch guitarist and vocalist George Kooymans from Golden Earring. They achieved worldwide fame with their international hit 'Radar Love' in 1973.
11 Mar 1947
Mark Stein, lead vocalist, keyboardist, composer, and arranger with Vanilla Fudge, (1968 US No.6 single 'You Keep Me Hangin' On').
11 Mar 1945
American guitarist, Harvey Mandel who played with Charlie Musselwhite, Canned Heat, The
Rolling Stones
and John Mayall as well as having a solo career. Mandel is one of the first rock guitarists to use two-handed fretboard tapping.
11 Mar 1944
Ric Rothwell, drummer with The Mindbenders, (1965 US No.1 single with 'Game Of Love' and a 1966 UK No.2 single with 'Groovy Kind Of Love').