March 13th: The Biggest Music Headlines
Scroll down the page to see all the music headlines, stories, and events for March 13 throughout music history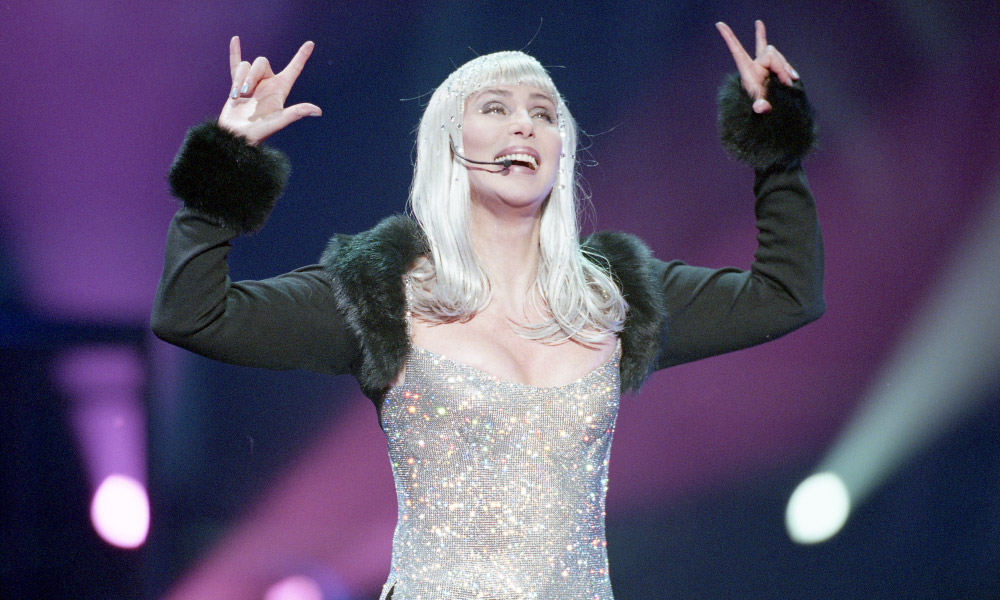 Cher Becomes Oldest Female Artist to Top US Pop Chart
In 1999, Cher began a month-long stay at the top of the Billboard Hot 100 with "Believe." Its success made the then 53-year-old singer (born Cherilyn Sarkisian) the oldest woman to reach the summit of the chart. Taken from her album of the same name, the empowering anthem went to No.1 in nineteen countries, including the UK, where it became the highest-selling single by a solo female act. The iconic dance track was also famous for pioneering Auto-Tune, a pitch correction software that was dubbed the "Cher effect."
In 1964, Billboard stated that The Beatles accounted for 60% of the US singles market. Nine of the group's singles that year sold in excess of one million copies and, together with their six albums from the same period, their total record sales in 1964 amounted to over a staggering 25 million copies.
In 1993, Eric Clapton began a three-week run at the top of the US album chart with Unplugged. Recorded live in front of a studio audience in Berkshire, England, as part of the MTV Unplugged TV series, it quickly became one of the most successful live albums of all time, selling more than ten million copies.
In 2006, the Sex Pistols refused to attend their induction into the Rock and Roll Hall of Fame at a ceremony that also honoured Black Sabbath, Blondie, Lynyrd Skynyrd, and Miles Davis. Having been rejected by the institution on five previous occasions, they posted a sneering handwritten response on the website to The Filth And The Fury, Julien Temple's film about the band. Likening the museum to "urine in wine," they wrote, "We're not your monkeys. We're not coming."
In 2013, Jimi Hendrix's posthumous album People, Hell & Angels gave him his highest US chart entry since 1969. Containing a dozen previous unissued tracks recorded between 1968 and 1970, the album debuted at No. 2 on The Billboard 200, selling 72,000 copies in its first week.
In 1961, The Temptations successfully auditioned for Motown Records. On the US R&B charts, the long-running Detroit vocal group went on to score 15 No.1 singles and 14 chart-topping albums.
In 1998, 52-year-old British reggae star, Judge Dread, died from a heart attack as he walked off stage at a gig in Canterbury, England. Born Alexander Minto Hughes, Dread was the first white reggae artist to score a hit in Jamaica.
Looking for more things that happened on this day in music?
Keep scrolling for all of the headlines for March 13.
BORN ON MARCH 13:
1925: Roy Haynes
1933: Mike Stoller (Songwriter)
1939: Neil Sedaka
1953: Rustee Allen (Sly & The Family Stone)
1959: Greg Norton (Hüsker Dü)
1960: Adam Clayton (U2)
1973: David Draiman (Disturbed)
1998: Jack Harlow
Looking for more artists born on this day?
Keep scrolling for all of our March 13 birthdays.
---
What to find another day?
---
March 13th
13 Mar 2023
American drummer
Jim Gordon
, died in prison at the age of 77. He was one of the most requested session drummers in the late 1960s and 1970s. Gordon co-wrote Layla with
Eric Clapton
, worked with The Everly Brothers, The
Monkees
,
The Beach Boys
, (
George Harrison
, (
All Things Must Pass
),
John Lennon
(
Imagine
), The
Carpenters
, Traffic,
Glen Campbell
, (Wichita Lineman), Steely Dan, Jackson Browne,
Frank Zappa
and many others. A diagnosed schizophrenic, Gordon murdered his mother on June 3, 1983, by pounding her head with a hammer. He was sentenced to sixteen years-to-life in prison in 1984.
13 Mar 2022
Sir
Rod Stewart
filmed himself fixing potholes on a road near his home and complaining about the state of it. Videos on the 77-year-old singer's Instagram account showed him shovelling gravel in Harlow, Essex, claiming "no-one can be bothered to do it". In one, he said: "People are bashing their cars up. The other day, there was an ambulance with a burst tyre. My Ferrari can't go through here at all." Rod was seen dressed in a tracksuit and high-vis vest while singing and shovelling.
13 Mar 2018
The Greatest Showman: Original Motion Picture Soundtrack was at No.1 on the UK album chart. As of February 24, 2019, the soundtrack has totalled 28 non-consecutive weeks at No.1 on the UK chart, making it the longest reigning album of the decade, ahead of
Adele
's 21, which notched 23 weeks at No.1.
13 Mar 2014
Two people were killed and 23 injured after a drunk driver crashed through barricades set up for the South by Southwest (SXSW) festival in Austin, Texas. The driver was thought to have been trying to escape from the police when the accident happened. Two other people later died in hospital.
13 Mar 2013
Jimi Hendrix
scored his highest chart debut since 1969 when his new studio album, People, Hell & Angels, consisting of unreleased tracks recorded with a variety of musicians between 1968 and 1970, sold 72,000 copies in the US on the week of release and made its debut at No.2 on the charts.
13 Mar 2008
Michael Jackson
refinanced his Neverland ranch to save it from being auctioned off, after being told that if he failed to pay $25m (£12.5m) he owed on the California property, it would be auctioned within a week. Jackson bought Neverland in 1987 intending to create a fantasy land for children naming it after an island in the story Peter Pan, where children never grow up.
13 Mar 2006
The
Sex Pistols
refused to attend their own induction into the US Rock and Roll Hall of Fame in Cleveland, Ohio.
Blondie
, Herb Alpert and
Black Sabbath
were all inducted but the Pistols posted a handwritten note on their website, calling the institution 'urine in wine', adding 'We're not your monkeys, we're not coming. You're not paying attention'.
13 Mar 2006
The Kinks
came out the top earners for music used in TV adverts in the US, earning them £6m a year. The sixties group were enjoying a resurgence with their music being used to sell washing powder, computers and medicines.
Led Zeppelin
came in second place with £4m and The
Rolling Stones
third with £2.3m.
13 Mar 1999
Cher started a four week run at No.1 on the US singles chart with 'Believe', making the singer the oldest woman to top the Hot 100 at the age of 53. The song reached No.1 in almost every country it charted, including Australia, Canada, Ireland, New Zealand, the UK, Spain, France, Germany and Italy. It also became the highest-selling single by a solo female artist in the United Kingdom. 'Believe' remains one of the best-selling singles of all time with sales of over 11 million copies worldwide.
13 Mar 1998
English reggae and ska artist Judge Dread (Alex Hughes) died after collapsing as he walked off stage in Canterbury, England. He achieved 10 UK hit singles during the 70s and was the first white recording artist to have a reggae hit in Jamaica. Dread has the most banned songs at radio of all time.
13 Mar 1995
Radiohead
released their second studio album The Bends. In the UK, The Bends, which features the tracks 'High and Dry' and 'Fake Plastic Trees' reached No.4 and stayed on the chart for 160 weeks. In 2006, British Hit Singles & Albums and NME organised a poll in which 40,000 people worldwide voted for the 100 best albums ever. The Bends was placed at No.10.
13 Mar 1993
Eric Clapton
started a three-week run at No.1 on the US album chart with Unplugged. It remains the most successful and best-selling live album ever, winning two Grammy awards at the 35th Annual Grammy Awards in 1993. It is also Clapton's best-selling album ever, having sold 26 million copies worldwide.
13 Mar 1985
Bob Geldof
and Midge Ure received the Best Selling A Side award at the 30th Ivor Novello Awards as the composers of 'Do They Know It's Christmas?'
13 Mar 1977
Manhattan Transfer were at No.1 on the UK singles chart with 'Chanson D'amour', the group's only UK No.1. The retro Jazz vocal harmony group had been working in New York gay bars, singing 40s and 50s swing classics.
13 Mar 1977
Iggy Pop kicked off a the North American leg of The Idiot World Tour at Le Plateau Theatre, Montreal, Canada (with
David Bowie
in the band playing keyboards and backing vocals).
Blondie
were the opening act on this leg of the tour.
13 Mar 1976
The Four Seasons started a three week run at No.1 on the US singles chart with 'December 1963, (Oh What A Night)', the group's 5th US No.1, also their only UK No.1.
13 Mar 1971
Brewer and Shipley entered the US singles chart with 'One Toke Over The Line'. The song, which featured
Grateful Dead
's
Jerry Garcia
on steel guitar, peaked at No.10 despite being banned by radio stations for its drug references. Brewer and Shipley maintained that the word 'toke' meant 'token' as in ticket, hence the line 'waitin' downtown at the railway station, one toke over the line.'
13 Mar 1967
Working at Abbey Road studios in London, six members of Sounds, Inc. recorded the horn parts for
The Beatles
song 'Good Morning Good Morning' (three saxophones, two trombones, and one french horn).
13 Mar 1966
Pink Floyd
appeared for the first time at The The
Marquee Club
in Wardour Street, London, England. The Marquee became the most important venue for the emerging British scene and witnessed the rise of some of the most important artists in the 1960s and 1970s, such as Jimi Hendrix,
Cream
, Manfred Mann,
The Who
, Yes,
Led Zeppelin
, Jethro Tull, King Crimson and
Genesis
.
13 Mar 1966
Rod Stewart
left the British blues band Steampacket to work as a solo artist. Arguably, the UK's first "supergroup" Steampacket was formed in 1965 by Long John Baldry and also featured singer Julie Driscoll, organist Brian Auger and guitarist Vic Briggs.
13 Mar 1965
Eric Clapton
quit The Yardbirds due to musical differences with the other band members. Clapton wanted to continue in a blues type vein, while the rest of the band preferred the more commercial style of their first hit, 'For Your Love'.
13 Mar 1965
The Beatles
started a two week run at No.1 on the US singles chart with 'Eight Days A Week', the group's 7th US No.1.
Paul McCartney
would later say the name of the song came from a chauffeur who drove him one day. 'I said, 'How've you been?' 'Oh working hard,' he said, 'Working eight days a week.'
13 Mar 1964
Billboard reported that sales of Beatles singles currently accounted for 60 percent of the US singles market and
The Beatles
album Meet the Beatles had reached a record 3.5 million copies sold.
13 Mar 1961
The
Temptations
auditioned for
Motown
Records. They were then known as the Elgins but soon changed their name. Now having sold tens of millions of albums, the Temptations are one of the most successful groups in music history, known for their choreography, distinct harmonies, and flashy wardrobe, the group was highly influential in the evolution of R&B and soul music.
Born on this day in music
13 Mar 1998
American rapper Jack Harlow. His breakthrough came with the release of his 2020 single, 'Whats Poppin', which peaked at No.2 on the US Billboard chart.
13 Mar 1979
Toni Lundow, singer from British-Irish group Liberty X, who had the 2002 UK No.1 single 'Just A Little'. The group was formed by the five finalists of the British talent show Popstars who failed to make it into the group Hear'Say. Liberty X went on to achieve ten consecutive UK Top 20 singles.
13 Mar 1973
David Draiman, American songwriter and the vocalist for the band Disturbed, (2005 US No.1 album 'Ten Thousand Fists').
13 Mar 1960
British-Irish musician Adam Clayton,
U2
, who had the 1984 UK No.3 single 'Pride, In The Name Of Love' plus over 25 other UK Top 20 singles. The 1987 UK and the world wide No.1 album The
Joshua Tree
spent 156 weeks on the UK chart. U2 scored five consecutive US No.1 albums from 1987. As a member of U2, Clayton has received 22 Grammy Awards.
13 Mar 1959
American musician Greg Norton from American rock band Husker Du, who had the 1987 album Warehouse Songs And Stories.
13 Mar 1959
Ronnie Rogers, guitar, T'Pau, who had the 1987 UK No.1 single 'China In Your Hand' and the 1987 US & UK No.4 single 'Heart And Soul', (which was initially a flop in the UK). T'Pau took their name from a Vulcan elder of the same name in the sci-fi series Star Trek.
13 Mar 1953
American musician Rustee Allen from Sly and the Family Stone who had the 1968 US No.1 singles 'Everyday People', the 1971 US No.1 'Family Affair' and the 1971 US No.1 album There's a Riot Goin' On. Allen has also played bass with a number of other artists, including George Clinton, Lenny Williams, The
Temptations
.
13 Mar 1942
American music artist Scatman John who created a fusion of scat singing and dance music, best known for his 1995 hits 'Scatman (Ski Ba Bop Ba Dop Bop)' and 'Scatman's World' and 1997 hit 'Everybody Jam!'. He died at his home in Los Angeles on 3 December 1999 at the age of 57.
13 Mar 1939
American singer, songwriter Neil Sedaka who had the 1959 UK No.3 single 'Oh Carol' plus over 30 US & 14 UK other Top 40 singles including the 1962 US No.1 & UK No.7 single 'Breaking Up Is Hard To Do'. He has written or co-written over 500 songs for himself and others including two songs recorded by The
Monkees
. His first group The Tokens were a doo-wop-style vocal group best known for their chart-topping 1961 single, 'The Lion Sleeps Tonight'.
13 Mar 1937
Terry Cox, English drummer who worked with
David Bowie
on his 1969 album
David Bowie
(released as Man of Words/Man of Music by Mercury in the US). Cox also worked with Pentangle, the
Bee Gees
and
Elton John
.
13 Mar 1933
Mike Stoller, (Leiber &), songwriter, and producer for
Elvis Presley
,
Buddy Holly
, The
Monkees
and Cliff Richard. Their hit songs include 'Hound Dog' and 'Kansas City'. Later in the 1950s, particularly through their work with The Coasters, they created a string of ground-breaking hits that are some of the most entertaining in rock and roll.