March 14th: The Biggest Music Headlines
Scroll down the page to see all the music headlines, stories, and events for March 14 throughout music history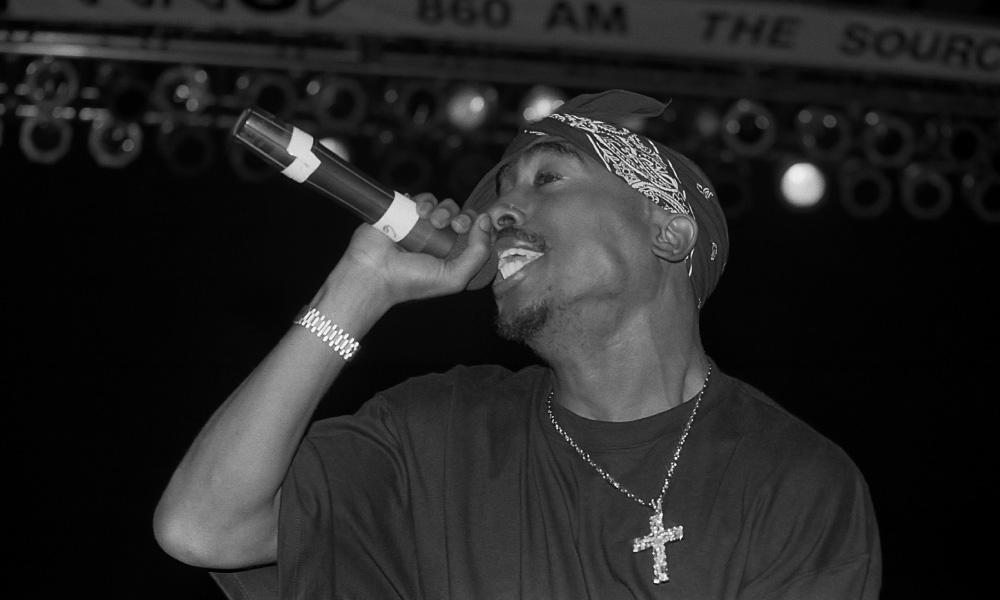 2Pac Tops Billboard Chart While Incarcerated
On this day in music, March 14, 1995, Tupac (2Pac) Shakur became the first male solo artist to have a No.1 album in the US while incarcerated. His third LP, Me Against the World came out while the controversial West Coast rapper was serving eight months in prison. The album debuted at No.1 on the Billboard 200, selling 240,000 copies during its first week, which at that time broke the record for the highest first-week sales of a solo male rapper. Me Against the World also featured 2Pac's first Top Ten hit, "Dear Mama." The seminal track, which has since ranked on multiple "Best Of" lists, marked the first song by a solo hip-hop artist to be inducted into the National Recording Registry.
In 1983, Bon Jovi, a band that bridged the divide between heavy rock and pop, formed in Sayreville, NJ. Taking their name from lead singer Jon Bon Jovi, the group went on to sell 34.5 million albums in the US, while their fourth album, 1988's New Jersey, broke a record for a hard rock album by producing five Top 10 US singles.
In 1991, R.E.M. played the first of two secret gigs under the name "Bingo Hand Job" at a small London venue called Borderline. The concerts took place as part of a short promotional tour for their seventh album, Out Of Time. In 2019, highlights from both concerts were officially released as Live at the Borderline 1991, a Record Store Day exclusive.
In 1973, ABBA released "Ring Ring," their first Swedish No.1 hit and debut release in the UK. The track was originally credited to Björn & Benny, Agnetha & Anni-Frid and was selected as Sweden's 1973 Eurovision Song Contest entry, finishing third. A year later, under the name ABBA, the group won the same competition with their international breakthrough song "Waterloo."
In 1991, noted American songwriter and lyricist Doc Pomus died at the age of 65, following a battle with lung cancer. An inductee into both the Songwriters Hall of Fame and the Rock and Roll Hall of Fame, he was best known for his collaborations with Mort Shuman. Together they wrote Dion & The Belmonts' "A Teenager In Love," The Drifters' "Save The Last Dance For Me," and Andy Williams' "Can't Get Used To Losing You."
In 1982, Metallica made their live debut at Radio City in Anaheim, California. Pioneers of the thrash metal genre, the band began when guitarist James Hetfield responded to drummer Lars Ulrich's newspaper ad "for other metal musicians to jam with Tygers of Pan Tang, Diamond Head, and Iron Maiden." The pair would officially launch the group five months after they met.
Looking for more things that happened on this day in music?
Keep scrolling for all of the headlines for March 14.
BORN ON MARCH 14:
1932: Mark Murphy (Jazz singer)
1933: Quincy Jones
1946: Jim Pons (The Turtles)
1969: Michael Bland (The New Power Generation)
1970: Kristian Bush (Sugarland)
1983: Taylor Hanson (Hanson)
1986: Este Arielle (Haim)
Looking for more artists born on this day?
Keep scrolling for all of our March 14 birthdays.
---
What to find another day?
---
March 14th
14 Mar 2021
The 63rd Annual Grammy Awards took place at the Los Angeles Convention Center. The Awards were originally scheduled for January 31, at the Staples Center but were pushed back due to escalating COVID-19 cases.
Beyoncé
won the most awards with four. Billie Eilish won her second consecutive Record of the Year award for 'Everything I Wanted', while
Taylor Swift
won her third Album of the Year award for Folklore.
14 Mar 2020
English singer-songwriter, musician, poet, and performance artist Genesis P-Orridge, died age 70 after battling leukaemia for two-and-a-half years. A founding member of the cult experimental bands Throbbing Gristle and Psychic TV, the group played an abrasive brand of industrial rock, often combined with sexually-explicit live shows. Their 1976 exhibition at London's Institute of Contemporary Arts, titled Prostitution, scandalised the art world, and prompted UK Conservative MP Nicholas Fairbairn to denounce the group as "the wreckers of civilization".
14 Mar 2020
American singer and songwriter Phil Phillips died age 94. He is best known for his 1959 song, "Sea of Love" which peaked at No.2 on the US Billboard chart and sold over one million copies. The song was featured prominently in the 1989 film Sea of Love starring Al Pacino. It was the only top-40 chart song for Phillips, who never recorded another hit.
14 Mar 2016
Sony ATV Music Publishing announced that it would buy out
Michael Jackson
's share of a joint music publishing venture for $750m. The purchase gave Sony the rights to about three million songs, including works by
The Beatles
,
Bob Dylan
and
Taylor Swift
, but did not include Jackson's master recordings.
14 Mar 2014
American musician, Gary Burger died of pancreatic cancer on at the age of 71. He is best known as the guitarist and vocalist for the Garage rock band the Monks who formed in Gelnhausen, West Germany in 1964, by five American GIs stationed in the country. With their blend of shrill vocals, feedback, and guitarist David Day's six-string banjo (which baffled audiences), music historians have since identified the Monks as a pioneering force in avant-garde music.
14 Mar 2011
Ronnie Hammond, the lead singer of The Atlanta Rhythm Section, died of heart failure at the age of 60. He led the band to two Billboard Top Ten hits, 'So Into You' in 1977 and 'Imaginary Lover' in 1978.
14 Mar 2010
Phil Blake of UK indie band Redtrack returned to his career as the bassist with the band after he underwent a pioneering operation to reattach his hand after it was hacked to the bone in a machete attack. Blake thought he would never play guitar again after a teenage robber hacked through his arm when he refused to hand over a mobile phone.
14 Mar 2008
Peter MacBeth, a member of The Foundations who had the 1968 UK hit with 'Build Me Up Buttercup', was jailed for child sex offences. MacBeth sexually assaulted a young girl on four occasions over the course of six years and downloaded child porn from the internet. The 71-year-old was suffering from cancer and had had a tracheotomy which meant he lost his voice. Doctors had said he had between three and five years to live.
14 Mar 2006
U2
topped Rolling Stone magazine's annual list of the year's biggest money earners from 2005 with $154.2m. (£78m), The
Rolling Stones
were listed second with $92.5m (£47m) and the
Eagles
third with 63.2m. (£32.m).
Paul McCartney
was in fourth place with $56m (£28m) and  
Elton John
in fifth with $48.9m. (£24.8m).
14 Mar 2005
Michael Jackson
was blasted by British Army veterans for wearing military badges while on trail for child abuse. The singer had appeared in court on most days with either an Army motif on his breast pocket or a cap badge tied around his neck.
14 Mar 2001
Peter Blake, who designed
The Beatles
classic
Sgt. Pepper
album cover sued the group's record company for more money. Blake was paid £200 ($340) for the famous figures in 1967, but was now 'cheesed off' that EMI had never offered to pay more money. Blake also made sleeves for the Band Aid single, 'Do They Know It's Christmas?' (1984), Paul Weller's Stanley Road (1995) and the Ian Dury tribute album Brand New Boots and Panties (2001).
14 Mar 1999
Stereophonics went to No.1 on the UK album chart with Performance And Cocktails' becoming only the third Welsh band to score a No.1 album and the first No.1 album for Richard Branson's V2 label.
14 Mar 1995
With the release of 'Me Against the World'
Tupac Shakur
became the first male solo artist to have a No.1 album on the Billboard chart while in prison. During the early 90's, Shakur had a series of incidents and charges of breaking the law. In 1993 he was charged with shooting two off-duty police officers in Atlanta, (though the charges were later dropped), he was charged for assaulting director Allen Hughes while filming Menace II Society and was sentenced to 1.5 to 4.5 years jail when found guilty of sexual assault.
14 Mar 1991
American songwriter and Blues singer Doc Pomus died from lung cancer aged 65. He is best known as the lyricist of many rock and roll hits written with Mort Shuman including, 'A Teenager in Love', 'Save The Last Dance For Me', 'Sweets For My Sweet', 'Can't Get Used to Losing You', 'Little Sister', 'Suspicion', 'Surrender' and 'Viva Las Vegas.'
14 Mar 1991
R.E.M.
played the first of two nights at London's Borderline Club under the name of 'Bingo Hand Job.' The group were in the UK promoting their seventh studio album Out of Time and their current single 'Losing My Religion'.
14 Mar 1987
Boy George scored his first UK No.1 single as a solo artist with the David Gates song 'Everything I Own'. Originally recorded by Gates's band Bread for their 1972 album Baby, I'm a Want You, the song was also a UK No.1 for Ken Boothe in 1974.
14 Mar 1985
Dead Or Alive were kicked off the UK music television show
The Tube
after admitting they were incapable of playing 'live.' The group scored the 1985 UK No.1 single 'You Spin Me Round, Like A Record'.
14 Mar 1983
Jon Bon Jovi, Richie Sambora and Alec John Such formed
Bon Jovi
. Their fourth album, New Jersey, released in 1988, is notable for producing five Billboard Hot 100 Top 10 singles, the most top ten hits to date from a hard rock album.
14 Mar 1982
Metallica
made their live debut when they appeared at Radio City in Anaheim, California. Metallica formed in Los Angeles, California, in late 1981 when Danish-born drummer Lars Ulrich placed an advertisement in a Los Angeles newspaper, The Recycler, which read, "Drummer looking for other metal musicians to jam with Tygers of Pan Tang, Diamond Head and
Iron Maiden
." Guitarists James Hetfield and Hugh Tanner of Leather Charm answered the advertisement.
14 Mar 1981
Eric Clapton
was hospitalised with bleeding ulcers causing a US tour to be cancelled. He was back in hospital five weeks later after being involved in a car crash.
14 Mar 1978
Blondie
were at No.2 on the UK chart with their version of the Randy & the Rainbows song 'Denis', kept off the No.1 position by
Kate Bush
's 'Wuthering Heights'.
14 Mar 1973
ABBA
released 'Ring Ring' the title track of their debut album. It gave the group their first appearance on the UK singles chart where it peaked at No.32 and became their first Swedish No.1 and first Australian top 10 hit.
14 Mar 1972
Soul singer, Linda Jones, died aged 26 in New York after collapsing into a diabetic coma following a performance at Harlem's Apollo Theatre in New York. Jones scored the 1967 US No.21 single 'Hypnotized'.
14 Mar 1968
The promotional film for
The Beatles
'Lady Madonna' was broadcast in black and white on
Top Of The Pops
on UK television. The video portion of the film clip was shot while the group were performing the song 'Hey Bulldog', but the 'Lady Madonna' audio track was paired with the video for the promo release.
14 Mar 1964
For the first time in British recording history, all Top Ten singles in the UK were by British acts. No.1 was 'Anyone Who Had A Heart' by Cilla Black, No.2 - 'Bits and Pieces' by The Dave Clark Five, No.3 - 'Little Children' by Billy J Kramer, No.4 - 'Diane' by The Bachelors, No.5 - 'Not Fade Away' by The
Rolling Stones
, No.6 - 'Just One Look' by The Hollies, No.7 - 'Needles and Pins' by The Searchers, No.8 - 'I Think Of You' by The Merseybeats, No.9 - 'Boys Cry' by Eden Kane, and No. 10 - 'Let Me Go Lover' by Kathy Kirby.
14 Mar 1963
Cliff Richard and The Shadows were at No.1 on the UK singles chart with 'Summer Holiday.' Taken from the film of the same name, it became Richards' seventh UK No.1 single.
14 Mar 1962
Bruce Channel started a three week run at No.1 on the US singles chart with 'Hey! Baby'. The song features a prominent riff from well-known harmonica player Delbert McClinton who while touring the UK in 1962 met
John Lennon
and gave him some harmonica tips. Lennon put the lessons to use right away on '
Love Me Do
' and later 'Please Please Me'.
Born on this day in music
14 Mar 1988
Colby O'Donis, American R&B and hip hop singer-songwriter and actor. He had the 2009 US No.1 single 'Just Dance' with Lady GaGa.
14 Mar 1988
Mark Falgren, drummer for the Danish band Lukas Graham who had the 2016 hit '7 Years' which topped the charts in Denmark, Sweden, Italy, Austria, Australia, New Zealand, Ireland, the UK and Canada.
14 Mar 1986
American musician Este Arielle from pop rock band Haim, which also consists of her two sisters, Alana Haim and Danielle Haim.
14 Mar 1983
Taylor Hanson, keyboards, and vocals with Hanson who had the 1997 UK & US No.1 single 'MMMbop'. Hanson has sold over 16 million records worldwide and have had 8 top 40 albums and 6 top 40 singles in the US.
14 Mar 1970
American singer, songwriter Kristian Bush, one half of the country music duo Sugarland with Jennifer Nettles. The scored the 2020 US No.1 album The Incredible Machine.
14 Mar 1969
Michael Bland best known as a drummer for
Prince
starting in 1989. He was with Prince during The New Power Generation era and played with him live and on albums for seven years.
14 Mar 1963
English musician Steve Lambert from Roman Holiday who scored the 1983 UK No.14 with 'Don't Try To Stop It'.
14 Mar 1957
Chris Redburn from English pop and glam rock band Kenny who had several hit singles in the UK in the mid-1970s, including 'The Bump' and 'Fancy Pants'.
14 Mar 1956
14 Mar 1947
English singer-songwriter and multi-instrumentalist Jona Lewie, best known for his 1980 UK hits 'You'll Always Find Me in the Kitchen at Parties' and 'Stop the Cavalry'. Lewie started his musical career as a member of the blues band Brett Marvin and the Thunderbolts.
14 Mar 1947
English singer-songwriter and pianist Peter Skellern who had the 1972 UK No. 3 with 'Your A Lady'. In October 2016, he was ordained as a deacon and priest of the Church of England, but died only four months later from a brain tumour on 17 February 2017 at the age of 69.
14 Mar 1946
Jim Pons, bass guitar from the American rock The Turtles who had the US 1967 No.1 single 'Happy Together' and the 1967 hit 'She'd Rather Be with Me'. He went on to work with
Frank Zappa
.
14 Mar 1945
American saxophonist Walter Parazaider with Chicago, who had the 1976 UK & US No.1 single 'If You Leave Me Now'. The band formed in 1967 in Chicago, Illinois as The Chicago Transit Authority before shortening the name in 1970. Chicago have had five consecutive No.1 albums on the Billboard chart and 20 top-ten singles on the Billboard Hot 100.
14 Mar 1945
James O'Rourke, guitarist and singer with John Fred & His Playboy Band who scored the 1968 US No.1 & UK No.3 single 'Judy In Disguise'.
14 Mar 1945
Michael Martin Murphey, American singer-songwriter. His 1990 album Cowboy Songs, became the first album of cowboy music to achieve gold status since Gunfighter Ballads and Trail Songs by Marty Robbins in 1959. Murphey is also the author of New Mexico's state ballad, 'The Land of Enchantment'.
14 Mar 1933
American record producer, composer and musician Quincy Jones. He is known for his 1962 tune 'Soul Bossa Nova' and later scored the 1978 US No.1 single 'Stuff Like That'. Jones has a record 79 Grammy Award nominations and was the producer of three albums by
Michael Jackson
, Off The Wall, Bad and
Thriller
which has now sold more than 65 million copies worldwide.
14 Mar 1922
American musician and composer Les Baxter who had the 1956 US No.1 single 'Poor People Of Paris'. In the 1960s, he formed the Balladeers, a conservative folk group in suits that at one time featured a young David Crosby. He died on 15 January 1996.