March 23rd: The Biggest Music Headlines
Scroll down the page to see all the music headlines, stories, and events for March 23 throughout music history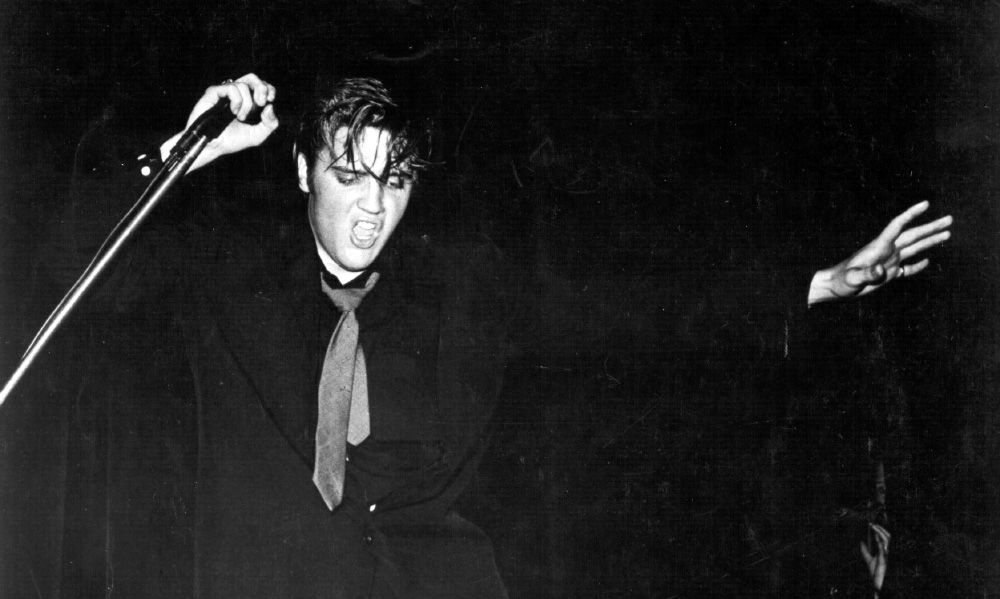 Elvis Presley Releases Debut Album
On this day in music, March 23, 1956, Elvis Presley released his self-titled debut album on the RCA Victor label. Its 12 songs were recorded in Nashville, New York, and Memphis between 1954 and 1956 and included one of Elvis' most iconic numbers, "Blue Suede Shoes." The album, which spent ten weeks at No.1 on the US album charts and went on to sell a million copies, marked the first time a rock'n'roll record had topped the charts. It was issued in the UK under the title Rock 'n' Roll in 1959 by the HMV label and peaked at No 4 in the charts.
In 1972, The Concert For Bangladesh, featuring George Harrison together with Bob Dylan, Eric Clapton, Leon Russell, and fellow Beatle alum, Ringo Starr, premiered in New York. The film documented two benefit concerts held at Madison Square Garden in August 1971, organized by Harrison with Indian musician Ravi Shankar, to raise funds for refugees of the Bangladesh Liberation War. Marking the first major benefit concerts, the two shows raised a total of $250k (equivalent to approximately $1.8 million today).
In 2021, the trailblazing, Grammy-winning record producer Ethel Gabriel, who worked primarily for RCA Records, died at the age of 99. She was the first woman to become both an A&R executive and producer at a major record company. Artists she produced included Elvis Presley, Perry Como, and Henry Mancini.
In 1996, Celine Dion scored her second No.1 on the Billboard Hot 100 with "Because You Loved Me." The Grammy-winning song was plucked from the French-Canadian artist's fourth English language album, Falling Into You, and appeared as the theme song to the 1996 movie Up Close & Personal.
In 1991, R.E.M. topped the UK chart for the first time with their seventh album, Out Of Time. The Grammy-winning LP, which spent a total of 153 weeks on the UK chart, would hit No.1 in the US several weeks later, thanks in part to the single, "Losing My Religion," which peaked at No.4 on the Billboard Hot 100.
In 1985, former Creedence Clearwater Revival frontman John Fogerty scored his first No.1 album as a solo artist with Centerfield. Arriving after a lengthy break from the music industry, the album marked Fogerty's third solo album and first release in nine years.
In 1964, John Lennon published his first book, In His Own Write, in the UK. A collection of surreal poetry accompanied by cartoon illustrations, it became a bestseller in Britain, selling 300,000 copies.
Looking for more things that happened on this day in music?
Keep scrolling for all of the headlines for March 23.
BORN ON MARCH 23:
1942: Jimmy Miller (Producer)
1944: Ric Ocasek (The Cars)
1944: Tony McPhee (The Groundhogs)
1948: David Olney (The X-Rays)
1953: Chaka Khan
1966 Marti Pellow (Wet Wet Wet)
1967: John Stohm (The Lemonheads)
1968: Damon Albarn (Blur, The Gorillaz)
Looking for more artists born on this day?
Keep scrolling for all of our March 23 birthdays.
---
What to find another day?
---
March 23rd
23 Mar 2021
Grammy-winning record producer Ethel Gabriel passed away in New York aged 99. A trailblazer for women in the music industry, she was one of the first women to work as a record producer. "We had a son-of-a-gun president at RCA who was not favourable to women in the industry," she said in 1992. "He put me in charge of the Camden label, the economy line subsidiary, because it was supposed to fold. I'm sure he thought it was a way to get rid of me. Well, I made a multimillion dollar line out of it, conceived, programed and produced everything."
23 Mar 2016
Gloria Gaynor's hit 'I Will Survive' was selected to enter the US National Recording Registry. It joined
Metallica
's Master of Puppets and Mahler's Symphony No 9 on the list of culturally significant recordings.
23 Mar 2015
British artist Lil' Chris was found dead in Suffolk at the age of 24. Chris Hardman first rose to fame on the UK reality show Rock School in 2006 when he was just 15 years old. He later released a hit single, 'Checkin' It Out,' which reached No.3 on the UK singles chart.
23 Mar 2014
Canadian musician Dave Brockie died. He is best known as the lead vocalist of the heavy metal band Gwar. Brockie was found dead, his body sitting upright in a chair in his home, by a band member. The cause of death was determined to be a heroin overdose.
23 Mar 2011
The Who
's Pete Townshend told Uncut magazine that he regretted ever forming the band. 'What would I have done differently? I would never have joined a band. Even though I am quite a good gang member and a good trooper on the road, I am bad at creative collaboration.'
23 Mar 2008
Neil Aspinall, who ran the Apple Corps music empire for the Beatles from 1970 - 2007 died at a hospital in New York from cancer aged 66. A school friend of Sir
Paul McCartney
and
George Harrison
, he was regarded by some of the band as the 'fifth Beatle' becoming
The Beatles
road manager in 1961 before becoming their personal assistant. He led the legal battle with Apple computers over the use of the Apple name and a royalties dispute between the Beatles and record label EMI. Aspinall had also played background instruments on Beatles tracks including 'Magical Mystery Tour', 'Within You Without You' and 'Being for the Benefit of Mr Kite.'
23 Mar 2005
'(Is This The Way To) Amarillo' by Tony Christie featuring Peter Kay was the No.1 UK single, 'Candy Shop' by 50 Cent was at No.1 on the US chart and 'Almost Here' by Delta Goodrem and Brian McFadden was at No.1 on the Australian singles chart.
23 Mar 1996
Celine Dion
went to No.1 on the US singles chart with 'Because You Loved Me', her second US No.1, a No.5 hit in UK. The Diane Warren song was taken from the film Up Close And Personal starring Robert Redford and Michelle Pfeiffer. And on the same day her album 'Falling Into You' went to No.1 on the UK album chart.
23 Mar 1995
British singer Alan Barton of died aged 41 from injuries incurred when Smokie's tour bus crashed during a hailstorm in Cologne, Germany. With
Black Lace
he had the 1984 UK No.2 single 'Agadoo.' Black Lace represented the UK in the Eurovision Song Contest 1979 in which they finished in seventh position. 'Agadoo' earned them the dubious accolade of being voted as the worst song of all time by a panel of music writers for Q Magazine. Barton replaced Chris Norman in Smokie in 1986, recording six albums with them.
23 Mar 1991
R.E.M.
scored their first UK No.1 album with their seventh LP Out Of Time featuring the singles 'Losing My Religion' (which became R.E.M.'s highest-charting hit in the US, reaching No.4), and 'Shiny Happy People.' The video for 'Losing My Religion' won two Grammy Awards and six
MTV
Awards.
23 Mar 1985
Former
Creedence Clearwater Revival
front man John Fogerty went to No.1 on the US album chart with his third solo studio album Centerfield. This was Fogerty's first album in nine years after he decided to take a long break from the music business because of legal battles with his record company.
23 Mar 1985
Billy Joel
married model Christie Brinkley on a boat moored alongside the Statue Of Liberty. They divorced in 1993.
23 Mar 1977
Elvis Presley
appeared at the Arizona State University in Tempe, Arizona. This was the first date of 49 date US tour over three months and Presley's last ever tour. (His last ever show was on 26th June 1977 at the Indianapolis Indiana Market Square Arena).
23 Mar 1974
Marvin Gaye
and Diana Ross entered the UK singles chart with 'You Are Everything' which was originally recorded by the Philadelphia soul group The Stylistics. Released as the second UK single from the Diana & Marvin album, the song reached No.5 in the UK Singles Chart in this year.
23 Mar 1972
The film of The
Concert For Bangladesh
featuring
George Harrison
,
Bob Dylan
and
Eric Clapton
premiered in New York. The event was the first benefit concert of this magnitude in world history. The concert raised $243,418.51 for Bangladesh relief, which was administered by UNICEF. Sales of the album and DVD continue to benefit the George Harrison Fund for UNICEF.
23 Mar 1967
At a ceremony held at the Playhouse Theatre in London,
The Beatles
were awarded three Ivor Novello awards for 1966: Best-selling British single 'Yellow Submarine', most-performed song 'Michelle', and next-most-performed song '
Yesterday
'. None of the Beatles attended and the winning songs were played by Joe Loss and his Orchestra. The lead vocal for 'Michelle' was sung by Ross MacManus, whose son would go on to become the professional musician Elvis Costello.
23 Mar 1964
John Lennon
's book of verse and rhyme 'In His Own Write' was published in the UK. Some of the content was first published in Lennon's 'Beachcomber' column in the Liverpool weekly paper Mersey Beat.
23 Mar 1961
Elvis Presley
had his seventh UK No.1 single with 'Wooden Heart.' The song was based on a German folk song and was featured in Presley's film GI Blues.
23 Mar 1956
Elvis Presley
released his self titled studio album in mono on RCA Victor. The album spent ten weeks at No.1 on the Billboard Pop Albums chart in 1956, the first rock and roll album ever to make it to the top of the charts, and the first million-selling album of that genre. The iconic cover photograph was taken at the Fort Homer Hesterly Armory in Tampa, Florida, on July 31, 1955.
Born on this day in music
23 Mar 1979
American Grammy-winning record producer Ariel Rechtshaid, who has worked with many artists including
Adele
, Brandon Flowers, Vampire Weekend,
Madonna
, Tobias Jesso Jr., Usher, We Are Scientists, Plain White T's and
Kylie Minogue
.
23 Mar 1977
English musician, singer-songwriter and photographer Andy Crofts. He was the founding member of psychedelic indie rock band The Moons and has been a member of Paul Weller's touring band since 2008.
23 Mar 1971
American session drummer Abe Laboriel, Jr. Has worked with
Paul McCartney
for many years as well as many other artists including Shakira, B.B. King, Sting,
Eric Clapton
, Steve Winwood, Les Paul, Ashlee Simpson and LeAnn Rimes.
23 Mar 1968
Damon Albarn, singer-songwriter, multi-instrumentalist and record producer. With Blur he scored the 1994 UK No.1 album Parklife, which spent over 2 years on the UK chart, and the 1995 UK No. 1 'Country House'. Albarn along with Jamie Hewlett formed the 'virtual band' Gorillaz who had the 2001 UK No.4 single, 'Clint Eastwood.' Other projects include The Good, The Bad & The Queen, (2007 self-titled album with Paul Simonon, Tony Allen and Simon Tong). Albarn's debut solo studio album Everyday Robots was released in 2014.
23 Mar 1967
John Stohm, from American alternative rock band The Lemonheads. A cover of
Simon And Garfunkel
's 'Mrs. Robinson', became one of the band's most successful single in the early 90s.
23 Mar 1966
Mark McLoughlin, (Marti Pellow), singer with Scottish band Wet Wet Wet who formed in 1982. They are best known for their 1994 cover of The
Troggs
' 1960s hit 'Love Is All Around', which spent 15 weeks at No.1 on the UK charts.
23 Mar 1953
American singer Chaka Khan, (Yvette Marie Stevens), who was the lead vocalist and focal point of the 1970s funk band Rufus. Khan was the first R&B artist to have a crossover hit featuring a rapper, with 'I Feel for You' in 1984. She has collaborated with Ry Cooder, Robert Palmer, Ray Charles, Quincy Jones, Guru, and Mary J. Blige, among others
23 Mar 1952
Dave Bartram from English revival group Showaddywaddy who had the 1976 UK No.1 single with their version of 'Under The Moon Of Love'. Showaddywaddy spent 209 weeks on the UK Singles Chart, and had 10 Top Ten singles.
23 Mar 1948
Nashville folk singer David Olney. He formed the band The X-Rays, which released two albums and opened for Elvis Costello, before splitting up in 1985. Numerous artists, including Emmylou Harris, Del McCoury, Linda Ronstadt and Steve Earle, have covered his songs. He died on 18 Jan 2020 age 71 after suffering a heart attack during a performance in Santa Rosa Beach, Florida.
23 Mar 1944
English blues guitarist, and founder of The Groundhogs Tony McPhee. They had three UK Top 10 hits in the UK Albums Chart in the early 1970s.
23 Mar 1944
American singer, songwriter, musician, producer Ric Ocasek from The Cars. Their early hits included 'Just What I Needed', 'My Best Friend's Girl' and 'Good Times Roll'. Their 1984 US No.3 & 1985 UK No.4 'Drive' was used as part of the soundtrack for the
Live Aid
concert. Ocasek was found dead in his New York City apartment on 15 September 2019, he was 75
23 Mar 1944
English composer Michael Nyman best known for numerous film scores, including the 1993 The Piano film soundtrack. Nyman who has released over 20 albums has also worked with Damon Albarn from Blur.
23 Mar 1942
Jimmy Miller, New York-born record producer and musician. He is best known for his lengthy association with The
Rolling Stones
, for whom he produced a string of singles and albums during the band's career:
Beggars Banquet
(1968),
Let It Bleed
(1969),
Sticky Fingers
(1971), Exile On Main Street (1972) and Goats Head Soup (1973). Miller died on 22 October 1994.