March 24th: The Biggest Music Headlines
Scroll down the page to see all the music headlines, stories, and events for March 24 throughout music history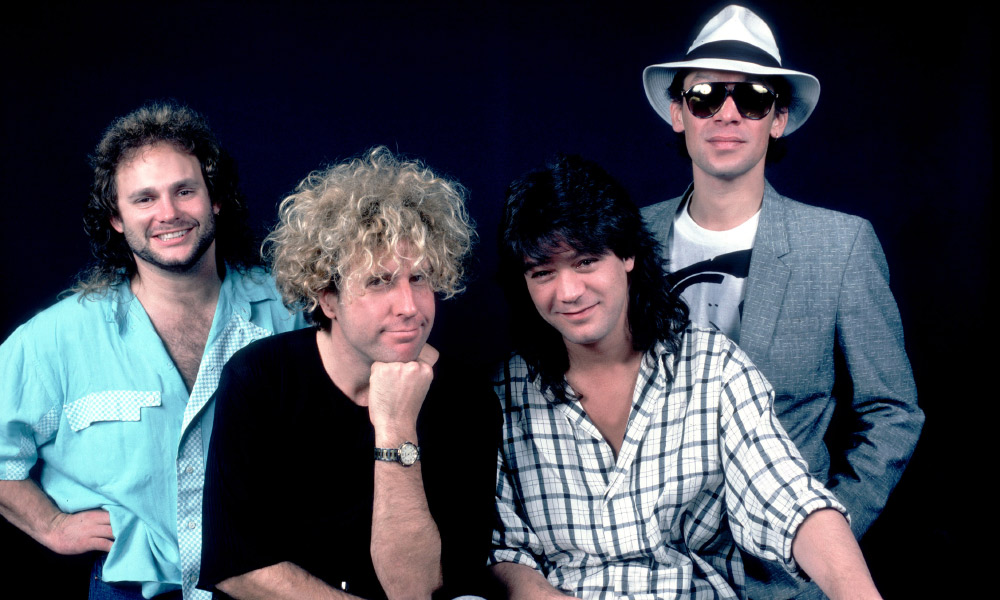 Van Halen Scores Their First No.1 Album
On this day in music, March 24, 1986, Van Halen scored their first No.1 album on the Billboard 200 with 5150. The hard rockers' seventh studio album marked their first to feature ex-Montrose singer Sammy Hagar, who replaced David Lee Roth as the band's frontman. Despite Roth's popularity with fans, Hagar proved his worth – and then some – as the album soared to the top of the charts. Featuring such hits as "Why Can't This Be Love," "Love Walks In," and "Dreams," 5150 also found success across the globe, landing in the Top 5 in Japan, Canada, and Australia, and peaking in the Top 20 in the UK and across Europe.
In 1977, Fleetwood Mac released "Dreams," their only chart-topping hit on the Billboard Hot 100. Written by Stevie Nicks, it was plucked from their multi-platinum eleventh album Rumours.
In 1990, Irish singer Sinead O'Connor scored her only No.1 UK album with I Do Not Want What I Haven't Got, which featured her chart-topping cover of Prince's "Nothing Compares 2 U."
In 1966, Simon And Garfunkel debuted on the UK singles chart with "Homeward Bound," which peaked at No. 9 during a 12-week chart run. The song was taken from the folk-rock duo's third album, Parsley, Sage, Rosemary and Thyme.
In 1997, 57-year-old Harold Melvin, leader of Harold Melvin & The Blue Notes, died following a stroke. The soul group became a household name in the 1970s under Philadelphia International Records, where their hits included "If You Don't Know Me By Now," "The Love I Lost," and "Wake Up Everybody."
In 2002, Gareth Gates, the runner-up to Will Young in the first series of the UK TV show, Pop Idol, broke the record for the youngest male solo artist to hit the top of the UK charts with his debut single, "Unchained Melody." Gates was just seventeen years and 255 days old.
In 1958, Elvis Presley reported to the Memphis draft board to begin his two-year service with the US Army.
Looking for more things that happened on this day in music?
Keep scrolling for all of the headlines for March 24.
BORN ON MARCH 24:
1935: Carol Kaye (Wrecking Crew)
1938: Holger Czukay (Can)
1938: Don Covay
1949: Nick Lowe (Brinsley Schwarz and Rockpile)
1960: Nena
1964: Patterson Hood (Drive-By Truckers)
1970: Pasemaster Mace (De La Soul)
1970: Shannon Corr (The Corrs)
1974: Chad Butler (Switchfoot)
Looking for more artists born on this day?
Keep scrolling for all of our March 24 birthdays.
---
What to find another day?
---
March 24th
24 Mar 2022
It was reported that Spotify paid $7bn to music industry rights holders in 2021, accounting for almost 25% of the industry's total revenues. The streaming giant said 52,600 artists earned more than $10,000 (£7,500) from Spotify in 2021. Of those, 130 were paid more than $5m (£3.8m) over the last 12 months. Spotify didn't name any of the artists involved, but its most-streamed acts last year were Bad Bunny,
Taylor Swift
, BTS,
Drake
and Justin Bieber; while the most streamed-song was Olivia Rodrigo's 'Drivers License'.
24 Mar 2021
American drummer, percussionist, and songwriter Don Heffington died age 70. He was a founding member of the Los Angeles alternative country band Lone Justice, and was a session and touring musician for various artists, including Lowell George,
Bob Dylan
, Emmylou Harris, Jackson Browne, the Wallflowers and the Jayhawks.
24 Mar 2020
American musician Bill Rieflin died age 59. Rieflin came to prominence in the 1990s mainly for his work as a drummer with groups (particularly in the industrial rock and industrial metal scenes) such as Ministry, the Revolting Cocks, Swans, Chris Connelly, and Nine Inch Nails. He worked regularly with
R.E.M.
following the retirement of Bill Berry in 1997. He was a member of King Crimson from 2013 until his death.
24 Mar 2013
Pictures of
The Beatles
' 1965 Shea Stadium concert, taken by an amateur photographer who bluffed his way backstage, sold for £30,000 at auction. Marc Weinstein used a fake press pass to get next to the stage for the historic New York show. His 61 black and white images with copyright fetched £30,680, the successful bidder was a South American gentleman currently living in Washington who is a huge collector of Beatles memorabilia.
24 Mar 2013
American songwriter and record producer Deke Richards died of esophageal cancer aged 68. He is notable for being a member of both The Clan and The Corporation, the latter being a hitmaking production team that wrote and produced The
Jackson 5
's early hits, including 'I Want You Back', 'ABC', and 'The Love You Save'. He produced Diana Ross and the
Supremes
after Holland, Dozier and Holland left
Motown
in 1968 and co-wrote the US No.1 hit 'Love Child' for the
Supremes
, and was solely responsible for 'I'm Still Waiting', a UK No.1 hit, for Diana Ross.
24 Mar 2009
The prosecutor in the Phil Spector murder retrial told the jury he was a 'demonic maniac' when he drinks and 'a very dangerous man' around women. Deputy District Attorney Truc Do urged jurors to find the music producer guilty of murdering Hollywood actress Lana Clarkson in 2003. During her closing argument, she also accused Mr Spector of demonstrating a 'conscious disregard for human life'.
24 Mar 2009
Motown
drummer Uriel Jones, died aged 74 after suffering complications from a heart attack. Jones played on many
Motown
classics including 'I Heard It Through the Grapevine' by
Marvin Gaye
, 'Cloud Nine' by the
Temptations
, 'I Second That Emotion' by
Smokey Robinson
& the Miracles and 'For Once In My Life' by
Stevie Wonder
.
24 Mar 2002
Gareth Gates became the youngest male solo artist to score a UK No.1 with his debut release 'Unchained Melody' Gates was 17 years and 255 days old and had won second place on TV's Pop Idol show. This was the fourth time that the song had been at No.1 in the UK.
24 Mar 2001
A stretch of road on Highway 19 in Macon, Georgia, was named Duane Allman Boulevard, near where
The Allman Brothers Band
guitarist died aged 24 in a motorcycle crash on October 29, 1971.
24 Mar 2000
A film company paid £635,000, ($1,079,500) for over nine hours of film shot during the 70s by Yoko Ono's first husbandTony Cox. The film contained shots of
John Lennon
smoking hash and talking about his political beliefs.
24 Mar 1998
UK singer Mark Morrison was jailed for a year after trying to con his way out of doing community service. He sent his minder Gabriel Mafereka who wore sunglasses and hid his hair under a hat so he looked like the star.
24 Mar 1997
Harold Melvin singer with Philly soul group Harold Melvin & the Blue Notes, died aged 57. They dad the 1972 US No.3 & 1974 UK No.9 single 'If You Don't Know Me By Know' and 1973 hit 'The Love I Lost.'
24 Mar 1992
A Chicago court settled the Milli Vanilli class action suit by approving cash rebates of up to $3 (£1.76) to anyone proving they bought the group's music before November 27 1990, the date the lip synching scandal broke. Milli Vanilli won the 1989 best new artist Grammy after hits like 'Blame it on the Rain' and 'Girl, You Know It's True,' selling 30 million singles and 14 million albums. But in late 1990, the performers were stripped of the award after it was revealed that neither actually sang on the Milli Vanilli album.
24 Mar 1990
Sinead O'Connor
went to No.1 on the UK album chart with 'I Do Not Want What I Haven't Got', featuring the single 'Nothing Compares To You. Also No.1 in 13 other countries and six weeks at No.1 in the US.
24 Mar 1986
Van Halen
released their seventh studio album 5150 (pronounced fifty-one-fifty) which became their first album to top the US chart. The first of four albums to be recorded with lead singer Sammy Hagar, who replaced David Lee Roth was named after Eddie Van Halen's home studio, 5150, in turn named after a California law enforcement term for a mentally disturbed person.
24 Mar 1985
'Easy Lover' by Philip Bailey and
Phil Collins
was at No.1 on the UK singles chart. Bailey was a former vocalist with Earth, Wind & Fire. Phil Collins produced, drummed and sang on the track. 'Easy Lover' won an
MTV
Video Music Award for Best Overall Performance in a Video.
24 Mar 1979
The
Bee Gees
started a two week run at No.1 on the US singles chart with 'Tragedy', the group's eighth US No.1. and also No.1 in the UK.
24 Mar 1977
Fleetwood Mac
released 'Dreams' from their eleventh studio album
Rumours
which became their first and only US No.1 hit single. Stevie Nicks wrote the song in early 1976 at the Record Plant studio in Sausalito, California in around 10 minutes, on a day when she wasn't required in the main studio.
24 Mar 1976
Proto-punk icon Jayne County appeared in court charged with assault after an incident at New York club CBGB's. County had attacked Dictators singer Handsome Dick Manitoba with a mike stand fracturing his collarbone.
24 Mar 1973
During a Lou Reed show in Buffalo, New York, a fan jumped on stage and bit Lou on the bottom. The man was thrown out of the theatre and Reed completed the show.
24 Mar 1973
The O'Jays went to No.1 on the US singles chart with 'Love Train.' The song's lyrics of unity mention a number of countries, including England, Russia, China, Egypt and Israel, as well as the continent of Africa.
24 Mar 1966
Simon And Garfunkel
made their UK singles chart debut with 'Homeward Bound.'
Paul Simon
is said to have written the song at Farnworth railway station, Widnes, England, while stranded overnight waiting for a train. A plaque is displayed in the station to commemorate this, although memorabilia hunters have stolen it many times. The song describes his longing to return home, both to his then girlfriend, Kathy Chitty in Brentwood, Essex, England, and to return to the United States. The song was also a No.5 hit in the US.
24 Mar 1965
The Beatles
continued filming
Help!
at Twickenham Studios, England. They shot the interior temple scenes, including the one where they dive through a hollow sacrificial altar and into water. That scene was then cut to the swimming pool scene filmed in the Bahamas on February 23.
24 Mar 1965
The
Temptations
released 'Its Growing', the follow-up to 'My Girl'. The track was the first to feature David Ruffin as the
Temptations
new lead singer. Interestingly both 'My Girl' and 'Its Growing' were the only
Motown
tunes ever covered by
Otis Redding
.
24 Mar 1958
At 6.35am,
Elvis Presley
reported to the Memphis draft board. From there Elvis and twelve other recruits were taken by bus to Kennedy Veterans Memorial Hospital where the singer was assigned army serial number 53310761.
Born on this day in music
24 Mar 1974
Chad Butler drummer with Switchfoot. Their 2014 album Fading West reached No.6 on the US album chart.
24 Mar 1970
Sharon Corr, vocals, violin, with Irish band The Corrs, who had the 1998 UK No.3 single 'What Can I Do'. Talk On Corners was the best selling UK album of 1998 spending 142 weeks on the UK chart. The Corrs have sold 40 million albums worldwide.
24 Mar 1970
Pasemaster Mace, from American hip hop trio De La Soul who had the 1990 UK No.7 single 'The Magic Number'.
24 Mar 1964
Patterson Hood lead singer with the alternative country-Southern rock band Drive-By Truckers who had the 2014 US top 20 album with English Oceans.
24 Mar 1960
German singer-songwriter, actress, and comedian Nena, who became a UK One Hit Wonder with the 1984 UK No.1 '99 Red Balloons'.
24 Mar 1951
Scottish musician, Dougie Thompson who was the bassist with progressive rock band Supertramp. Thomson played with Supertramp on all of their most famous albums: Crime of the Century, Crisis? What Crisis?, Even in the Quietest Moments, Breakfast in America.
24 Mar 1949
Canadian musician Steve Lang best known for his role as a bassist in the rock band April Wine from 1976 to 1984. Their 1976 album The Whole World's Goin' Crazy reached No.1 in Canada and was the first in Canadian history to have platinum advanced sales orders. He died on 4 February, 2017 aged 67.
24 Mar 1949
English singer-songwriter, musician, and producer Nick Lowe who was a member of the pub rock group Brinsley Schwarz and Rockpile and is now a solo artist. Lowe had the 1978 UK No.7 single 'I Love The Sound Of Breaking Glass' and 1979 UK No.12 single 'Cruel To Be Kind'.
24 Mar 1946
Danish harmonica player Lee Oskar from American funk band War. Their album The World Is a Ghetto was the best-selling US album of 1973. They also scored the 1973 US No.2 single 'Cisco Kid'. In 1983 Oskar formed a company Lee Oskar Harmonicas to manufacture high-quality harmonicas.
24 Mar 1938
Don Covay, American R&B, rock and roll and soul singer and songwriter. His most successful recordings included 'Mercy, Mercy' (1964), and 'See-Saw' (1965). He wrote 'Chain of Fools', a Grammy-winning song for
Aretha Franklin
. Covay died on Jan 30th 2015.
24 Mar 1938
German musician, Holger Czukay, best known as a co-founder of the krautrock group Can. Czukay is notable for creating early important examples of ambient music, for exploring 'world music' well before the term was coined, and for being a pioneer of sampling.
24 Mar 1937
American rhythm and blues singer and pianist Billy Stewart who had the 1966 US No.10 single with his version of the George Gershwin song 'Summertime'. Stewart and three of his band were killed on 17 January 1970 when the Ford Thunderbird that Stewart was driving crashed off a bridge and plunged into the Neuse River near Smithfield, North Carolina.
24 Mar 1935
Carol Kaye one of the most prolific and widely heard bass guitarists, who has played on an estimated 10,000 recordings in a career spanning over 50 years. Kaye was the bassist on many Phil Spector and
Brian Wilson
productions in the 1960s and 1970s. She is credited with the bass tracks on several
Simon And Garfunkel
hits and many film scores by Quincy Jones and Lalo Schifrin. She contributed to The Beach Boys'
Pet Sounds
. Kaye also performed on many American TV themes including The Streets of San Francisco, Mission: Impossible, M*A*S*H and Kojak.