March 27th: The Biggest Music Headlines
Scroll down the page to see all the music headlines, stories, and events for March 27 throughout music history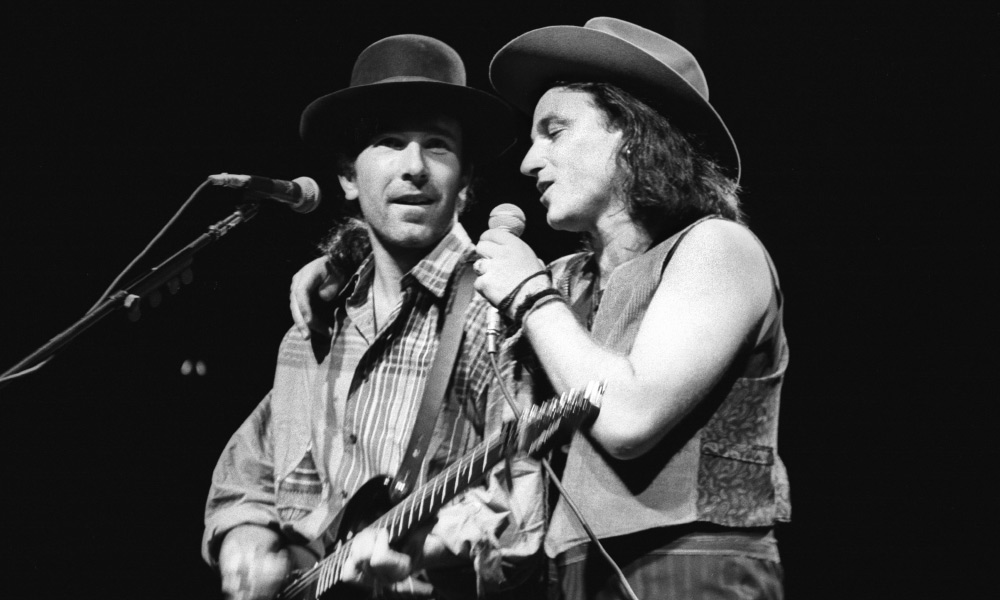 U2 Halt LA Traffic With a Rooftop Video Shoot
On this day in music, March 27, 1987, Irish rockers U2 shot the video for their single "Where The Streets Have No Name" on a liquor store roof in downtown Los Angeles. Mirroring The Beatles' rooftop concert nearly 20 years earlier, the event attracted thousands of spectators to the corner of Seventh and Main Street and brought traffic to a standstill. Despite police interference (as documented in the visual), the shoot was allowed to continue. The video eventually earned the group a Grammy Award.
In 2008, X Factor winner Leona Lewis' second single, "Bleeding Love," reached the summit of the Billboard Hot 100, making her the first British woman to reach No.1 on the American charts since Kim Wilde in 1987. The song debuted at No.1 in the UK chart, staying there for seven weeks.
In 2020, the influential Jamaican reggae vocalist and songwriter Bob Andy died of cancer, aged 75. He is best remembered for his partnership with singer Marcia Griffiths – as Bob & Marcia – which resulted in a Top 10 UK reggae version of Nina Simone's "Young, Gifted & Black" in 1970.
In 2012, David Bowie's landmark album The Rise Of Ziggy Stardust & The Spiders From Mars was celebrated with a blue plaque in central London. It was unveiled by Spandau Ballet's Gary Kemp at Heddon Street, the location where the album's iconic cover photo was taken.
In 2000, 57-year-old singer, songwriter, poet, and actor, Ian Dury, died. The British artist was best known as the leader of Ian Dury & The Blockheads, who topped the UK pop charts in 1978 with "Hit Me With Your Rhythm Stick."
In 1965, The Supremes topped the Billboard Hot 100 for the fourth time with "Stop! In The Name Of Love." In 2004, the Holland-Dozier-Holland song was included in the Rock and Roll Hall of Fame's "500 Songs That Shaped Rock and Roll" list.
Looking for more things that happened on this day in music?
Keep scrolling for all of the headlines for March 27.
BORN ON MARCH 27:
1939: Bo Winberg (The Spotnicks)
1950: Tony Banks (Genesis)
1957: Billy MacKenzie (Associates)
1959: Andrew Farriss (INXS)
1965: Johnny April (Staind)
1970: Mariah Carey
1975: Fergie (Black Eyed Peas)
1988: Jessie J
1990: Kimbra
Looking for more artists born on this day?
Keep scrolling for all of our March 27 birthdays.
---
What to find another day?
---
March 27th
27 Mar 2020
Jamaican reggae vocalist and songwriter Bob Andy died of cancer age 75. He was widely regarded as one of reggae's most influential songwriters and recorded with Marcia Griffiths as Bob and Marcia that had a major 1970 UK hit with 'Young, Gifted and Black'. The Jamaican government conferred the Order of Distinction in the rank of Commander on Andy in October 2006 for his contributions to the development of Jamaican music.
27 Mar 2019
Coldplay
frontman Chris Martin had a restraining order granted against a deranged stalker. The woman who has visited the outside of his home numerous times claimed they had a romantic relationship. Martin stated that he feared for the safety of his family.
27 Mar 2019
Beatles' booking manager Joe Flannery, also known as "Secret Beatle", died aged 87. He was the band's booking manager from 1962-63 and according to Flannery, members of
The Beatles
would often sleep at his flat and he would drive them home the next morning. He is also said to have given a young
George Harrison
driving lessons.
27 Mar 2019
Both members of Liverpool band Her's died while on tour in the US travelling to a gig in California. Stephen Fitzpatrick and Audun Laading were travelling from Arizona to a gig in Santa Ana, when they were involved in a road accident. Their tour manager, Trevor Engelbrektson also died in the incident. Her's released their debut album Invitation To Her's in August 2018.
27 Mar 2015
Country singer Willie Nelson announced that he and his family were hard at work on a new brand of marijuana called Willie's Reserve. Stores of that same name were being planned and were to include his signature brand and other strains that would be grown to meet quality standards.
27 Mar 2012
David Bowie
's landmark album
Ziggy Stardust
was celebrated with a blue plaque in central London. Spandau Ballet star Gary Kemp, unveiled a plaque at the spot where the cover of the 1972 release was shot. The location in Heddon Street, just off Regent Street, is now a pedestrianised area brimming with bars and restaurants.
27 Mar 2008
An inquest in Leeds, England heard the husband of UK singer Corinne Bailey Rae died from a suspected overdose. The body of saxophonist Jason Rae, 31, was found in a flat in the Hyde Park area of Leeds. A 32-year-old man arrested on suspicion of supplying controlled drugs was bailed pending further inquiries.
27 Mar 2008
X Factor
winner Leona Lewis became the first British woman to top the US pop chart for more than 20 years with her single 'Bleeding Love.' Kim Wilde was the last UK female to top the Billboard Hot 100 chart, with her 1987 cover version of The
Supremes
hit 'You Keep Me Hangin' On'. Petula Clark was the first, with her 1965 track 'Downtown', while Sheena Easton's 'Morning Train' - released in the UK as 9 To 5 followed in 1981.
27 Mar 2007
The wife of Velvet
Revolver
singer Scott Weiland was arrested on suspicion of burning over $10,000 (£5,000) of his belongings outside their home after police in southern California found a bin of smouldering clothes. Earlier that day, the couple left two rooms vandalised after an argument at a luxury hotel.
27 Mar 2006
Former Village People policeman Victor Willis was arrested in San Francisco, California, after he disappeared from a drug and gun trial. Police had charged Willis with being in possession of cocaine and drug paraphernalia in July 2005. He would later be sentenced to three years' probation after he agreed to enter a treatment program.
27 Mar 2000
Singer, songwriter, poet and actor, Ian Dury died after a long battle with cancer aged 57. Dury had been disabled by polio as a child, formed Kilburn and the High Roads during the 70s. His first album New Boot's And Panties became a punk classic spending 90 weeks on the UK chart.
27 Mar 1996
American drummer Howard Wyeth died of cardiac arrest at St. Vincent's Hospital in Manhattan aged 51. He worked with
Bob Dylan
, Don McLean, Joan Baez and
Joni Mitchell
.
27 Mar 1991
New Kids On The Block's Donnie Wahlberg was arrested after setting fire to carpets (using a bottle of vodka) at The Seelbach Hotel, Louisville. Wahlberg plea bargains the charge down to criminal mischief and was ordered to perform fire safety and anti-drug abuse promos.
27 Mar 1987
U2
performed from the roof of a store in downtown LA to make the video for 'Where The Streets Have No Name', attracting thousands of spectators and bringing traffic to a standstill. The police eventually stop the shoot.
27 Mar 1984
Bryan Adams
went into Little Mountain Sound, Vancouver, Canada to record 'Run To You' for his fourth studio album, Reckless. It was the first single released from the album and gave Adam's his first UK hit peaking at No.11. The music video shot in London and Los Angeles was nominated for the 1985
MTV
Video Music Awards in five different categories.
27 Mar 1979
Eric Clapton
married Patti Harrison (the ex wife of George) at Temple Bethel, Tucson, Arizona. Patti applied for a divorce in 1988.
27 Mar 1976
Paul McCartney
and Wings were forced to postpone forthcoming US tour for three weeks after guitarist Jimmy McCulloch fell in his hotel bathroom and broke a finger.
27 Mar 1973
Rolling Stone magazine reported that after becoming a disciple of Sri Chinmoy,
Carlos Santana
had changed his name to 'Devadip', which means 'the lamp of the light of the Supreme'.
27 Mar 1972
Elvis Presley
recorded what would be his last major hit, 'Burning Love,' which became a No.2 hit on the US chart. Written by Dennis Linde and originally recorded by country soul artist Arthur Alexander, who included it on his 1972 self-titled album. It was soon covered and brought to fame by Elvis, becoming his biggest hit single in the United States since 'Suspicious Minds' in 1969.
27 Mar 1971
New York radio station WNBC banned the song 'One Toke Over the Line' by Brewer & Shipley because of its alleged drug references. Other stations around the country followed.
27 Mar 1971
Bruce Springsteen
& Friendly Enemies opened for
The Allman Brothers Band
at the Sunshine In, Asbury Park in New Jersey, tickets cost $4.00. Springsteen had just disbanded his group Steel Mill and within a few weeks would form Dr Zoom & The Sonic Boom with Steve Van Zandt.
27 Mar 1967
John Lennon
and
Paul McCartney
were awarded the prestigious Ivor Novello award for 'Michelle', the most performed song in the UK in 1966.
27 Mar 1966
During an UK tour,
Roy Orbison
fell off a motorbike while scrambling at Hawkstone Park, Birmingham fracturing his foot. He played the remaining dates sat on a stool and walking on crutches.
27 Mar 1965
The
Supremes
scored their fourth US No.1 single with 'Stop! In The Name Of Love.' The song was included on the
Supremes
' sixth album, More Hits by The
Supremes
, and was nominated for the 1966 Grammy Award for Best Contemporary Rock & Roll Group Vocal Performance, losing to 'Flowers on the Wall' by the Statler Brothers. The song was also honored by inclusion in the Rock and Roll Hall of Fame's permanent collection of the 500 Songs that Shaped Rock and Roll.
27 Mar 1964
Mick Jagger
,
Keith Richards
and Andrew Oldham attended a Decca launch party at the Ex-Serviceman's Club, Windsor, Berkshire for Oldham's protégé singer Adrienne Posta, whose debut single, 'Shang-A-Doo-Lang' was being released. Also at the party was 17 year-old Marianne Faithfull, with her boyfriend John Dunbar. This was the first time Mick Jagger met Marianne.
Born on this day in music
27 Mar 1990
Kimbra, (Kimbra Lee Johnson). She and Gotye won the Record of the Year and Best Pop Duo/Group Performance awards at the 55th Annual Grammy Awards for 'Somebody That I Used to Know', making her only the third New Zealand singer to win a Grammy Award in history.
27 Mar 1988
Jessie J, (Jessica Ellen Cornish), English singer-songwriter, who had the 2011 UK No.1 single 'Price Tag' and the 2012 UK No.1 'Domino.'
27 Mar 1975
Fergie, US R&B singer, songwriter, former member of Kids Incorporated, Wild Orchid, co-host of the TV show Great Pretenders, and vocalist of The Black Eyed Peas. 2003 US & UK No.1 single 'Where Is The Love', 2006 US No.1 solo single 'London Bridge.' 2007 world-wide No.1 single 'Big Girls Don't Cry.'
27 Mar 1970
American singer, songwriter, actress, record producer, and entrepreneur
Mariah Carey
. She became the first and only artist to have their first five singles reach No.1 on the US Billboard Hot 100 chart. She is the third-best-selling female artist in the United States, with 64 million albums sold. Carey is named after 'They Call The Wind Mariah' from the musical Paint Your Wagon.
27 Mar 1965
Johnny April, bassist with American rock band Staind who had the 2001 US No.1 album, Break The Cycle.
27 Mar 1964
English singer, songwriter, musician and record producer Clark Datchler, from British band Johnny Hates Jazz who had the 1987 UK No.5 single and international success with 'Shattered Dreams'.
27 Mar 1962
Derrick McKenzie, drummer with Jamiroquai who had the 1993 UK No.1 album Emergency on Planet Earth and the 1998 UK No.1 single 'Deeper Underground'. Jamiroquai have sold more than 26 million albums worldwide and won a Grammy Award in 1998.
27 Mar 1959
Andrew Farriss, keyboards, from Australian rock band INXS, who had the 1988 UK No.2 & US No.1 single 'Need You Tonight'. Their 1987 album Kick has sold over 10m copies in the US alone and features four Top 10 singles; 'Need You Tonight,' 'Devil Inside', 'New Sensation,' and 'Never Tear Us Apart.' INXS has sold over 55 million records worldwide.
27 Mar 1957
Scottish singer Billy MacKenzie from The Associates who had the 1982 UK No.9 single 'Party Fears Two'. On January 22, 1997, 39-year-old MacKenzie took his own life.
27 Mar 1956
British musician, singer-songwriter, multi-instrumentalist, Paul Wickens who has worked with
Paul McCartney
since 1989. Wickens has also worked with Styx, The Damned, Tim Finn, Paul Carrack, Nik Kershaw, Jim Diamond, Boy George, and David Gilmour.
27 Mar 1953
Walter Stocker, from the Australian soft rock band Air Supply who scored the 1980 UK No.11 single 'All Out Of Love' and the 1981 US No.1 single 'The One That You Love'.
27 Mar 1950
Tony Banks, keyboards,
Genesis
, (1986 US No.1 single 'Invisible Touch', 1992 UK No.7 single 'I Can't Dance' plus over 15 other UK Top 40 hit singles & 6 UK No.1 albums).
27 Mar 1947
Andrew Brown, keyboards, vocals, bass with English pop band The Herd, who had three UK top twenty hits in the late 1960s, including 'From the Underworld' and 'I Don't Want Our Loving to Die'.
27 Mar 1939
Swedish singer and guitarist Bo Winberg. He was a member of The Spotnicks, who together with the Shadows and the Ventures are counted as one of the most famous instrumental bands during the 1960s. The Spotnicks were famous for wearing "space suit" costumes on stage, and for their innovative electronic guitar sound. Winberg died on 3 January 2020.