March 6th: The Biggest Music Headlines
Scroll down the page to see all the music headlines, stories, and events for March 6 throughout music history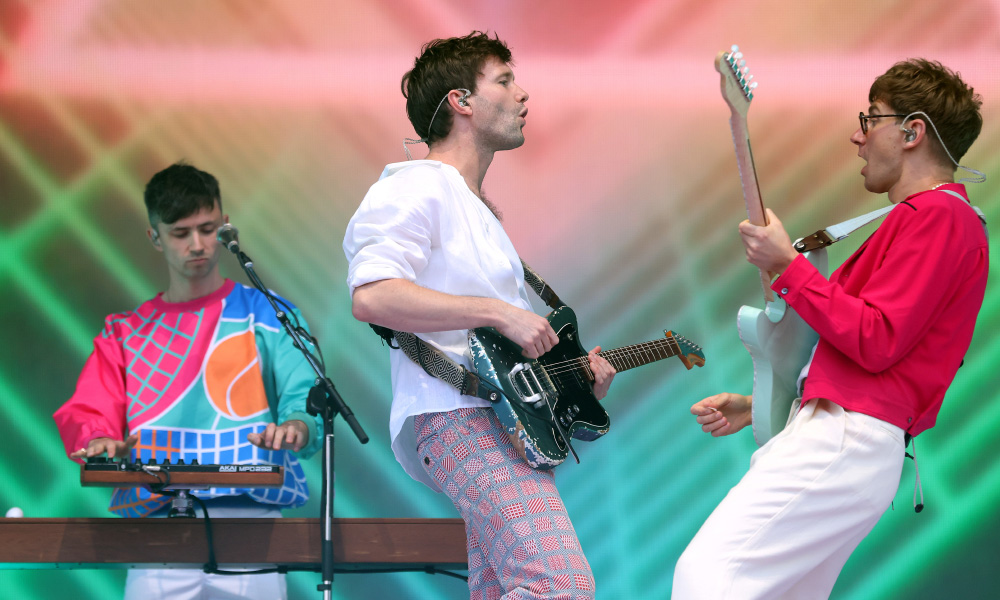 Glass Animals Break Billboard Records with No.1 Hit
In 2022, British indie rockers Glass Animals topped the Billboard Hot 100 with "Heat Waves." After its initial chart entry in 2021, the Mercury Prize-nominated quartet's slow-burning sleeper hit took a long road to the top, hitting the summit of the US charts in its 59th week, eclipsing the previously held record by Mariah Carey, whose "All I Want For Christmas Is You" took 35 weeks to ascend to the No.1 spot in 1994. By September 2022, "Heat Waves," which peaked at No.5 in the UK, had accrued over two billion streams on Spotify. The record's longevity has been attributed to the influence of social media, in particular TikTok.
In 1965, The Temptations scored their first US No.1 single with "My Girl," released on Berry Gordy's Motown label. The enduring hit was the Detroit vocal quintet's first single featuring singer David Ruffin and was co-written and produced by labelmate and leader of The Miracles, Smokey Robinson.
In 1966, The Rolling Stones began recording their single "Paint It, Black" in Los Angeles' RCA Studios. A psychedelic-tinged number featuring Brian Jones on sitar, the song came at a key juncture in the group's development, when Mick Jagger and Keith Richards were beginning to write all the band's material. The track rose to No.1 in both the US and UK pop charts.
In 1990, Phil Collins' …But Seriously began a fifteen-week run at the summit of the UK albums chart. The Genesis drummer-turned-singer's fourth solo LP also enjoyed a month at No.1 on The Billboard 200. Collins released six singles from the album, the most successful of which was "Another Day In Paradise," a US No.1 hit.
In 1951, the noted Welsh composer, singer, and actor Ivor Novello died, aged 58. Born in Cardiff, he rose to fame by writing "Keep The Home Fires Burning," a popular song during World War I. The Ivor Novello Awards, honoring songwriters and composers, began in 1955 and has been an annual fixture of the music calendar ever since.
In 2021, 94-year-old Lou Ottens, the inventor of the tape cassette, died. Born Lodewijk Frederik Ottens in Holland, he worked at Philips, the Dutch electronics company, for many years and was also involved in the development of the compact disc. "We didn't feel like we were doing anything big," he said of the cassette. "We were little boys who had fun playing."
Looking for more things that happened on this day in music?
Keep scrolling for all of the headlines for March 6.
BORN ON MARCH 6:
1893: Walter 'Furry' Lewis
1923: Wes Montgomery
1944: Mary Wilson (The Supremes)
1946: David Gilmour (Pink Floyd)
1947: Kiki Dee
1974: Guy Garvey (Elbow)
1984: Chris Tomson (Vampire Weekend)
Looking for more artists born on this day?
Keep scrolling for all of our March 6 birthdays.
---
What to find another day?
---
March 6th
6 Mar 2022
'Heat Waves' by English indie pop band Glass Animals topped the US Hot 100 in its 59th week on the chart, breaking the record for the longest journey to No.1, surpassing the 35-week tally of Mariah Carey's 'All I Want for Christmas Is You' (1994).
6 Mar 2021
Lou Ottens passed away at the age of 94. The inventor of the tape cassette, he was instrumental in changing personal listening habits for an entire generation. "We were little boys who had fun playing," he once said of his invention. "We didn't feel like we were doing anything big."
6 Mar 2017
Ed Sheeran
's new album ÷ (Divide) became one of the fastest-selling releases ever in the UK, shifting 432,000 copies in just three days. The all-time list for first-week sales has
Adele
's 25 and
Oasis
's Be Here Now at the top with 800,000 each. ÷ smashed the Spotify record for the most-streamed album in a single day - notching up 56.7 million streams on its day of release.
6 Mar 2016
Lana Rae Meisner, the wife of former
Eagles
' bassist Randy Meisner, died after she accidentally shot herself while looking for something in a closet. Although the couple had a history of domestic incidents, police immediately cleared Randy of any wrongdoing whatsoever.
6 Mar 2013
English guitarist, singer, Alvin Lee died age 68. Lee's performance at the
Woodstock
Festival in 1969 was captured on film in the documentary of the event, and his 'lightning-fast' playing helped catapult him to stardom. Ten Years After were known for tracks such as 'I'm Going Home', 'Hear Me Calling', 'I'd Love to Change the World' and 'Love Like a Man'.
6 Mar 2010
47-year-old singer-songwriter Mark Linkous, best known as the leader of the US band Sparklehorse, took his own life. In addition to releasing several broadly acclaimed albums with Sparklehorse, Linkous was an in-demand collaborator, who worked with the likes of PJ Harvey, Tom Waits, Radiohead, and Danger Mouse.
6 Mar 2009
American singer, songwriter, musician David Williams died of cardiac arrest aged 58. He was best known for his work as a prolific session rhythm guitarist, working with artists including Earth, Wind & Fire, The Jacksons, Boz Scaggs,
Michael Jackson
, (on the
Thriller
album),
Madonna
, Bryan Ferry, Herbie Hancock and the
Temptations
.
6 Mar 2009
Michael Jackson
was mobbed by screaming fans as he took his two youngest children to see Oliver! at Drury Lane. The youngest two of Jackson's three children - seven-year-old Prince Michael II (known as Blanket) and 11-year-old Paris, hid their faces as they were escorted through the crowd. Jackson was in London, England to announce his series of summer concerts at the O2. Jackson died three weeks before the shows were to start.
6 Mar 2008
A UK charity warned that nine out of ten young people had experienced the first signs of hearing damage after listening to loud music. The RNID said more should wear ear plugs to protect their hearing, without spoiling their appreciation of music. Experts said prolonged exposure to noise over 85 decibels would harm hearing over time. Music played in concerts, bars and clubs was often above this level.
6 Mar 2004
David Crosby was arrested and charged with criminal possession of a weapon and marijuana after leaving his bag in a New York hotel. The luggage was found by a hotel employee looking for identification, finding instead a handgun and marijuana. The employee called authorities, and Crosby, discovering the missing luggage himself, telephoned to say he would return for it. He was met by New York police, who arrested him.
6 Mar 2004
Diane Richie, the estranged wife of singer Lionel Richie, went to court seeking $300,000 (£176,500) a month in maintenance support. Diane's monthly costs included: $20,000 (£11,800) a year on plastic surgery; $15,000 (£8,824) a month for clothing, shoes and accessories; $5,000 (£2,940) on jewellery; $3,000 (£1,765) on dermatology; $1,000 (£588) for laser hair removal and $600 (£353) on massages.
6 Mar 2001
A man who hid for 24 hours in the rafters of a Cathedral and secretly filmed the Christening of
Madonna
's baby appeared in court. Security staff discovered the man after the ceremony when he made a noise as he climbed down from the rafters.
6 Mar 1998
Oasis
singer
Liam Gallagher
appeared handcuffed in a Brisbane court on charges of head butting a fan during a gig in Australia. Gallagher was released on bail.
6 Mar 1990
...But Seriously the fourth studio album by English drummer and singer-songwriter
Phil Collins
was at No.1 on the UK album chart. It was the best selling album of 1990 in the UK, eventually selling 2.75 million copies there and 4 million in the US. The lead single 'Another Day in Paradise' won a Grammy Award for Record of the Year.
6 Mar 1982
Tight Fit were at No.1 on the UK singles chart with their version of The Tokens hit 'The Lion Sleeps Tonight.' It was first recorded by its writer, Solomon Linda, and his group, The Evening Birds, in 1939. In 2004, the song became the subject of a lawsuit between the family of its writer Solomon Linda and Disney. The suit claimed that Disney owed $1.6 million in royalties for the use of 'The Lion Sleeps Tonight' in the film and stage production of The Lion King. A settlement was reached for an undisclosed amount in 2006.
6 Mar 1973
An attempt to bring
Elvis Presley
to the UK for shows at London's Earl's Court failed. Promoters had hoped that Elvis would be available during the summer but were told that Elvis now had US tour and filming commitments.
6 Mar 1973
Slade scored their fourth UK No.1 single with 'Cum On Feel The Noize', the first single to enter the charts at No.1 since
The Beatles
'Get Back' in 1969.
Elton John
had the No.1 album with 'Don't Shoot Me I'm Only The Piano Player'.
6 Mar 1971
Mungo Jerry were at No.1 on the UK singles chat with 'Baby Jump', the group's second and final No.1.
6 Mar 1971
Led Zeppelin
appeared at the National Boxing Stadium, Dublin, Ireland, the group's first show in Dublin, where they played '
Stairway To Heaven
' live for only the second time.
6 Mar 1970
Charles Manson released an album called Lie to help raise money for his defence in the Tate-LeBianca murder trial. The album jacket was made to look like a cover of Life magazine with the letter f removed from the word Life. In the mid sixties, Manson had been a wanna-be musician who befriended
The Beach Boys
drummer Dennis Wilson, eventually talking the group into recording one of his songs, 'Cease To Exist'. The title was changed to 'Never Learn Not To Love' and was released as the B side of the single 'Bluebirds Over The Mountain', which eventually climbed to number 61 in the US in early 1969.
6 Mar 1970
David Bowie
released the single 'The Prettiest Star' in the UK as a follow-up single to '
Space Oddity
'. The track featured
Marc Bolan
on guitar, with whom Bowie would spend the next few years as a rival for the crown of the king of glam rock. Despite receiving good reviews, the single reportedly sold fewer than 800 copies, a major disappointment on the back of the success of '
Space Oddity
'.
6 Mar 1967
6 Mar 1967
American singer and actor Nelson Eddy died age 65. He was performing at the Sans Souci Hotel in Palm Beach, Florida when he was stricken on stage with a cerebral hemorrhage. Eddy was one of the first 'crossover' stars, a superstar appealing both to shrieking bobby soxers and opera purists, and in his heyday, he was the highest paid singer in the world. He scored the early 50's No.1 hit with Jo Stafford 'With These Hands'.
6 Mar 1966
The
Rolling Stones
started recording sessions for their tenth UK single 'Paint It, Black' at RCA studios in Hollywood. It was originally titled 'Paint It Black' without a comma.
Keith Richards
has stated that the comma was added by the record label, Decca.
6 Mar 1965
The
Temptations
went to No.1 on the US singles chart with the
Smokey Robinson
penned song 'My Girl', making the group the first male act to have a No.1 for
Motown
, The single only reached No.43 in the UK but made No.2 when re-issued in 1992.
6 Mar 1961
George Formby died aged 57. The British singing comedian and ukulele player made over 20 films, and his best known song is 'Leaning On A Lamp Post.' Formby who was made an OBE in 1946 was a major influence on
George Harrison
.
6 Mar 1951
Welsh composer, singer and actor Ivor Novello died aged 58. He first became known for the song 'Keep the Home Fires Burning,' which he composed during World War I. The annual British songwriter award is named after him.
Born on this day in music
6 Mar 1991
American rapper, musician, songwriter, record producer, actor, designer and comedian Tyler, the Creator. His fifth album, Igor (2019), became Tyler's first No.1 on the Billboard 200, and won Best Rap Album at the 2020 Grammy Awards.
6 Mar 1984
Chris Tomson, drummer from Vampire Weekend who had the 2010 US & UK No.1 album, 'Contra' and the 2013 US No.1 album 'Modern Vampires of the City'.
6 Mar 1974
Dwight Grant, (Beanie Sigel), American rapper. Beanie founded the group and label State Property, as well as the clothing company of the same name.
6 Mar 1974
Guy Garvey singer/guitarist with Manchester based group Elbow. Elbow won the Mercury Music Prize for their 2008 album The Seldom Seen Kid and in 2009 they won the Brit Award for Best British Group. Garvey also presents a radio show on BBC 6Music.
6 Mar 1970
Betty Boo, (Alison Moira Clarkson), singer who had the 1990 UK No.3 single 'Where Are You Baby'. Now a songwriter who wrote 'Pure and Simple' for Hear'Say as well as hits for Girls Aloud.
6 Mar 1964
Stephen Bier, (Wayne Gacy), keyboards with American rock band Marilyn Manson who had the 1998 US No.1 album, Mechanical Animals.
6 Mar 1947
Kiki Dee, (Pauline Matthews), singer and actress who had the 1976 UK & US No.1 single Don't Go Breaking My Heart' with
Elton John
. As a session singer she worked with Dusty Springfield and also became the first white British artist to be signed by
Motown
Records, releasing her first
Motown
single in 1970. Dee now performs with guitarist Carmelo Luggeri.
6 Mar 1946
David Gilmour: guitarist, singer and songwriter, who joined
Pink Floyd
in 1968. After Roger Waters' departure in 1985, David created two further Floyd albums, A Momentary Lapse of Reason and The Division Bell, with Nick Mason and
Richard Wright
. He was appointed a CBE in 2003 for his services to music. He released his first solo album, David Gilmour, in 1978, followed by About Face in 1984 and 2006's On An Island, which charted at No.1 in the UK and No.6 in the US.
6 Mar 1946
Murray Head, UK singer who had the 1984 UK No.12 & 1985 US No.3 single, 'One Night In Bangkok'.
6 Mar 1945
English musician Hugh Grundy who is the drummer with The Zombies who had four US hits, 'She's Not There', 'Tell Her No', 'She's Coming Home', and 'Time of the Season'.
6 Mar 1944
Mary Wilson, vocals, The
Supremes
who had the 1964 UK & US No.1 single 'Baby Love' plus 11 other US No.1 singles. Wilson died in her sleep on 8 February 2021 age of 76 from hypertensive atherosclerotic cardiovascular disease at her home in Henderson, Nevada.
6 Mar 1905
Bob Wills, American Western swing musician, songwriter, and bandleader. Considered by music authorities as the co-founder of Western swing, he was universally known as the King of Western Swing. Wills died on 13th May 1975.
6 Mar 1893
Memphis blues artist Walter 'Furry' Lewis. He was the first guitarist to play with a bottleneck. He lost a leg in a railroad accident and once supported The
Rolling Stones
.
Joni Mitchell
wrote the song 'Furry Sings The Blues' after him. Lewis died on September 14th 1981, aged 88.