March 7th: The Biggest Music Headlines
Scroll down the page to see all the music headlines, stories, and events for March 7 throughout music history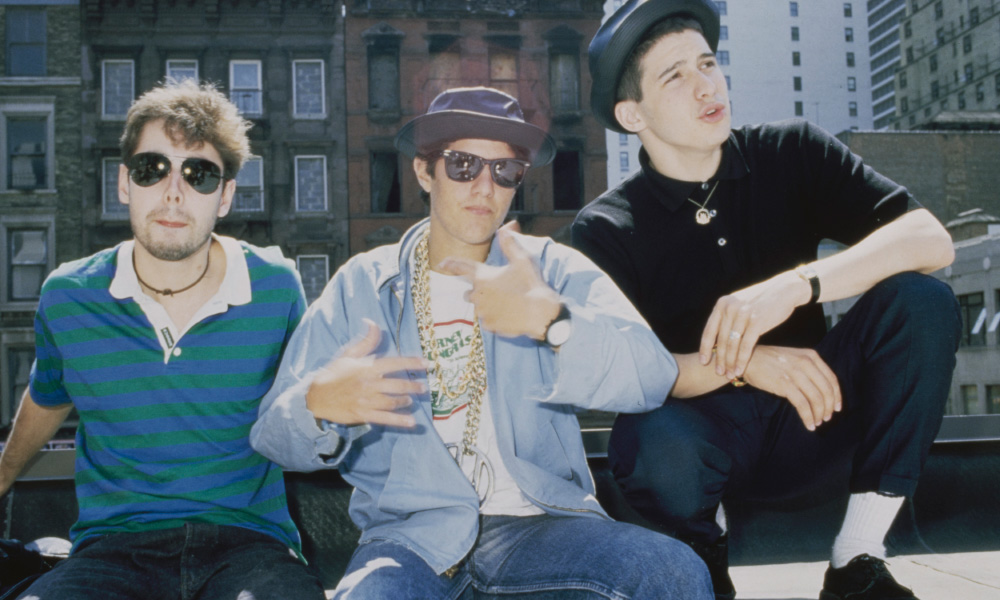 Beastie Boys Make Chart History with Their No.1 Debut
On this day in music, March 7, 1987, Beastie Boys made the pop history books by becoming the first hip-hop act to have a No.1 album with their Columbia/Def Jam debut, Licensed To Ill. Featuring the Top 10 hit "(You Gotta) Fight for Your Right (To Party!), plus enduring favorites like "Brass Monkey" and "No Sleep 'Till Brooklyn," the album proved to be one of Columbia's fastest-selling debuts and made the young New York City trio global stars. By 2015, Licensed To Ill received a rare Diamond certification by the RIAA, marking 10 million copies sold.
In 1983, New Order released "Blue Monday," which became the biggest-selling 12-inch single of all time. The Manchester band – who changed their name from Joy Division after the death of singer Ian Curtis in 1980 – took the single into the UK charts twice in 1983; after peaking at No. 12, later that year it climbed into the Top 10. A 1988 reissue saw it reach No.1 on the US Hot Club Dance Play chart.
In 1970, Simon and Garfunkel's Bridge Over Troubled Water began a ten-week run at the top of the US album chart. It was the American folk-rock duo's fifth and final LP together and, by the time it was released, the two were pursuing solo careers. The album's memorable title track topped both the US and UK singles charts.
In 1962, three months before they signed with EMI Records, The Beatles made their first radio appearance for the BBC on a program called Teenager's Turn – Here We Go . Recorded in front of a teenage audience at Manchester's Playhouse Theatre, their performance on the show marked the first time they wore their trademark Beatle suits.
In 1966, the Beach Boys' Brian Wilson released his first solo single, "Caroline No," a ballad co-written with Tony Asher that rose to No.32 on Billboard's Hot 100. Two months later, the song – which originally was called "Carol I Know" – appeared as the final track on the Beach Boys' acclaimed album Pet Sounds. Wilson put his solo career on hold until 1987.
In 1973, "Dueling Banjos," performed by Eric Weissberg and Steve Mandell, became one of the first instrumental tracks to be certified Gold in America after it appeared on the soundtrack to the Burt Reynolds-led movie, Deliverance. Though credited as a traditional song, the tune sounded remarkably like Arthur "Guitar Boogie" Smith's 1955 record "Feudin' Banjos" and resulted in a successful lawsuit by its original writer for copyright infringement.
Looking for more things that happened on this day in music?
Keep scrolling for all of the headlines for March 7.
BORN ON MARCH 7:
1944: Townes Van Zandt
1945: Arthur Lee (Love)
1946: Peter Wolf (The J Geils Band)
1946: Matthew Fisher (Procol Harum)
1952: Ernie Isley (The Isley Brothers)
1962: Taylor Dayne
Looking for more artists born on this day?
Keep scrolling for all of our March 7 birthdays.
---
What to find another day?
---
March 7th
7 Mar 2017
Darren Salter, senior coroner for Oxfordshire confirmed that
George Michael
died as a result of heart and liver disease. Michael was suffering from dilated cardiomyopathy with myocarditis and fatty liver. The singer died aged 53 on Christmas Day 2016 at his home in Goring-on-Thames, Oxfordshire.
7 Mar 2012
Sales of albums by The
Monkees
soared following the death of singer Davy Jones. 'Best Of The
Monkees
' re-entered the Billboard album chart at No.20 with sales of over 17,000 units.
7 Mar 2009
Rapper Coolio was charged with drug possession after being arrested at Los Angeles International Airport. The 45-year-old, whose real name is Artis Leon Ivey Jr, was later released on $10,000 (£7,000) bail.
7 Mar 2007
Rhett Hutchence the brother of INXS singer
Michael Hutchence
defended his decision to sell some of the late star's belongings online saying he needed money to set up home with his new girlfriend. Items in the auction included lyrics, T-shirts and a fax his brother had sent to his then girlfriend
Kylie Minogue
.
7 Mar 2004
The Smiths
song 'I Know It's Over' topped a poll of tunes, which people turn to when they are miserable in 'The Songs That Saved Your Life' poll by BBC radio station 6 Music. REM's 'Everybody Hurts' and
Radiohead
's 'Fake Plastic Trees' also made the Top 10.
7 Mar 2001
The man who discovered Blur, David Balfe won a high court battle to earn £250,000 in back royalties. Balfe had waged a legal battle for over two years to regain the royalties after selling his Food Records label to EMI in 1994.
7 Mar 1998
Madonna
went to No.1 on the UK singles chart with 'Frozen' the singers eighth UK No.1. Taken from her dance-influenced album 'Ray of Light'.
7 Mar 1991
The readers of Rolling Stone magazine voted
George Michael
the best male singer and sexiest male artist.
7 Mar 1988
British pedal steel guitar player Gordon Huntley died of cancer. Was a member of Matthews Southern Comfort, (UK No.1 single '
Woodstock
') and as a session player worked with many acts including
Elton John
,
Rod Stewart
, The Pretty Things, Cliff Richard and Fairport Convention.
7 Mar 1987
The Beastie Boys became the first rap act to have a No.1 album in the US with their debut album, 'Licensed To Ill'. The album is one of Columbia Records' fastest-selling debut records to date.
7 Mar 1983
New Order released 'Blue Monday,' as a 12-inch single through Factory Records. The track went on to become the biggest-selling 12-inch single of all time.
7 Mar 1980
The film Coal Miner's Daughter, the biography of Loretta Lynn and starring Sissy Spacek opened. Spacek won the Academy Award for Best Actress for her portrayal of Lynn;
Tommy Lee
Jones and Beverly D'Angelo also play leading roles in the film, which was a huge success with critics and at the box office.
7 Mar 1976
Elton John
was immortalised in wax at Madame Tussauds in London. The first rock star to be so since
The Beatles
.
7 Mar 1975
David Bowie
released his ninth studio album Young Americans. The album marked a departure from the glam rock style of Bowie's previous albums, showcasing his interest in soul and R&B music. Young Americans featured the song 'Fame' (co-written with Carlos Alomar and
John Lennon
), which gave Bowie his first US No.1 hit single.
7 Mar 1973
During a showcase gig at Max's Kansas City, New York, CBS records boss John Hammond suffered a heart attack. The event was to mark the signing of his new act
Bruce Springsteen
.
7 Mar 1973
A song from the movie Deliverance called 'Duelling Banjos' by Eric Weissberg and Steve Mandel became one of the few 1970s instrumentals to be awarded a Gold record. The record had topped the Cash Box Magazine Best Sellers list and reached No.2 on the Billboard Hot 100.
7 Mar 1971
Jamacan saxophonist and flautist, Harold McNair died of lung cancer aged 39. He had worked with Donovan, Melanie and
Ginger Baker's Air Force
, and had toured Europe with Quincy Jones.
7 Mar 1970
Lee Marvin was at No.1 on the UK singles chart with 'Wand'rin Star', taken from the film 'Paint Your Wagon.'
7 Mar 1970
Simon and Garfunkels album
Bridge Over Troubled Water
started a ten week run at No.1 on the US chart. The duo had split-up by the time of release.
7 Mar 1969
Led Zeppelin
appeared at the Bluesville 69 Club at the Hornsey Wood Tavern, Finsbury Park, London, England. The venue was a function room at the back of the pub, and was so small that the stage was only just big enough for
John Bonham
's drums, and the rest of the group had to stand on the floor at the same level as the crowd.
7 Mar 1967
Working on their next album
The Beatles
recorded additional overdubs for 'Lovely Rita', including harmony vocals, effects, and the percussive sound of a piece of toilet paper being blown through a haircomb.
7 Mar 1966
Mike Millward guitarist from The Fourmost died, aged 23. The Liverpool group who were managed by Brian Epstein had the 1964 UK No.6 single 'A Little Loving'.
7 Mar 1966
Brian Wilson
released 'Caroline No' the first solo single by a Beach Boy. Before it evolved into the final song we know today, (Wilson's recording reappeared as the final track on the Beach Boys' studio album
Pet Sounds
). The song was originally written as 'Carol I Know'.
7 Mar 1966
Tina Turner recorded her vocal on the Phil Spector produced 'River Deep Mountain High'. It went on to make No.3 in the UK but only No.88 on the US chart. Spector was well aware of Ike Turner's controlling attitude in the studio, and therefore he drafted an unusual contract: the River Deep – Mountain High album and single would be credited to Ike & Tina Turner, but Ike was paid $20,000 to stay away from the studio, and only Tina Turner's vocals would be used on the record. Session musicians who played on the track included Leon Russell (keyboards),
Glen Campbell
(guitar), and
Hal Blaine
(drums).
7 Mar 1965
During a
Rolling Stones
gig at The Palace Theatre in Manchester, England a female fan fell from the circle while the group were playing. The crowd below broke her fall and the girl escaped serious injury just breaking a few teeth.
7 Mar 1962
The Beatles
recorded their first radio appearance, at the Playhouse Theatre, Hulme, Manchester, for the BBC radio program Teenager's Turn - Here We Go'. After a rehearsal, the Beatles put on suits for the first time and, along with the other artists appearing on the program, record the show in front of a teenage audience.
7 Mar 1953
Guy Mitchell was at No.1 on the UK singles chart with 'She Wears Red Feathers'. The song details a bizarre story of an English banker's love for a hula-hula girl.
Born on this day in music
7 Mar 1997
Josh Dewhurst, English guitarist of the indie pop band Blossoms. Their the self-titled debut studio album peaked at No.1 on the UK chart in Aug 2016.
7 Mar 1982
Kelli Young, singer, with UK group Liberty X who had the 2002 UK No.1 single 'Just A Little'. The group was formed by the five finalists of the British talent show Popstars who failed to make it into the group Hear'Say. Liberty X went on to achieve ten consecutive UK Top 20 singles.
7 Mar 1977
Paul Cattermole, singer from English pop group S Club 7 who had the 1999 UK No.1 single 'Bring It All Back'. Their 2000 UK No.1 album 7 spent over a year on the UK chart. The group was formed in 1998 and quickly rose to fame by starring in their own BBC television series, Miami 7. Cattermole was found unresponsive at his home in Dorset on 6 April 2023, and was pronounced dead later that day. He was 46 years old.
7 Mar 1973
S'bastien Izambard, from the multi-national classical crossover vocal group Il Divo. Their 2004 self-titled album, was No.1 in 14 countries around the world.
7 Mar 1966
Paul Davis, keyboards with English alternative rock band Happy Mondays who had the 1990 UK No.5 single 'Step On' and the 1990 hit Kinky Afro'.
7 Mar 1962
Taylor Dayne, US singer, (Leslie Wundermann), 1988 UK No.3 single 'Tell It To My Heart', 1990 US No.1 single 'Love Will Lead You Back'.
7 Mar 1952
Ernie Isley, from American group The Isley Brothers who first came to prominence in 1959 with their fourth single, 'Shout', and then the 1962 hit 'Twist and Shout. The Isley Brothers also scored the hits 'This Old Heart Of Mine', 'Summer Breeze' and 'Harvest for the World'. Sixteen of their albums charted in the Top 40.
7 Mar 1946
Matthew Fisher from
Procol Harum
who had the 1967 UK No.1 & US No.5 single 'A Whiter Shade Of Pale' (one of the few singles to have sold over 10 million copies) and scored the hits 'Homburg', 'Conquistador'.
7 Mar 1946
Peter Wolf, singer with American rock band The J Geils Band, who had the 1982 US No.1 & UK No.3 single 'Centerfold' which was taken from their US No.1 1981 album Freeze Frame. Wolf was once married to US actress Faye Dunaway.
7 Mar 1945
Arthur Lee guitarist, songwriter with US group
Love
who had the 1966 US No.33 single '7 And 7 Is', and the 1968 UK No.24 album 'Forever Changes'. Lee died on 3rd Aug 2006 in Memphis at the age of 61 following a battle with acute myeloid leukaemia.
7 Mar 1945
Chris White, bassist with The Zombies who had four US hits, 'She's Not There', 'Tell Her No', 'She's Coming Home', and 'Time of the Season'.
7 Mar 1944
Townes Van Zandt singer-songwriter. His music has been covered by such notable and varied musicians as
Bob Dylan
, Lyle Lovett, Steve Earle, Cowboy Junkies, Andrew Bird, Alison Krauss, and Gillian Welch. Willie Nelson and Merle Haggard covered his song 'Pancho and Lefty', scoring a No.1 hit on the Billboard country music charts. He died on January 1, 1997.