May 14th: The Biggest Music Headlines
Scroll down the page to see all the music headlines, stories and events for May 14 throughout music history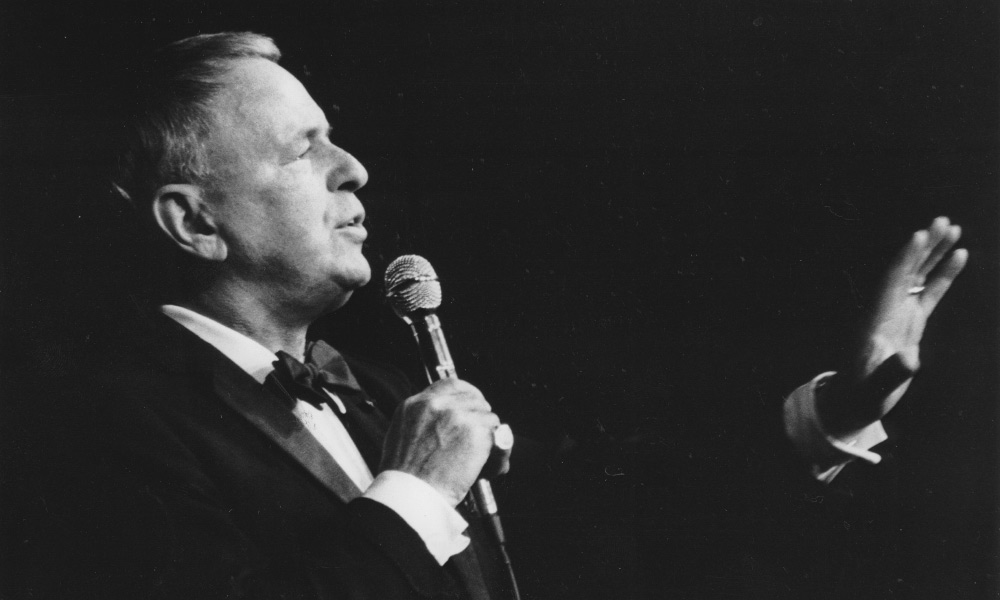 Fans Mourn the Death of Frank Sinatra
On this day in music, May 14, 1998, it was the end of an era when 82-year-old Frank Sinatra died at Cedars-Sinai Medical Center in Los Angeles, following a heart attack. Known as the "Chairman of the Board" and later "Ol' Blue Eyes," the singer and actor was among the most popular entertainers in the 1940s–1960s. Today, he remains one of the world's best-selling recording artists. Sinatra first rose to fame in 1940 with "Polka Dots and Moonbeams" and signed to Columbia Records in 1943. During his lengthy career, he placed over 25 Top 40 singles, including 1966's chart-topper, "Strangers In the Night." Among his many honors, Sinatra won 11 Grammys and was awarded the Presidential Medal of Freedom in 1985.
In 2015, legendary blues singer, songwriter, and guitarist B.B. King died in Las Vegas at age 89. One of the most influential bluesmen and guitarists in history, the Mississippi-born artist (often called "The King of the Blues") was revered for his innovative style on the electric guitar. Even towards the end of his long and prolific career, the hard-working artist was known to perform more than 200 concerts per year, while in his younger day, he could be seen at shows nearly every day of the year. King was inducted into the Rock and Roll Hall of Fame in 1987 and won more than a dozen Grammy Awards.
In 1988, Led Zeppelin reunited for Atlantic Records' 40th-anniversary party at Madison Square Garden, appearing with drummer Jason Bonham, who stood in for his late father, John Bonham. Their second reunion since splitting, the band's performance was disorganized and tense, as Jimmy Page and Robert Plant had argued about playing "Stairway to Heaven" prior to performing. Page described the appearance as "one big disappointment" and Plant agreed, noting that "the gig was foul." Foreigner, Genesis, Ben E. King, and Wilson Pickett were among the other acts taking the stage.
In 2000, 60-year-old Tom Jones' 34th album, Reload, topped the UK album chart, making him the oldest singer to earn a No.1 album with new material in Britain. The highest-selling album of his career, Reload featured his dancefloor smash with Mousse T, "Sex Bomb," a No.3 hit in the UK.
In 1983, Spandau Ballet scored their first and only UK No.1 album with True. Released on March 4, 1983, the new wave group's third studio album peaked at No.19 on the US Billboard 200, while its title track hit No.4 on the Billboard Hot 100.
In 2002, musical We Will Rock You opened at London's Dominion Theatre. A collaboration between playwright Ben Elton and Queen members Brian May and Roger Taylor, the musical is based around the band's songs. It would soon become the longest-running musical at the Dominion.
Looking for more things that happened on this day in music?
Keep scrolling for all of the headlines for May 14.
BORN ON MAY 14:
1936: Bobby Darin
1943: Jack Bruce (Cream)
1952: David Byrne (Talking Heads)
1971: Danny Wood (New Kids On the Block)
1973: Natalie Appleton (All Saints)
1979: Dan Auerbach (The Black Keys)
1996: Martin Garrix
Looking for more artists born on this day?
Keep scrolling for all of our May 14 birthdays.
---
What to find another day?
---
May 14th
14 May 2019
American guitarist, singer and songwriter Mike Wilhelm died aged 77. He was best known as a founding member of the influential Bay Area band The Charlatans, who have been widely credited as starting the Haight-Ashbury psychedelic scene during the 1960s. He later played with the bands Loose Gravel and the Flamin' Groovies.
14 May 2016
The Beatles
' former press officer, Tony Barrow, who coined the term 'The Fab Four' to describe the band, died aged 80. Barrow represented the band between 1962 and 1968 and also wrote sleeve notes for their early albums, as well as the strip cartoon for the Magical Mystery Tour booklet.
14 May 2015
Blues singer, songwriter and guitarist B.B. King died in his sleep aged 89 from a series of small strokes caused by type 2 diabetes. He is widely regarded as one of the most influential blues guitarists of all time, Rolling Stone magazine placed him behind only
Jimi Hendrix
and Duane Allman in its list of the 100 greatest guitarists of all time.
14 May 2013
It was reported that
Kiss
planned to open over 100 restaurants in North America. The band who had just opened the third branch of Rock & Brews in the greater Los Angeles area said that they wished to open 100 more in the next five years. The band planned to open new branches at LAX airport in Los Angeles, Maui in Hawaii and Kansas City in Missouri over the coming year.
14 May 2008
Metallica
kicked off a 26-date North American and European tour at the Wiltern Theatre, Los Angeles, California.
14 May 2005
A judge in Springfield, Massachusetts, ordered rapper 50 Cent to stay clean of drugs and take an anger management course to avoid spending time in jail. The rapper appeared in court charged with assaulting three women at a concert in 2004 after leaping into the crowd.
14 May 2004
Phil Spector was arrested after getting into a scuffle with his chauffeur at his California mansion. The 64 year old record producer was taken into custody and later released after a court date was set.
14 May 2003
Lawyers for
Britney Spears
and the Skechers footwear company settled a dispute over a deal for the pop star to market a line of roller skates and accessories. Spears had filed a $1.5 million breach of agreement lawsuit against Skechers in December, claiming the company failed to pay her adequately. Skechers had responded with a $10 million lawsuit, accusing Spears of fraud and breach of the three-year licensing agreement she signed in January 2002.
14 May 2002
The musical We Will Rock You opened in London, England at the Dominion Theatre. The musical was written by British comedian and author Ben Elton in collaboration with
Queen
members Brian May and Roger Taylor. The musical tells the story of a group of Bohemians who struggle to restore the free exchange of thought, fashion, and live music in a distant future where everyone dresses, thinks and does the same. Musical instruments and composers are forbidden, and rock music is all but unknown. WWRY has since become the longest-running musical at the Dominion Theatre.
14 May 2000
Tom Jones was at No.1 on the UK album chart with 'Reload' making the singer the oldest artist to score a UK No.1 album with new material.
14 May 1998
George Michael
was fined £500 after being convicted of a "lewd act" in a Los Angeles lavatory. The Los Angeles court also ordered him to undergo psychological counselling and carry out 80 hours community service.
14 May 1998
American singer and actor
Frank Sinatra
died at the Cedars-Sinai Medical Center, Los Angeles aged 82, after suffering a heart attack. Sinatra had his first hit in 1940, working in the Swing era with Harry James and Tommy Dorsey, won an Academy Award for Best Supporting Actor for his performance in the 1953 film 'From Here to Eternity'. He went on to score over 25 Top 40 singles including the 1966 No.1 'Strangers In The Night'. His 1969 single 'My Way', re-entered the UK charts eight times and spent a total of 165 weeks on the UK chart.
14 May 1994
Scottish band Stiltskin were at No.1 on the UK singles chart with 'Inside'. The song had been used on a Levi's TV Jeans commercial. The bands only No.1 and only Top 30 hit.
14 May 1993
During an auction at Christies in London the acoustic guitar that
Elvis Presley
used to make his first recordings in 1954, 'That's All Right Mama' and 'Blue Moon of Kentucky', sold for £130,285, ($152,000).And four 'Super Hero', Costumes worn by the group
Kiss
sold for £20,000, ($35,385).
14 May 1988
Led Zeppelin
reunited for the Atlantic Records 40th anniversary party at Madison Square Garden, New York, appearing with Jason Bonham the son of
John Bonham
on drums. Other acts performing included Foreigner, Crosby, Stills and Nash,
Genesis
, Emerson Lake and Palmer, Wilson Pickett and Ben E. King.
14 May 1983
Spandau Ballet scored their first and only UK No.1 album with True. The title track from the album spent four weeks at No.1 on the UK singles charts and reached No.2 in the US. Other singles from the album included 'Gold' (a No.2 UK hit and a Top 30 hit in the U.S.), 'Lifeline', and 'Communication'.
14 May 1977
During a UK tour, Talking Heads played a gig at The Rock Garden in London where Brian Eno who was in the audience saw the band, who then went on to produce them.
14 May 1977
Leo Sayer went to No.1 on the US singles chart with the Albert Hammond and Carole Bayer Sager song 'When I Need You', the singers second US No.1, also No.1 in the UK.
14 May 1976
33 year-old Keith Relf, former lead singer for The Yardbirds, was electrocuted while tuning a guitar which was not properly earthed. The accident happened in his West London home where he was found by his eight year old son, still holding the plugged-in electric guitar. The Yardbirds had the hits 'For Your Love', 'Heart Full of Soul', and 'Shapes of Things'.
14 May 1969
During a UK tour, Fairport Conventions van crashed on the M1 motorway on the way home from a gig in Birmingham killing the group's 19 year-old drummer Martin Lamble and Richard Thompson's girlfriend Jeannie Franklyn.
14 May 1968
John Lennon
and
Paul McCartney
appeared on NBC-TV's Tonight Show with guest-host Joe Garagiola sitting in for Johnny Carson. The conversation included some light hearted banter about meditation, the forming of Apple Corps. and song writing.
14 May 1960
The Silver Beats (
John Lennon
,
Paul McCartney
George Harrison
, Stu Sutcliffe, and Tommy Moore) performed at Lathom Hall, Seaforth, Liverpool. They played a few songs during the "interval" to audition for promoter Brian Kelly. Also appearing are Cliff Roberts & the Rockers, The Deltones, and Kingsize Taylor & the Dominoes. This is the only occasion on which the group uses the name "Silver Beats", quickly changing it back to "Silver Beetles".
14 May 1957
Elvis Presley
was rushed to a Los Angeles hospital after swallowing a porcelain cap from one of his front teeth, which then lodged its-self in one of his lungs.
Born on this day in music
14 May 1996
Dutch DJ and record producer Martin Garrix. He was ranked number one on DJ Mag's Top 100 DJs list for three consecutive years (2016, 2017 and 2018). He scored the 2013 UK No.1 single 'Animals'.
14 May 1984
English singer-songwriter, musician, Olly Murs who was the runner-up in the sixth series of The
X Factor
in 2009. Scored the 2010 UK No.1 hit single 'Please Don't Let Me Go',
14 May 1979
Dan Auerbach, American guitarist and vocalist for The Black Keys who had the 2014 US No.1 album Turn Blue.
14 May 1976
Martine McCutcheon, singer, actress, (1999, UK No.1 single 'Perfect Moment').
14 May 1973
Natalie Appleton, singer, from British girl group All Saints, who had the 1998 UK No.1 and US No.4 single 'Never Ever'. The group's debut album, All Saints (1997), went on to become the third best-selling girl group album of all time in the UK.
14 May 1973
American singer, songwriter Shanice, who scored the 1992 US & UK No.2 single 'I Love Your Smile'.
14 May 1971
Danny Wood, from American boy band New Kids On The Block, who had the 1989 UK No.1 single 'You Got It, The Right Stuff', and the 1990 US No.1 single 'Step By Step'. They enjoyed success in the late 1980s and early 1990s and have sold more than 80 million records worldwide
14 May 1969
American producer, songwriter and multi-instrumentalist Greg Kurstin who has worked with
Adele
, Beck, Ben Harper, Kelly Clarkson and the
Red Hot Chili Peppers
. In 2009 he won three Ivor Novello awards for his work with Lily Allen, and he also co-wrote
Adele
's 2015 worldwide hit single 'Hello'.
14 May 1966
American rock musician Mike Inez, best known for his role as the bassist of Alice in Chains since 1993. He has also worked with
Ozzy Osbourne
from 1989-1993 and Inez has also associated with Slash's Snakepit, Black Label Society, and Heart.
14 May 1963
Fabrice Morvan, singer from German R&B duo Milli Vanilli, who had the 1989 US No.1 & UK No.2 single 'Girl I'm Gonna Miss You'. Their success quickly turned to infamy when they confessed that they did not sing any of the vocals heard on their hits. Consequently, the duo was stripped of their Grammy Award for Best New Artist.
14 May 1962
C.C. Deville, lead guitarist from American rock band Poison who scored the 1988 US No.1 & 1989 UK No.13 single 'Every Rose Has Its Thorn' and have sold over 45 million records worldwide.
14 May 1962
Ian Astbury, English singer with Southern Death Cult, who became The Cult. In 2002 he became lead singer of
The Doors
of the 21st Century, featuring original Doors members Robby Krieger and Ray Manzarek.
14 May 1960
Shelley Preston, singer with British pop group Bucks Fizz who had the UK hits 'Making Your Mind Up' (1981), 'The Land of Make Believe' (1981) and 'My Camera Never Lies' (1982) and became one of the top-selling groups of the 1980s.
14 May 1956
Steve Hogarth, singer from British rock band Marillion who he joined in 1989. The band achieved eight Top Ten UK albums between 1983 and 1994, including a No.1 album in 1985 with Misplaced Childhood.
14 May 1952
Scottish-American musician David Byrne, who was the founding member of American new wave band Talking Heads. They scored the 1983 US No.9 single 'Burning Down The House', and the 1985 UK No.6 single 'Road To Nowhere'. Byrne scored the 2002 solo UK No.2 single with 'Lazy' with X-Press. He has received Oscar, Grammy, and Golden Globe awards and been inducted into the Rock and Roll Hall of Fame.
14 May 1950
Arthur Grant, drummer from English psychedelic rock group Edgar Broughton Band who had the 1970 UK hit single 'Out Demons Out'.
14 May 1947
Al Ciner, from American rock band American Breed who scored the 1967 US No.5 single 'Bend Me, Shape Me', (a hit on the British charts for the British group Amen Corner). Also a member of Three Dog Night who had the 1970 UK No.3 & US No.1 single with the Randy Newman song 'Mama Told Me Not To Come'.
14 May 1946
Gene Cornish, with American rock band, The Rascals (initially known as The Young Rascals) who had the US No.1 hits 'Good Lovin'' (1966), 'Groovin'' (1967), and 'People Got to Be Free' (1968).
14 May 1946
Derek Leckenby, guitarist with English beat rock band, Herman's Hermits who scored the 1964 UK No.1 single 'I'm Into Something Good' (cover of Earl-Jean's) and the 1965 US No.1 single 'Mrs Brown You've Got A Lovely Daughter'. He died on 4th June 1994 aged 51.
14 May 1943
Scottish musician, singer and songwriter Jack Bruce who was a member of the Graham Bond Organization, John Mayall's Bluesbreakers, Manfred Mann and
Cream
, who had the 1967 UK No.11 single 'I Feel Free', and the 1968 US No.5 single 'Sunshine Of Your Love'. Their 1968 Wheels of Fire becoming the first platinum-selling double album. Also a member of West, Bruce and Laing. Bruce died on 25 October 2014 from liver disease in Suffolk, England, aged 71.
14 May 1943
Jamaican singer, songwriter and record producer Winston Riley. He formed the band The Techniques in 1962 and Riley's own song, 'Double Barrel', performed by Dave and Ansell Collins under his own production, was one of the first international reggae hits, reaching No.1 in the Dutch and UK Singles Chart. He died aged 68 on 19 January 2012 after he was shot in the head at his home in Kingston.
14 May 1936
American singer, songwriter Bobby Darin. He recorded his first million-selling single, 'Splish Splash', in 1958 followed by the hits 'Dream Lover', 'Mack the Knife', and 'Beyond the Sea'. He became politically active and worked on Robert F. Kennedy's Democratic presidential campaign. He was present on the night of June 4/5, 1968, at the Ambassador Hotel in Los Angeles at the time of Kennedy's assassination. In 1973, after failing to take antibiotics to protect his heart before a dental visit, Darin developed an overwhelming systemic infection (sepsis) and died on 20th December 1973 aged 37.
14 May 1936
American rock and roll and rhythm and blues singer and guitarist Charlie Gracie. His biggest hits were 'Butterfly' and 'Fabulous', both in 1957. Gracie became only the second American rock and roller to bring this new art form to the British concert stage. His two extensive tours in 1957 and 1958 were topped off by headlining the Palladium and the Hippodrome in London. In the audiences, among Gracie's fans, were future rock musicians Graham Nash and members of the Beatles. He died on December 16, 2022 aged 86.
14 May 1934
American electric blues, Texas blues and jazz blues tenor saxophonist, Grady Gaines. He performed and recorded with
Little Richard
in the 1950s and later worked with Little Willie John,
Sam Cooke
, Jackie Wilson and Joe Tex. He died om 29 January 2021 age 86.
14 May 1932
American record producer Bob Johnston who produced a string of notable and highly influential albums including;
Bob Dylan
: Highway 61 Revisited, Blonde on Blonde, John Wesley Harding, Nashville Skyline, Self Portrait, New Morning, as well as
Simon And Garfunkel
: Sounds of Silence, Leonard Cohen: Songs from a Room and many others. Johnson died on 14 August 2015 aged 83.
14 May 1928
American singer Will Jones. He is best known as the bass vocalist for The Coasters and The Cadets. The Cadets' biggest hit was 'Stranded In The Jungle' and his bass vocals can be heard on The Coasters' hits 'Yakety Yak' and 'Charlie Brown.' He also sang lead on The Trammps' cover version of 'Zing! Went the Strings of My Heart'. Jones died on 16 January aged 71 from the effects of diabetes.