May 15th: The Biggest Music Headlines
Scroll down the page to see all the music headlines, stories and events for May 15 throughout music history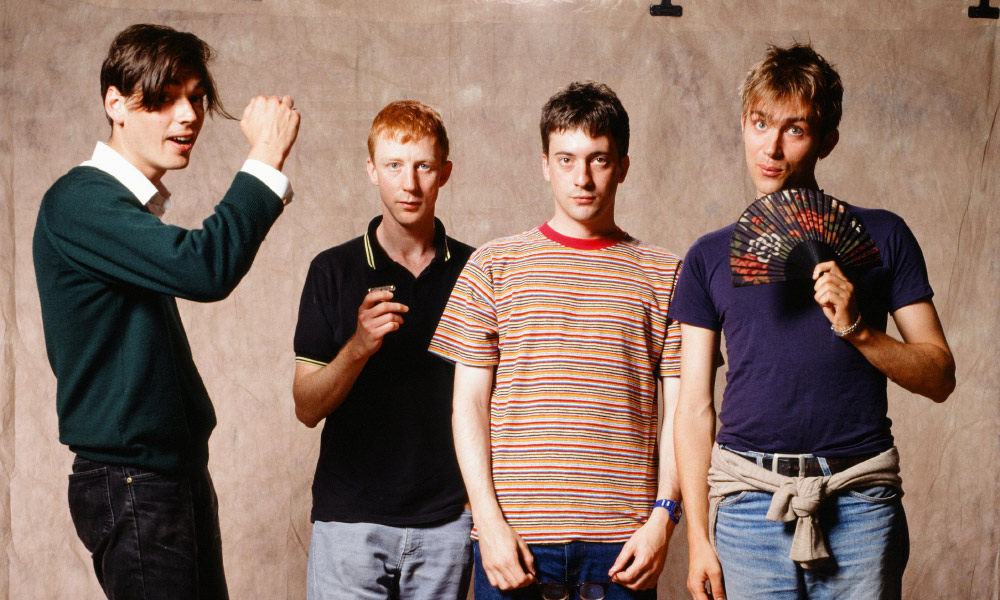 Blur Earns First UK No.1 Album With Britpop Classic, 'Parklife'
On this day in music, May 15, 1994, Blur earned their first No.1 album in the UK with Parklife, a defining title in the Britpop canon. Featuring such hits as "Girls & Boys," "End of a Century," and the title track, the band's third studio album marked their commercial breakthrough, remaining on the UK charts for 90 weeks. Elsewhere, Parklife helped the band find new audiences across Europe (where it landed in the Top Ten) as well as in the US. Today, it remains Blur's best-selling studio album in the UK, while in 2010, Britain's Royal Mail included Parklife in its set of ten "Classic Album Cover" stamps.
In 1965, Bob Dylan scored his first Top 40 hit in the US with "Subterranean Homesick Blues." The song, which served as the lead single off his fifth studio album, Bringing It All Back Home, peaked at No.39 on the Billboard Hot 100 and landed in the UK Top 10. John Lennon reportedly found the tune so captivating that he wasn't sure how he could write a song that could compete with it.
In 1976, The Rolling Stones topped the Billboard 200 with Black And Blue, their first studio album with guitarist Ronnie Wood. Although Wood had previously contributed to the Stones' 1974 hit, "It's Only Rock 'n Roll (But I Like It)," he was only a touring member of the band until 1976. The Stones' second self-produced LP, Black And Blue blended the band's traditional rock and blues stylings with reggae and funk influences.
In 2008, Neil Diamond topped the Billboard 200 for the first time in his career with his 27th studio album, Home Before Dark. The accomplishment made the 67-year-old singer-songwriter the oldest recording artist in chart history to hit No.1, a record previously held by Bob Dylan.
In 2003, singer, songwriter, and actress June Carter Cash died in Nashville at age 73. The five-time Grammy winner was a member of the legendary Carter family and the second wife of Johnny Cash, with whom she would frequently collaborate. Among her most notable works was "Ring of Fire," which would become a country standard and a 1963 hit for her husband.
In 1968, George Harrison and Ringo Starr attended the world premiere of Wonderwall at the Cannes Film Festival. The directorial debut of Joe Massot featured a soundtrack composed by Harrison, while the film later inspired the title of Oasis' 1995 hit single.
Looking for more things that happened on this day in music?
Keep scrolling for all of the headlines for May 15.
BORN ON MAY 15:
1918: Eddy Arnold
1932: Baba Oje (Arrested Development)
1948: Brian Eno (Roxy Music)
1953: Mike Oldfield
1959: Andrew Eldritch (Sisters of Mercy)
1970: Prince Be (PM Dawn)
Looking for more artists born on this day?
Keep scrolling for all of our May 15 birthdays.
---
What to find another day?
---
May 15th
15 May 2020
Phil May, the frontman of The Pretty Things, died aged 75 after suffering complications from emergency hip surgery. The Pretty Things were cited as an influence by a wide range of artists from
David Bowie
to
Jimi Hendrix
to Kasabian.
15 May 2019
Charles 'Chuck' Barksdale a founding Member of the doo-wop group The Dells died age 84. They scored the hits 'Oh, What a Night', 'Stay in My Corner,' 'Always Together,' and 'Give Your Baby a Standing Ovation.'
15 May 2019
Adria Petty and Annakim Violette daughters of the late
Tom Petty
filed suit against his widow, Dana York Petty, in a dispute about the singer-songwriter's catalogue and estate. The papers accused York Petty of superseding the daughters' right to 'equal participation,' as they claimed was in the terms of the trust, when making decisions regarding his catalogue. The suit was seeking at least $5 million in damages.
15 May 2015
R&B and jazz singer Ortheia Barnes-Kennerly died from heart failure in the US Virgin Islands, where she was visiting for a performance, she was 70 years old. Ortheia spent much of her career touring with and opening for some of
Motown
's biggest acts, including
Stevie Wonder
,
Marvin Gaye
, and
Gladys Knight
.
15 May 2008
Neil Diamond
reached the top of the US Billboard album chart for the first time in his career with Home Before Dark the 67-year-old's 29th studio album. His previous highest chart position was in 1973 when the soundtrack to the film Jonathan Livingston Seagull peaked at No.2. At the age of 67, Diamond became the oldest artist to have a US number one, the record was previously held by
Bob Dylan
in 2006 with Modern Times released when he was 65.
15 May 2003
Country singer June Carter Cash, the second wife of
Johnny Cash
died in Nashville, Tennessee, of complications following heart valve replacement surgery, aged 73. She was a member of the Carter Family, and had hits with
Johnny Cash
, including the Grammy Award winning songs, 'Jackson', 'Ring Of Fire', (which she co-wrote about their courtship), and 'If I Were A Carpenter.'
15 May 2001
Brian Pendleton of The Pretty Things died of cancer aged 57, (1964 UK No.10 single 'Don't Bring Me Down'). The bands 1974 album Silk Torpedo was the first album release on
Led Zeppelin
's own label Swan Song.
15 May 2000
Songwriter Geoff Goddard died aged 62. Wrote 'Johnny Remember Me', and played keyboards on The Tornadoes 1962 No.1 hit 'Telstar'. Wrote songs for Heinz, Mike Berry, The Outlaws, Freddie Starr and Screaming Lord Sutch.
15 May 1999
Rob Gretton manager of
Joy Division
and New Order died aged 46. He was also a partner in Factory Records, proprietor of the Rob's Records label and a co-founder along with Tony Wilson of The Hacienda nightclub in Manchester, England.
15 May 1997
Courtney Love sold the Seattle mansion she shared with
Kurt Cobain
. A local family purchased the house in the salubrious Denny Blaine area for $3m.
15 May 1997
Oasis
became one of the first artists to attempt to exert censorship over the Internet. The group were working with Sony to put an end to unofficial websites carrying lyrics, sound files and photographs of the band.
15 May 1995
Supergrass released their debut studio album 'I Should Coco'. The album which peaked at No.1 on the UK chart featured their No.2 hit single 'Alright'. The album title is Cockney rhyming slang for "I should think so".
15 May 1994
Blur scored their first UK No.1 album with Parklife which went on to spend over two years on the chart. The album featured four UK hit singles: 'Girls & Boys', 'End of a Century', 'Parklife' and 'To the End'. In the year following its release the album came to define the emerging Britpop scene. The album cover for Parklife was among the ten chosen by the Royal Mail for a set of "Classic Album Cover" postage stamps issued in January 2010.
15 May 1993
Janet Jackson
started a eight week run at No.1 on the US singles chart with 'That's The Way Love Goes', her sixth US No.1, a No.2 hit in the UK.
15 May 1992
Barbara Lee of the Chiffons died from a heart attack the day before her 45th birthday. Had the 1963 US No.1 single 'He's So Fine.'
15 May 1991
Manic Street Preacher guitarist
Richey Edwards
carved '4 real' into his arm with a razor blade while being interviewed by music paper The NME.
15 May 1982
Asia went to No.1 on the US album chart with their self-titled album. It spent a total of nine weeks at No.1 and became the best-selling album in the US for the year 1982. The supergroup included former members of several veteran progressive rock bands, namely bassist/vocalist John Wetton (formerly in Mogul Thrash, Family, King Crimson, Roxy Music, Uriah Heep, U.K. and Wishbone Ash), guitarist Steve Howe (formerly in Yes), keyboardist Geoff Downes (of Yes and The Buggles) and drummer Carl Palmer (formerly in The Crazy World of Arthur Brown, Atomic Rooster and Emerson, Lake & Palmer).
15 May 1982
Stevie Wonder
and
Paul McCartney
started a seven week run at No.1 on the US singles chart with 'Ebony And Ivory'. The song gave McCartney his 24th US No.1 as a songwriter. The title was inspired by McCartney hearing Spike Milligan say "black notes, white notes, and you need to play the two to make harmony folks!". It was later named as the tenth worst song of all time by Blender magazine and in 2007 was named the worst duet in history by BBC 6 Music listeners.
15 May 1981
Former Sex Pistol John Lydon's band Public Image Ltd performed a show at New York's Ritz Club posing behind a video screen while the music was played from tapes. They were showered with missiles and eventually booed off stage.
15 May 1976
The
Rolling Stones
went to No.1 on the US album chart with Black And Blue, the group's sixth US No.1 album. The band's first studio album released with
Ronnie Wood
as the replacement for Mick Taylor featured the hit 'Fool To Cry'.
15 May 1974
Frank Zappa
and his wife announced the birth of their third child, a boy named Ahmet Rodan, after the Japanese movie monster that lived off a steady diet of 707 planes.
15 May 1971
Crosby Stills Nash & Young
scored their second US No.1 album with 4 Way Street. The live album featured recordings from shows at The Fillmore East, New York, and The Forum, Los Angeles.
15 May 1969
John Lennon
's Life With The Lions was released on Apple's avant-garde imprint Zapple. One side of the album was recorded on a cassette player at London's Queen Charlotte Hospital during Yoko Ono's pregnancy which ended in a miscarriage.
15 May 1968
George Harrison
and
Ringo Starr
attended the premiere of Wonderwall at the Cannes Film Festival. The 1968 film by first-time director Joe Massot starred Jack MacGowran and Jane Birkin, and featured cameos by Anita Pallenberg. The soundtrack was composed by then-Beatle
George Harrison
. The film provides the name for the
Oasis
track 'Wonderwall', which was inspired by
George Harrison
's score.
15 May 1967
Paul McCartney
met American photographer Linda Eastman for the first time, during a Georgie Fame concert at the Bag O'Nails nightclub in London, England. They married on March 12, 1969.
15 May 1965
Bob Dylan
's single '
Subterranean Homesick Blues
' peaked at No.39 in the US charts, giving Dylan his first US top 40 hit.
John Lennon
was reported to find the song so captivating that he didn't know how he'd be able to write a song that could compete with it.
15 May 1963
During a UK tour,
The Beatles
performed at the Royalty Theatre in Chester. The set list was: 'Some Other Guy', 'Thank You Girl', 'Do You Want to Know a Secret', 'Please Please Me', 'You Really Got a Hold on Me', 'I Saw Her Standing There', and 'From Me To You'.
15 May 1961
Floyd Cramer was at No.1 on the UK singles chart with 'On The Rebound.' The US singer's only UK No.1. The Nashville pianist played on many
Elvis Presley
hits.
15 May 1959
Elvis Presley
scored his fourth No.1 on the UK singles chart with 'A Fool Such As I / I Need Your Love Tonight.' His first ballad to hit No.1.
Born on this day in music
15 May 1983
Devin Bronson, guitarist with Avril Lavigne, Kelly Osbourne and Black List Club.
15 May 1966
Pete Wiggs from English band Saint Etienne who had the 1993 UK No.12 single 'You're In A Bad Way'.
15 May 1965
Jon Sevink, violin, with English folk rock band The Levellers who had the 1995 UK No.12 single 'Just The One'.
15 May 1959
Andrew Eldritch, singer from English gothic rock band, The Sisters Of Mercy who scored the 1992 UK No.3 single 'Temple Of Love'.
15 May 1953
Mike Oldfield, UK composer, multi-instrumentalist, 'Tubular Bells' was the first album released on the Virgin record label in 1973 and went on to sell over 10 million copies world-wide. 1976 UK No. 3 single 'Portsmouth' plus 20 other UK Top 40 albums.
15 May 1951
American rock singer Dennis Frederiksen best known as the former lead singer of Trillion, Angel, LeRoux and Toto, who had the 1980s Top 5 hits 'Hold the Line', 'Rosanna', and 'Africa'. He died from liver cancer on January 18, 2014 aged 62 at his home in Mound, Minnesota.
15 May 1948
English musician, composer, record producer Brian Eno, best known for his pioneering work in ambient music. With Roxy Music he had the 1972 UK No.4 single 'Virginia Plain'. He has produced
U2
, Talking Heads,
David Bowie
, John Cale,
Coldplay
and Damon Albarn.
15 May 1948
Gary Thain, bassist with Keef Hartley Band and then Uriah Heep. Had a hit with 'Easy Livin' from the 1972 album Demons and Wizards. He died of a drug overdose December 8, 1975.
15 May 1947
Graham Goble, from Australian group, Little River Band who scored the 1978 US No.3 single 'Reminiscing' plus 12 other US Top 40 singles selling more than 30 million records.
15 May 1944
Ian Amey, (Tich), from British pop/rock group, Dave Dee, Dozy, Beaky, Mick and Tich, who scored the 1968 UK No.1 single 'Legend Of Xanadu'.
15 May 1943
American songwriter, record producer, arranger, and orchestra conductor Freddie Perren. He co-wrote and co-produced songs including 'Boogie Fever' the Sylvers, 'I Will Survive' by Gloria Gaynor, and 'Shake Your Groove Thing' by Peaches & Herb. He died on December 16, 2004.
15 May 1937
American singer, guitarist Trini Lopez, who scored the 1963 US No.3 & UK No.4 single 'If I Had A Hammer'. Other hits included 'Lemon Tree', 'I'm Comin' Home, Cindy' and 'Sally Was a Good Old Girl'.
15 May 1932
Baba Oje, from American alternative hip hop group Arrested Development, who scored the 1992 UK No.2 and US No. 8 single 'People Everyday'. The group won two Grammy Awards in 1993 for Best New Artist and Best Rap Performance and were also named Band of the Year by Rolling Stone magazine.
15 May 1918
American country music singer Eddy Arnold, who scored 147 songs on the Billboard country music charts, second only to George Jones and sold more than 85 million records worldwide. Arnold died from natural causes on May 8, 2008.