May 17th: The Biggest Music Headlines
Scroll down the page to see all the music headlines, stories and events for May 17 throughout music history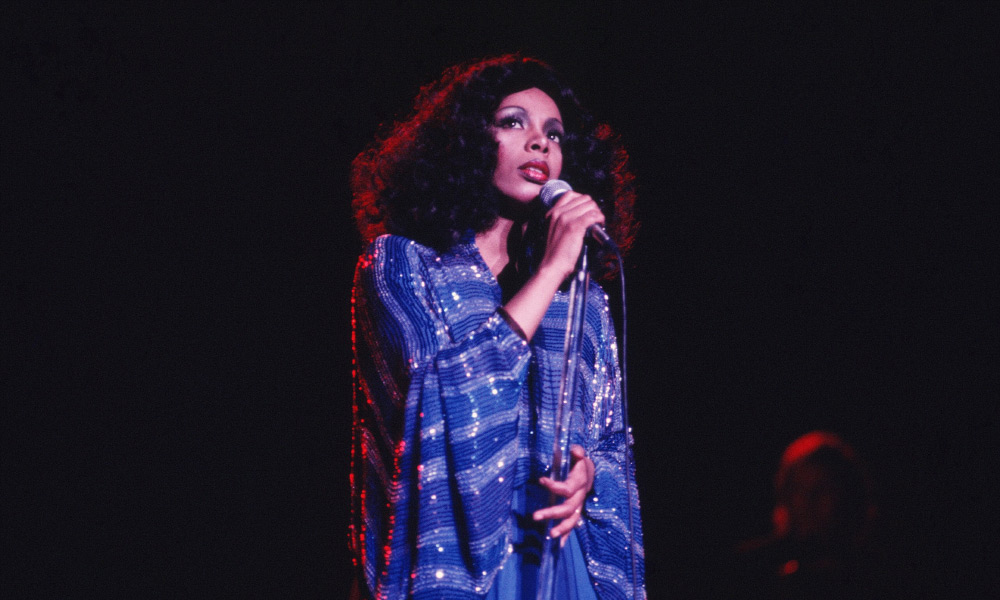 'Queen of Disco' Donna Summer Dies
On this day in music, May 17, 2012, "Queen of Disco" Donna Summer died at the age of 63, following a battle with lung cancer. Between 1976 and 1984, the Rock and Roll Hall of Famer and five-time Grammy winner scored a Top 40 hit every year, including four No.1 singles on the Billboard Hot 100. During the height of her career, Summer kept dance floors moving with enduring favorites like "I Feel Love," "Last Dance," "Hot Stuff," and "Bad Girls." At the time of her death, she had sold more than 100 million albums worldwide, making her one of the best-selling artists of all time.
In 1975, Elton John made RIAA history with his ninth album, Captain Fantastic and the Brown Dirt Cowboy. The highly-anticipated LP became the first to be certified Gold before its release, while the album debuted at the top of the Billboard 200 – a spot it would hold onto for seven weeks.
In 1963, the inaugural Monterey Folk Festival took place in California. The three-day event featured a barely-known Bob Dylan, who made his live debut on the West Coast, plus Peter, Paul and Mary, Joan Baez, The Weavers, The Rooftop Singers, and The Wildwood Boys (featuring a young Jerry Garcia on banjo), among others.
In 1967, singer-songwriter Glen Campbell recorded one of his signature hits, "Gentle on My Mind" at Hollywood's Capitol Recording Studio. Written (and originally recorded) by John Hartford, the song became a Top 40 hit for Campbell on both the US pop and country charts, while it earned a total of four Grammys in 1968, split evenly between Hartford and Campbell.
In 2013, Daft Punk released their fourth studio album, Random Access Memories, a project that found the French electronic duo collaborating with the likes of Pharrell Williams, Nile Rodgers, Julian Casablancas, and famed disco producer Giorgio Moroder. Featuring global smash hits like "Get Lucky" and "Lose Yourself to Dance," the album marked Daft Punk's first to top the Billboard 200. The LP hit No.1 in more than 30 countries and earned multiple awards at the 2014 Grammys, including Album of the Year.
In 1964, Bob Dylan appeared at London's Royal Festival Hall for his first major UK concert. The 18-song set, billed as a "Folksong Concert," featured the live debut of "Mr. Tambourine Man."
Looking for more things that happened on this day in music?
Keep scrolling for all of the headlines for May 17.
BORN ON MAY 17:
1942: Taj Mahal
1948: Bill Bruford (Yes, King Crimson)
1959: Paul Dianno (Iron Maiden)
1961: Enya
1965: Trent Reznor (Nine Inch Nails)
1970: Jordan Knight (New Kids on the Block)
1973: Josh Homme (Queens of the Stone Age, Eagles of Death Metal)
1974: Andrea Corr (The Corrs)
Looking for more artists born on this day?
Keep scrolling for all of our May 17 birthdays.
---
What to find another day?
---
May 17th
17 May 2022
Greek composer Vangelis, who was known for his celebrated film themes for Chariots of Fire and Blade Runner, died at the age of 79. Vangelis first tasted fame as the keyboardist in the band Aphrodite's Child with singer Demis Roussos in the late 1960s.
17 May 2019
Eric Moore, lead singer of Ohio-based biker rock group The Godz died after a battle with bladder cancer age 67. The Godz had toured with acts including
Kiss
, Cheap Trick, Judas Priest, Blue Öyster Cult, and Iggy Pop.
17 May 2016
American Texas country and folk singer, songwriter Guy Clark died in Nashville following a lengthy battle with lymphoma. He wrote songs for
Johnny Cash
, Ricky Skaggs, Jerry Jeff Walker, Jimmy Buffett, Lyle Lovett and many other artists.
17 May 2016
Alanis Morissette
sued her former manager for fraud saying she was robbed of almost $5m (£3.5m) by her former business manager. In papers filed in Los Angeles County Superior Court, the singer claimed Jonathan Schwartz transferred money to his own accounts without permission. Schwartz said the transfers were made to fund an "investment" in a marijuana-growing business for the singer, and to avoid extra trips to the bank because Morissette "spends a lot of cash".
17 May 2015
Rapper Chinx was shot and killed in
Queen
s, New York. The 31 year-old, was part of French Montana's Coke Boys group, was riding in a car in the early hours of the morning when another vehicle pulled up and opened fire. He was hit in the torso and chest, and died later at a
Queen
s hospital.
17 May 2013
French Electronic Duo Daft Punk released their fourth album Random Access Memories. It would debut at No.1 on both the US and UK charts and go on to win five Grammy Awards, including Album of the Year.
17 May 2013
Bob Dylan
was made an honorary member of the American Academy of Arts and Letters. Dylan, who was unable to attend the New York ceremony, said he felt "extremely honoured" and "lucky" to be admitted. Dylan's induction was decided by a vote of the Academy's 250 members.
17 May 2012
Donna Summer, the 1970s pop singer known as the
Queen
of Disco, died of lung cancer, an illness she believed she contracted from inhaling toxic particles released after the September 11 terrorist attacks in New York. She won five Grammy Awards, six American Music Awards, and had three multi-platinum albums, including the hits 'Hot Stuff', 'Love to Love You, and 'Baby' and 'I Feel Love'.
17 May 2008
Amy Winehouse
and Pete Doherty posted a two-minute clip of themselves playing with newborn mice on Youtube. The video showed Doherty and Winehouse in a bare room, making rambling comments, picking up the mice and talking to them.
17 May 2006
Paul McCartney
and his wife Heather Mills admitted that they had given up the fight to save their marriage, saying that after four years together, they were going their separate ways.
17 May 2003
Singer with Stone Temple Pilots, Scott Weiland, was arrested on suspicion of drug possession after being stopped during a routine traffic search in Los Angeles, He was released on $10,000 (£6,125) bail.
17 May 2002
Sharon Sheeley, US songwriter, died aged 62. Hits include 'Poor Little Fool' US No.1 for Ricky Nelson in 1958 and 1959 hit for Eddie Cochran 'Somethin' Else'. Sheeley survived the car crash that killed Eddie Cochran during a 1960 UK tour.
17 May 1996
US blues guitarist Johnny Guitar Watson died of a heart attack while on tour in Yokohama, Japan. According to eyewitness reports, he collapsed mid guitar solo. His last words were "ain't that a bitch." His ferocious 'Space Guitar' single of 1954 pioneered guitar feedback and reverb.
17 May 1990
Nirvana
played the last date of a North American tour at the Zoo in Boise, Idaho. This was Chad Channing's final gig with the band, drummer Dave Grohl replaced him in Sept of this year after his band Scream had split-up.
17 May 1987
A fire destroyed
Tom Petty
's house in Los Angeles, the cost was estimated at $800,000.
17 May 1986
Spitting Image started a three-week run at No.1 on the UK singles chart with 'The Chicken Song.' Spitting Image had become the 'must see' Sunday night UK TV show, which mocked politicians and public figures.
17 May 1986
Whitney Houston
started a three week run at No.1 on the US singles chart with 'Greatest Love Of All', the singers third US No.1, a No.8 hit in the UK.
17 May 1975
Elton John
made RIAA history when he was awarded a Gold Record based solely on pre-sales, ahead of his ninth album, 'Captain Fantastic and The Brown Dirt Cowboy.' The album debuted at No.1 in the US and spend seven weeks at the top spot.
17 May 1975
Led Zeppelin
played the first of five sold-out nights to 17,000 fans at Earls Court Arena, London England. The set list included: Rock And Roll, The Song Remains The Same, The Rain Song, Kashmir, No Quarter, Going To California, Dazed And Confused,
Stairway To Heaven
, Whole Lotta Love, and Black Dog. Tickets cost £1 ($1.70) - £2.50 ($4.25).
17 May 1971
Dawn were at No.1 on the UK singles chart with 'Knock Three Times', the group's first of two UK No.1's. Singer Tony Orlando had retired from singing when he was persuaded to front Dawn for studio recordings.
17 May 1969
It was reported that for the first time ever album sales had overtaken single sales in the UK. 49,184,000 albums were produced during 1968 compared with 49,161,000 singles.
17 May 1967
Working at Abbey Road studios
The Beatles
began recording a new
John Lennon
song 'You Know My Name (Look Up the Number)'. The song was not finished until November 1969, and was not released until March 1970 (as the B-side of the 'Let it Be' single).
17 May 1967
Working at the Capitol Recording Studio in Hollywood,
Glen Campbell
recorded 'Gentle On My Mind,' a song written by John Hartford and arranged by Leon Russell. The song went on to win won four Grammy Awards the following year and became the theme to the television variety show, The Glen Campbell Goodtime Hour between 1969 and 1972.
17 May 1967
The Tremeloes were at No.1 on the UK singles chart with their version of a Four Seasons song, (the B-side to Rag Doll), 'Silence Is Golden', the group's only UK No.1.
17 May 1966
During a UK tour,
Bob Dylan
appeared at The Free Trade Hall in Manchester. This was the concert where a member of the audience shouted out 'Judas' at Dylan unhappy with the singers move from acoustic to rock. Dylan replied with 'You're a liar', the entire concert was eventually officially released in The Bootleg Series by Sony Music in 1999.
17 May 1964
Bob Dylan
made his first major concert UK appearance when he played at the Royal Festival Hall in London with an afternoon show listed as a 'Folksong Concert'. Dylan's 18-song set included the live debut of Mr. Tambourine Man and took place on a Sunday afternoon. In the interval, Dylan received a telegram from
John Lennon
seeking a meeting which never materialised.
17 May 1963
The first Monterey Folk Festival took place over three days in Monterey, California. The line-up included Joan Baez,
Bob Dylan
, Peter, Paul and Mary, and a young Jerry Garcia, who performed with The Wildwood Boys.
Born on this day in music
17 May 1984
English singer-songwriter Michael David Rosenberg, better known by his stage name Passenger. His most successful single, "Let Her Go", topped the charts in many countries. In 2014 the song was nominated for the Brit Award for British Single of the Year.
17 May 1974
Andrea Corr, singer, tin whistle, piano with Irish group The Corrs. Had the 1998 UK No.3 single 'What Can I Do' and their 'Talk On Corners' was the best selling UK album of 1998, spending 142 weeks on the UK chart. Andrea released her debut album, Ten Feet High, in 2007. Along with her siblings, she was appointed an honorary M.B.E. in 2005.
17 May 1973
American rock musician, multi-instrumentalist and record producer, Josh Homme, founding and only continuous member of Queens of the Stone Age. He formed Eagles of Death Metal in 1998. In 2009, he formed Them Crooked Vultures with
Dave Grohl
and
John Paul Jones
. In 2016, he released Post Pop Depression, an album with Iggy Pop.
17 May 1971
Vernie Bennett, from British R&B girl group Eternal who had the 1997 UK No.1 single 'I Wanna Be The Only One', and the 1993 UK No.2 album Always & Forever. They achieved 15 UK Top 20 hits between 1993 and 1999.
17 May 1970
Jordan Knight, singer, from American boy band New Kids On The Block, who had the 1989 UK No.1 single 'You Got It, The Right Stuff', and the 1990 US No.1 single 'Step By Step'. They enjoyed success in the late 1980s and early 1990s and have sold more than 80 million records worldwide
17 May 1968
Dave Abbruzzese, American drummer with
Pearl Jam
from 1991 to 1994. In 1997, Abbruzzese rehearsed with Axl Rose during the making of Guns N' Roses' 2008 album, Chinese Democracy. However, none of the material from the sessions ended up on the album.
17 May 1967
Simon Friend, guitarist with English folk rock band The Levellers who had the 1995 UK No.12 single 'Just The One'.
17 May 1966
Jan Kincaid, from English group The Brand New Heavies, who had the 1994 UK No.13 single with their version of 'Midnight At The
Oasis
'.
17 May 1965
Trent Reznor, American singer-songwriter, record producer and member of Nine Inch Nails, (2005 US No.1 album 'White Teeth'). He and his wife, Mariqueen Maandig, are members of the post-industrial group How to Destroy Angels. Reznor with Atticus Ross scored the David Fincher films The Social Network (2010), The Girl with the Dragon Tattoo (2011), and Gone Girl (2014), winning the Academy Award for Best Original Score for The Social Network and the Grammy Award for Best Score Soundtrack for Visual Media for The Girl with the Dragon Tattoo.
17 May 1963
Page Samuel McConnell, pianist, organist, keyboardist, from American rock band Phish who are known for musical improvisation, extended jams, and blending of genres.
17 May 1961
Enya Ni Bhraonain, from Irish family band Clannad who had the 1982 UK No.5 single 'Harry's Game'. Enya had the solo, 1988 UK No.1 single 'Orinoco Flow', and the 2001 US No.2 album 'A Day Without Rain'. Enya is Ireland's biggest selling solo artist and second overall behind
U2
with an estimated 75 million records sold worldwide.
17 May 1960
Simon Fuller, record and television producer, manager of the
Spice Girls
, S Club 7, Kelly Clarkson, Carrie Underwood, Chris Daughtry, Fantasia, Will Young, Emma Bunton and Gareth Gates and the creator of the Idol series. First seen as Pop Idol, and now with over 50 other versions, including American Idol, Canadian Idol, and World Idol.
17 May 1959
Paul Dianno, vocals, the first vocalist to record with heavy metal band
Iron Maiden
, from 1978 to 1981. Di'Anno has issued numerous albums over the years, as both a solo artist and as a member of such bands as Gogmagog, Di'Anno's Battlezone, Praying Mantis, Killers and Rockfellas.
17 May 1958
Alan Rankine, keyboardist, guitarist from The Associates who had the 1982 UK No.9 single 'Party Fears Two'.
17 May 1953
George Johnson from American funk,
Motown
and R&B band Brothers Johnson. They achieved their greatest success from the mid-1970s to early 1980s, with three singles topping the R&B charts ('I'll Be Good to You', 'Strawberry Letter 23' and 'Stomp!'.
17 May 1948
Bill Bruford, English drummer. He was the original drummer for the progressive rock group Yes, from 1968–1972, and then joined King Crimson. He worked as the touring drummer for
Genesis
in 1976 and U.K. in 1978.
17 May 1944
Jesse Winchester, Canadian folk singer, songwriter. His songs have been covered by many artists including Patti Page, Elvis Costello, Jimmy Buffett, Joan Baez, Anne Murray, Reba McEntire, The Everly Brothers and Emmylou Harris. He died on April 11, 2014.
17 May 1942
Taj Mahal, US multi-instrumentalist, composer of film soundtracks. In the early 60s he formed The Rising Sons with Ry Cooder, one of the first interracial bands of the period. Mahal has worked with Howlin' Wolf, Buddy Guy, Lightnin' Hopkins, Garth Hudson and Levon Helm of The Band, and Muddy Waters.
17 May 1941
Malcolm Hale, from American 1960s sunshine pop band Spanky And Our Gang, who had the 1967 US No.9 single 'Sunday Will Never Be The Same Again'. Hale died on 31st October 1968 of carbon monoxide poisoning due to a faulty heater.