May 23rd: The Biggest Music Headlines
Scroll down the page to see all the music headlines, stories and events for May 23 throughout music history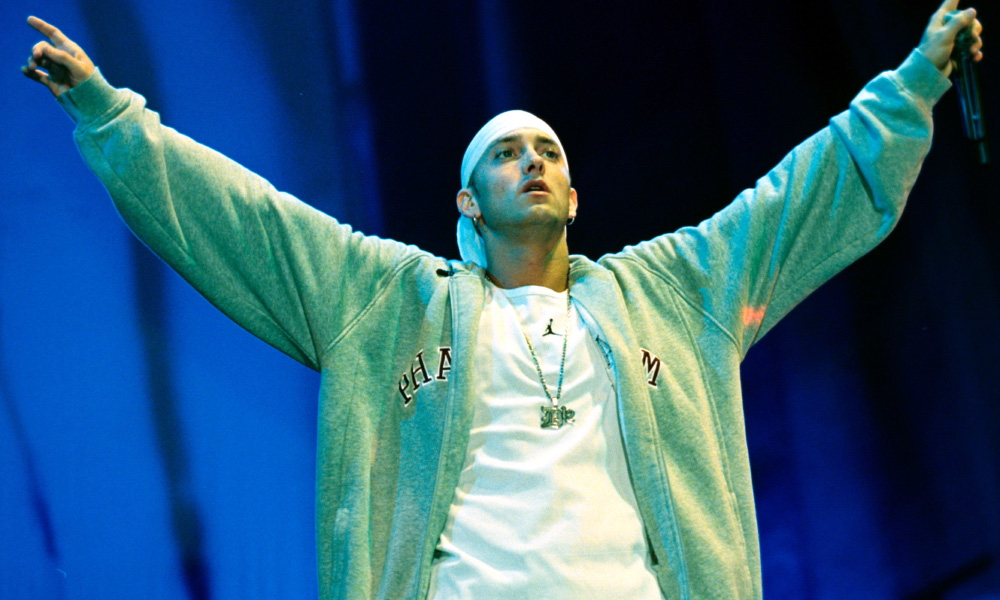 Eminem Releases a Hip-Hop Masterpiece
On this day in music, May 23, 2000, Eminem released his groundbreaking third album, The Marshal Mathers LP. Despite the controversial nature of many of its songs, the semi-autobiographical title was embraced by critics – particularly for its introspective lyricism. One of the fastest-selling albums of all time in the US, The Marshal Mathers LP debuted at the top of the Billboard 200, holding the top spot for eight consecutive weeks. It produced several hits, including the rapper's first US Top Ten hit, "The Real Slim Shady," and the international smash "Stan."
In 1970, Paul McCartney's solo debut, McCartney began a three-week run at the top of the Billboard 200. The lo-fi album, which featured the enduring hit "Maybe I'm Amazed," was performed and recorded entirely by the former Beatle.
In 1960, The Everly Brothers began a five-week run at the top of the Billboard Hot 100 with "Cathy's Clown." The song, which spent seven weeks at No.1 in the UK, would become the duo's biggest single, while its unusual structure would influence a host of other artists.
In 1970, the Grateful Dead made their live international debut, appearing at The Hollywood Rock Music Festival in England. Also on the billing were Black Sabbath, Traffic, and Free, among others.
In 1964, with "Can't Buy Me Love," legendary jazz vocalist Ella Fitzgerald became the first artist to score a hit with a Beatles cover. The song, which peaked at No.34 on the UK charts, appealed to many parents of the Fab Four's fans.
Looking for more things that happened on this day in music?
Keep scrolling for all of the headlines for May 23.
BORN ON MAY 23:
1928: Rosemary Clooney
1934: Robert Moog (Inventor of the Synthesizer)
1944: Tiki Fulwood (Parliament, Funkadelic)
1953: Rick Fenn (10cc)
1967: Philip Selway (Radiohead)
1967: Junior Waite (Musical Youth)
1972: Maxwell
1974: Jewel
Looking for more artists born on this day?
Keep scrolling for all of our May 23 birthdays.
---
What to find another day?
---
May 23rd
23 May 2019
Richard Ashcroft regained rights to his song 'Bitter Sweet Symphony' after more than two decades. The Verve singer lost the rights to his most recognisable song, which ended up in the possession of The
Rolling Stones
' Sir
Mick Jagger
and
Keith Richards
. Released in 1997 on Urban Hymns, the track sampled The
Rolling Stones
' song 'The Last Time', using a composition by Andrew Oldham, and became the centre of lawsuits, which saw Ashcroft stripped of rights and royalties.
23 May 2014
The parents of a camera assistant who was killed after being hit by a train while shooting footage for a biopic about
Gregg Allman
were suing the musician and the film's producers. The case claimed film-makers "selected an unreasonably dangerous site for the filming location" and failed to take actions to adequately protect the crew.
23 May 2012
Erasmus MC University Medical Center in the Netherlands announced they had drawn clear links between listening to loud music, smoking marijuana and having "risky" sex. The study, published in the Official Journal of the American Academy Of Pediatrics, revealed that young people who listened to loud music on their MP3 players were more likely to have sparked up a joint in the last month. The researchers, surveyed 944 students from inner-city vocational schools aged 15 to 25.
23 May 2010
The
Rolling Stones
scored their first UK No.1 album for 16 years with the re-release of their classic 1972 double LP Exile On Main Street. The album, which was first released in 1972, had been reissued with previously unheard tracks. Their last No.1 album was 1994's Voodoo Lounge.
23 May 2009
Amy Winehouse
cancelled her appearance at a concert to celebrate the 50th anniversary of the Island Records. The event, scheduled to take place on 31st May at London's Shepherd's Bush Empire, had now been cancelled completely, her management said.
23 May 2006
The King of Sweden presented the surviving members of
Led Zeppelin
with the Polar Music Prize in Stockholm recognising them as "great pioneers" of rock music. Robert Plant,
Jimmy Page
and John Paul Jones were joined by the daughter of drummer
John Bonham
, who died in 1980. The Polar Music Prize was founded in 1989 by Stig Anderson, manager of Swedish pop group
ABBA
who named it after his record label, Polar Records.
23 May 2002
'Up For Grabs' opened at London's Wyndham's Theatre featuring
Madonna
in the lead role. The first night crowd complained that the singer was lacking in vocal power and strained to hear her lines.
23 May 2002
Winners at the 47th Ivor Novello awards included, Dido for Songwriter of the year, Best song went to
U2
, 'Walk On.'
Kylie Minogue
won The Dance Award and Most Performed Work and International Hit for 'Can't Get You Out Of My Head.' Hear'say won Bestselling UK single for 'Pure And Simple'. Mick Hucknall won Outstanding Song collection and
Kate Bush
was awarded Outstanding Contribution to British music.
23 May 2000
Noel Gallagher walked out on his band
Oasis
during a European tour. The move was put down to a series of burst-ups with his brother Liam. The band drafted in replacement guitarist Matt Deighton for the rest of the European dates.
23 May 2000
Eminem
released his third studio album the Marshall Mathers LP. It debuted at No.1 on the Billboard 200, staying atop for eight consecutive weeks and went on to sell over 25 million copies worldwide. The album is one of the most groundbreaking and controversial albums in the history of American music. The Marshall Mathers LP has been named on several lists of the greatest albums of all time and is widely regarded as Eminem's best album.
23 May 1992
A statement issued by
Freddie Mercury
's attorneys stated that Mercury had bequeathed the majority of his estate (£10 million - $17 million) to his long-time friend Mary Austin.
23 May 1991
Photographer Michael Lavine took what would be the publicity shots for
Nirvana
's
Nevermind
album at Jay Aaron Studios in Los Angeles. The idea for the front cover shot of the baby swimming was taken after
Kurt Cobain
and Dave Grohl saw a TV documentary on water babies and was taken by Kirk Weddle. Several babies were used; five-month old Spencer Eldon's photo came out best.
23 May 1987
Twelve former members of the Doobie Brothers reunited for a charity concert at the Hollywood Bowl in Los Angeles. The show raised $350,000 for Vietnam veterans, about two-thousand of whom attended the show for free.
23 May 1982
The UK Musicians Union moved a resolution to ban synthesizers and drum rhythm machines from sessions and live concerts fearing that their use would put musicians out of work.
23 May 1979
Due to a record company dispute,
Tom Petty
was forced to file for bankruptcy owing $575,000 (£338,235). A long-running battle with his record company followed.
23 May 1978
Bruce Springsteen
and the E Street Band kicked off their 117 show Darkness Tour at Shea's Buffalo, in Buffalo, New York.
23 May 1974
George Harrison
announced the launch of his own record label, 'Dark Horse.'
23 May 1973
Jefferson Airplane were prevented from giving a free concert in Golden Gate Park when San Francisco authorities passed a resolution banning electronic instruments. The group later wrote 'We Built this City' about the ban.
23 May 1970
Paul McCartney
's debut solo album, McCartney, started a three-week run at No.1 on the US album chart. Apart from Linda McCartney's vocal contributions, McCartney performed and recorded the entire album solo. The album featured 'Maybe I'm Amazed', which
Rod Stewart
and the
Faces
featured on their 1971 album Long Player.
23 May 1970
The Beatles
12th and final studio album 'Let It Be' started a three week run at No.1 on the UK chart, featuring 'The Long And Winding Road', 'Across The Universe' and the title track.
23 May 1970
The
Grateful Dead
played their first gig outside the US at 'The Hollywood Rock Music Festival', in Newcastle under Lyme, Staffs, England. Also appearing at the festival was
Free
,
Ginger Baker
's Air Force, Colosseum, Family,
Black Sabbath
and Traffic.
23 May 1964
Ella Fitzgerald became the first artist to have a hit with a Beatles cover when her version of 'Can't Buy Me Love' entered the UK chart.
23 May 1960
The Everly Brothers started a five week run at No.1 on the US singles chart with 'Cathy's Clown', which also spent seven weeks at No.1 in the UK. It became the Everly Brothers' biggest hit single and their third and final US chart topper, selling eight million copies worldwide.
Born on this day in music
23 May 1985
Blaine Harrison, English musician and songwriter best known as the lead vocalist of the indie rock band Mystery Jets.
23 May 1983
Heidi Range, singer who was an original member of Atomic Kitten and then joined The Sugababes who had the 2003 UK No.1 single 'Hole In The Head'.
23 May 1974
Jewel Kilcher, American singer-songwriter, guitarist, producer, actress, author and poet. Jewel's debut album, Pieces of You, released in 1995, became one of the best-selling debut albums of all time, going 12 times platinum.
23 May 1974
Richard Jones, bassist from Welsh rock band, Stereophonics, who had the 2001 UK No.5 single 'Have A Nice Day'. Their 1999 UK No.1 album, Performance and Cocktails spent 97 weeks on the UK chart.
23 May 1972
American singer, songwriter, record producer Maxwell, who scored the 2001 US No.1 album, Now. Maxwell has been credited with helping to shape what has been termed the "neo soul" movement that rose to prominence during the late 1990s.
23 May 1970
Matt Flynn, drummer of American rock band Maroon 5. Prior to joining Maroon 5, Flynn played drums for The B-52's, Chicago, Gavin DeGraw and Gandhi.
23 May 1967
English drummer Junior Waite, Musical Youth, best remembered for their successful 1982 single 'Pass the Dutchie', which became a No.1 hit around the world. It was a cover version of two songs: 'Gimme the Music' by U Brown, and 'Pass the Kouchie' by Mighty Diamonds, which deals with the recreational use of cannabis (kouchie being slang for a cannabis pipe).
23 May 1967
Philip James Selway, drummer with
Radiohead
. Their 1993 debut single 'Creep' was initially unsuccessful, but it became a worldwide hit several months after the release of their debut album, Pablo Honey. Their 1997 album OK Computer appeared in many 1997 critics' lists and listener polls for best album of the year.
23 May 1965
Simon Gilbert, drummer from English alternative rock band Suede, who had the 1994 UK No.3 single 'Stay Together'. Following Suede's hiatus in 2003, he was the drummer for a local Bangkok band called Futon.
23 May 1953
English rock guitarist Rick Fenn, best known for being a member of 10cc since 1976. He has also collaborated with Mike Oldfield, Rick Wakeman and
Pink Floyd
drummer Nick Mason.
23 May 1946
Daniel Klein, bassist with American rock band The J Geils Band, who had the 1982 US No.1 & UK No.3 single 'Centerfold' which was taken from their US No.1 1981 album Freeze Frame.
23 May 1944
American musician Tiki Fulwood who was the drummer for the funk bands Parliament and Funkadelic. Fulwood died of stomach cancer on 29 October 1979.
23 May 1943
Norman Johnson, (General Johnson), Chairmen Of The Board who had the 1970 UK & US No.3 single, 'Give Me Just A Little More Time'). He also wrote the Grammy Award winning 'Patches' for Clarence Carter (Jerry Reed also recorded a country music cover version). Johnson died on October 13, 2010, in suburban Atlanta, Georgia.
23 May 1934
Robert Moog, inventor of the synthesiser. He built his first electronic instrument, a theremin - aged 14 and made the MiniMoog, "the first compact, easy-to-use synthesiser" in 1970. He died on 21st Aug 2005 at his North Carolina home aged 71, four months after being diagnosed with brain cancer.
23 May 1928
Rosemary Clooney, American singer who came to prominence in the early 1950s with the novelty hit 'Come On-a My House', which was followed by other pop numbers such as 'Botch-a-Me', 'Mambo Italiano' and 'This Ole House'. She died on 29th June 2002.