May 25th: The Biggest Music Headlines
Scroll down the page to see all the music headlines, stories and events for May 25 throughout music history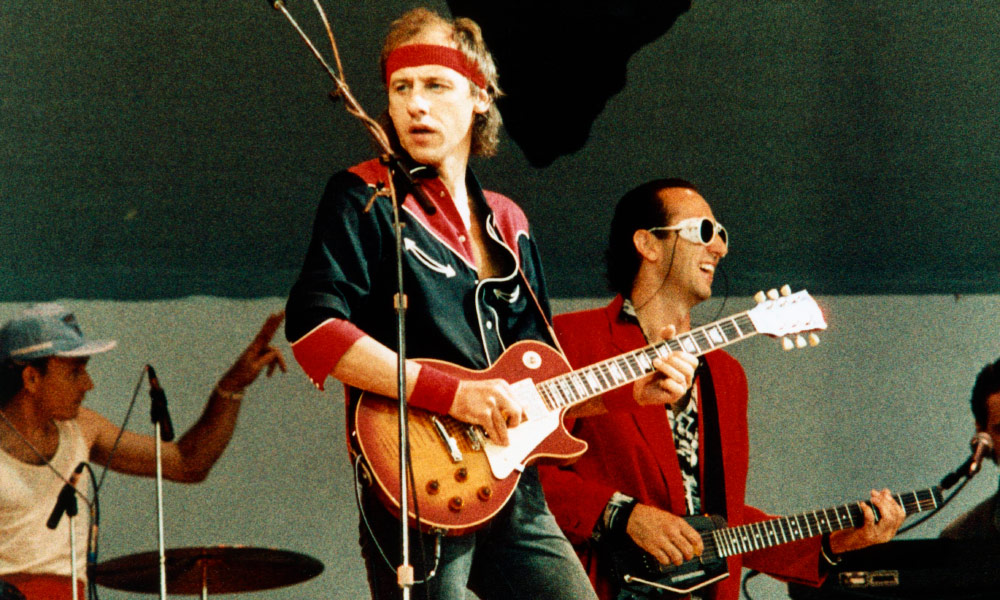 Dire Straits' 'Brothers in Arms' Begins a (Multiple) Record-Breaking Run
In 1985, Dire Straits' fifth studio album, Brothers in Arms began a 14-week run at the top of the UK chart, kicking off a phenomenally successful campaign. One of the highest-selling albums worldwide, Brothers in Arms went on to spend nine weeks atop the Billboard 200, break chart records in the Netherlands, and hit No.1 in more than a dozen territories. The Grammy and BRIT-winning title was also unique in that it was one of the first albums to be recorded fully digitally and marketed to CD buyers. It would soon become the first CD to sell a million copies and the first CD to outsell its vinyl counterpart.
In 1965, influential blues artist Sonny Boy Williamson died at the age of 52. The singer, songwriter, and harmonica player rose to international fame in the 1950s and 60s, recording for Chess Records and its subsidiary, Checker. In the years before his death, Williamson toured Europe and the UK, inspiring (and working with) many of the era's rising blues rockers.
In 1998, Coldplay released their debut recording, Safety. Intended as a demo, the three-song EP featured the songs "Bigger Stronger," "Such a Rush" (both of which appeared on The Blue Room EP), and "No More Keeping My Feet on the Ground" (later released as a B-side to the single "Yellow"). Of the 500 CDs that were pressed, only 50 were sold at shows. Today, the EP remains a high-priced rarity.
In 1961, with The Temperence Seven's "You're Drivng Me Crazy," producer George Martin saw his first No.1 hit on the UK pop chart. Several years later, Martin would help to shape the sound of The Beatles – so much so, that he was often referred to as "The Fifth Beatle."
In 1997, Elvis Presley was named the world's best-selling posthumous artist, 20 years after his death. At the time, the rock'n'roll icon still had hundreds of active fan clubs and global sales that exceeded hundreds of millions of records.
Looking for more things that happened on this day in music?
Keep scrolling for all of the headlines for May 25.
BORN ON MAY 25:
1921: Hal David (Songwriter)
1936: Tom T. Hall
1948: Klaus Meine (Scorpions)
1950: Robert Steinhardt (Kansas)
1958: Paul Weller (The Jam)
1959: Rick Smith (Underworld)
1975: Lauryn Hill
1980: Joe King (The Fray)
Looking for more artists born on this day?
Keep scrolling for all of our May 25 birthdays.
---
What to find another day?
---
May 25th
25 May 2013
American rock and roll bassist Marshall Lytle, died aged 79. He was best known for his work with the groups
Bill Haley
& His Comets and The Jodimars in the 1950s. He played upright slap bass on the iconic 1950s rock and roll records 'Crazy Man, Crazy', 'Shake, Rattle and Roll', and 'Rock Around the Clock'.
25 May 2009
A former member of Wilco, who was suing the band over a royalties claim, died at his home in Illinois at the age of 45. Jay Bennett worked as a sound engineer and played instruments for the band between 1994 and 2001. Bennett filed his legal action against Wilco lead singer Jeff Tweedy at the beginning of May, claiming $50,000 (£33,160) for five albums he made with the group.
25 May 2007
Sixties pop star Wayne Fontana was remanded in custody after admitting pouring petrol over a bailiff's car and setting fire to it. The judge criticised the former lead singer of the Mindbenders, for arriving at Derby Crown court dressed as the Lady of Justice. He had to hand a sword and scales to guards but still wore a crown, cape and dark glasses, claiming "justice is blind".
25 May 2006
Jamaican reggae singer, songwriter Desmond Dekker died of a heart attack at his home in London, England. Had one of the first international Jamaican hits in 1968, with the 'Israelites'.
25 May 2005
The Alameda County Sheriff's Office in California announced that it was officially closing the stabbing case of Meredith Hunter, the 18-year-old American who was killed at the 1969
Rolling Stones
Altamont Free Concert. Investigators, concluding a renewed two-year investigation, dismissed the theory that a second Hell's Angel took part in the stabbing.
25 May 2004
Madonna
cancelled three shows in Israel after terrorists threatened to kill her and her kids. A spokesperson said she was targeted because she symbolises the West and not because she practises the Jewish faith Kabbalah.
25 May 2003
Jemini, the UK entry for this year's Eurovision Song Contest, failed to get a single point, the first time a UK entry had ended up with nul points. The first nul pointers came in 1962, six years after the contest started, when four countries Austria, Belgium, the Netherlands and Spain all failed to register.
25 May 2001
Oasis
guitarist Noel Gallagher won a damages settlement from The Daily Mirror after they claimed he lied in court during divorce proceedings with Meg Matthews.
25 May 1998
Coldplay
released their first ever record, an EP called Safety, which featured 3 tracks; 'Bigger Stronger', 'No More Keeping My Feet on the Ground', and 'Such a Rush'. The EP was intended as a demo for record companies and is now such a rarity that it is known to fetch in excess of £2000 on eBay.
25 May 1997
A report showed that
Elvis Presley
was now the world's bestselling posthumous entertainer with worldwide sales of over one billion, over 480 active fan clubs and an estimated 250,000 UK fans who still buy his records. Ironically he had died owing $3 million (£1.76 million).
25 May 1997
Bob Dylan
was diagnosed as suffering from histoplasmosis pericarditis, a fungal infection of the lung, and was admitted to hospital he stayed until June 2nd. Having just turned 56, Dylan later admitted: 'I really thought I'd be seeing Elvis soon'. Treated by drugs and rest, Bob was back on the road only 10 weeks later, for 22 American and Canadian shows.
25 May 1995
The earliest known recording of
Mick Jagger
and
Keith Richards
, from 1961, was sold at Christies in London for £50,250 ($85,425).
25 May 1992
Khalil Roundtree, tour manager of Boyz II Men, was killed by gunfire after a scuffle in an elevator on the 26th floor of a hotel in Chicago; their assistant tour manager was also injured.
25 May 1985
Dire Straits
scored their second UK No.1 album with 'Brothers In Arms', also No.1 in the US and 24 other countries. One of the first releases marketed to CD buyers, 'Brothers In Arms' was an early 'all digital' recording. The album won two Grammy Awards at the 28th Grammy Awards, and also won Best British Album at the 1987 Brit Awards, and has gone on to sell over 30 million copies worldwide.
25 May 1978
After seeing The Hype (soon to become
U2
) appearing at the Project Arts Centre, in Dublin, Paul McGuinness became their manager.
25 May 1974
Rick Wakeman became the first member of the group Yes to have a No.1 UK album when 'Journey To The Centre Of The Earth' went to the top of the charts.
25 May 1969
A benefit concert was held for Fairport Convention at The Roundhouse, London to raise money for the families of the band's drummer Martin Lamble, Richard Thompson's girlfriend and clothes designer Jeannie Franklyn who were all killed in an accident driving back from a gig. Also on the bill, Family, Pretty Things, Soft Machine and
John Peel
.
25 May 1969
The Who
and
Led Zeppelin
appeared at the Merriweather Post Pavilion, Columbia, Maryland, USA. This was the only time the two group's ever appeared together, with Zeppelin opening the show. On the tickets Led Zeppelin was spelt Lead Zeppelin.
25 May 1968
Simon And Garfunkel
scored their second US No.1 album with 'Bookends'. The album featured four US singles: 'A Hazy Shade of Winter', 'At the Zoo', 'Fakin' It' and 'Mrs Robinson'.
25 May 1967
Procol Harum's
'A Whiter Shade Of Pale'
entered the UK chart for the first time, where it went on to become a No.1 hit. 'A Whiter Shade Of Pale' became the most played song in the last 75 years in public places in the UK (as of 2009). The first video for the song was shot in the ruins of Witley Court in Worcestershire, England. Directed by Peter Clifton whose insertion of Vietnam War newsreel footage caused it to be banned from airplay on the
Top Of The Pops
TV show. The band subsequently made another video.
25 May 1967
Pink Floyd
appeared at the Gwent Constabulary ('A' Division) Spring Holiday Barn Dance, held at The Barn, Grosmont Wood Farm in Cross Ash, Wales, UK.
25 May 1965
Blues harmonica player, singer and songwriter, Sonny Boy Williamson died in his sleep. Van Morrison,
Aerosmith
,
The Who
, The Animals, Yardbirds and Moody Blues all covered his songs. According to the
Led Zeppelin
biography Hammer of the Gods, touring the UK in the 60s, Sonny Boy set his hotel room on fire while trying to cook a rabbit in a coffee percolator.
25 May 1961
The Temperance Seven were at No.1 on the UK singles chart with 'You're Driving Me Crazy', their only UK No.1 single. The song gave producer George Martin his first No.1.
Born on this day in music
25 May 1980
Joe King, guitarist, vocals, from American rock band The Fray who scored the 2005 US Top 3 single 'How to Save a Life'. The group's self-titled, second album, released in 2009, debuted at No.1 on the Billboard charts.
25 May 1969
American musician Jody Porter, lead guitarist of Grammy Award-nominated power pop band Fountains of Wayne who had the 2003 Grammy-nominated single 'Stacy's Mom'.
25 May 1959
Rick Smith, keyboards, from British electronic music group Underworld who had the 1996 UK No.2 single 'Born Slippy'.
25 May 1958
English singer, songwriter, musician Paul Weller, who with
The Jam
had the 1980 UK No.1 single 'Going Underground' plus 17 other UK Top 40 singles. With The Style Council the 1983 UK No.3 single 'Long Hot Summer', plus 14 other UK Top 40 singles. As a solo artist the 1995 UK No.7 single 'The Changing Man' and 6 UK No.1 albums. Weller has received four Brit Awards, winning the award for Best British Male twice, and the 2006 Brit Award for Outstanding Contribution to Music.
25 May 1955
John Grimaldi, from English rock band Argent who had the 1972 UK No.5 single 'Hold Your Head Up' and the hit and 'God Gave Rock and Roll to You'.
25 May 1951
Chuck Ruff, American rock drummer well known for his work with Edgar Winter. he appeared on the 1973 US No. 1 instrumental 'Frankenstein'. He died after a long illness on 14 October 2011 age 60.
25 May 1950
Jean Millington, from American all-female band Fanny who were active in the early 1970s. They were one of the first notable rock groups to be made up entirely of women.
25 May 1950
Robert Steinhardt, from American rock band Kansas, who scored the 1978 US No.3 single 'Dust In The Wind', and the 1978 hit single 'Carry On Wayward Son'. which was the second-most-played track on US classic rock radio in 1995 and No.1 in 1997. He died from complications of acute pancreatitis age 71 on 17 July 2021.
25 May 1948
Klaus Meine, from German rock band Scorpions. Their 1990 power ballad 'Wind Of Change' topped the European charts and was a No.4 hit in the US. The Scorpions hold the record for the best-selling single by a German artist and band.
25 May 1947
Mitchel Margo, from American male doo-wop-style vocal group The Tokens who had the 1961 US No.1 & UK No.11 single with its cover of Solomon Linda's 'The Lion Sleeps Tonight'.
25 May 1943
English rock musician John Palmer from Family who scored the 1971 UK No.4 single 'In My Own Time' and the 1973 single 'My Friend The Sun'.
25 May 1942
Brian Davison, from English progressive rock band The Nice, who had the 1968 UK hit single an instrumental rearrangement of Leonard Bernstein's 'America'. He died on 15 April 2008.
25 May 1936
American soul singer and songwriter Donnie Elbert, who had a 1972 US No.22 & UK No.11 single with 'I Can't Help Myself, Sugar Pie Honey Bunch' and a hit with 'A Little Piece of Leather'. He died on January 26th 1989.
25 May 1936
Tom T. Hall, country music singer-songwriter. Hall has written 11 No.1 hit songs, with 26 more that reached the Top 10, including 'Harper Valley PTA' a hit for Jeannie C. Riley in 1968. He became known as 'The Storyteller,' due to his storytelling skills in his songwriting. He died on 20 August 2021 from a self-inflicted gunshot wound to the head.
25 May 1921
Hal David, American songwriter, pianist and arranger, who with Burt Bacharach wrote many classic songs including, 'Close To You', '24 Hours From Tulsa', 'Make It Easy On Yourself', 'Magic Moments', 'I Say A Little Prayer'. He won two Oscars for the film score to 'Butch Cassidy and the Sundance Kid, and for 'Raindrops Keep Fallin' On My Head'. David died from from complications from a stroke on 1st Sept 2012 aged 91.