May 26th: The Biggest Music Headlines
Scroll down the page to see all the music headlines, stories and events for May 26 throughout music history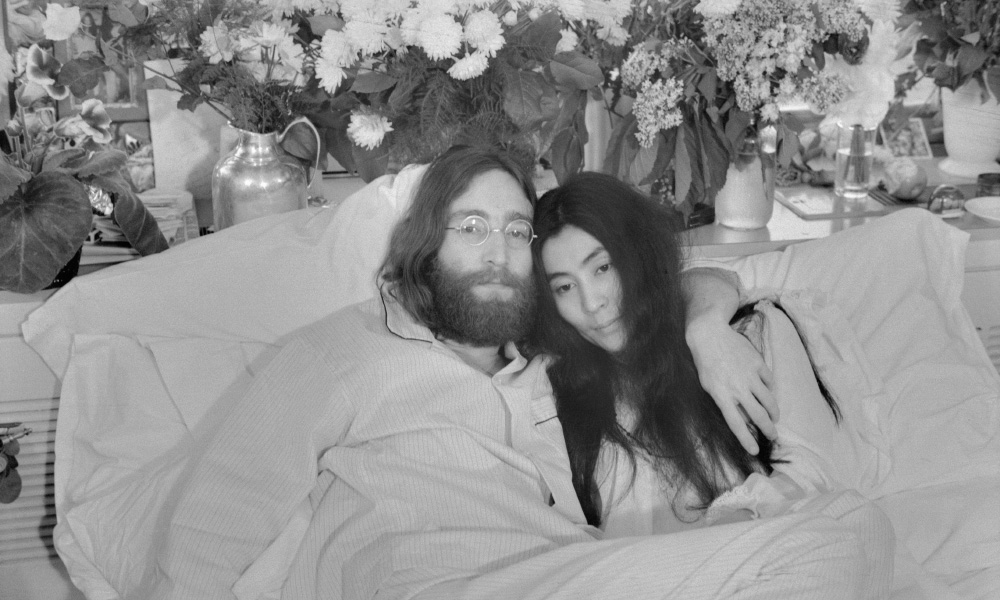 John Lennon and Yoko Ono Begin Their Montreal Bed-In
On this day in music, May 26, 1969, newlyweds John Lennon and Yoko Ono commenced their second week-long "bed-in" at Montreal's Hotel La Reine Elizabeth. Based on the idea of a "sit-in," the engagement was meant as a form of protest, promoting world peace amid the Vietnam War. During their time at the hotel, the pair welcomed members of the press, as well as a variety of high-profile guests – several of whom participated in the June 1 recording of "Give Peace a Chance." The couple held their first bed-in in March at the Hilton Hotel in Amsterdam, following their wedding.
In 1973, singer-songwriter Carole King played a free concert to roughly 100,000 fans at New York's Central Park. The Brooklyn-born artist, who was readying to release her fifth album, Fantasy, considered the homecoming show as a gift to her fans. Joni Mitchell, Jack Nicholson, and Faye Dunaway were all in attendance, as King performed some of her biggest hits to date, including "Beautiful," "It's Too Late," and "You've Got a Friend."
In 1990, for the first time in US chart history, female artists held the top five spots on the Billboard Hot 100. Madonna's "Vogue" topped the chart, followed by Heart, Sinead O'Connor, Wilson Phillips, and Janet Jackson.
In 1964, Marianne Faithfull recorded the Mick Jagger/Keith Richards-penned "As Tears Go By." The melancholy tune, which featured Jimmy Page on guitar, was an international hit for Faithfull, landing in the UK and Canadian Top 10, and the US Top 40. The Rolling Stones would also release a top-selling version of the song in 1966.
In 1984, Deniece Williams, who began her career as a backing vocalist for Stevie Wonder, had her own moment to shine when "Let's Hear It for the Boy" began a two-week run at the top of the Billboard Hot 100. The song appeared in the blockbuster film Footloose.
Looking for more things that happened on this day in music?
Keep scrolling for all of the headlines for May 25.
BORN ON MAY 25:
1904: George Formby
1920: Peggy Lee
1926: Miles Davis
1940: Levon Helm (The Band)
1946: Mick Ronson
1948: Stevie Nicks
1949: Hank Williams Jr.
1964: Lenny Kravitz
1972: Alan White (Oasis)
1981: Isaac Slade (The Fray)
Looking for more artists born on this day?
Keep scrolling for all of our May 25 birthdays.
---
What to find another day?
---
May 25th
26 May 2022
Depeche Mode keyboardist Andy Fletcher died age 60. Fletcher was a founding member of the band which found success with their dark electronic sound with hits including 'Personal Jesus'. Depeche Mode had chart success in the 1980s and 1990s with singles including 'New Life', 'Enjoy the Silence' and 'Just Can't Get Enough.'
26 May 2022
English drummer Alan White best known for his tenure in the progressive rock band Yes died age 72. In 1969, White joined John Lennon and Yoko Ono's Plastic Ono Band, playing drums on the singles 'Instant Karma! and 'Imagine', as well as most of Lennon's 1971 Imagine album. White also performed on over 50 albums by other musicians, notably George Harrison, Ginger Baker's Air Force, Terry Reid, Joe Cocker and The Ventures.
26 May 2022
The four members of Abba made their first public appearance in 14 years as they attended the premiere of their Abba Voyage show in London, UK. Agnetha, Frida, Benny and Bjorn reunited for the opening night of the concert, which featured digital versions of the band. The concert had been in the works since 2016 and featured ground-breaking new technology that recreated the sight of Abba in their 1970s prime.
26 May 2021
Police in the US state of New Hampshire issued an active arrest warrant for singer Marilyn Manson in connection with assault charges. Manson, was accused of two counts of "class A misdemeanour simple assault" involving a videographer during a concert in Gilford in 2019. In a statement, the police said the singer and his agents "have been aware of the warrant for some time". But he had made no effort to return to answer the charges, the police said.
26 May 2017
Chris Cornell was laid to rest at the Hollywood Forever Cemetery in Los Angeles next to Johnny Ramone. Mourners at the funeral service include Dave Navarro, Tom Morello, Lars Ulrich, James Hetfield, Courtney Love and his Soundgarden bandmates Matt Cameron and Kim Thayil. Cornell hanged himself on May 18 2017.
26 May 2016
A set of stamps celebrating 50 years of
Pink Floyd
were unveiled by the Royal Mail. The ten stamps which would be available the following month marked five decades since the band turned professional. The collection included the band's most famous album covers as well as live performance shots.
26 May 2015
US authorities were investigating the death of blues legend B.B. King after two of his daughters claimed he was poisoned. Karen Williams and Patty King said the musician had been given "foreign substances to induce his premature death" by his business manager Laverne Toney. King died in his sleep at his Las Vegas home on 14 May of this year, aged 89.
26 May 2009
A US judge ended a bitter two-year battle over the late soul singer
James Brown
's estate. Judge Jack Early ruled half of his assets will go to a charitable trust, a quarter to his wife and young son, and the rest to his six adult children. Brown's family and wife Tomi Rae Hynie Brown, had fought over his fortune since he died of heart failure in 2006.
26 May 2007
Contemporary musicians recorded their own versions of songs from the Beatles'
Sgt. Pepper
album to mark 40 years since it was released. Acts including
Oasis
, Travis, The Fray, Kaiser Chiefs, Razorlight,
Bryan Adams
and The Magic Numbers all worked with Geoff Emerick - the engineer in charge of the original 1967 sessions, using the original analogue 4-track equipment to demonstrates the techniques employed for the recording at Abbey Road studios in 1967.
26 May 2002
The first episode of At Home With The Osbournes was shown on
MTV
in the UK. Already becoming a hit in the the US, the show focused on the madman and his family (his wife Sharon, and two of their three children). Oblivious to the camera, they bicker, squabble, curse and hang out backstage at Ozzy shows.
26 May 2000
Drummer
Tommy Lee
was jailed for five days for drinking alcohol. Lee appeared in front of a LA court charged with violating his probation by consuming alcohol, an act that directly contravenes the terms of his parole.
26 May 1996
A fire at the home of
Eric Clapton
caused over one and a half million pounds worth of damage; Firemen arrived on the scene to find Clapton braving the blaze to save his collection of guitars.
26 May 1995
The
Rolling Stones
played two semi-acoustic concerts at the Paradiso Amsterdam over two days.
Keith Richards
later said that the Paradiso concerts were the best live shows the Stones ever did. The venue is housed in a converted former church building that dates from the nineteenth century, subsequently squatted in 1967 by hippies who wanted to convert the church into an entertainment club. Artists who have recorded concerts at the Paradiso include
Joy Division
, Willie Nelson, Phish,
Nirvana
, The Cure, Lenny Kravitz, Nick Cave, Dave Matthews and
Amy Winehouse
.
26 May 1994
Michael Jackson
married Lisa Marie Presley, daughter of
Elvis Presley
. The couple divorced in 1995. They had first met when the seven-year-old Presley attended several of Jackson's concerts in Las Vegas.
26 May 1990
For the first time ever the Top five positions on the US singles chart were held by female artists;
Madonna
was at No.1 with 'Vogue', Heart were at No.2,
Sinead O'Connor
No.3, Wilson Phillips at No.4 and
Janet Jackson
was at No.5.
26 May 1984
Former backing singer with
Stevie Wonder
, Deniece Williams started a 2 week run at No.1 on the US singles chart with 'Let's Hear It For The Boy', taken from the film 'Footlose', a No.2 hit in the UK.
26 May 1979
'Sunday Girl' gave
Blondie
their second UK No.1 hit single. The track was taken from the group's 'Parallel Lines', which went on to become the biggest selling album of 1979.
26 May 1977
Billy Powell singer with The O'Jays died of cancer. (1972, hit 'Back Stabbers', 1973 US No.1 & UK No.9 single 'Love Train'). Originally known as The Triumphs, and then The Mascots, they took the name "The O'Jays", in tribute to radio disc jockey Eddie O'Jay.
26 May 1974
Tragedy struck at a David Cassidy concert at London's White City when over 1,000 fans had to be treated by first aid workers due to the frenzied excitement. One fan Bernadette Whelan died from heart failure four days later.
26 May 1973
The Edgar Winter Group went to No.1 on the US singles chart with 'Frankenstein', the bands only US No.1, it reached No.18 in the UK. The group featured ex McCoys guitarist Rick Derringer. In live performances of the song, Edgar Winter further pioneered the advancement of the synthesizer as a lead instrument by becoming the first person ever to strap a keyboard instrument around his neck.
26 May 1972
At the point of the band splitting up
David Bowie
offered
Mott The Hoople
two of his new songs, 'Suffragette City', which they turned down and 'All The Young Dudes', which they recorded. The song gave the group a No.3 UK and US Top 40 hit.
26 May 1972
The first day of the four day UK festival 'The Great Western Express' near Lincoln featuring; the
Faces
, Joe Cocker, Humble Pie, Slade, The Groundhogs, Ry Cooder, Don McLean, Brewers Droop plus a special appearance by Monty Python.
26 May 1969
John Lennon
and Yoko Ono began an eight-day 'bed in', in room 1742 of The Hotel La Reine Elizabeth, Montreal, Canada, to promote world peace. They recorded 'Give Peace a Chance' in the hotel room (Petula Clark can be heard on the chorus). The song was credited to Lennon & McCartney, even though Paul had nothing to do with the record.
26 May 1968
US blues artist Little Willie John died in prison after being convicted of manslaughter. Co-wrote and was the first to record a 'Fever' (covered by Peggy Lee in 1958), and 'Need Your Love So Bad' covered by
Fleetwood Mac
.
James Brown
recorded a tribute album 'Thinking Of Little Willie John... And A Few Other Nice Things'.
26 May 1968
Pink Floyd
, Blonde On Blonde and The Pretty Things all appeared at the OZ magazine benefit at the Middle Earth Club, Covent Garden, London, England. OZ was a satirical humour magazine, founded by Richard Neville and based in Sydney, Australia from 1963. In its second and better-known incarnation it became a counter-culture magazine, based in London from 1967 to 1973.
26 May 1967
The Beatles
released
Sgt Pepper
's Lonely Hearts Club Band, in the UK. Recorded over a 129-day period beginning in December 1966, the album is widely regarded as one of the greatest of all time and was the first Beatles album where the track listings were exactly the same for the UK and US versions. As of 2011, it has sold more than 32 million copies worldwide, making it one of the best-selling albums in history.
26 May 1966
The
Rolling Stones
were at No.1 on the UK singles chart with 'Paint It, Black', their sixth UK No.1 single. It was originally titled 'Paint It Black' without a comma.
Keith Richards
has stated that the comma was added by the record label, Decca. It was the first No.1 single to feature a sitar on the recording.
26 May 1966
The Beatles
recorded 'Yellow Submarine' at Abbey Road studios in London. Recovering from a case of food poisoning, producer George Martin missed this recording, EMI engineer Geoff Emerick worked on the session. The track features
John Lennon
blowing bubbles in a bucket of water, shouting "Full speed ahead Mister Captain!"
26 May 1964
Born on this day in music
26 May 1981
Isaac Slade, lead singer and pianist, from American rock band The Fray who scored the 2005 US Top 3 single 'How to Save a Life'. The group's self-titled, second album, released in 2009, debuted at No.1 on the Billboard charts.
26 May 1978
Jaheim Hoagland, (aka Jaheim), US R&B singer, (2006 US No.1 album 'Ghetto Classics').
26 May 1975
American singer, songwriter, rapper Lauryn Hill, who with The Fugees had the 1996 UK No.1 single 'Killing Me Softly'. As a solo artists had the 1998 UK No.3 single 'Doo Wop, That Thing', and the 1998 US No.1 & UK No.2 album The Miseducation Of Lauryn Hill.
26 May 1972
English rock drummer Alan White from
Oasis
. He is the longest serving drummer in
Oasis
's history, performing on four studio albums. In early 2004, White left
Oasis
during the early recording sessions for the band's sixth album.
26 May 1967
Kristen Pfaff best known as the bassist for alternative rock band Hole. She was found dead on 16 June 1994 in her bathtub due to a heroin overdose aged 26. She died two months after
Kurt Cobain
, who was a close friend as well as the husband of Hole's frontwoman Courtney Love.
26 May 1964
American singer, songwriter, Lenny Kravitz, who had the 1990 UK hit single 'Let Love Rule', the 1999 UK No.1 single 'Fly Away', and the 1993 UK No.1 album 'Are You Gonna Go My Way'. Kravitz has also worked with
Mick Jagger
,
Madonna
and
David Bowie
.
26 May 1962
English singer-songwriter Colin Vearncombe, who with Black had the 1987 UK No.8 single 'Wonderful Life'. Vearncombe was involved in a road traffic accident, on Jan 10th 2016 near Cork Airport in Ireland, and placed in a medically-induced coma after sustaining serious head injuries. He died from his injuries at the intensive care unit of Cork University Hospital on 26 January 2016, at the age of 53.
26 May 1959
English musician Wayne Hussey who was a member of Dead Or Alive, who had the 1985 UK No.1 single 'You Spin me round, Like A record'. He joined Sisters Of Mercy, and then became the lead singer of The Mission who had the 1988 UK No.12 single 'Tower Of Strength'.
26 May 1949
American singer-songwriter and musician
Hank Williams
Jr, the son of country music's greatest star. Williams began his career by following in his famed father's footsteps, covering his father's songs and imitating his father's style.
26 May 1948
American singer-songwriter Stevie Nicks, from
Fleetwood Mac
who scored the 1987 UK No.5 single 'Little Lies' and 1977 US No.1 single 'Dreams', taken from the world-wide No.1 album
Rumours
. She scored the solo, 1981 US No.1 & UK No.11 album Bella Donna, and the 1989 hit single 'Rooms On Fire'. Nicks joined Fleetwood Mac in 1975 along with her then boyfriend, Lindsey Buckingham.
26 May 1946
English guitarist, songwriter, multi-instrumentalist, arranger, and producer
Mick Ronson
. He was a member of The Rats, then worked with
David Bowie
from 1970, (1972 UK album The Rise And Fall Of
Ziggy Stardust
And The Spiders From Mars). Also worked with
Mott The Hoople
,
Bob Dylan
, and Ian Hunter. hE released the 1974 UK No.9 solo album Slaughter On Tenth Avenue. Ronson died on April 29th 1993.
26 May 1945
English musician Verden Allen a founding member of 1970s rock band
Mott The Hoople
, who had the 1972 UK No.3 & US No.37 single 'All The Young Dudes' which was written for them by
David Bowie
. Other hits include, 'All the Way from Memphis' and 'Roll Away the Stone'.
26 May 1945
Gary Peterson, drummer from Canadian rock band Guess Who who had the 1970 US No.1 & UK No.19 single 'American Woman'.
26 May 1942
Ray Ennis, from British Merseybeat band The Swinging Blue Jeans who had the 1964 UK No.2 single 'Hippy Hippy Shake' and the hit and 'You're No Good'.
26 May 1941
Art Sharp, from English rock band, Nashville Teens who scored the 1964 UK No.6 single and US Top 20 hit 'Tobacco Road'.
26 May 1940
Levon Helm, drummer and singer with The Band. He died of throat cancer aged 71 on 19th April 2012. Helm formed his own high school band, the Jungle Bush Beaters, at 17, he later joined The Hawks (Ronnie Hawkins's backing group), who then became known as The Band and also backed
Bob Dylan
on his US tour in 1965 and world tour in 1966. Helm sang on Band classics like 'The Night They Drove Old Dixie Down,' 'Up on Cripple Creek,' 'Rag Mama Rag,' and 'The Weight.'
26 May 1938
Jaki Liebezeit, German drummer, best known as a founding member of Can.Liebezeit died of pneumonia on 22 January 2017.
26 May 1926
Miles Davis, jazz trumpeter and composer who had a 1959 album with Kind of Blue. He was a major influence on jazz music. Davis died on September 28th 1991.
26 May 1920
American singer, actress, Peggy Lee, (real name: Norma Dolores Egstrom) who had the 1958 US No. 8 & UK No.5 single 'Fever', and worked with Benny Goodman, Randy Newman, Quincy Jones. She was nominated for 12 Grammy Awards, winning Best Contemporary Vocal Performance for her 1969 hit 'Is That All There Is'. She died on 21st January 2002.
26 May 1904
George Formby, UK singing comedian and ukulele player. He made over 20 films and his best-known song is 'Leaning On A Lamp Post'. He was made an OBE in 1946, and died on March 6th 1961. Formby was a major influence on
George Harrison