May 3rd: The Biggest Music Headlines
Scroll down the page to see all the music headlines, stories and events for May 3 throughout music history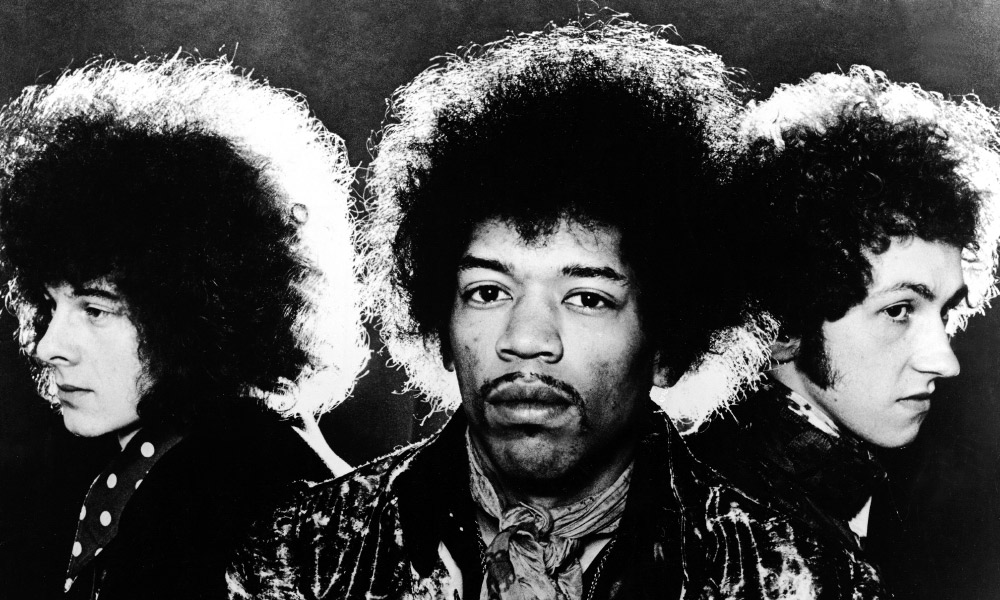 The Jimi Hendrix Experience Records "Voodoo Chile (Slight Return)"
On this day in music, May 3, 1968, The Jimi Hendrix Experience recorded "Voodoo Chile (Slight Return)." The last track on the group's third and final album, Electric Ladyland, "Voodoo Chile (Slight Return)" became one of Hendrix's signature hits and was released as a single in the UK shortly after his untimely death in 1970. The song became the guitarist's sole No.1 in his adopted country and – clocking at nearly 15 minutes – is Hendrix's longest studio track.
In 1952, Kitty Wells recorded "It Wasn't God Who Made Honky Tonk Angels." Penned by J.D. "Jay" Miller, the song was a response to Hank Thompson's hit, "The Wild Side of Life." While Wells was initially reluctant to record the tune, it became a massive hit, holding the top position on the Billboard country charts for six weeks. The single also made Wells the first solo female artist to hit No.1 on the chart.
In 2009, Bob Dylan topped the UK charts with his 33rd album, Together Through Life. The feat found the singer-songwriter (who last earned a No.1 with 1970's New Morning) besting Tom Jones for the record of the longest gap between solo chart-topping albums.
In 1976, Paul McCartney (with Wings) performed in the US for the first time in nearly ten years, as he kicked off the North American leg of the Wings Over the World tour. The 31-date run was later captured on the band's triple live album, Wings Over America. McCartney last appeared in the US with the Beatles during their 1966 tour.
In 1968, The Beach Boys began a US tour with Maharishi Mahesh Yogi in support of their Friends album. The Maharishi's involvement included lectures about "spiritual regeneration" before he withdrew from the tour to fulfill film contracts. Due to negative audience reactions and Maharishi's withdrawal, 24 tour dates were canceled.
In 1997, late rapper The Notorious B.I.G. began a three-week run at the top of the Billboard Hot 100 with "Hypnotize." The song, which featured vocals from Pamela Long, became the fifth posthumous single by a credited artist to hit No.1 on the US chart, following John Lennon and Yoko Ono's 1980 track, "(Just Like) Starting Over."
In 1986, Robert Palmer's "Addicted to Love" topped the US singles chart. It was one of the last 45 RPM singles to receive a million-selling Gold certification and became Palmer's signature hit.
Looking for more things that happened on this day in music?
Keep scrolling for all of the headlines for May 3.
BORN ON MAY 3:
1903: Bing Crosby
1919: Pete Seeger
1933: James Brown
1934: Frankie Valli
1951: Christopher Cross
1953: Bruce Hall (REO Speedwagon)
1959: Dave Ball (Soft Cell)
1971: John Driskell Hopkins (Zac Brown Band)
1977: Eric Church
Looking for more artists born on this day?
Keep scrolling for all of our May 3 birthdays.
---
What to find another day?
---
May 3rd
3 May 2023
English singer, songwriter and musician Linda Lewis died age 72. As well as a solo career Lewis also provided backing vocals for other artists, including David Bowie, Al Kooper, Cat Stevens, Rick Wakeman, Rod Stewart, Joan Armatrading and Jamiroquai.
3 May 2021
American R&B and swing singer-songwriter, record executive and bandleader, Lloyd Price died age 88. He was known as 'Mr. Personality', after his 1959 million-selling hit, 'Personality'. His first recording, 'Lawdy Miss Clawdy', was a hit for Specialty Records in 1952.
3 May 2020
The Stranglers' keyboard player Dave Greenfield died at the age of 71 after testing positive for coronavirus. Greenfield contracted COVID-19 following a prolonged stay in hospital for heart problems. He is best known as a long-standing member of the rock band and penning the music for their biggest hit 'Golden Brown'.
3 May 2019
Wayne State University of Detroit, Michigan awarded Jack White with an honorary doctor of humane letters degree "for his dedication to Detroit and significant contributions to the arts as one of the most prolific and renowned artists of the past two decades".
3 May 2017
American drummer Casey Jones died aged 77. In the early 1960s, he recorded with Earl Hooker, A.C. Reed, McKinley Mitchell, and Muddy Waters. As a session drummer, he worked with artists such as Lou Rawls, Otis Rush and Johnny Winter. For six years he was a member of Albert Collins's band as his drummer.
3 May 2017
The
Eagles
were suing a hotel in Mexico that calls itself the Hotel California, after the band's hit song and album. The rock band claim the 11-room hotel, in Todos Santos, "actively encourages" guests to believe it is associated with them in order to sell merchandise. They claim the hotel plays Eagles songs in the lobby and sells t-shirts describing the venue as "legendary".
3 May 2014
American musician Bobby Gregg died aged 78. Gregg is best is known for his work as a drummer on several seminal 1960s songs, including
Bob Dylan
's 'Like a Rolling Stone' and
Simon And Garfunkel
's 'The Sound of Silence'. He was also temporarily a member of The Hawks, which later became known as The Band.
3 May 2012
Paul McCartney
and his wife Nancy Shavell narrowly avoided a potential deadly helicopter crash when their pilot became disoriented during a flight in bad weather and missed some trees by just two feet. Flying home to their estate in East Sussex, England after a day in London, the McCartney's were not aware of how close they came to crashing at the time. The UK's Department of Transport launched an investigation into the incident the following November.
3 May 2009
Bob Dylan
went to No.1 on the UK album chart with 'Together Through Life' his seventh UK No.1 album. It was the singer, songwriter's 33rd studio album, he last topped the UK chart with 'New Morning' in 1970. His first No.1 in 1964, was 'The Freewheelin'
Bob Dylan
'. Dylan now held the record, (previously held by Tom Jones), for the longest gap between solo number one albums.
3 May 2008
Rap star Sean 'Diddy' Combs was honoured with a star on Hollywood's Walk of Fame. The 38-year-old dedicated the star to his father, who was shot dead in 1972.
3 May 2006
The first
Bob Dylan
radio program was aired on XM Satellite Radio. Tracks played on his show included Blur,
Prince
, Billy Bragg, Wilco, Mary Gauthier, L.L. Cool J and The Streets.
3 May 2004
The US Supreme Court rejected an appeal by two musicians who claimed they were owed royalties from
Ozzy Osbourne
. Bassist Robert Daisley and drummer Lee Kerslake had fought a long-running battle since 1997 with the Osbourne family claiming they were entitled to money from the albums 'Blizzard of Ozz' and 'Diary of a Madman.' Sharon Osbourne, Ozzy's wife and manager, said that the pair had "harassed" her family and had had their contributions removed from the albums because of their "abusive and unjust behaviour".
3 May 1997
Katrina And The Waves won the Eurovision Song Contest in Dublin with the song 'Love Shine A Light', making them the first UK winners since Bucks Fizz in 1981.
3 May 1997
The Notorious B.I.G. started a three week run at No.1 on the US singles chart with his posthumous hit 'Hypnotize', a No.10 hit in the UK, the rapper was gunned down and killed on March 9th, 1997.
3 May 1986
Robert Palmer went to No.1 on the US singles chart with 'Addicted To Love', it made No.5 in the UK. Palmer originally recorded the song as a duet with Chaka Khan but due to contractual problems her voice was removed.
3 May 1986
The Art Of Excellence by Tony Bennett became the first album in the US to be initially released on CD instead of the traditional vinyl format.
3 May 1980
Bob Seger & The Silver Bullet Band started a six week run at No.1 on the US album chart with 'Against The Wind'.
3 May 1980
Dexy's Midnight Runners were at No.1 on the UK singles chart with 'Geno', a song written about US soul singer Geno Washington.
3 May 1976
David Bowie
played the first of six sold out nights at Wembley, on his Station To Station tour, his first UK gig in three years.
3 May 1976
Paul McCartney
made his first concert appearance in America in almost ten years when Wings kicked off their 31-date 'Wings Over America' tour at the Tarrant County Convention Center, Fort Worth, Texas.
3 May 1975
The Bay City Rollers started a three-week run at No.1 on the UK chart with their second album 'Once Upon A Star.'
3 May 1972
Les Harvey guitarist with Stone The Crows died after being electrocuted on stage during a gig at Swansea University, Wales. He was the brother of Scottish singer Alex Harvey and a member of the Alex Harvey Soul Band.
3 May 1971
Led Zeppelin
kicked off a European tour at K.B. Hallen, Copenhagen, Denmark in front of 4,000 fans. The set list included the only known performance of 'Four Sticks' and the debut live performance of 'Misty Mountain Hop'.
3 May 1969
Jimi Hendrix
was arrested by police on his way to Toronto for possession of hashish and heroin. Hendrix claimed the drugs had been planted on him.
3 May 1968
The Beach Boys
opened their US tour on which the co-headliner was Maharishi Mahesh Yogi. The second half of the concert which featured the Maharishi Mahesh Yogi, lectured the audience on "spiritual regeneration." The reaction was so negative, more than half of the remaining tour dates were cancelled.
3 May 1968
The
Jimi Hendrix Experience
recorded 'Voodoo Chile.' It was featured on the 'Electric Ladyland' double album and became a UK No.1 single on 21st November 1970 two months after the guitarist's death. Hendrix's solo on the track was named the 11th greatest solo of all-time in Guitar World's 100 Greatest Guitar Solos.
3 May 1967
Pink Floyd
appeared at The Moulin Rouge, Ainsdale, Southport, England. The promotion flyers for the club said: 'The Moulin Rouge night club. Wine, Dine, Dance! And have a gay time'.
3 May 1965
The Beatles
spent the day filming for their forthcoming film
Help!
, on Salisbury Plain, England, with the British Army's Third Tank Division.
3 May 1952
Kitty Wells recorded 'It Wasn't God Who Made Honky Tonk Angels'. Wells was disenchanted with her career prospects and was considering retirement, but agreed to the session at Owen Bradley's studio because of the $125 union scale recording payment. 'It Wasn't God Who Made Honky Tonk Angels' was an answer song to Hank Thompson's 'The Wild Side of Life', and its lyrical treatment of seductive, wayward women. It became the first No.1 Billboard country hit for a solo female artist.
Born on this day in music
3 May 1997
American rapper, singer, songwriter, record producer, Desiigner. He had the 2016 US No.1 single 'Panda'.
3 May 1985
Kelli-Leigh, English singer and songwriter, best known for being the uncredited vocalist in the 2014 UK No.1 singles 'I Got U' by Duke Dumont and 'I Wanna Feel' by Secondcity. She has also performed backing vocals for
Adele
and Leona Lewis among others.
3 May 1981
Farrah Franklin, singer, actress and model. Joined Destiny's Child in 2000, along with Michelle Williams, replacing original members LeToya Luckett and LaTavia Roberson. Left Destiny's Child after five months.
3 May 1979
English pop singer and television personality, Danny Foster who with Hear'Say, had the 2001 UK No.1 single 'Pure And Simple'.
3 May 1977
Eric Church, American country music singer-songwriter. His 2014 single 'Give Me Back My Hometown', became his fourth No.1 on the Country Airplay chart. Church has become an avid advocate for the use of marijuana, reflected in songs such as 'Smoke a Little Smoke'.
3 May 1972
American musician Josey Scott, the lead singer, Saliva. Scott sang 'Hero' with Chad Kroeger of Nickelback, which was used as the theme song to the 2002 film Spider-Man.
3 May 1971
John Driskell Hopkins American musician with the Grammy Award winning country music group, Zac Brown Band. Their 2015 album Jekyll + Hyde which debuted at No.1 on the US chart featured the single 'Heavy Is the Head' with vocals from Chris Cornell.
3 May 1969
Jay Darlington from English psychedelic rock band Kula Shaker, who had the 1996 UK No.2 single 'Hey Dude'.
3 May 1965
Simon Smith, drums, from British indie rock group The Wedding Present. During 1992 they released one single every month giving them 12 Top 30 hits, making them the only group to score more than 10 new hits in one year.
3 May 1964
Sterling Campbell, American rock drummer who has worked with numerous high-profile acts, including The B-52s,
Duran Duran
, Soul Asylum, Cyndi Lauper, Gustavo Cerati and
David Bowie
.
3 May 1959
David Ball, English producer and electronic musician who with Soft Cell had the 1981 UK No.1 single 'Tainted Love', (an obscure 1965 northern soul track originally released by Gloria Jones, the girlfriend of
Marc Bolan
).
3 May 1953
Bruce Hall, from American rock band REO Speedwagon, who had the 1981 US No.1's 'Keep On Loving You' and 'Can't Fight This Feeling'. They named the band REO Speedwagon, from the REO Speed Wagon, a flatbed truck.
3 May 1951
American singer-songwriter Christopher Cross who had the 1981 US No.1 single 'Arthur's Theme' and the hit 'Sailing'.
3 May 1950
Mary Hopkin, (1968 UK No.1 and US No.2 single 'Those Were The Days', released on
The Beatles
Apple label and produced by
Paul McCartney
, winner of TV Talent show 'Opportunity Knocks.
3 May 1948
John Richardson, from English pop band The Rubettes who had the 1974 UK No.1 single 'Sugar Baby Love'.
3 May 1944
Pete Staples, with English garage rock band The
Troggs
, who had the 1966 US No.1 & UK No.2 single 'Wild Thing' and the hits 'With a Girl Like You' and 'Love Is All Around'.
3 May 1934
Frankie Valli, singer, from American rock and pop band The Four Seasons who had the 1960s hits 'Sherry', 'Big Girls Don't Cry', 'Walk Like a Man', and the 1976 UK & US No.1 single 'December 1963, (Oh What A Night'). They are one of the best-selling musical groups of all time, having sold an estimated 100 million records worldwide. Valli had the 1978 solo US No.1 & UK No.3 single 'Grease'.
3 May 1933
James Brown
'Soul Brother No.1', (1966 US No.8 and UK No.13 single 'It's A Man's World', 1986 UK No.5 single 'Living In America', 1963 album 'Live At The Apollo'). Brown demanded extreme discipline from his musicians and dancers, and had the practice of assessing fines on members of his band who broke his rules, such as wearing un-shined shoes, dancing out of sync or showing up late on stage. Brown died on 25th Dec 2006 at the age of 73.
3 May 1924
American singer Jane Morgan who had the 1958 single 'The Day The Rains Came'. Morgan initially found success in France and the UK before achieving recognition in the US. She later performed in musicals on the stage and Broadway.
3 May 1919
American folk singer and activist Pete Seeger. He had a string of hit records during the early Fifties as a member of the Weavers, most notably their recording of Lead Belly's 'Goodnight, Irene', which topped the charts for 13 weeks in 1950. Members of the Weavers were blacklisted during the McCarthy Era. In the 1960s, he re-emerged on the public scene as a prominent singer of protest music in support of international disarmament, civil rights, counterculture and environmental causes. He died on 27 January 2014 at the age of 94.
3 May 1903
American singer and actor Bing Crosby who recorded an estimated 2,600 songs in his lifetime including 'White Christmas', which was written by Irving Berlin. Crosby had 317 other hits in the USA. He became the first performer to pre-record his radio shows and master his commercial recordings onto magnetic tape. He died of a heart attack on a golf course in Madrid, Spain, on October 14, 1977.