November 1st: The Biggest Music Headlines
Scroll down the page to see all the music headlines, stories and events for November 1 throughout music history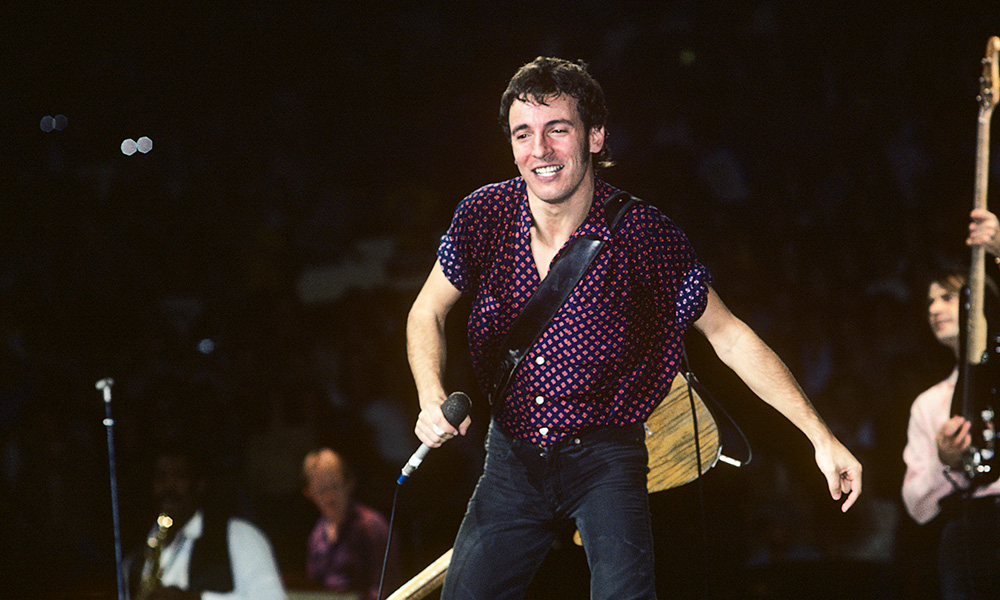 Bruce Springsteen Scores His First No.1 Album
On November 1, 1980, Bruce Springsteen scored his first No.1 album in the US with The River. Released two weeks earlier, the title remained at the top of the Billboard 200 for four weeks. Marking The Boss' fifth studio album and the only double LP of his career, The River included Springsteen's first major US chart hit, "Hungry Heart," plus favorites like "Fade Away" and the Grammy-nominated title track. The River also found success abroad, landing in the Top 10 in Australia, France, Spain, and the UK, and topping the album chart in Canada.
In 1997, Aqua began a four-week run at the top of the UK pop chart with "Barbie Girl." The Danish dance-pop group's enduring hit also peaked at No.1 across Europe and was a Top Ten hit in the US.
In 1969, The Beatles scored their 13th No.1 on the Billboard 200 with Abbey Road. The album featured their final studio recordings (including "Something," "Come Together," and "Here Comes the Sun") but would precede 1970's Let It Be.
In 1955, the James Brown-fronted Famous Flames recorded their first demo, "Please, Please, Please," at a radio station in Macon, GA. The demo helped the group score a record deal and became a Top Ten R&B hit.
In 1968, Beatles guitarist George Harrison released his solo debut Wonderwall Music. The largely instrumental album also served as the soundtrack to the Joe Massot-directed film, Wonderwall.
In 1990, musician and arranger Ray Pohlman, a member of the legendary session band, the Wrecking Crew, died at the age of 60. In the '50s, Pohlman was credited as the first session musician to play the electric bass, while in the '60s, he served as bandleader for The Shindogs – the house band for the popular TV show, Shindig!.
Looking for more things that happened on this day in music?
Keep scrolling for all of the headlines for November 1.
BORN ON NOVEMBER 1:
1947: Jim Steinman (Composer, Lyricist, and Producer)
1949: David Foster (Producer)
1951: Ronald Bell (Kool & the Gang)
1959: Lyle Lovett
1962: Anthony Kiedis (Red Hot Chili Peppers)
1963: Rick Allen (Def Leppard)
Looking for more artists born on this day?
Keep scrolling for all of our November 1 birthdays.
---
What to find another day?
---
November 1st
1 Nov 2016
Bap Kennedy, singer, songwriter from Belfast, Northern Ireland, died in Belfast in hospice care from pancreatic and bowel cancer. He is noted for his collaborations with Steve Earle, Van Morrison, Shane MacGowan and Mark Knopfler, as well as for writing the song 'Moonlight Kiss' which was on the soundtrack for the film Serendipity. Kennedy was also in the rock band Energy Orchard.
1 Nov 2015
Taylor Swift
was being sued for $42m (£27m) for allegedly stealing the lyrics to her hit 2014 song 'Shake It Off', which topped music charts around the world. R&B singer Jesse Braham claimed in legal papers Swift stole the words from a song he wrote in 2013 called 'Haters Gone Hate'.
1 Nov 2012
Metal Hammer magazine published a list of the "Top ten rock and heavy metal moustaches…Ever". The list which included moustaches worn by the likes of
Frank Zappa
, all the members of
Black Sabbath
, (except
Ozzy Osbourne
). James Hetfield, and Lemmy placed
Freddie Mercury
at the top of the list.
1 Nov 2008
US drummer and singer Jimmy Carl Black died. He was a member of The Keys, The Soul Giants, The Mothers Of Invention and Jimmy Carl Black And The Mannish Boys. Also worked with
Jimi Hendrix
,
Janis Joplin
,
The Doors
, Joe Cocker,
Grateful Dead
and The Turtles.
1 Nov 2008
Shakir Stewart shot himself dead in the bathroom of his home in Atlanta. He worked as a music promoter and was a vice-president of Def Jam Music Group, he signed Rick Ross, Karina Pasian, Ciara and Young Jeezy and worked with LL Cool J and Nas.
1 Nov 2007
Winners at this year's
MTV
Europe Music Awards held in Munich, Germany included Avril Lavigne who was named best solo artist, and her song Girlfriend was voted most addictive track. Muse won two awards for best UK and Ireland act and best headline act,
Linkin Park
won the award for best band of 2007, and German band Tokio Hotel took the prize for best international act.
Amy Winehouse
won the Artist Choice prize, an award chosen by her fellow musicians and The ultimate urban prize went to R&B star
Rihanna
.
1 Nov 2004
A man who allegedly stalked Australian pop star Natalie Imbruglia, was deemed too mentally ill to be interviewed by police. The 44-year-old fan was arrested after turning up on the doorstep of the singer's £2m home in Berkshire after flying to London from Australia.
1 Nov 2004
61-year old Terry Knight, the former manager of Grand Funk Railroad, was murdered at his home in Killeen, Texas. Knight was defending his daughter during a domestic disturbance, when he was stabbed by her boyfriend, 26 year old Donald Alan Fair. Knight began his music career by leading a Michigan band called Terry Knight and the Pack, who scored a Billboard top 50 hit with 'I, Who Have Nothing'.
1 Nov 2003
Organisers of the
MTV
Europe Awards 2003 recruited 500 'screamers' to attend this year's event. The music lovers were selected at an audition held in Edinburgh's Princes Street Gardens. About 1,500 pop-mad teenagers and adults screamed themselves hoarse in a bid to get their hands on a ticket to the exclusive event.
1 Nov 2000
All Saints came top of a poll to find the sexiest female act. 12,000 UK television viewers voted for the group, The
Spice Girls
came second and Atomic Kitten third. The 50s group The Beverley Sisters were voted into 11th place beating TLC.
1 Nov 2000
Robbie Williams offered to donate his bone marrow to save a fan's life after meeting leukaemia suffer Johanna MacVicar. Williams asked his fans to sign up as potential donors after being told of the desperate shortage of male donors.
1 Nov 1997
Scandinavian dance-pop act Aqua started a four-week run at No.1 on the UK singles chart with 'Barbie Girl.' A massive world-wide hit, the single sold more than 8 million copies.
1 Nov 1990
American session musician and arranger Ray Pohlman died of heart failure at the age of 60. He is credited with being the first electric bass player in Los Angeles studios in the 1950s. He was a member of The Wrecking Crew, who recorded with Phil Spector and
The Beach Boys
. He was the musical director of the house band, The Shindogs, on the 1960s television show Shindig!
1 Nov 1980
Bruce Springsteen
scored his first No.1 US album with 'The River', featuring the US No.5 & UK No.44 single 'Hungry Heart.'
1 Nov 1975
Elton John
started a three week run at No.1 on the US singles chart with 'Island Girl', his 5th US No.1, a No.14 hit in the UK. The lyrics are about a prostitute in New York City and a Jamaican man who wants to take her back to Jamaica.
1 Nov 1970
Matthews Southern Comfort were at No.1 on the UK singles chart with their version of the
Joni Mitchell
song '
Woodstock
'. The group's only UK No.1 hit.
1 Nov 1969
Elvis Presley
went to No.1 on the US singles chart with 'Suspicious Minds', his 18th US No.1 single. A No.2 hit in the UK.
1 Nov 1969
The Beatles
scored their 13th US No.1 album with
Abbey Road
. The final studio recordings from the group featured two Harrison songs; 'Something' & 'Here Comes The Sun'. The cover supposedly contained clues adding to the 'Paul Is Dead' phenomenon: Paul is barefoot and the car number plate 'LMW 281F' supposedly referred to the fact that McCartney would be 28 if he was still alive. 'LMW' was said to stand for 'Linda McCartney Weeps.' And the four Beatles, represent; the priest (John, dressed in white), the Undertaker (Ringo, black suit), the Corpse (Paul, barefoot), and the Gravedigger (George, in jeans and a denim shirt).
1 Nov 1968
George Harrison
released his first solo album, 'Wonderwall Music' on the Apple label. The songs which were mostly Harrison instrumentals, featured
Eric Clapton
,
Ringo Starr
and an unaccredited banjo contribution by Peter Tork of The
Monkees
.
1 Nov 1966
The Doors
played the first night of a month long residency at the Ondine Discotheque, Midtown Manhattan, New York City.
1 Nov 1963
The Beatles
kicked off a UK tour performing two shows at the Odeon Cinema in Cheltenham, Gloucestershire. Their repertoire for the tour was 'I Saw Her Standing There', 'From Me to You', 'All My Loving', 'You Really Got a Hold On Me', 'Roll Over Beethoven', 'Boys', 'Till There Was You', 'She Loves You', 'Money', and 'Twist and Shout'. Supporting
The Beatles
were The Rhythm & Blues Quartet, The Vernons Girls, Frank Berry, The Brook Brothers, Peter Jay & the Jaywalkers, and The Kestrels.
1 Nov 1956
Elvis Presley
bought a new Harley Davidson motorbike and spent the day riding round Memphis on his new bike with actress Natalie Wood.
1 Nov 1955
R&B group The Famous Flames, lead by singer
James Brown
, cut their first demo of 'Please, Please, Please' at a radio station in Macon Georgia. It would lead to their signing with King Records.
Born on this day in music
1 Nov 1992
English DJ, record producer and remixer Sigala, (Bruce Fielder). Best known for his 2015 debut and UK No.1 single 'Easy Love', which samples 'ABC' by the
Jackson 5
.
1 Nov 1992
Joe Donovan, English drummer of the indie pop band Blossoms. Their the self-titled debut studio album peaked at No.1 on the UK chart in Aug 2016.
1 Nov 1981
LaTavia Roberson, Destiny's Child, (2000 US No.1 & UK No.3 single 'Say My Name'). Quit the group in 2000.
1 Nov 1969
Darren Partington, 808 State, (1989 UK No.10 single 'Pacific State').
1 Nov 1966
Mary Hanson, singer, Stereolab. Hanson died in a cycling accident in England on 9th December 2002.
1 Nov 1963
Rick Allen
, drums,
Def Leppard
, (1987 UK No.6 single 'Animal', and 1987 world wide No.1 album Hysteria 1988 US No.1 single 'Love Bites'). Allen lost his left arm in an accident after crashing his Corvette Stingray on the A57 outside Sheffield in England in 1984.
1 Nov 1962
Anthony Kiedis, singer and co-founder of
Red Hot Chili Peppers
. Had the 1992 UK No.26 single 'Under The Bridge', 2002 UK No.1 album By The Way and 2006 No.1 album Stadium Arcadium. In 2004, he published his autobiography, titled Scar Tissue, which became a New York Times Best Seller.
1 Nov 1962
Mags Furuholmen, guitar, keyboards,
A-Ha
, (1985 US No.1 single 'Take On Me', 1986 UK No.1 single 'The Sun Always Shines On TV'). The first Norwegian group to score a UK and US No.1.
1 Nov 1959
Eddie Macdonald, bass, The Alarm, (1983 UK No.17 single '68 Guns')
1 Nov 1957
Lyle Lovett, Country singer, married actress Julia Roberts, supported
Dire Straits
on their 1990 world tour.
1 Nov 1954
Chris Morris, guitar, from Paper Lace who scored the 1974 UK No.1 single 'Billy Don't Be A Hero', and the 1974 US No.1 single 'The Night Chicago Died'.
1 Nov 1951
American composer, singer, songwriter Ronald Bell, who with Kool & The Gang had the 1981 US No.1 & UK No.7 single 'Celebration', the 1984 UK No.2 single 'Joanna', and over 15 other Top 40 hits. He died on 9 September 2020 age 68.
1 Nov 1950
Dan Peek, America, (1972 US No.1 & UK No.3 single 'Horse With No Name'). Peek died on 24th July 2011.
1 Nov 1949
David Foster, Canadian musician, producer, composer and arranger who has worked with: The
Bee Gees
,
John Lennon
, Michael Buble, Clay Aiken, C'line Dion, Barbra Streisand, Kenny Rogers, Faith Hill, The Corrs,
George Harrison
, Chicago, Earth, Wind & Fire, Chaka Khan,
Whitney Houston
,
Michael Jackson
, Richard Marx,
Mariah Carey
, Destiny's Child, Olivia Newton-John,
Dolly Parton
, Julio Iglesias and
Madonna
.
1 Nov 1947
American composer, lyricist and record producer, Jim Steinman. His work included Meat Loaf's
Bat Out Of Hell
and Bat Out of Hell II: Back into Hell, and producing albums for Bonnie Tyler. His most successful chart singles include Tyler's 'Total Eclipse of the Heart' and Air Supply's 'Making Love Out of Nothing at All'. Steinman died from kidney failure on 19 April 2021 age 73.
1 Nov 1947
British musician Bob Weston who had a brief role as guitarist and songwriter with
Fleetwood Mac
in the early 1970s. He also recorded and performed with a number of other musicians, including Graham Bond, Long John Baldry, Murray Head, Sandy Denny and Danny Kirwan. He died on 3 January 2012 age 64.
1 Nov 1946
British multi-instrumentalist Rick Grech who worked with Family, Blind Faith, Traffic, and
Ginger Baker's Air Force
. As a session musician Grech also worked with Rod Stewart, Ronnie Lane, Vivian Stanshall, Muddy Waters,
The Crickets
,
Bee Gees
and
Gram Parsons
. Grech died of renal failure on 17 March 1990 at the age of 43, as a result of alcoholism.
1 Nov 1944
Mike Burney, Wizzard, (1973 UK No.1 single 'See My Baby Jive').
1 Nov 1940
American soldier, singer, songwriter, and author Sgt Barry Sadler. He served in the Vietnam War from late December 1964 to late May 1965, most of his work has a military theme, and he is best known for his patriotic 'Ballad of the Green Berets a No.1 hit in 1966. On September 7, 1988, Sadler was shot in the head while sitting in a cab in Guatemala City. Witnesses said he accidentally shot himself, but his friends and family believed he was shot by a robber or an assassin. He remained in a coma for about six weeks. Emerging from the coma, Sadler was a quadriplegic and had suffered significant brain damage He died on 5th November 1989.
1 Nov 1936
Andre Williams, American R&B musician. His most famous songs include the hits 'Jail Bait,' 'Greasy Chicken,' and 'Cadillac Jack'. He co-wrote
Stevie Wonder
's first song, 'Thank You for Loving Me' and was also the co-author of the R&B hit 'Shake a Tail Feather' a hit for The Five Du-Tones and James & Bobby Purify. He died on 17 March 2019 at the age of 82.