November 14th: The Biggest Music Headlines
Scroll down the page to see all the music headlines, stories and events for November 14 throughout music history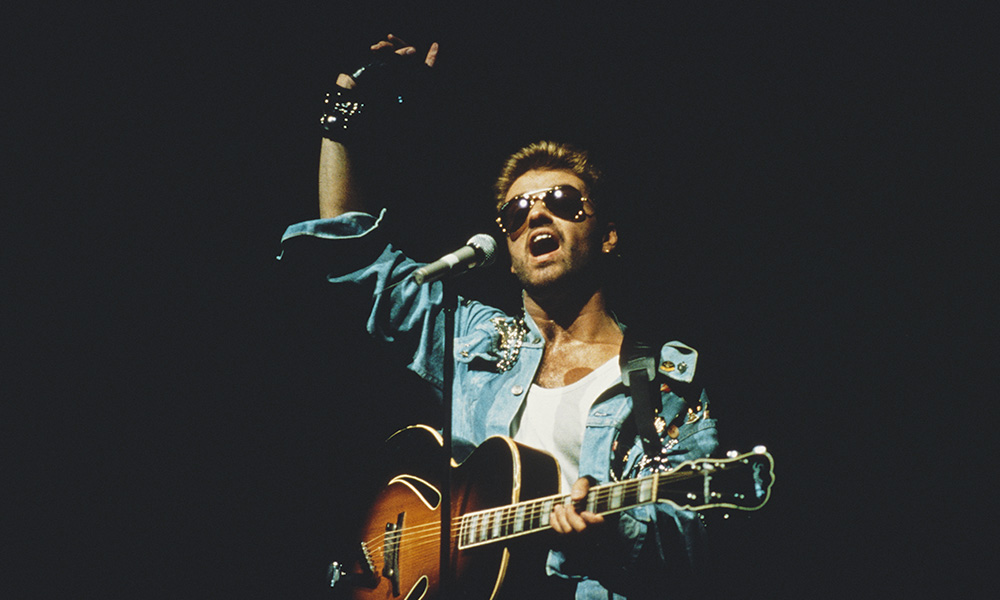 George Michael Proves His Power As A Solo Artist
On November 14, 1987, George Michael – formerly one half of the bestselling duo, Wham! – proved his power as a solo artist by topping the UK album chart with his debut, Faith. Written and produced primarily by the pop star, Faith was embraced by critics around the globe and earned a Grammy Award for Album of the Year in 1989. On the US charts, the album topped the Billboard R&B chart and the Billboard 200, where it held its spot for 12 weeks, and remained in the Top Ten for an astonishing 51 non-consecutive weeks. On Billboard's Hot 100, meanwhile, Michael became the only British male artist to have four No.1 singles from one album on the chart with "Faith," "Monkey," "One More Try," and "Father Figure."
In 1960, Ray Charles scored his first No.1 on the Billboard Hot 100 with "Georgia On My Mind," a cover of the Hoagy Carmichael standard. Charles' version, which appeared on The Genius Hits the Road, however, quickly became the most famous rendition of the song, as well as his signature hit. In 1979, meanwhile, the State of Georgia declared the recording to be their official state song.
In 1969, "Sugar Sugar" by the Archies landed at the top of the British pop chart. Not only did the song mark the first No.1 hit by an animated band, but, after holding its position for eight weeks, it became the longest-running one-hit-wonder in the UK. Written by veteran songwriter Jeff Barry and Canadian singer-songwriter Andy Kim, the bouncy track was a global sensation, spending four weeks at the top of the Billboard Hot 100, and hitting No.1 in multiple countries, including South Africa, Canada, Brazil, Sweden, Singapore, and Mexico.
In 1975, Queen kicked off a 78-date world tour in support of A Night at the Opera with a two-night engagement at Liverpool's Empire Theatre.
Looking for more things that happened on this day in music?
Keep scrolling for all of the headlines for November 14.
BORN ON NOVEMBER 14:
1938: Cornell Gunter (The Platters)
1949: James Young (Styx)
1956: Alec John Such (Bon Jovi)
1966: Joseph "Run" Simmons (Run-DMC)
1972: Douglas Payne (Travis)
1975: Travis Barker (Blink-182)
1975: Faye Tozer (Steps)
Looking for more artists born on this day?
Keep scrolling for all of our November 14 birthdays.
---
What to find another day?
---
November 14th
14 Nov 2015
A pair of white boots worn by
Elvis Presley
during his famous '68 Comeback TV Special performance were bought by a UK collector for £29,500, ($44,500). Elvis had worn the size-11 Verde boots while singing 'If I Can Dream', two months after the assassination of Martin Luther King, the lyrics included quotes from the civil rights leader.
14 Nov 2013
Paul McCartney
posted a letter on his website calling on Russian President Vladimir Putin to release 30 Greenpeace activists whom Russian authorities arrested during a protest over Arctic oil drilling in September. All the activists involved had their charges dropped in late December of this year.
14 Nov 2006
Led Zeppelin
were inducted into the UK Music Hall of Fame by Roger Taylor of
Queen
.
Jimmy Page
personally accepted the award in front of a 3,000 strong audience during the 3rd annual induction ceremony which was held at the famed Alexandra Palace in London.
14 Nov 2004
U2
went to No.1 on the UK singles chart with 'Vertigo', the bands fifth UK No.1, taken from 'How To Dismantle An Atomic Bomb'.
14 Nov 2004
The
Rolling Stones
were refused permission to pursue a claim against their former record company Decca for unpaid royalties through the courts. A High Court judge in London said the dispute would go to arbitration and not be decided in court. The dispute was over their Forty Licks compilation CD, which was released in 2002 and was the first collection to span their entire career.
14 Nov 1999
Robbie Williams went to No.1 on the UK singles chart with 'She's The One / It's Only Us', his second UK No.1. 'She's The One' was written by World Party leader Karl Wallinger. Williams scored six other chart toppers as a member of
Take That
.
14 Nov 1996
Michael Jackson
married Debbie Rowe in Sydney Australia. The couple had met when he was diagnosed with vitiligo in the mid-1980s, and she was working as his dermatologist's assistant. The couple divorced on October 8, 1999, with Rowe giving full custody rights of the children to Jackson with Rowe receiving an $8-million settlement.
14 Nov 1992
Bon Jovi
went to No.1 on the UK album chart with 'Keep The Faith' their fifth studio album and second UK No.1. The album produced six UK Top 20 hit singles, 'Keep The Faith', 'Bed Of Roses', 'In These Arms', 'I'll Sleep When I'm Dead', 'I Believe' and 'Dry County'.
14 Nov 1991
Over 1,000 New Kids On The Block fans were given medical treatment after a minor riot during a concert in Berlin, Germany.
14 Nov 1987
George Michael
went to No.1 on the UK album chart with his debut solo album 'Faith'. The album won several awards including the Grammy Award for Album of the Year in 1989. To date, the album has sold over 20 million copies worldwide. Between 1987 and 1988, Faith produced six Top 5 Billboard Hot 100 hits, four of which ('Faith', 'Father Figure', 'One More Try', and 'Monkey') reached No.1, making him the only British male singer to have four No.1 singles from one LP on the Billboard Hot 100.
14 Nov 1987
T'Pau started a five week run at No.1 on the UK singles chart with 'China In Your Hand'. The song's title according to singer Carol Decker is the effect you get if you hold a china cup to a light, you can see your hand through it.
14 Nov 1981
The Police
had their fourth UK No.1 single with 'Every Little Thing She Does Is Magic', a No.3 hit in the US.
14 Nov 1975
Queen
played the first of two nights at the Empire Theatre in Liverpool, England, the first nights on their 78-date
A Night At The Opera
World Tour.
14 Nov 1969
'
Sugar Sugar
' by The Archies was at No.1 on the UK singles chart. The single became the longest running One Hit Wonder in the UK with eight week's at the top of the charts. It was the first No.1 performed by cartoon characters.
14 Nov 1967
Pink Floyd
were added to a 16-date UK tour with
Jimi Hendrix
, The Move, The Nice, Amen Corner, The Outer Limits and The Eire Apparent. It kicked off at the Royal Albert Hall, London. The headlining Hendrix was allotted exactly 40 minutes; The Move, who preceded him onstage, had just half an hour, and
Pink Floyd
, who appeared between after The Outer Limits, were allowed between 15 and 20 minutes per show.
14 Nov 1962
The Beatles
played the final show of a 14 night run at the Star-Club, Hamburg, West Germany.
14 Nov 1960
Ray Charles went to No.1 on the US singles chart with 'Georgia On My Mind', a No.24 hit in the UK. His cover of Hoagy Carmichael's 1930 standard, became the first of three No.1 hits for the singer.
Born on this day in music
14 Nov 1982
Joy Williams American singer-songwriter who performed with John Paul White as The Civil Wars from 2009 until 2012 and scored the 2014 US No.1 album The Civil Wars.
14 Nov 1975
Faye Tozer, singer with British dance-pop group Steps. Between 1997 and 2001 Steps scored two No.1 singles in the UK, two No.1 albums and 14 consecutive top 5 singles in the UK.
14 Nov 1975
Travis Barker, drummer, Blink 182, (2000 UK No.2 single 'All The Small Things' 2001 US No.1 album 'Take Off Your...').
14 Nov 1972
Douglas Payne, bassist with Scottish rock band Travis. Their 1999 UK album The Man Who spent nine weeks at No.1 on the UK Charts and one-hundred and thirty-four weeks in the top 100 of the chart. Travis had and 1999 UK No.10 single 'Why Does It Always Rain On Me', plus over 10 other UK Top 40 singles.
14 Nov 1970
Adina Howard, US singer, (1996 UK No.2 single with Warren G, 'What's Love Got To Do With It').
14 Nov 1970
American musician and singer-songwriter Brendan Benson. He has released seven solo albums and is a member of the band The Raconteurs with Jack White.
14 Nov 1968
Brian Yale, Matchbox Twenty who rose to international fame with their debut album, Yourself or Someone Like You (1996), which was certified 12× Platinum in the United States and multi-platinum in Australia, Canada and New Zealand.
14 Nov 1966
Joseph 'Run' Simmons, one of the founding members of the influential hip hop group Run–D.M.C. who had the 1986 UK No.8 single with
Aerosmith
'Walk This Way' and the 1998 UK No.1 single 'It's Like That'. He is also a practicing minister, known as Reverend Run.
14 Nov 1964
Andrew Banfield, Pasadenas, (1992 UK No.4 single 'I'm Doing Fine Now').
14 Nov 1956
Alec John Such, bass,
Bon Jovi
, (1987 US No.1 & UK No.4 single 'Livin' On A Prayer', 1986 US No.1 album 'Slippery When Wet' has sold over 8 million copies world wide). He died on 4 June 2022 age 70.
14 Nov 1951
Steven Bishop, US singer, songwriter, 1976 album 'Careless', sang the theme for the film 'Tootsie', 1977 US No.11 single 'On And On'.
14 Nov 1951
American rock drummer Frankie Banali. He is most widely known for his work with multi-platinum heavy metal band Quiet Riot and also worked with W.A.S.P. and Billy Idol. He died om 20 Aug 2020 from pancreatic cancer age 68.
14 Nov 1950
Leo van de Ketterij, Dutch guitarist with Shocking Blue, (1970 US No.1 & UK No.8 single 'Venus'). He died on 5 July 2021.
14 Nov 1949
James Young, guitar, Styx, (1979 US No.1 & 1980 UK No.6 single 'Babe').
14 Nov 1938
Cornell Gunter, who was an original member of The Platters. He later joined The Coasters who scored the 1958 US No.1 single 'Yakety Yak', the 1959 US No.2 and UK No.6 single 'Charlie Brown', as well as 'Young Blood' and 'Poison Ivy'. Gunter was murdered in Las Vegas, Nevada, after being shot in his car on 26th February 1990.
14 Nov 1937
American singer Joe Billingslea the lead singer and founder of the R&B band The Contours, best known for their 1962 hit single, 'Do You Love Me', (written by
Motown
Records founder Berry Gordy Jr.).
14 Nov 1936
Freddie Garrity, singer and actor who was the frontman and comical element in the 1960s pop band Freddie and the Dreamers. They scored the 1963 UK No.3 single 'You Were made For Me', and the 1965 US No.1 single 'I'm Telling You Now'. Garrity died on 19th May 2006 aged 69.