November 18th: The Biggest Music Headlines
Scroll down the page to see all the music headlines, stories and events for November 18 throughout music history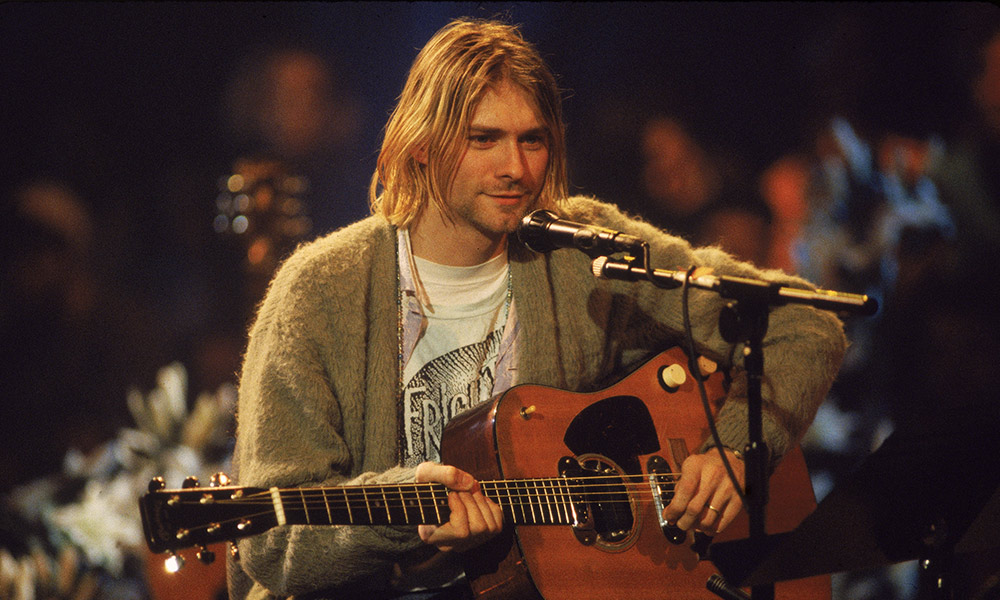 Nirvana Delivers An Iconic Performance On MTV's 'Unplugged'
On November 18, 1993, Nirvana taped a performance for MTV's Unplugged, which was set to air a month later. Joined by guitarist Pat Smear and cellist Lori Goldston at New York's Sony Music Studios, the band chose a setlist of lesser-known material, as well as covers of songs by Lead Belly, David Bowie, Meat Puppets, and the Vaselines. The following year, months after Cobain's death, the performance was released as a live album. Topping charts around the globe, MTV Unplugged in New York gave Nirvana their highest-first week sales ever. Today, it ranks as one of the greatest live albums of all time.
In 2017, rhythm guitarist Malcolm Young, a founding member of AC/DC, died at the age of 64. The Glasgow-born artist (and brother of lead guitarist Angus Young) spent the majority of his musical career with the best-selling group, retiring in 2014 amid struggles with dementia. The Rock and Roll Hall of Famer's influential guitar work can be heard on such revered hits as "Highway to Hell," "Back in Black," and "You Shook Me All Night Long."
In 1978, Billy Joel scored his first No.1 album with 52nd Street. His sixth LP, which featured the hits "My Life," "Big Shot," and "Honesty," later earned him two Grammys, including Album of the Year.
In 2016, acclaimed funk and soul singer, Sharon Jones, died at the age of 60, following a battle with cancer. While Jones began her career as a backing vocalist, she spent much of her life working as a corrections officer before her big break at 40. Over the next two decades, Jones and her band, the Dap-Kings, was at the forefront of the soul revival movement.
In 1975, Bruce Springsteen made his live UK debut at London's Hammersmith Odeon.
In 2007, X Factor winner Leona Lewis broke UK records for the fastest-selling debut album with her debut, Spirit.
In 1956, Fats Domino made his debut on the Ed Sullivan Show, performing his No.2 hit, "Blueberry Hill."
In 1976, punk pioneer Richard Hell played his first show at New York's CBGBs.
Looking for more things that happened on this day in music?
Keep scrolling for all of the headlines for November 18.
BORN ON NOVEMBER 18:
1936: Hank Ballard
1936: Don Cherry
1949: Herman Rarebell (Scorpions)
1950: Rudy Sarzo (Whitesnake)
1960: Kim Wilde
1962: Kirk Hammett (Metallica)
Looking for more artists born on this day?
Keep scrolling for all of our November 18 birthdays.
---
What to find another day?
---
November 18th
18 Nov 2020
English singer-songwriter and musician Tony Hooper died aged 81. He was best known as a founder-member of Strawbs together with Dave Cousins. They scored the 1973 hit 'Part of the Union', which reached No.2 in the UK.
18 Nov 2017
Australian musician and songwriter Malcolm Young died age 64. Young was best known as a co-founder, rhythm guitarist, backing vocalist and songwriter for
AC/DC
. Except for a brief absence in 1988, he was with the band from its November 1973 beginning until retiring permanently in 2014. Young was born in 1953 in Glasgow before his family emigrated to Australia when he was 10. His family confirmed he was suffering from dementia in 2014.
18 Nov 2016
Sharon Jones, the singer who spearheaded a soul revival movement with her band the Dap-Kings, died in a New York hospital after a battle with pancreatic cancer at the age of 60. Despite her powerhouse voice, Jones failed to make a breakthrough for decades until a recording session led to a Dap-Kings album in 2002. The band later won a Grammy nomination and performed at Glastonbury.
18 Nov 2015
Eagles of Death Metal, the band whose concert was stormed by gunmen which killed 89 people during a gig at the Bataclan concert hall in Paris made their first statement since returning to the US. The band issued a statement saying they were "bonded in grief with the victims, the fans... and all those affected by terrorism".
18 Nov 2007
22-year-old
X Factor
winner Leona Lewis set a British record for the fastest-selling debut album with Spirit. The singer sold more than 375,000 copies in seven days, 12,000 more than the Arctic Monkeys' 2006 release Whatever People Say I Am, That's What I'm Not.
Oasis
still had the overall record for the fastest selling British album, selling 813,000 copies in 1997.
18 Nov 2007
US celebrity publicist Paul Wasserman, died aged 73 of respiratory failure. His clients included The
Rolling Stones
,
The Who
,
Bob Dylan
,
Neil Diamond
,
Paul Simon
,
Tom Petty
and James Taylor. His career ended in 2000, when he was jailed for six months for swindling some of his friends by falsely claiming to be selling shares in investment schemes that he said were backed by stars like
U2
.
18 Nov 2005
A Belgian songwriter won a plagiarism case against
Madonna
over her 1998 hit single 'Frozen.' Salvatore Acquaviva claimed that the song copied one of his recordings, the judge agreed that
Madonna
's single used four bars of his song 'Ma Vie Fout L'camp', which roughly translates as 'My Life's Getting Nowhere.'
18 Nov 2003
American composer and orchestral arranger Michael Kamen died of a heart attack in London aged 55. Worked with
Pink Floyd
,
Queen
,
Eric Clapton
, Roger Daltrey,
Aerosmith
,
Tom Petty
,
David Bowie
, Eurythmics,
Queen
sryche, Rush,
Metallica
, Herbie Hancock, The Cranberries,
Bryan Adams
, Jim Croce, Sting, and
Kate Bush
. Kamen co-wrote the
Bryan Adams
' ballad '(Everything I Do), I Do It for You.'
18 Nov 2003
Following allegations of sexual abuse of a 12-year old boy, police raided
Michael Jackson
's Neverland ranch. Jackson denied the allegations, the search came on the day that his latest greatest hits album, 'Number Ones' was released in the US.
18 Nov 2001
Britney Spears
scored her second US No.1 album with 'Britney.' The album's success made her the first female artist in music history to have her first three studio albums to debut at the No.1 spot. This record however would later be broken by Spears herself with her 4th studio album In the Zone which charted in the same position.
18 Nov 1993
Nirvana
recorded their
MTV
unplugged special at Sony Studios, New York.
Nirvana
played a setlist composed of mainly lesser-known material and cover versions of songs by The Vaselines,
David Bowie
, Meat Puppets and Lead Belly. The album won the Grammy for Best Alternative Music Album in 1996.
18 Nov 1993
Pearl Jam
singer Eddie Vedder was arrested in New Orleans for disturbing the peace after a fight broke out in a bar.
18 Nov 1992
British group
Black Sabbath
were honoured with a star at the Rock Walk in Hollywood, California.
18 Nov 1983
R.E.M.
made their first appearance outside the US when they appeared on Channel 4 UK TV show
The Tube
. The following night they made their live UK debut when the played at Dingwalls, London.
18 Nov 1978
Billy Joel
went to No.1 on the US album chart with his sixth studio album, '52nd Street'. His first US No.1 album was also the first commercial album to be released on compact disc (by Sony Music Entertainment) and won Joel the 1979 Grammy for Album of the Year.
18 Nov 1976
Richard Hell and the Voidoids made their debut at CBGB's New York. Hell was an innovator of punk music and fashion and was one of the first to spike his hair and wear torn, cut and drawn-on shirts, often held together with safety pins. Malcolm McLaren, manager of the
Sex Pistols
, has credited Hell as a source of inspiration for the
Sex Pistols
' look and attitude.
18 Nov 1975
Bruce Springsteen
made his live debut in the UK at London's Hammersmith Odeon. The set list included: Thunder Road, 10th Avenue Freeze-out,
Born To Run
The 'E' Street Shuffle, Jungleland, 4th of July, Asbury Park, Detroit Medley, For You and Quarter To Three.
18 Nov 1974
Genesis
released the double concept album The Lamb Lies Down on Broadway their sixth studio album and the last album by the group to feature the involvement of lead singer Peter Gabriel.
18 Nov 1972
Cat Stevens started a three-week run at No.1 on the US album chart with 'Catch Bull At Four'. The title was taken from one of the Ten Bulls of Zen a series of short poems and accompanying pictures that are intended to illustrate the stages of a Buddhist practitioner's progression towards enlightenment.
18 Nov 1972
Singer, songwriter Danny Whitten died of a drug overdose aged 29. He was a member of Neil Young's Crazy Horse and writer of 'I Don't Wanna Talk About It', covered by
Rod Stewart
, Rita Coolidge and Everything But The Girl. The
Neil Young
song 'The Needle and the Damage Done' was written about Whitten's heroin use (before he died of an overdose).
18 Nov 1971
Memphis blues singer and musician Herman 'Junior' Parker died aged 39 during surgery for a brain tumor. Parker was discovered in 1952 by Ike Turner, who signed him to Modern Records. Parker then signed to Sun Records in 1953. There they produced three successful songs including 'Feelin' Good' a No.5 on the Billboard R&B charts.
18 Nov 1970
Led Zeppelin III
was at No.1 on the UK & US album charts. The original cover and interior gatefold art consisted of a surreal collection of random images. Behind the front cover was a rotatable laminated card disc, covered with more images, including photos of the band members, which showed through holes in the cover. The distinctive cover was based on a suggestion of
Jimmy Page
's that it should resemble an old-fashioned gardening seed chart. Designed by Richard Drew aka Zacron, the sleeve photographs were taken by fellow Leeds Polytechnic lecturer Martin Salisbury.
18 Nov 1965
Manfred Mann, The Yardbirds and Paul and Barry Ryan all appeared at the ABC Cinema, Stockton, Cleveland, North East England.
18 Nov 1963
The Beatles
received silver LP discs for 'Please Please Me' and 'With the Beatles' at a ceremony held at EMI House in London. They also received a silver EP for 'Twist and Shout' and a silver single for 'She Loves You'. The band then attend a cocktail party and a formal lunch in the EMI boardroom with company executives and invited guests. Also on this day, the US NBC news program "The Huntley-Brinkley Report" was the first to air footage (albeit pre-recorded) of
The Beatles
in concert.
18 Nov 1956
Fats Domino appeared on the US TV Ed Sullivan Show performing 'Blueberry Hill.' Before the song became a rock and roll standard it had been recorded by various artists including Louis Armstrong, The Glenn Miller Orchestra, Gene Autry and Jimmy Dorsey. The version by Fats Domino was ranked No.82 in Rolling Stone magazine's list of the 500 Greatest Songs of All Time.
Born on this day in music
18 Nov 1984
Johnny Christ, American bassist, songwriter of Avenged Sevenfold, who had the 2010 US No.1 album Nightmare and the 2013 US No.1 album Hail to the King.
18 Nov 1977
Fabolous, (John David Jackson), American rapper. 2009 US No.1 album 'Loso's Way'.
18 Nov 1975
Ant, P.J. & Duncan, 1994 UK No.9 single, \'Lets Get Ready To Rhumble.\' Actor, TV presenter.
18 Nov 1972
Matt Knight, from British alternative rock band, Toploader who had the 2000 UK No.7 single with of 'Dancing In The Moonlight' a cover of the French-American rock group King Harvest.
18 Nov 1962
Kirk Hammett, guitar,
Metallica
, (1991 UK No.5 single 'Enter Sandman', 1991 US & UK No.1 album '
Metallica
').
18 Nov 1960
Kim Wilde, singer, (1981 UK No.2 single 'Kids In America', 1987 US No.1 single 'You Keep Me Hanging On', plus 20 other Top 50 UK singles).
18 Nov 1959
American jazz and rock drummer Cindy Blackman Santana who has recorded several jazz albums under her own name. She has also worked with Lenny Kravitz. Blackman is married to rock guitarist
Carlos Santana
.
18 Nov 1958
Laura Lynch, American country musician and songwriter, a founding member of the all-woman country music band the Dixie Chicks. (1999 UK No.26 single, 'There's Your Trouble', 2000 single 'Cowboy Take Me Away', 1999 US No.1 album Wide Open Space').
18 Nov 1955
English musician Jake Drake-Brockman known to fans as "the fifth Bunnyman", as he had been associated with the Liverpool group Echo & the Bunnymen. He was a classic motorcycle enthusiast, and died on the Isle of Man on 1 September 2009 while visiting the island for the Manx Grand Prix.
18 Nov 1954
John Parr, (1985 US No.1 & UK No.6 single 'St Elmo's Fire').
18 Nov 1954
Charles Williams, singer with American disco and funk group KC and the Sunshine Band who had the 1975 US No.1 single 'That's The Way, I Like It', and the 1983 UK No.1 single 'Give It Up'.
18 Nov 1953
Alan Murphy English rock session guitarist, best remembered for his collaborations with
Kate Bush
, Go West and Mike and The Mechanics, and who was also a member of Level 42. Murphy died on 19 October 1989 aged 35 from pneumonia, resulting from AIDS.
18 Nov 1950
Graham Parker, singer, The Rumour, (1978 UK No.32 single 'Hey Lord Don't Ask Me Questions')
18 Nov 1950
Rudy Sarzo, bass, Whitesnake, (1987 US No.1 & UK No.9 single 'Here I Go Again'). Also worked with Dio, Quiet Riot and
Ozzy Osbourne
.
18 Nov 1949
Herman Rarebell, from German rock band Scorpions. Their 1990 power ballad 'Wind Of Change' topped the European charts and was a No.4 hit in the US. The Scorpions hold the record for the best-selling single by a German artist and band.
18 Nov 1947
Michael Carabello one of three percussionists in the Latin rock group
Santana
between 1968 and 1971, during the recording of their first three albums, Santana, Abraxas and Santana III.
18 Nov 1941
Con Clusky, The Bachelors, (1964 UK No.1 single 'Diane', plus 16 other UK Top 40 singles).
18 Nov 1936
Don Cherry, jazz musician, father of Neneh and Eagle Eye Cherry. Cherry died on 19th October 1995.
18 Nov 1936
Hank Ballard, US singer, songwriter, (1960 US No.6 single 'Let's Go, Let's Go, Let's Go', wrote 1960 US No.1 hit for Chubby Checker 'The Twist.'