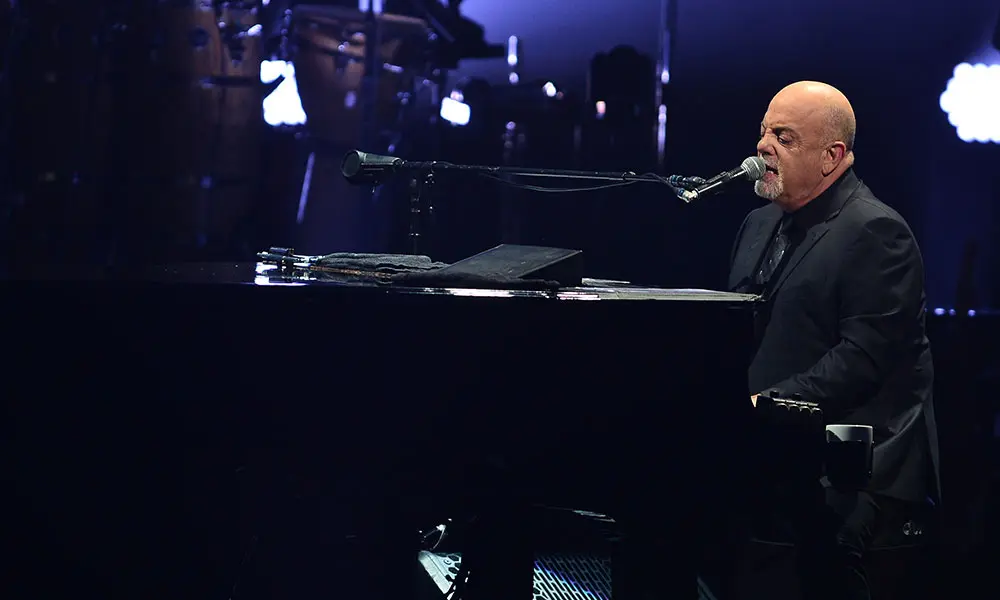 Important Dates In The Life Of Billy Joel:
23 Oct 2020
American country music singer and songwriter Jerry Jeff Walker died of throat cancer age 78. He wrote 'Mr Bojangles' a hit for The Nitty Gritty Dirt Band in 1970. Since then Walker's song has been recorded by many popular artists, including Garth Brooks, Chet Atkins, Jim Croce, Jamie Cullum, John Denver,
Neil Diamond
,
Bob Dylan
,
Billy Joel
,
Elton John
, Don McLean and
Dolly Parton
.
19 Jul 2018
New York State declared '
Billy Joel
Day' after he became the first artist to appear 100 times at Madison Square Garden. During the landmark show Joel was joined on stage by
Bruce Springsteen
, for 'Tenth Avenue Freeze-Out' and 'Born To Run'. Joel had become a staple of Madison Square Garden, consistently selling out the 20,000-person venue as part of his concert residency which started in 2014.
26 Mar 2016
Billy Joel
's iconic hit, 'Piano Man', was selected by the US Library of Congress for preservation in the National Recording Registry for its 'cultural, historic, or artistic significance.' Even though the record only made it to No.25 on the Hot 100 in 1974, it had become Joel's signature song, and was ranked at No.421 in the 2004 list of Rolling Stone's 500 Greatest Songs of All Time.
19 Dec 2015
Thirty-three years after it was released,
Michael Jackson
's classic album
Thriller
became the first to sell more than 30 million copies in the US. The Recording Industry Association of America reported latest sales figures showing the
Eagles
Greatest Hits 1971-75 had now sold 29m and
Billy Joel
Greatest Hits Volume I & Volume II, 23m copies.
27 Oct 2014
The Last Ship, Sting's musical about shipbuilding in north-east England, opened on Broadway. The former frontman with
The Police
described watching the opening night as "an out-of-body experience".
Billy Joel
,
Bruce Springsteen
and
Blondie
's Deborah Harry were among the first night audience at the Neil Simon Theatre.
9 Dec 2013
Recipients honoured at the 36th annual national John F. Kennedy Center for the Performing Arts were: pianist, keyboardist, bandleader and composer Herbie Hancock; singer and songwriter
Billy Joel
and guitarist and songwriter
Carlos Santana
.
30 Mar 2013
US music producer and pioneer of digital recording, Phil Ramone, died aged 79. Ramone was regarded as one of the most successful producers in history, winning 14 Grammy awards and working with stars such as Ray Charles,
Bob Dylan
,
Elton John
and
Paul McCartney
. He produced the first major commercial release on CD,
Billy Joel
's 1982 album 52nd Street. Ramone had been in hospital for several weeks, where he was being treated for an aortic aneurysm.
28 Mar 2013
American rock guitarist and session musician Hugh McCracken died of leukemia in New York City at the age of 70. He appeared on many recordings by Steely Dan, Donald Fagen,
Billy Joel
, Roland Kirk, Roberta Flack, B. B. King,
John Lennon
,
Paul McCartney
, The
Monkees
,
Paul Simon
,
Art Garfunkel
, James Taylor, Phoebe Snow,
Bob Dylan
, Carly Simon, Graham Parker, Eric Carmen, Loudon Wainwright III,
Aretha Franklin
, Van Morrison, The Four Seasons,
Hall and Oates
, Gary Wright and Andy Gibb. Because of such high demand for his work, McCracken declined
Paul McCartney
's invitation to help form his new band, Wings after appearing on his 1971 album Ram.
25 Nov 2011
Don DeVito, a longtime Columbia Records executive who produced the key
Bob Dylan
albums Blood on the Tracks and Desire died aged 72 after a 16-year battle with prostate cancer. DeVito had also worked with artists including
Bruce Springsteen
,
Billy Joel
and
Aerosmith
. DeVito started off as a guitarist touring for Al Kooper, and had his own band, The Sabres, which later broke up mid-tour. According to Columbia, DeVito was stranded in Fort Smith, Ark., when he happened to meet
Johnny Cash
and developed what would become a lifelong friendship; Cash would later introduce DeVito to Dylan.
28 Feb 2010
Tom "Bone" Wolk, who played bass for nearly 30 years with
Daryl Hall
and John Oates died of an apparent heart attack at the age of 58. He had also recorded with Carly Simon, Jellyfish, Squeeze, Elvis Costello, Shawn Colvin and
Billy Joel
over the course of his career.
17 Jun 2009
60-year-old
Billy Joel
and his third wife, 27-year-old Katie Lee Joel announced that were splitting up after nearly five years of marriage. Joel's nine-year union with model Christie Brinkley ended in 1994. His nine-year marriage to Elizabeth Weber, for whom he wrote 'Just The Way You Are', ended in 1982. It's believed that Billy had a prenuptial agreement to protect the millions his many hits have earned.
24 May 2009
Billy Joel
was being sued by his former drummer for hundreds of thousands of dollars in unpaid royalties. Liberty Devitto, claimed that Joel hadn't paid him proper royalties for 10 years of his work. Devitto was Joel's drummer from 1975 until 2005, when he said he was abruptly thrown out of the band. He said: "People get fired, they get severance or insurance for a certain period of time. I didn't even get a phone call. It was cold."
30 Oct 2007
Linda Stein, former co-manager of punk band the
Ramones
, was found beaten to death at her Manhattan apartment. Mrs Stein was the ex-wife of Seymour Stein, former president of Sire Records, which was the launching pad for the
Ramones
, Talking Heads and
Madonna
. Mrs Stein had become one of New York's leading estate agents, her clients included Sting and
Billy Joel
, long-time friend Sir
Elton John
told the New York Times he was "absolutely shocked and upset".
2 Oct 2004
Billy Joel
married 23-year-old Kate Lee at his Centre Island, New York mansion. It was the third marriage for Joel.
26 Jan 2003
Billy Joel
was airlifted to hospital after his car smashed into a tree. The singer lost control of his Mercedes S500 and skidded for 100 yards before crashing. The accident happened in The Hamptons, New York.
22 Sep 2001
'A Tribute to Heroes' was aired commercial-free on most of the major US TV networks. The live program was organised to raise money following the terrorist attacks on the Pentagon and New York's World Trade Center.
Neil Young
,
Tom Petty
,
Paul Simon
,
Billy Joel
,
U2
, Limp Bizkit,
Bruce Springsteen
and
Pearl Jam
all performed. Manning the telephones to take pledges were celebrities including Jack Nicholson, Jim Carrey, Whoopi Goldberg, Goldie Hawn, Robin Williams, Meg Ryan, Cuba Gooding Jr., Kurt Russell, Adam Sandler and many more.
29 Mar 2001
Brian Wilson
was honored in a three hour tribute at New York's Radio City Music Hall. Guest performances included
Billy Joel
,
Paul Simon
, The Go-Gos and the trio of Carly Simon, David Crosby and Jimmy Webb. Also singing Beach Boy songs were Ann and Nancy Wilson,
Elton John
and Aimee Mann.
Brian Wilson
himself joined the fun when he took the stage for the final three songs, 'Barbara Ann', 'Surfin' U.S.A.' and 'Fun, Fun, Fun'.
3 Feb 1999
American soul singer Gwen Guthrie died of cancer aged 48. She sang backing vocals for
Aretha Franklin
,
Billy Joel
,
Stevie Wonder
and
Madonna
and wrote songs for Sister Sledge and Roberta Flack. She scored the 1986 R&B No.1 'Ain't Nothin' Goin' on But the Rent'.
25 Aug 1995
43-year-old bassist and singer Doug Stegmeyer took his own life. The New York-based artist worked with many artists during his career, including
Billy Joel
,
Hall and Oates
and The
Carpenters
.
20 May 1995
Don Henley from the
Eagles
married model Sharon Summerall. Guests included Glenn Frey, Joe Walsh, Timothy B. Schmit, David Crosby, Randy Newman, Jimmy Buffett, Jackson Browne,
Billy Joel
, Sting and Sheryl Crow.
28 Aug 1993
Billy Joel
started a three-week run at No.1 on the US album chart with 'River Of Dreams.' Joel claimed most of the music came to him in his sleep, hence the title. The singers second wife, one time model Christie Brinkley, painted the album cover which was later voted worst album cover of the year.
5 Jun 1993
29 Aug 1992
U2
became only the second act ever (
Billy Joel
was the first) to play at The Yankee Stadium in New York City, during their sold out Zoo TV tour.
16 Dec 1989
Billy Joel
went to No.1 on the US album chart with his 11th studio release 'Storm Front'. The album featured one of Joel's three No.1 hits, 'We Didn't Start the Fire', a fast-paced song, mentioning some of the major historical events that took place in his time, and 'Leningrad', Joel's take on the end of the Cold War.
9 Dec 1989
Billy Joel
started a two week run at No.1 on the US singles chart with 'We Didn't Start The Fire'. Its lyrics are made up from rapid-fire brief allusions to over a hundred headline events between 1949 (Joel was born on May 9 of that year) and 1989, when the song was released on his album Storm Front.
30 Aug 1989
Billy Joel
fired his manager and former brother in law Frank Weber, after an audit revealed discrepancies. Joel took Weber to court and sued for $90 million.
27 Apr 1985
USA For Africa started a three-week run at No.1 on the US chart with 'We Are The World'. The US artists' answer to Band Aid had an all-star cast including
Stevie Wonder
, Tina Turner,
Bruce Springsteen
, Diana Ross,
Bob Dylan
,
Daryl Hall
, Huey Lewis, Cyndi Lauper, Kim Carnes, Ray Charles,
Billy Joel
and
Paul Simon
plus the composer's of the track,
Michael Jackson
and Lionel Richie.
20 Apr 1985
23 Mar 1985
Billy Joel
married model Christie Brinkley on a boat moored alongside the Statue Of Liberty. They divorced in 1993.
5 Nov 1983
Billy Joel
was at No.1 on the UK singles chart with 'Uptown Girl', which stayed at the top of the chars for five weeks. The song was initially written about his relationship with his then-girlfriend Elle Macpherson, but it ended up also becoming about his soon-to-be wife Christie Brinkley (both women being two of the most famous supermodels of the 1980s).
24 Sep 1983
Billy Joel
went to No.1 on the US singles chart with 'Tell Her About It', the former boxers second US No.1, a No.4 hit in the UK.
15 Apr 1982
Billy Joel
was reported to be in ''quite good'' condition after major surgery at Columbia Presbyterian Medical Center in New York. The singer broke his left wrist when his 1978 Harley Davidson hit a car in Long Island, New York. The hospital switchboard was jammed with calls from his fans, and Joel issued a plea through a spokesman that the calls ceased because they were ''tying up lines for those people who are really sick.''
2 Apr 1981
18 Jul 1980
Billy Joel
held the top position of both the US albums and singles charts. His album Glass Houses contained his first and biggest No.1 hit, 'It's Still Rock 'n' Roll to Me.'
14 Jun 1980
Billy Joel
started a six-week run at No.1 on the US album chart with 'Glass Houses', his second US No.1 album. The album features Joel's first song to peak at No.1 on Billboard's Pop Singles chart, 'It's Still Rock and Roll to Me.'
27 Feb 1980
Winners at the Grammy Awards included: song of the year, 'What A Fool Believes', The Doobie Brothers, album of the year,
Billy Joel
's '52nd St', best new artist, Rickie Lee Jones, best disco record, 'I Will Survive' Gloria Gaynor.
15 Feb 1979
At the 21st Grammy Awards, the 'Saturday Night Fever' soundtrack won Album of the Year and The
Bee Gees
were named Best Pop Group and Best Arrangement for Voices for 'Staying Alive'.
Billy Joel
's 'Just the Way You Are' won Record and Song of the Year. Donna Summer's 'Last Dance' won two Grammys: Best Female R&B Vocal and Best R&B Song.
18 Nov 1978
Billy Joel
went to No.1 on the US album chart with his sixth studio album, '52nd Street'. His first US No.1 album was also the first commercial album to be released on compact disc (by Sony Music Entertainment) and won Joel the 1979 Grammy for Album of the Year.
21 Feb 1964
New York band The Echoes recruited a new young unknown piano player, named
Billy Joel
.