November 5th: The Biggest Music Headlines
Scroll down the page to see all the music headlines, stories and events for November 5 throughout music history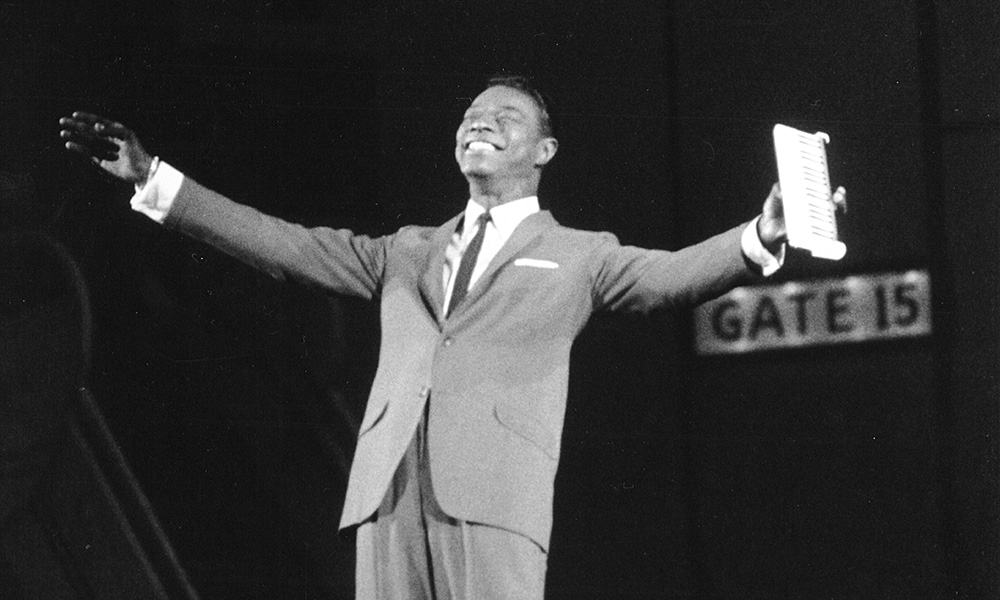 Nat King Cole Breaks Barriers On American TV
On November 5, 1956, The Nat King Cole Show debuted on NBC-TV. While the variety show was short-lived, it was a landmark achievement, marking one of the first shows of its kind to feature a Black host. Sadly, it was also a stark reminder of the racism and segregation that pervaded America. Worried about upsetting customers in the South, national companies shied away from sponsoring the show. Eventually, despite support from NBC and King's peers (including Tony Bennett, Ella Fitzgerald, and Mel Tormé), King chose to end the program, famously commenting that "Madison Avenue is afraid of the dark."
In 2005, guitarist Link Wray, who was credited with creating the distorted "fuzz" sound, died at the age of 76.
In 1988, "The Locomotion" became the first song in the US to reach the Top 5 in three different versions. First released by Little Eva in 1962, the Carole King/Gerry Goffin tune was later released by Grand Funk Railboard, who scored a hit in 1974. 14 years later, Kylie Minogue hit No.3 with her energetic rendition.
In 1994, Sheryl Crow entered the UK Top Ten for the first time with her hit "All I Wanna Do." She would later become the first American female artist to score six UK hits off one album (her debut, Tuesday Night Music Club).
In 2003, one half of The Righteous Brothers, Bobby Hatfield, was found dead at the age of 63. Hatfield was set to perform a show in Michigan that evening.
In 1988, the Beach Boys topped the Billboard Hot 100 with their tropical hit "Kokomo." The song's popularity was boosted by its appearance in the blockbuster film, Cocktail.
In 1966, The Monkees scored their first No.1 on the Billboard Hot 100 with "Last Train to Clarksville."
Looking for more things that happened on this day in music?
Keep scrolling for all of the headlines for November 5.
BORN ON NOVEMBER 5:
1911: Roy Rogers
1941: Art Garfunkel
1946: Gram Parsons
1947: Peter Noone (Herman's Hermits)
1957: David Moyse (Air Supply)
1959: Bryan Adams
1971: Jonny Greenwood (Radiohead)
1975: Lisa Scott-Lee (Steps)
1987: Kevin Jonas (Jonas Brothers)
Looking for more artists born on this day?
Keep scrolling for all of our November 5 birthdays.
---
What to find another day?
---
November 5th
5 Nov 2017
American singer Robert Knight died age 72. He is best known for the 1967 US Top 20 hit 'Everlasting Love'. In the UK the song was an even bigger hit the following year when a version by Love Affair reached No.1, preventing Knight's version from progressing further than No. 40.
5 Nov 2014
The funeral for
Jack Bruce
was held in London, attended by
Eric Clapton
,
Ginger Baker
and noted musicians Phil Manzanera, Gary Brooker, Vernon Reid and Nitin Sawhney among others. Dozens assembled at the Golders Green Crematorium paying a last tribute singing "Morning Has Broken", "Strawberry Fields Forever" and "Theme for an Imaginary Western". The Scottish-born bass player and singer had died last month as a result of liver disease.
5 Nov 2013
Lady Gaga split from Troy Carter, who had managed her since 2007. Carter was credited with masterminding some of Gaga's success, including her massive social media audience. She had 60 million Facebook fans and was amongst the top figures on Twitter with 40 million followers.
5 Nov 2012
To mark the 60th anniversary of the UK singles chart the Official Charts Company published a chart which lists all the 123 songs that have sold more than a million copies since it began in 1952.
Elton John
was at No.1 with Candle In The Wind, No.2 was Band Aid with Do They Know It's Christmas? followed by
Queen
's
Bohemian Rhapsody
on 2.36million copies.
5 Nov 2010
Keith Richards
' autobiography Life was at No. 1 on the New York Times Hardcover Nonfiction Bestseller list. The book by The
Rolling Stones
guitarist went on to be a million seller.
5 Nov 2005
Guitarist Link Wray died aged 76. Wray was credited with inventing 'fuzz' guitar after punching a hole in a speaker giving him a distorted guitar sound. Famous for his 1958 US No.16 single 'Rumble' which was banned on several radio stations, on the grounds that it glorified juvenile delinquency. A rare feat for a song with no lyrics.
5 Nov 2003
Bobby Hatfield of The
Righteous Brothers
was found dead in hotel room in Michigan 30 minutes before he was due on stage, aged 63. The autopsy report from the Kalamazoo County Medical Examiner gave the opinion that Hatfield suffered a sudden, unexpected death due to acute cocaine toxicity. The
Righteous Brothers
had the 1965 UK & US No.1 single 'You've Lost That Lovin' Feelin', and the 1990 UK No.1 single 'Unchained Melody' first released in 1965.
5 Nov 2002
The funeral took place of Jam Master Jay, (Jason Mizell) from Run-DMC who was murdered by an assassin's single bullet on 30th October 2002. A $30,000 reward was offered in connection with the murder, to this day nobody has ever been convicted of the killing.
5 Nov 2000
U2
went to No.1 on the UK album chart with 'All That You Can't Leave Behind', the Irish group's 8th UK No.1 album. Creed were at No.1 on the US singles chart with 'With Arms Wide Open'.
5 Nov 1998
Former
Smiths
singer Morrissey lost an appeal ruling that all band profits should have been split equally and faced a backdated payout to former Smiths member Mike Joyce estimated at £1million.
5 Nov 1994
Sheryl Crow scored her first UK Top 10 single when 'All I Wanna Do' entered the charts at No.4. The US singer songwriter went on to become the first US female to score six UK hits off her debut album Tuesday Night Music Club.
5 Nov 1989
Former US Army Staff Sergeant Barry Sadler died at a Veterans Administration hospital in Nashville from complications brought on by an un-explained gun shot wound to the head, suffered 14 months earlier in Guatemala City. Sadler is best remembered for his hit 'The Ballad of the Green Berets', which stayed on top of the chart for five weeks in 1966. He was 49 years old at time of his death.
5 Nov 1988
The Beach Boys
went to No.1 on the US singles chart with 'Kokomo', it peaked at No.25 in the UK. The track had been featured in the film Cocktail.
5 Nov 1988
'The Locomotion', became the first song to reach the US Top 5 in three different versions, when
Kylie Minogue
's reached No.3 on the US chart. Written by American songwriters Gerry Goffin and
Carole King
, the song is notable for appearing in the American Top 5 three times – each time in a different decade: for Little Eva in 1962 and for Grand Funk Railroad in 1974.
5 Nov 1986
Bobby Nunn of The Coasters died of heart failure in Los Angeles. The Coasters scored the 1958 US No.1 single 'Yakety Yak', 1959 US No.2 and UK No.6 single 'Charlie Brown' as well as 'Young Blood' and 'Poison Ivy'.
5 Nov 1983
Billy Joel
was at No.1 on the UK singles chart with 'Uptown Girl', which stayed at the top of the chars for five weeks. The song was initially written about his relationship with his then-girlfriend Elle Macpherson, but it ended up also becoming about his soon-to-be wife Christie Brinkley (both women being two of the most famous supermodels of the 1980s).
5 Nov 1983
Topper Headon of
The Clash
was arrested for walking his dog while drunk on London's Fulham Road.
5 Nov 1982
Channel 4 TV's
The Tube
had its first showing. Presented by Paula Yates and Jools Holland, the show featured
The Jam
and an interview with
Mick Jagger
. The first live act on the show was local band Toy Dolls. The show ran until 1987 and was named after the plexiglass tunnel which led down into Studio Five at Tyne Tees TV, the place where all the stars from the 80's subsequently appeared.
5 Nov 1977
The manager of the Virgin record store in Nottingham, England was arrested for displaying a large poster advertising the new
Sex Pistols
album, 'Never Mind The Bollock's, Here's The
Sex Pistols
'. High street stores banned the album after police warned they could be fined under the 1898 indecent advertising act.
5 Nov 1971
Elvis Presley
kicked off a 15-date North American tour at the Metropolitan Sports Center in Minneapolis. Announcer Al Dvorin uttered the well known phrase: "Elvis has left the building" at the end of the show. He was asked to make the announcement in an effort to quiet the fans who continued to call for an encore.
5 Nov 1967
Bee Gee
Robin Gibb
was a passenger on a train which crashed in South East London in England killing 49 people and injuring 78. Robin was treated for shock after the accident.
5 Nov 1966
The
Monkees
were at the top of the Billboard singles chart with 'Last Train To Clarksville', the group's first No. 1. Bobby Hart who co-wrote the song got the idea for the lyrics when he turned on the radio and heard the end of
The Beatles
' '
Paperback Writer
'. He thought
Paul McCartney
was singing "Take the last train", and decided to use the line when he found out McCartney was actually singing '
Paperback Writer
'.
5 Nov 1960
Country & western singer Johnny Horton was killed in a car crash. He had the 1959 US No.1 & UK No.16 single 'The Battle Of New Orleans'.
5 Nov 1956
"The Nat King Cole Show" debuted on NBC-TV in America. The Cole program was the first of its kind hosted by an African-American.
Born on this day in music
5 Nov 2002
Jawsh 685, New Zealander music producer. He made his breakthrough with the 2020 single 'Savage Love (Laxed – Siren Beat)' in collaboration with American R&B singer Jason Derulo, which reached No.1 in over 15 countries.
5 Nov 1987
Kevin Jonas, American singer and actor, Jonas Brothers, 2009 US No.1 album 'Lines, Vines and Trying Times'.
5 Nov 1985
Kate Jenna DeAraugo, Australian singer, winner of the third season of Australian Idol in 2005.
5 Nov 1975
Lisa Scott-Lee, singer with British dance-pop group Steps. Between 1997 and 2001 Steps scored two No.1 singles in the UK, two No.1 albums and 14 consecutive top 5 singles in the UK.
5 Nov 1974
Ryan Adams, singer, songwriter, (2001 UK No.53 single 'New York, New York'). He was in a group called Whiskeytown, then went solo. His backing band is the Cardinals.
5 Nov 1971
Jonny Greenwood, guitar, keyboards,
Radiohead
. Their 1993 debut single 'Creep' was initially unsuccessful, but it became a worldwide hit several months after the release of their debut album, 'Pablo Honey'. Their 1997 album OK Computer appeared in many 1997 critics' lists and listener polls for best album of the year.
5 Nov 1968
Mark Hunter, keyboards, from English rock band James who scored the 1991 UK No.2 single 'Sit Down' and the hits 'Laid' and 'Come Home'.
5 Nov 1965
Paris Grey, from American electronic group Inner City, who had the 1989 UK No.4 single 'Good Life' and the hit 'Big Fun'.
5 Nov 1959
Ken Coomer, drummer, from American alternative rock band Wilco who released the albums Yankee Hotel Foxtrot, A Ghost Is Born, Sky Blue Sky and Wilco (The Album).
5 Nov 1959
Bryan Adams
, Canadian guitarist, singer, songwriter. His first UK single 'Run To You', was a 1985 UK No.11. His 1991 UK & US No.1 single '(Everything I Do)', I Do It For You', spent a record breaking 16 weeks UK No.1, plus he has scored over 15 other UK Top 40 singles and 3 UK No.1 albums. Adams has garnered many awards and nominations, including 20 Juno Awards among 56 nominations, and 15 Grammy Award nominations.
5 Nov 1959
Robert Fisher, from Climie Fisher, who had the 1988 UK No.2 single 'Love Changes Everything'. He wrote songs for Rod Stewart, Milli Vanilli,
Fleetwood Mac
and Jermaine Jackson. Fisher died of cancer on 25th August 1999.
5 Nov 1957
David Moyse, guitarist for the Australian soft rock band Air Supply who scored the 1980 UK No.11 single 'All Out Of Love' and the 1981 US No.1 single 'The One That You Love'.
5 Nov 1957
Mike Score, A Flock Of Seagulls, (1982 UK No.10 single 'Wishing, If I Had A Photograph Of You').
5 Nov 1956
Helen O'Hara, Dexy's Midnight Runners, (1982 UK No.1 & 1983 US No.1 single 'Come On Eileen').
5 Nov 1948
Peter Hammill, singer, guitar, keyboards, Van Der Graff Generator. (1968 album 'The Aerosol Grey Machine').
5 Nov 1947
Peter Noone, singer with English beat rock band, Herman's Hermits who scored the 1964 UK No.1 single 'I'm Into Something Good' (cover of Earl-Jean's) and the 1965 US No.1 single 'Mrs Brown You've Got A Lovely Daughter'.
5 Nov 1946
American singer, Loleatta Holloway who is best known for disco songs such as 'Hit and Run' and 'Love Sensation', both of which have been sampled extensively. She died on 21 March 2011 aged 64 from heart failure.
5 Nov 1946
Gram Parsons
, US singer, songwriter. Member of The International Submarine Band, The Byrds, Flying Burrito Brothers. Released the 1973 solo album 'Grievous Angel.' Died on 19th September 1973 from a heroin overdose aged 26.
5 Nov 1943
Pablo Gomez, from Spanish beat group Los Bravos who had the 1966 UK No.2 & US No.4 single 'Black Is Black'. They were the first Spanish rock band to have a UK & US hit single.
5 Nov 1941
Art Garfunkel, singer, actor. With Paul Simon as Simon and Garfunkel they scored the No.1 hits 'The Sound of Silence', 'Bridge over Troubled Water' and 'Mrs. Robinson'. The 1970 album
Bridge Over Trouble Water
spent 307 weeks on the UK chart. He scored the solo, 1979 UK No.1 single 'Bright Eyes'.
5 Nov 1931
Ike Turner, singer, (1966 UK No.3 single with Tina Turner, 'River Deep Mountain High', 1971 US No.4 single 'Proud Mary'). Turner died on 12th Dec 2007.
5 Nov 1911
Roy Rogers, singer and cowboy actor, one of the most heavily marketed and merchandised stars of his era, as well as being the namesake of the Roy Rogers Restaurants franchised chain. He and his wife Dale Evans, his golden palomino, Trigger, and his German Shepherd dog, Bullet, were featured in more than 100 movies & The Roy Rogers Show. The show ran on radio for 9 years before moving to TV from 1951 - 1957. He scored 8 US Top 40 country hits. Rogers died of congestive heart failure on July 6, 1998.