November 8th: The Biggest Music Headlines
Scroll down the page to see all the music headlines, stories and events for November 8 throughout music history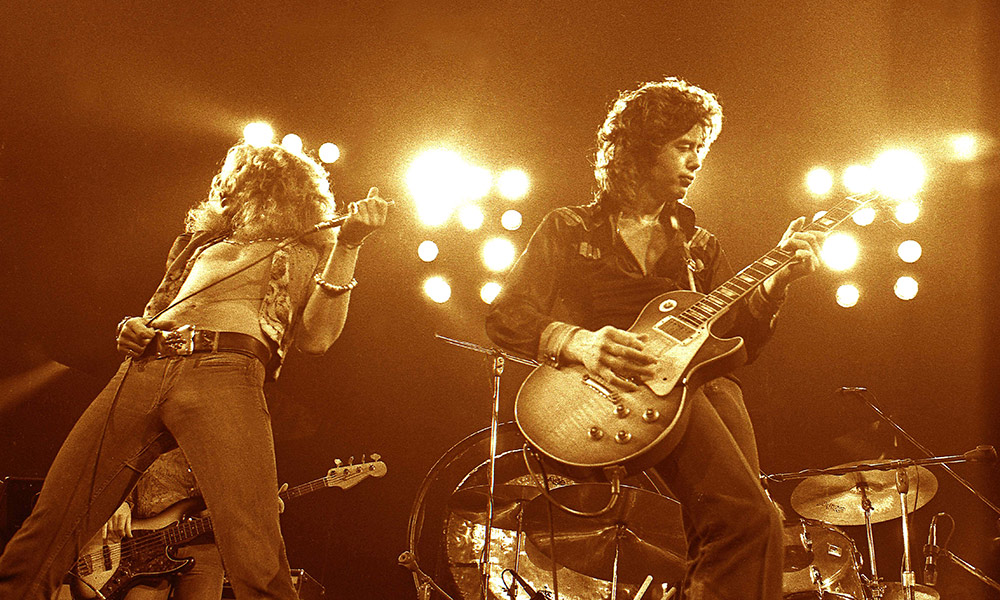 Led Zeppelin Release Their Legendary Fourth Album
On November 8, 1971, Led Zeppelin released their untitled fourth studio album, generally known as Led Zeppelin IV. The band's highest-selling album, IV featured several of Led Zeppelin's biggest hits, including "Black Dog," "Rock and Roll," and their signature song, "Stairway to Heaven." It also stood out from their earlier works as it featured two guest artists: singer Sandy Denny (on "The Battle of Evermore") and pianist Ian Stewart ("Rock and Roll"). Upon its release, the album topped the charts in the UK and Canada and peaked in the Top 5 in Australia, the US, and multiple European countries. Over the decades, it has been ranked among one of the greatest albums of all time by such outlets as Rolling Stone, Mojo, and the NME, while it was included on the Rock and Roll Hall of Fame's Definitive 200 list and inducted into the Grammy Hall of Fame in 1999.
In 1952, the soundtrack to the musical South Pacific topped the UK album chart, where it would spend a record-breaking total of 115 weeks.
In 1975, David Bowie made his TV debut in America, performing "Fame" on Cher, a variety show hosted by the singer and actress.
On November 8, 1998, Robbie Williams scored his second No.1 album in the UK with I've Been Expecting You. Buoyed by the success of the chart-topping single "Millennium," the LP was later named the year's top-selling album in the UK.
In 1969, The Beatles' "Something" entered the UK pop chart. The song, which marked the first A-side by George Harrison, went on to peak at No.4 and top the Billboard Hot 100 in the US. With more than 150 recorded versions, "Something" has also become the second-most covered Beatles song (following "Yesterday").
Looking for more things that happened on this day in music?
Keep scrolling for all of the headlines for November 8.
BORN ON NOVEMBER 8:
1927: Ken Dodd
1927: Patti Page
1944: Bonnie Bramlet (Delaney and Bonnie)
1947: Minnie Riperton
1949: Bonnie Raitt
1954: Rickie Lee Jones
1957: Porl Thompson (The Cure)
Looking for more artists born on this day?
Keep scrolling for all of our November 8 birthdays.
---
What to find another day?
---
November 8th
8 Nov 2021
American songwriter, singer, musician and lyricist Margo Guryan died age 84. Her 1960s song 'Sunday Mornin'', was hit for both Spanky and Our Gang and Oliver. Her songs have also been recorded by Cass Elliot,
Glen Campbell
amongst others.
8 Nov 2016
Adele
more than doubled how much she's worth to be crowned the richest British celebrity under 30. She knocked One Direction off the top spot after their three-year run in first place and was now reported to have an estimated £92m in the bank. Last year the 28-year-old was in fourth place on Heat's list of the 30 richest British stars under 30.
8 Nov 2012
Reports surfaced that Jermaine Jackson had filed legal papers at Los Angeles County Superior Court asking to have the spelling of his surname altered to Jacksun for "artistic reasons." The request would be granted in February, 2013.
8 Nov 2009
Former
Smiths
frontman Morrissey stopped a concert halfway through his second song after being hit by a beer bottle. The 50-year-old singer who was hit in the eye by a plastic bottle of beer, said goodnight to the 8,000 strong crowd in Liverpool, England before walking off.
8 Nov 2008
AC/DC
started a two-week run at #1 on the US album chart with 'Black Ice' the bands fifteenth studio album and the second-best selling album of 2008. Black Ice went to #1 in 29 countries, including Australia, Canada, the UK, and the US.
8 Nov 2007
Four men were arrested on suspicion of perverting the course of justice after Police raided a house in Camden, London belonging to singer
Amy Winehouse
. The arrests were in connection of a court case involving Ms Winehouse's husband Blake Fielder-Civil, who faced charges of causing grievous bodily harm.
8 Nov 2001
Winners at the
MTV
Europe Awards included Robbie Williams who won Best male and Best song for 'Rock DJ', Craig David won Best R&B act and Best UK & Ireland act, Dido won Best new act and Anastacia won Best pop act. Gorillaz won Best song for 'Clint Eastwood' and Best Dance act and
Eminem
won the Best Hip Hop award.
8 Nov 1999
American jazz trumpet player and composer Lester Bowie died of liver cancer aged 58. He was a member of the Association for the Advancement of Creative Musicians and co-founded the Art Ensemble of Chicago. In 1993, he played on the
David Bowie
album Black Tie White Noise, including the song 'Looking for Lester', which was named after him.
8 Nov 1998
Robbie Williams scored his second UK No.1 album with 'I've Been Expecting You'. The album, which featured his UK No.1 hit 'Millennium', went on to become the UK's best selling album for that year with sales now over 2.5m.
8 Nov 1986
Berlin started a four-week run at No.1 on the UK singles chart with 'Take My Breath Away'. The song which was featured in the film Top Gun, was written by Giorgio Moroder and Tom Whitlock. It won the Academy Award for Best Original Song, as well as the Golden Globe Award for Best Original Song in 1986.
8 Nov 1980
Kiss
kicked off their 11 date Unmasked Tour of Australia and New Zealand laying two nights at Perth Entertainment Centre.
8 Nov 1975
David Bowie
made his US TV debut performing 'Fame', on the Cher CBS-TV show. Bowie who was living in New York at the time had written the song with
John Lennon
during a jamming session.
8 Nov 1971
Led Zeppelin
released their fourth album. With no title printed on the album, and generally referred to as Four Symbols, The Fourth Album or
Led Zeppelin IV
it has gone on to sell over 37 million copies worldwide. The 19th century rustic oil painting on the front of the album was purchased by Robert Plant from an antique shop in Reading, Berkshire, England. The 20th century urban tower block on the back of the full gatefold LP cover is Butterfield Court in Eves Hill, Dudley, England.
8 Nov 1969
'Something'
the first Beatles A-side composed by
George Harrison
entered the UK singles chart, it peaked at No.4 in the UK and went on to be a No.1 on the US chart. The song has been covered by over 150 artists, making it the second-most covered Beatles song after '
Yesterday
'.
8 Nov 1968
The Who
, Joe Cocker and The Grease Band, The Mindbenders and The Crazy World of Arthur Brown all appeared at The Walthamstow Granada Theatre, England.
8 Nov 1965
The Beatles
worked on a new
George Harrison
song 'Think For Yourself' at Abbey Road for their forthcoming
Rubber Soul
album. After rehearsing the song, they recorded the basic instrumental track in one take.
8 Nov 1958
The soundtrack to South Pacific went to No.1 on the UK album chart. It became the longest running No.1 album of all time spending a total of 115 weeks at the No.1 position.
8 Nov 1952
The first ever UK pop chart was published by the New Musical Express after staff asked 53 record shops to divulge their sales returns. 'Here In My Heart' by Al Martino was the first No.1. The song stayed at No.1 for nine weeks.
Born on this day in music
8 Nov 1989
American singer and songwriter Solána Imani Rowe known professionally as SZA. She scored the 2023 US No.1 single 'Kill Bill', taken from her second studio album, SOS.
8 Nov 1985
Jack Osbourne, son of Ozzy and star of
MTV
The Osbournes TV Show.
8 Nov 1977
Tiffani Wood, Australian singer, songwriter, from Bardot, winners of the Australian Popstars reality show, who had the 2000 Australian No.1 single 'Poison', and 2000 Australian No.1 self-titled album. Now solo.
8 Nov 1970
Rat, guitar, Neds Atomic Dustbin, (1991 UK No.16 single 'Happy').
8 Nov 1958
Terry Lee Miall, from English rock band Adam and the Ants who scored the 1981 UK No.1 single 'Stand And Deliver' and 15 other UK Top 40 singles.
8 Nov 1957
Porl Thompson, with English rock band
The Cure
who had the 1989 US No.2 single 'Love Song', the 1992 UK No.6 single 'Friday I'm In Love', plus over 20 other UK Top 40 singles.
8 Nov 1954
American vocalist, musician, songwriter, Rickie Lee Jones who is a two-time Grammy Award winner. Her 1979 single 'Chuck E.'s In Love' was a No.4 hit on the Billboard Hot 100.
8 Nov 1949
Alan Berger, Southside Johnny & The Ashbury Jukes, (1978 album 'Hearts Of Stone').
8 Nov 1949
Bonnie Raitt, Blues singer songwriter, slide guitarist, (1994 UK No.31 single 'You', 1990 US No.1 album 'Nick Of Time').
8 Nov 1947
Minnie Riperton, US singer, (1975 US No.1 & UK No.2 with the
Stevie Wonder
produced single 'Loving You'). Died of cancer 12th July 1979.
8 Nov 1946
Australian-born songwriter, arranger, singer and guitarist John Farrar who has been a member of The Strangers, Marvin, Welch & Farrar, and The Shadows. He wrote the No.1 hit singles for Olivia Newton-John, 'Have You Never Been Mellow' and 'You're the One That I Want' with John Travolta.
8 Nov 1946
John Martin, The Big Figure, Dr Feelgood, (1979 UK No.9 single 'Milk And Alcohol').
8 Nov 1946
Roy Wood, guitar, vocals, with British rock band The Move who had the 1969 UK No.1 single 'Blackberry Way' and hits with 'I Can Hear The Grass Grow', 'Flowers in the Rain' and 'Fire Brigade'. And with Wizzard scored the 1973 UK No.1 single 'See My Baby Jive'. Wood sang backing vocals on 'You Got Me Floatin'' a track on the The
Jimi Hendrix Experience
Axis: Bold as Love album.
8 Nov 1945
American drummer Don Murray, best known for his work with The Turtles. The band had several Top 40 hits beginning with their cover version of
Bob Dylan
's 'It Ain't Me Babe' in 1965. They scored their biggest and best-known hit in 1967 with the song 'Happy Together'. Murray died on March 22 1996.
8 Nov 1944
Bonnie Bramlett, Delaney and Bonnie, (1971 US No.13 single 'Never Ending Song Of Love', worked with
Eric Clapton
during early 70s, acting roles in 'Fame', 'Roseanne' and '
The Doors
').
8 Nov 1944
Rodney Slater who was a founding member of Bonzo Dog Doo Dah Band playing saxophones and other musical instruments. The had the 1968 UK No.5 single 'I'm The Urban Spaceman'.
8 Nov 1942
Gerald Alston, vocals, The Manhattans, (1976 US No.1 & UK No.4 single 'Kiss And Say Goodbye').
8 Nov 1929
American songwriter and producer Bert Berns. He wrote many classic songs including 'Twist And Shout', 'Hang On Sloopy', 'Here Comes the Night', 'I Want Candy', 'Under the Boardwalk', 'Everybody Needs Somebody to Love' and 'Brown Eyed Girl'. Berns died of heart failure on December 30 aged 38.
8 Nov 1927
American singer of pop and country music singer Patti Page, one of the most popular artists of the 1950s. She recorded four US No.1 hits, including 'Tennessee Waltz' and the novelty record '(How Much Is That) Doggie In The Window'. Page recorded her first hit single, 'Confess' in 1947. Because of a strike, background singers were not available to provide harmony vocals for the song, so instead, Page decided to overdub her own, thus, Page became the first pop artist to overdub her vocals on a song. Page died on 1 January 2013 at the age of 85.
8 Nov 1927
Ken Dodd, British singer, comedian. His 1965 UK No.1 single 'Tears' topped the UK singles chart for five weeks becoming the biggest hit single in Britain that year and selling over a million copies in the UK alone. The recording is the third best selling song of the 1960s in Britain. In the 1960s, his fame in the UK was such that he rivalled
The Beatles
as a household name. He died on 11 March 2018 age 90.