October 10th: The Biggest Music Headlines
Scroll down the page to see all the music headlines, stories and events for October 10 throughout music history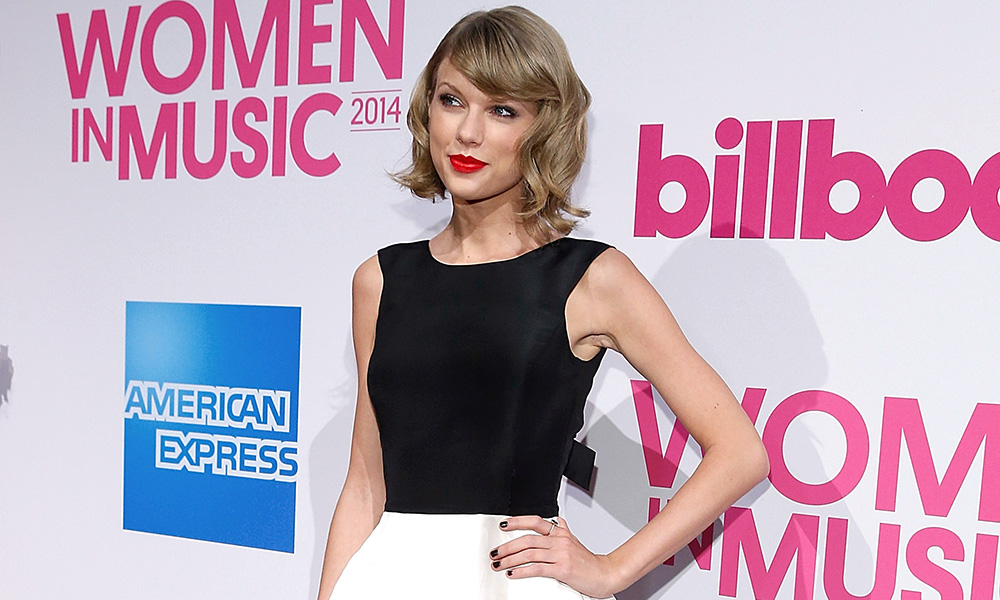 Taylor Swift Inspires (Twice) As Billboard's Woman Of The Year
On October 10, 2014, Taylor Swift became the first artist to twice be named Billboard's Woman of the Year. The singer-songwriter first received the honor in 2011, while in 2019, she was the inaugural recipient of Billboard's Woman of the Decade award. The honor is given to a woman in music who "has shaped and inspired the music industry with her success, leadership, and innovation," according to the website.
In 1980, Led Zeppelin drummer John "Bonzo" Bonham was laid to rest during a private funeral in Worcestershire, England. Among the mourners were Bonham's bandmates, plus Jeff Lynne (Electric Light Orchestra), Denny Laine (the Moody Blues, Wings), and Roy Wood (the Move, ELO, Wizzard). Bonham, who is widely considered to be among the greatest drummers of all time, was just 32 when he died.
In 1969, King Crimson released their prog-rock masterpiece, In the Court of the Crimson King. A hugely influential title, their debut record fused jazz and classical elements with rock music for an innovative new sound. Landing at No.5 in the UK and No.28 in the US, In the Court of the Crimson King includes such songs as "21st Century Schizoid Man," "Epitaph," and "The Court of the Crimson King."
In 1970, Neil Diamond scored his first No.1 hit as a recording artist with "Cracklin' Rosie." Diamond, who began his career as a songwriter at the legendary Brill Building, had previously found success with several of his compositions, including the No.1 hit, "I'm a Believer," recorded by the Monkees.
In 2000, Britney Spears made her live debut in the UK with a sold-out three-night engagement at London's Wembley Arena.
Looking for more things that happened on this day in music?
Keep scrolling for all of the headlines for October 10.
BORN ON OCTOBER 10:
1945: Jerry Lacroix (Blood, Sweat & Tears)
1946: John Prine
1955: Tanya Tucker
1955: David Lee Roth
1959: Kristy MacColl
1960: Eric Martin (Mr. Big)
1961: Martin Kemp (Spandau Ballet)
1979: Mya
Looking for more artists born on this day?
Keep scrolling for all of our October 10 birthdays.
---
What to find another day?
---
October 10th
10 Oct 2015
American tenor saxophone player Steve Mackay who worked with the Stooges, Violent Femmes, Snakefinger, Commander Cody and others died from sepsis at a hospital in Daly City, California at the age of 66.
10 Oct 2014
Taylor Swift
was named Billboard's Woman of the Year 2014, making her the first artist to receive the award twice. The award goes to the female artist who "has shaped and inspired the music industry with her success, leadership and innovation" over the last year.
10 Oct 2013
Paul McCartney
and his band surprised New Yorkers by performing songs from his "New" album in a short impromptu free concert to roughly 3,000 people on a long truck parked in the middle of Times Square.
10 Oct 2010
American preacher and singer Solomon Burke died at Amsterdam Schiphol Airport while on a plane from Washington Dulles Airport that had just landed. Known as the king of rock & soul, he had a string of hits including 1961 US No.24 single 'Just Out Of Reach Of My Open Arms', and the 1963 US No.1 R&B hit, 'Got To Get You Off My Mind'.
10 Oct 2009
Boyzone singer Stephen Gately died suddenly at the age of 33 while on holiday in Majorca. Spanish police said there were no signs of suspicious circumstances, but the cause of death was not yet known. Gately was on holiday with his long-term partner Andy Cowles.
10 Oct 2007
Sting topped a list of the worst lyricists ever, for such alleged sins as name-dropping Russian novelist Vladimir Nabokov in
The Police
tune "Don't Stand So Close to Me," quoting a Volvo bumper sticker ("If You Love Someone Set Them Free"), and co-opting the works of Chaucer, St. Augustine and Shakespeare. The survey in Blender magazine placed Rush drummer Neil Peart at No. 2, Creed frontman Scott Stapp at No. 3 and
Oasis
guitarist Noel Gallagher at No. 4 saying Gallagher "seemed incapable of following a metaphor through a single line, let alone a whole verse."
10 Oct 2002
Twelve protesters dressed as monkeys picketed outside the north Wales holiday home of former Stone Roses singer Ian Brown. The demonstrators argued Brown, was selling the five-bedroom house, in the small village of Llithfaen on the Llyn Peninsula for an inflated price - £150,000 - which local people could not afford. The monkey costumes worn by the anonymous protesters, referred to the name of Brown's recent solo album 'Unfinished Monkey Business.'
10 Oct 2000
Britney Spears
made her UK live debut when she played the first of three sold out nights at London's Wembley Arena.
10 Oct 1999
A charity auction selling
Elvis Presley
's belongings was held at The Grand Hotel, Las Vegas. A wristwatch sold for $32,500, a cigar box $25,000, an autographed baseball sold for $19,000, and a 1956 Lincoln Continental sold for $250,000.
10 Oct 1999
US teenager Christina Aguilera went to No.1 on the UK singles chart with 'Genie In A Bottle.' The song spent 5 weeks at No.1 on the US chart and won Aguilera the Best New Artist Grammy for the year.
10 Oct 1992
R.E.M.
scored their second UK No.1 album with 'Automatic For The People', featuring the singles 'Drive', 'Everybody Hurts', 'Man On The Moon' and 'The Sidewinder Sleeps Tonight.'
10 Oct 1987
Whitesnake went to No.1 on the US singles chart with 'Here I Go Again', a No.9 hit in the UK in 1987.
10 Oct 1981
The Police
went to No.1 on the UK album chart with 'Ghost In The Machine', the bands third No.1 LP.
10 Oct 1980
The funeral took place of
Led Zeppelin
's drummer
John Bonham
'Bonzo' was found dead at guitarists
Jimmy Page
's house of what was described as asphyxiation, after inhaling his own vomit after excessive vodka consumption, (40 shots in 4 hours) aged 32.
10 Oct 1979
The Rose, starring Bette Midler as a self-destructive 1960s Rock star, (transparently based on
Janis Joplin
) premiered in Los Angeles. The film was nominated for four Academy Awards including Best Actor in a Supporting Role (Frederic Forrest), Best Actress in a Leading Role (Bette Midler, in her screen debut), Best Film Editing and Best Sound.
10 Oct 1978
Joe Perry and Steve Tyler from
Aerosmith
were injured after a cherry bomb was thrown on stage during a gig in Philadelphia. The group performed behind a safety fence for the rest of the tour.
10 Oct 1978
The second
Stiff Records
UK tour kicked off featuring; Wreckless Eric, Jona Lewie, Rachel Sweet, Lene Lovich and Micky Jupp. The UK tour was undertaken by train, and then continued on to the USA, without Jupp, who was afraid of flying.
10 Oct 1970
The first issue of Sounds the British music paper was published. It was intended to be a weekly rival to titles such as Melody Maker and New Musical Express and was well known initially for giving away posters in the centre of the paper. Sounds closed on April 6, 1991.
10 Oct 1970
The
Carpenters
were at No.2 on the US singles chart with 'We've Only Just Begun.' The song was originally recorded by Smokey Roberds, under the name "Freddie Allen", and was used in a wedding-themed television commercial for Crocker National Bank in California in 1970.
10 Oct 1970
Black Sabbath
were at No.1 on the UK chart with their second album '
Paranoid
.' The album which contains some of the band's best-known signature songs, including the title track, 'Iron Man' and 'War Pigs' is now regarded as one of the classic Heavy Metal albums.
10 Oct 1970
Neil Diamond
went to No.1 on the US singles chart with 'Cracklin' Rosie', his first No.1 as an artist. Diamond who had spent his early career as a songwriter in the Brill Building, wrote the 1966 No.1 hit 'I'm A Believer' for The
Monkees
.
10 Oct 1969
King Crimson released their debut studio album In the Court of the Crimson King on Island Records in England and Atlantic Records in America. Rolling Stone named In the Court of the Crimson King the second greatest progressive rock album of all time, behind
Pink Floyd
's The
Dark Side of the Moon
.
10 Oct 1964
During a UK tour
The Beatles
appeared at De Montfort Hall in Leicester.
Ringo Starr
drove himself to the venue after taking delivery of a brand new Facel Vega, apparently reaching speeds of 140 MPH on the M6 motorway.
10 Oct 1959
The Quarry Men played at the Casbah Coffee Club, Liverpool. Ken Brown, suffering from a heavy cold was unable to perform and after the show, an argument started when
Paul McCartney
said that Brown should not get a share of the performance fee since he had not performed. Lennon and Harrison side with McCartney and Brown quits The Quarry Men.
10 Oct 1956
Elvis Presley
's 'Love Me Tender' entered the US chart for a 19 week stay, peaking at No.1 for 5 weeks. The song, from Presley's first film of the same name, was adapted from the tune "Aura Lee", written in 1861.
10 Oct 1939
The real Eleanor Rigby died in her sleep of unknown causes at the age of 44. The 1966 Beatles' song that featured her name wasn't written about her, as
Paul McCartney
's first draft of the song named the character Miss Daisy Hawkins. Eleanor Rigby's tombstone was noticed in the 1980s in the graveyard of St. Peter's Parish Church in Woolton, Liverpool, a few feet from where McCartney and Lennon had met for the first time in 1957.
10 Oct 1902
The Gibson Mandolin guitar company was formed. Gibson's first electric guitar the ES-150 was produced in 1936, and in 1946 Gibson introduced the P-90 single coil pickup, which was eventually used on the first Les Paul model made in 1952.
Born on this day in music
10 Oct 1992
Gabrielle Aplin, English singer-songwriter who had the 2012 UK No.1 single with her version of Frankie Goes to Hollywood's 'The Power of Love', which was used in a John Lewis television commercial.
10 Oct 1983
Italian-English singer, songwriter Jack Savoretti, (2015 album Written in Scars).
10 Oct 1981
Irish singer-songwriter and musician, Una Healy, best known for being a member of girl group The Saturdays who scored the 2013 UK No.1 hit single 'What About Us' featuring Sean Paul.
10 Oct 1979
Mya, (Marie Harrison), US singer, (2000 US No.2 single 'Case Of The Ex', 2001 US & UK No.1 single with Christina Aguilera, Lil' Kim and Pink, 'Lady Marmalade').
10 Oct 1973
Scott Morriss, bass, The Bluetones, (1996 UK No.2 single 'Slight Return').
10 Oct 1967
Mike Malinin, guitar, vocals, Goo Goo Dolls, (1999 UK No. 26 single 'Iris', 2002 US No.3 album 'Gutterflower').
10 Oct 1964
Graham Crabb, drums, from English alternative rock band, Pop Will Eat Itself who scored the 1991 UK No.15 single 'X Y & Zee' and the 1993 top ten hit, 'Get The Girl! Kill The Baddies!'
10 Oct 1963
Jim Glennie, bassist from English rock band James who scored the 1991 UK No.2 single 'Sit Down' and the hits 'Laid' and 'Come Home'.
10 Oct 1963
Jonny Male, guitarist with English alternative rock band Republica who had the 1997 UK No.7 single 'Drop Dead Gorgeous' and the single 'Ready to Go'.
10 Oct 1961
English actor, musician Martin Kemp from Spandau Ballet who became one of the most successful groups to emerge during the New Romantic era. They produced a number of international hits during the 80s including 'True', 'Gold' and 'Through the Barricades.' He is the brother of Gary Kemp from Spandau Ballet who he appeared with in the British film 'The Krays'. He is also known for his role as Steve Owen in the British soap opera EastEnders.
10 Oct 1960
Eric Martin, singer with American hard rock supergroup Mr. Big, who had the 1992 US No.1 & UK No.3 single 'To Be With You'.
10 Oct 1960
Al Connelly, Glass Tiger, (1986 UK No.29 single 'Don't Forget Me, When I'm Gone').
10 Oct 1959
Kirsty MacColl, UK singer, songwriter, who had the 1985 UK No.7 single 'A New England', and the 1987 UK No.2 single with The Pogues, 'Fairytale Of New York'). MacColl was killed in a boating accident on 18th December 2000.
10 Oct 1955
American rock vocalist, songwriter David Lee Roth who with
Van Halen
had the 1984 US No.1 & UK No.7 single 'Jump' and the solo, 1988 hit single 'Just Like Paradise'. Van Halen's 1978 debut album has sold more than twelve million copies.
10 Oct 1955
Tanya Tucker, US country singer, 1991 Country Music Association singer of the year. Best known for her debut hit 'Delta Dawn' which she released when she was 13. She has topped the US country music charts 10 times. Starred in her own fly-on-the-wall TV show, Tuckerville, in 2005.
10 Oct 1953
Midge Ure, Scottish musician and singer-songwriter. First joined Slik, (1976 UK No.1 'Forever And Ever'), Rich Kids, (1978 UK No.24 'Rich Kids'), Visage and then Ultravox, (1981 UK No.2 'Vienna'). Ure co-wrote and produced the 1985 charity single Do They Know It's Christmas? which has sold 3.7 million copies in the UK. His 1985 solo debut album The Gift featured the UK No.1 'If I Was'.
10 Oct 1952
Sharon Osbourne, wife of Ozzy and star of
MTV
The Osbournes TV Show.
10 Oct 1951
Keith Grimes, guitarist, Eva Cassidy. (Only artist to score three posthumous UK No.1 albums, 2001 'Songbird', 2002 '
Imagine
', 2003 'American Tune'. 2001 UK No. 42 single 'Over The Rainbow').
10 Oct 1948
Cyril Neville, vocals, percussion, The Neville Brothers, (1989 UK No.47 single 'With God On Our Side').
10 Oct 1946
American singer, songwriter John Prine, known for the 1971 Vietnam War song 'Sam Stone' from the album John Prine. He released his debut album in 1971, and put out 19 studio albums in all. He died on 7 April 2020 aged 73 due to complications from Covid-19.
10 Oct 1945
Alan Cartwright, bassist with
Procol Harum
, who had the 1967 UK No.1 & US No.5 single 'A Whiter Shade Of Pale' (one of the few singles to have sold over 10 million copies) and scored the hits 'Homburg', 'Conquistador'. He was part of the band's line-up between 1971 and 1976, playing on four albums including their ground-breaking 1972 release Live With The Edmonton Symphony Orchestra. Cartwright died on 4 March 2021 age 75.
10 Oct 1945
Jerry Lacroix, from jazz-rock American music group Blood Sweat & Tears. They scored the 1969 US No.2 single 'Spinning Wheel', and the 1969 US No.12 single 'You've Made Me So Very Happy'. They had a US No.1 with their second album Blood, Sweat & Tears in 1968.
10 Oct 1943
Denis D'Ell, The Honeycombs, (1964 UK No.1 single 'Have I The Right'). Died on 6th July 2005.