October 13th: The Biggest Music Headlines
Scroll down the page to see all the music headlines, stories and events for October 13 throughout music history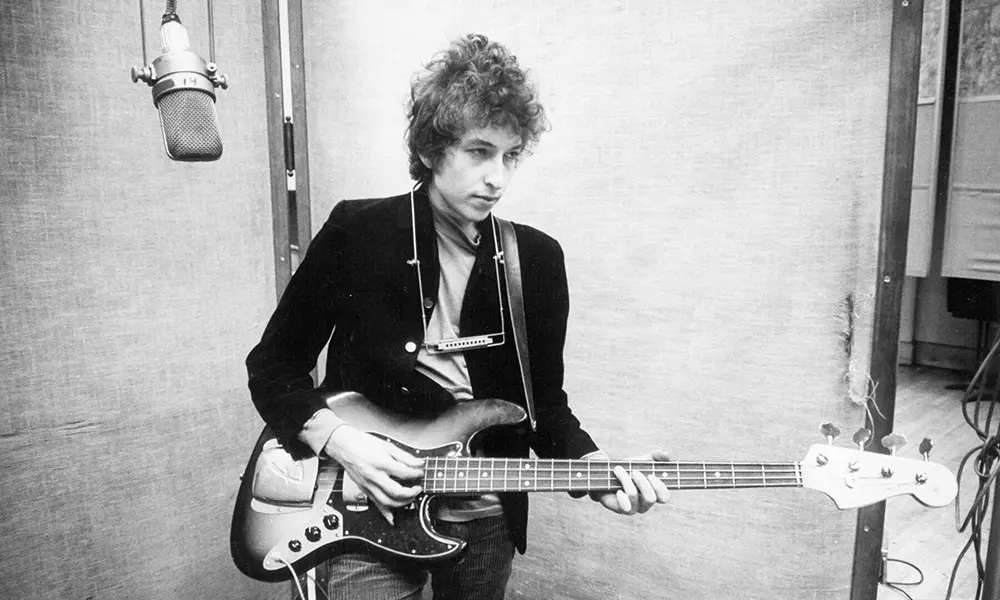 Bob Dylan Wins The Nobel Prize In Literature
On October 13, 2016, Bob Dylan became the first songwriter to win the Nobel Prize for Literature and the first American to receive the award since 1993 (when the honor went to writer Toni Morrison). While the decision to expand the award to a songwriter was deemed "radical" to some, as reported by the New York Times, members of the Swedish Academy stood by their choice to celebrate Dylan "for having created new poetic expressions within the great American song tradition." The 75-year-old artist, who penned such celebrated songs as "The Times They Are a-Changin'," "Blowin' in the Wind," and "Like a Rolling Stone," was humbled by the announcement, marveling to the UK's Telegraph, that it felt "amazing, incredible. Whoever dreams about something like that?"
In 1974, beloved TV host Ed Sullivan died at the age of 73. The namesake of the long-running Ed Sullivan Show (1948-1971) was instrumental in promoting many of the world's biggest musical acts, including Elvis Presley, the Jackson Five, the Supremes, and The Beatles. In addition to helping country music cross over to a mainstream audience, Sullivan also had a vital hand in breaking racial barriers at a time when Black artists were not regularly booked on variety shows. Defying the norms, the Harlem-born host gave a national platform to acts who were not known among white audiences, including Bo Diddley, Fats Domino, and Jackie Wilson.
In 1963, the Beatles made their debut on the UK's long-running music show, Sunday Night at the London Palladium. Booked as the headlining act, the band's set was broadcast to 15 million viewers.
In 1965, The Who recorded their iconic hit, "My Generation" at Pye Studios in London. The song, which also served as the title track to their 1965 debut album, was one of their highest-charting singles in the UK, peaking at No.2.
In 2002, British singer Will Young, who rose to fame as the first winner of the UK music contest, Pop Idol, landed at the top of the UK album charts with his debut album, From Now On. The LP featured his record-breaking-selling single, "Anything is Possible."
Looking for more things that happened on this day in music?
Keep scrolling for all of the headlines for October 13.
BORN ON OCTOBER 13:
1941: Paul Simon
1944: Robert Lamm (Chicago)
1947: Sammy Hagar
1959: Marie Osmond
1968: Carlos Mar'n (Il Divo)
1980: Ashanti
Looking for more artists born on this day?
Keep scrolling for all of our October 13 birthdays.
---
What to find another day?
---
October 13th
13 Oct 2016
Bob Dylan
was awarded the 2016 Nobel Prize for Literature, becoming the first songwriter to win the prestigious award. The 75-year-old rock legend received the prize "for having created new poetic expressions within the great American song tradition".
13 Oct 2012
An oil painting by the German artist Gerhard Richter which was owned by
Eric Clapton
sold for £21m ($34m) - an auction record for a work by a living artist. Clapton was set to give the money to the Crossroads Centre drug and alcohol rehabilitation center founded by the guitarist in Antigua.
13 Oct 2011
American band Maroon 5 were on the top 10 of the UK singles chart with 'Moves Like Jagger', featuring Christina Aguilera. Its lyrics referred to a male's ability to impress a female with his dance moves, which he compared to those of
Mick Jagger
. The video featured old video footage of Jagger and his iconic dance moves. Moves Like Jagger was nominated for a Grammy Award for Best Pop Duo/Group Performance at the 54th Grammy Awards.
13 Oct 2009
Al Martino, a Pop crooner who scored over 10 hits including 'I Love You Because', 'Spanish Eyes' and 'I Love You More And More Every Day', died at the age of 82. He was often remembered for playing the
Frank Sinatra
type role of Johnny Fontane in The Godfather. Martino was at No.1 on the first ever UK pop chart published on 8th Nov 1952 by the New Musical Express.
13 Oct 2008
In a video message on his website,
Ringo Starr
announced that he no longer has time to sign autographs and asked fans not to send him any mail at all. "No more fan mail and no objects to be signed. Nothing." After finishing a tour of the US and Canada, he was dividing his time between Los Angeles, the South of France and his UK home in Surrey.
13 Oct 2004
The US Internal Revenue Service charged 63-year-old Ronald Isley, lead singer of the Isley Brothers, with tax evasion for failing to report income from royalties and performances by the band between 1997 and 2002. He was later found guilty and sentenced to three years in prison.
13 Oct 2002
UK rock band Muse took legal action against
Celine Dion
after she announced her forthcoming Las Vegas show would be called 'Muse'. Singer Matt Bellamy from the band said 'We don't want anyone to think we're
Celine Dion
's backing band.'
13 Oct 2002
Will Young went to No.1 on the UK album chart with his debut album 'From Now On.' Young came to prominence after winning the 2002 inaugural series of the British music contest Pop Idol, making him the first winner of the now-worldwide Idols-format franchise. His debut single, 'Anything is Possible', was released two weeks after the show's finale and became the fastest-selling debut single in the United Kingdom.
13 Oct 2001
Australian singer songwriter Peter Doyle died of throat cancer aged 52. Solo artist and a member of The New Seekers. Scored the hits, 'What Have They Done To My Song Ma', 'Never Ending Song of Love' and 'I'd Like to Teach the World to Sing' with The New Seekers.
13 Oct 2000
UK newspaper The Mirror reported that Toni Braxton had pulled out of this years US Mobo awards after one of her breast implants had exploded. A spokesman for her Arista record label said "We don't comment on our artistes personal lives."
13 Oct 1990
George Michael
went to No.1 on the US singles chart with 'Praying For Time', his 6th US solo No.1, and his the last solo single to occupy the top of the chart in the US.
13 Oct 1984
Stevie Wonder
started a three week run at No.1 on the US singles chart with 'I Just Called To Say I Love You', his 7th US No.1, also No.1 in the UK.
13 Oct 1984
U2
scored their second UK No.1 album with 'The Unforgettable Fire.' The album was produced by Brian Eno and Daniel Lanois and featured the single 'Pride (In The Name Of Love').
13 Oct 1979
Michael Jackson
went to No.1 on the US singles chart with 'Don't Stop Till You Get Enough', his second US solo No.1, a No.3 hit in the UK.
13 Oct 1979
'Reggatta De Blanc' the second album from
The Police
started a four-week run at No.1 in the UK. The album which features the band's first two No.1 hits, 'Message in a Bottle' and 'Walking on the Moon', cost only £6,000 to record.
13 Oct 1977
32 year old Shirley Brickley of The Orlons was shot and killed by an intruder in her Philadelphia home. The Orlons had five US Top 20 hits in the 60's including 'The Wah Watusi', 'Don't Hang Up' and 'South Street'. The Orlons provided back-up vocals on Dee Dee Sharp's 1962 hit 'Mashed Potato Time' and Dee Dee Sharp's second hit, 'Gravy (For My Mashed Potatoes)'.
13 Oct 1974
TV host Ed Sullivan died. Leader of the Ed Sullivan Singers and Orchestra. Introduced
The Beatles
and other UK acts to America via his Ed Sullivan TV show, from New York City, which ran from June 20, 1948 to June 6, 1971, on CBS every Sunday night at 8pm.
The Beatles
appearance on February 9th 1964 is considered a milestone in American pop culture and the beginning of the British Invasion in music. The broadcast drew an estimated 73 million viewers.
13 Oct 1973
The
Rolling Stones
started a four week run at No.1 on the US album chart with 'Goats Head Soup' the group's fourth US No.1.
13 Oct 1970
Janis Joplin
's ashes were scattered at Stinson Beach in Marin County, California. The singer had been found dead on the floor beside her bed at the Landmark Hotel in Hollywood California on 4th Oct. The official cause of death was an overdose of heroin, possibly combined with the effects of alcohol.
13 Oct 1965
The Who
recorded '
My Generation
' at Pye studios, London. When released as a single it reached No.2 on the UK chart, held off the No.1 position by The Seekers 'The Carnival Is Over'. Roger Daltrey would later say that he stuttered the lyrics to try to fit them to the music. The BBC initially refused to play the song because it did not want to offend people who stutter.
13 Oct 1963
The Beatles
made their debut on ITV's 'Sunday Night at The London Palladium', topping the bill and transmitted live to an audience of 15 million viewers. They played, 'From Me To You', 'She Loves You', 'Twist and Shout' and 'I'll Get You.'
13 Oct 1962
Don Everly collapsed during rehearsals on stage at the Prince of Wales Theatre in London on the eve of a 22 date Everly Brothers UK tour. He was flown back to the US for treatment and the tour continued with Phil Everly performing solo.
Born on this day in music
13 Oct 1980
Ashanti Douglas, (2002 US No.1 single 'Foolish', 2002 US No.1 album, Ashanti').
13 Oct 1970
Paul Potts, Welsh singer who became the winner of the first series of ITV's Britain's Got Talent, (2007 UK No.1 album 'One Chance').
13 Oct 1968
Carlos Mar'n, from the multi-national classical crossover vocal group Il Divo. Their 2004 self-titled album, was No.1 in 14 countries around the world.
13 Oct 1962
Rob Marche, guitarist with British new wave group Jo Boxers, who had the 1983 UK No.3 single 'Boxer Beat'.
13 Oct 1959
Gerry Darby, Carmel, (1983 UK No.15 single 'Bad Day').
13 Oct 1959
American singer, actress, doll designer Marie Osmond, who is part of The
Osmonds
family. She had the 1973 US No.5 & UK No.2 single 'Paper Roses'. She and her singer brother Donny Osmond hosted the television variety show Donny & Marie.
13 Oct 1950
Simon Nicol, guitar, Fairport Convention, (1969 UK No.21 single 'Si Tu Dois Partir').
13 Oct 1948
John Ford Coley, England Dan & John Ford Coley, (1976 US No. 2 & UK No. 26 single, 'I'd Really Love To See You Tonight.)'
13 Oct 1948
Peter David Spencer, from English rock band Smokie who had the 1975 UK No.3 single 'If You Think You Know How To Love Me'. Their most popular hit single was 'Living Next Door to Alice'.
13 Oct 1947
American rock vocalist, guitarist, songwriter Sammy Hagar who came to prominence in the 1970s with the hard rock band Montrose. He replaced David Lee Roth of
Van Halen
in 1985 and left the band in 1996. He founded the Cabo Wabo Tequila brand and restaurant chain, as well as Sammy's Beach Bar Rum.
13 Oct 1944
American keyboardist, singer and songwriter Robert Lamm, with Chicago, who had the 1976 UK & US No.1 single 'If You Leave Me Now'. The band formed in 1967 in Chicago, Illinois as The Chicago Transit Authority before shortening the name in 1970. Lamm wrote many of the band's biggest hits, including 'Questions 67 & 68', 'Does Anybody Really Know What Time It Is?', '25 or 6 to 4', and 'Harry Truman'. Chicago have had five consecutive No.1 albums on the Billboard chart and 20 top-ten singles on the Billboard Hot 100.
13 Oct 1941
Paul Simon
, singer, songwriter, (1970 UK & US No.1 single with Simon and Garfunkel, 'Bridge Over Trouble Water.' The duo's 1970 album '
Bridge Over Troubled Water
' spent 307 weeks on the UK chart). Solo, (1986 UK No.4 single 'You Can Call Me Al', 1986 UK No.1 album Graceland spent 115 weeks on the UK chart).
13 Oct 1940
Chris Farlowe, British singer, who had the 1966 UK No.1 single 'Out Of Time', which was written by
Mick Jagger
and
Keith Richards
).