October 17th: The Biggest Music Headlines
Scroll down the page to see all the music headlines, stories and events for October 17 throughout music history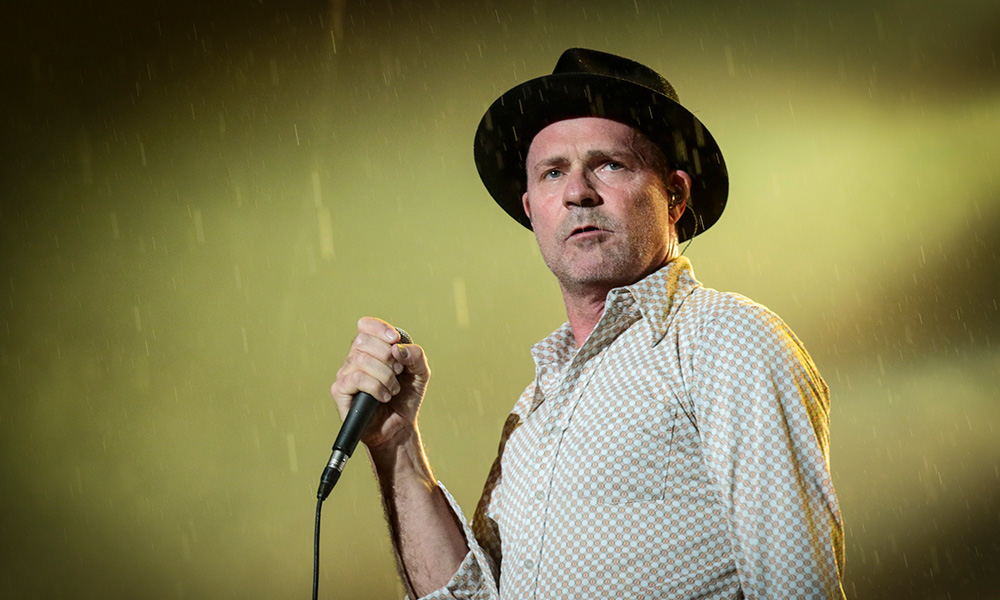 Canada Mourns The Tragically Hip's Gord Downie
On October 17, 2017, Canadian rock icon Gord Downie died at the age of 53, following a two-year-long battle with brain cancer. In addition to a successful solo career, Downie served as the longtime frontman of The Tragically Hip – one of the most widely celebrated acts in Canada. During their more than three-decade-long run, the band released 13 studio albums – nine of which reached No.1 on the Canadian charts – and won a staggering 17 Juno Awards. In the year preceding Downie's death, the group embarked on a farewell tour, playing a nationally-broadcasted final show on August 20, 2016. After his passing, Downie was widely mourned across Canada – from a press conference held by Prime Minister Justin Trudeau to a moment of silence before a Toronto Maple Leafs game.
In 1962, in between their lunchtime and evening shows at Liverpool's Cavern Club, The Beatles traveled to the Granada TV Center in Manchester to make their television debut. They played "Love Me Do" as well as their celebrated cover of Richard Barrett's "Some Other Guy."
In 1987, the Bee Gees became the only group to have a UK No.1 hit in each of the three decades, (60s, 70s, and 80s), when "You Win Again" went to No.1 on the UK singles chart. The vocal act began their streak in the 60s, with "Massachusetts" and "I've Gotta Get a Message to You." In the 70s, they topped the chart with "Night Fever" and "Tragedy," while "You Win Again," marked the group's fifth and final No.1.
In 1970, The Jackson 5 began a five-week run at the top of the Billboard Hot 100 with "I'll Be There." The ballad was the most successful single ever released by the siblings, selling over four million copies in the United States and over six million worldwide. Additionally, the track replaced Marvin Gaye's "I Heard It Through the Grapevine" as the most successful single released by Motown Records in the US.
In 2008, Four Tops singer Levi Stubbs died at the age of 72 in his hometown of Detroit. With the legendary vocal group, Stubbs recorded 20 Top 40 hits and was later inducted into the Rock and Roll Hall of Fame.
Looking for more things that happened on this day in music?
Keep scrolling for all of the headlines for October 17.
BORN ON OCTOBER 17:
1934: Rico Rodriguez (The Specials)
1941: Jim Seals (Seals & Croft)
1946: Jim Tucker (The Turtles)
1958: Alan Jackson
1967: Rene Dif (Aqua)
1968: Ziggy Marley
1972: Wyclef Jean
1972: Eminem
1977: Chris Kirkpatrick (NSYNC)
Looking for more artists born on this day?
Keep scrolling for all of our October 17 birthdays.
---
What to find another day?
---
October 17th
17 Oct 2017
Canadian rock musician Gord Downie died of glioblastoma aged 53. He was the lead singer and lyricist for the Canadian rock band The Tragically Hip as well as releasing six solo albums. The bands final concert was held at the Rogers K-Rock Centre in Kingston, Ontario, on August 20 2016 and was broadcast and streamed live by the Canadian Broadcasting Corporation on television, radio and internet. It was viewed by an estimated 11.7 million people.
17 Oct 2014
The British Phonograph Institute (BPI) announced that its latest figures showed that almost 800,000 vinyl albums had been sold in the UK for the first nine months of 2014, significantly ahead of last year's nine month total.
17 Oct 2009
Johnny Depp presented
Keith Richards
with the 'Rock Immortal' Award at the Greek Theatre in Los Angeles, California, as part of this years Scream Awards.
17 Oct 2008
Four Tops
singer Levi Stubbs died at his Detroit home, aged 72. Stubbs had been in ill health since being diagnosed with cancer in 1995 and a stroke and other health problems led him to stop touring in 2000. The group signed with
Motown
Records in 1963 and produced 20 Top 40 hits over the following 10 years, making music history with other acts in
Berry Gordy
's
Motown
stable.
17 Oct 2008
Madonna
and Guy Ritchie announced that their seven-year marriage was over because they had drifted apart. The press reported that without a pre-nuptial agreement, Ritchie could be looking at up to £50million of
Madonna
's £300million fortune.
17 Oct 2007
US singer Teresa Brewer died aged 76. She was one of the most popular US pop singers of the 1950s scoring hits such as 'Gonna Get Along Without Ya Now' and 'Into Each Life Some Rain Must Fall.' She also sang with Tony Bennett, Duke Ellington, Dizzy Gillespie and Wynton Marsalis.
17 Oct 2005
Freddie Mercury
's 1974 Rolls Royce Silver Shadow failed to sell in an eBay auction, having not met its reserve price. It had been listed by his sister, Kashmira Cooke, who had inherited the car from him. The auction had attracted nearly 200 bids and exceeded £60,000 (approximately $93,000). The luxury vehicle had not appeared in public since 2002, when it had been used to transport the Bulsara family to the premiere of the
Queen
stage musical We Will Rock You. It came with a box of Kleenex Mansize tissues left in the car by Freddie.
17 Oct 2004
Michael Jackson
's long-time lawyer, Steve Cochran, left the star's defence team. Jackson who was fighting child abuse charges, said in a statement that the lawyer had taken a "temporary leave of absence" but would still "collaborate".
17 Oct 2002
Derek Bell instrumentalist in the Irish folk group The Chieftains died of cardiac arrest in Phoenix, Arizona. Joined the group in 1975, released the 1981 solo album Derek Bells Plays With Himself, awarded an MBE in the 2000 for services to traditional music.
17 Oct 2001
Songwriter and composer Jay Livingston died of pneumonia. Best known for writing hits with Ray Evans for Doris Day, ('Whatever Will Be, Will Be (Que Sera, Sera)' and Nat King Cole, (Mona Lisa).
17 Oct 2000
A flat in Montagu Square London, which was once owned during the 60s by
Ringo Starr
went on the market for £575,000. The two bedrooms, two-story property was also home for
Jimi Hendrix
, John & Yoko and  
Paul McCartney
during the 60s.
17 Oct 1999
It was reported that
Michael Jackson
had played a secret gig at a martial arts exhibition in Barnstaple, England. The man who had arrived in the white stretch limo was Navi, a Londoner who claims to be the world's number one Jako impersonator.
17 Oct 1999
Thomas Durden died aged 79. Wrote the lyrics to
Heartbreak Hotel
, one of
Elvis Presley
's early hits. Durden had read a newspaper account of a man who had committed suicide, the man had left a note saying, ''I walk a lonely street,'' Durden used the phrase as the basis for '
Heartbreak Hotel
.'
17 Oct 1998
UK newspaper the Daily Star ran a story claiming that
R.E.M.
singer Michael Stipe had admitted that he was gay during an
MTV
interview shown in the US. Stipe was voicing his disgust at the killing of a young gay student in the US.
17 Oct 1995
During an interview with The Observer magazine Noel Gallagher from
Oasis
said he wished Damon Albarn and Alex Cox of Blur would die from AIDS. He later retracted his statement.
17 Oct 1995
Sting's former accountant Keith Moore was sentenced to six years in jail after being found guilty of embezzling £6 million from the singer's 108 bank accounts.
17 Oct 1992
Tasmin Archers debut single 'Sleeping Satellite' was at No.1 in the UK, the English singer, songwriters only No.1. Archer wrote the song in the late 1980s about the moon landings in 1969, but it was only when Archer got a record deal that the song saw the light of day.
17 Oct 1991
American singer and television presenter Tennessee Ernie Ford died of liver failure. Had the 1955 US & UK No.1 hit with his version of the Merle Travis song 'Sixteen Tons'. In the 60's hosted a daytime talk show, The Tennessee Ernie Ford Show on the ABC television network.
17 Oct 1987
The
Bee Gees
became the only group to have a UK No.1 single in each of the three decades, (60s, 70s & 80s), when 'You Win Again' went to No.1 on the UK singles chart. The brothers fifth and last No.1.
17 Oct 1981
Christopher Cross started a three week run at No.1 on the US singles chart with 'Arthur's Theme, (Best That You Can Do)', his second US No.1. and a No.7 hit in the UK.
17 Oct 1973
The
Rolling Stones
performed two shows at Foret Nationale, Brussels, Belgium, as part of a tour of the UK and Europe. Opening for the tour's shows were Billy Preston and American group Kracker, the first band to be signed to
Rolling Stones
Records. Bobby Keys didn't show up for the concert, which resulted in him being banned by
Mick Jagger
from future
Rolling Stones
tours until 1989, with occasional exceptions. According to legend Bobby missed the gig due to him filling a hotel bathtub with Dom Perignon champagne and drinking most of it.
17 Oct 1970
The Jackson Five started a five-week run at No.1 on the US singles chart with 'I'll Be There'. The group's fourth No.1 of 1970, it made No.4 in the UK.
Motown
records claimed the group had sold over 10 million records during this year.
17 Oct 1964
Manfred Mann started a two week run at No.1 on the US singles chart with 'Do Wah Diddy Diddy', possibly the first No.1 with a Nonsense Song Title. Also a No.1 in the UK, the song was first released by the US group The Exciters.
17 Oct 1962
In between their lunchtime and night shows at The
Cavern Club
in Liverpool,
The Beatles
travelled to Granada TV Centre in Manchester to make their television debut. They appeared live on the local magazine program People and Places performing two songs 'Some Other Guy' and '
Love Me Do
'.
Born on this day in music
17 Oct 1977
Chris Kirkpatrick, singer from American boy band *NSYNC. Among the group's singles, 'Bye Bye Bye', 'This I Promise You', 'Girlfriend' and 'It's Gonna Be Me' reached the top 10 in several international charts. The group's second album, No Strings Attached, sold over one million copies in one day.
17 Oct 1972
Eminem
, US Rapper, (Marshall Bruce Mathers III), 2000 UK No.1 single 'The Real Slim Shady', 2000 world wide No.1 album 'The Marshall Mathers LP.'
17 Oct 1972
Haitian rapper, musician Wyclef Jean, who with The Fugees had the 1996 UK No.1 single 'Killing Me Softly' and the 1998 solo 1998 UK No.3 single 'Gone Till November'. Jean has won three Grammy Awards for his musical work.
17 Oct 1968
Ziggy Marley, Ziggy Marley & The Melody Makers, (1988 UK No.22 single 'Tomorrow People'). His father
Bob Marley
had his last haircut the year Ziggy was born.
17 Oct 1967
Rene Dif, from Danish eurodance group Aqua, who scored the 1997 UK No.1 single 'Barbie Girl' a song that topped the charts worldwide.
17 Oct 1958
Alan Jackson, country music singer, who has recorded over a dozen studio albums. More than 50 of his singles have appeared on Billboard's list of the Top 30 Country Songs, for which of Jackson's entries, 35 were No.1 hits. He is the recipient of two Grammys, 16 CMA Awards, 17 ACM Awards and is also a member of the Grand Ole Opry.
17 Oct 1956
American musician Fran Cosmo best known as a former lead singer of the band Orion the Hunter (who toured with
Aerosmith
in 1984), and the band Boston. In 1994, Cosmo was featured as the lead vocalist on the platinum Boston album Walk On, which reached No.7 on the Billboard Charts and produced three hit singles.
17 Oct 1947
David St Hubbins, vocals, Spinal Tap, (1984 rock film 'This Is Spinal Tap').
17 Oct 1946
Jim Tucker, guitarist from the American rock The Turtles who had the US 1967 No.1 single 'Happy Together' and the 1967 hit 'She'd Rather Be with Me'.
17 Oct 1941
Alan Howard, bassist who with Brian Poole and the Tremeloes had the the UK 1963 No.1 hit 'Do You Love Me' and with The Tremeloes the 1967 UK No.1 & US No.11 single 'Silence Is Golden'.
17 Oct 1941
American singer, songwriter Jim Seals, one half of Seals & Croft. Between 1972 and 1976, Seals and Crofts had a run of five gold albums, culminating in an double-platinum greatest hits collection. He died on 6 June 2022 age 80.
17 Oct 1935
Michael Eavis, the farmer whose land is used to hold Glastonbury Festival, the first being in 1970 with
T. Rex
headlining to a crowd of 1,500. Now regarded as a major event in British culture, Eavis hosted the first festival, then called Pilton Festival, after seeing an open-air
Led Zeppelin
concert at the 1970 Bath Festival.
17 Oct 1934
Cuban-born Jamaican ska and reggae trombonist Rico Rodriguez from The Specials, who had the 1981 UK No.1 single 'Ghost Town'. He also performed and recorded with Jools Holland, Paul Young, and others. Rodriguez died on 4th Sept 2015.
17 Oct 1923
American jazz guitarist Barney Kessel was a member of the the Wrecking Crew. Kessel was also a member of the Oscar Peterson Trio and worked with Billie Holiday,
Sam Cooke
and many others. He also appeared on The Beach Boys'
Pet Sounds
album. Kessel died of a brain tumor on May 6, 2004, at the age of 80.