October 4th: The Biggest Music Headlines
Scroll down the page to see all the music headlines, stories and events for October 4 throughout music history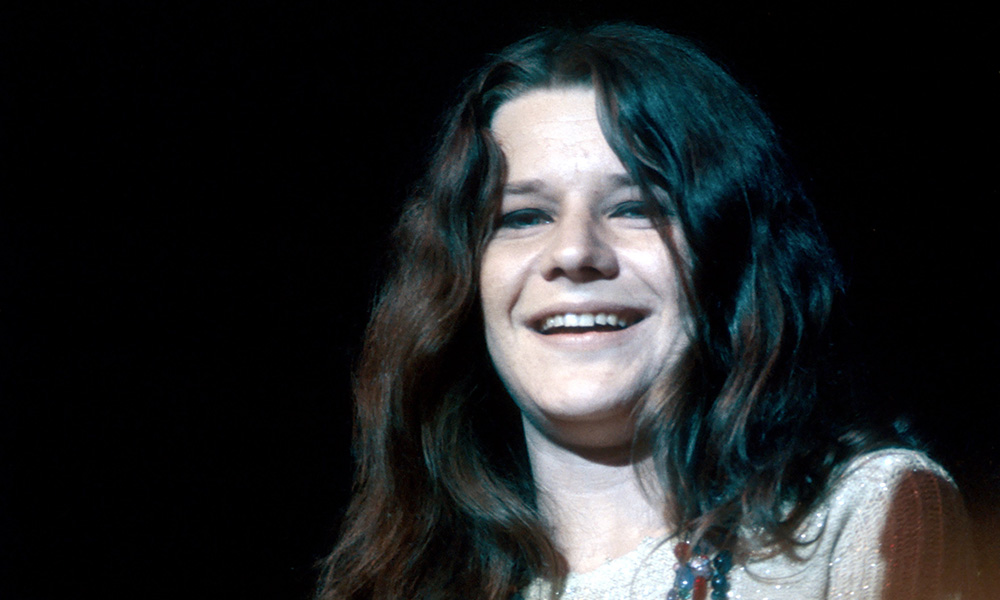 The Tragic Death Of Janis Joplin
On October 4, 1970, the music world lost one of its most electrifying talents, Janis Joplin, when she died of an accidental overdose. At the time, the 27-year-old artist was in the middle of finishing her second solo album, Pearl. It was would be released three months after her death and become her biggest commercial success. While Joplin's career was relatively short (including two albums with Big Brother and the Holding Company and one solo album, I Got Dem Ol' Kozmic Blues Again Mama!), she left behind a highly-influential legacy, including her powerful and emotive bluesy vocals, which can be heard on hits like "Piece of My Heart" and "Me and Bobby McGee."
In 1982, The Smiths made their live debut at The Ritz in Manchester, supporting Blue Rondo à la Turk at a fashion show. They performed three songs: "The Hand That Rocks The Cradle," "Suffer Little Children," and "Handsome Devil."
In 1969, The Beatles' Abbey Road went to No.1 on the UK album chart. Exactly 50 years later, in 2019, it topped the chart once again – this time as an anniversary edition – setting the chart's record for the longest gap for an album to return to No.1.
In 1969, Creedence Clearwater Revival scored their first No.1 album in the US with Green River. The LP, which would hold its spot for four weeks, was one of three albums that the California band released that year.
In 2007, The Rolling Stones set a new record for the top-grossing tour of all time with their A Bigger Bang tour, which took them on the road from late 2005 through August 2007. It earned the band £247m ($437m).
Looking for more things that happened on this day in music?
Keep scrolling for all of the headlines for October 4.
BORN ON OCTOBER 4:
1947: Jim Fielder (Blood, Sweat & Tears)
1959: Chris Lowe (Pet Shop Boys)
1961: Jon Secada
1963: Lena Zavaroni
1977: Richard Reed Parry (Arcade Fire)
1984: Lena Katina (t.A.T.u.)
Looking for more artists born on this day?
Keep scrolling for all of our October 4 birthdays.
---
What to find another day?
---
October 4th
4 Oct 2019
The Beatles'
Abbey Road
returned to No.1 in the UK, 50 years after it first topped the album charts after the release of an expanded anniversary edition. The feat also sees the album set a record - the gap of 49 years and 252 days since its initial chart-topping run ended in early 1970 is the longest gap before returning to No.1.
4 Oct 2014
Paul Revere, organist and leader of Paul Revere And The Raiders died following a battle with cancer. Between 1961 and 1971, the band placed 15 songs on Billboard's Top 40, including the US Top 10 hits 'Kicks', 'Hungry', 'Good Thing' and 'Him Or Me - What's It Gonna Be?'
4 Oct 2007
The
Rolling Stones
set a new record for the top grossing tour of all time with their A Bigger Bang tour. The tour which ran from late 2005 to August 2007, earned the band £247m, ($437m) with The Stones playing to over 3.5 million people at 113 shows. The previous high was set by
U2
's Vertigo tour, which took place in 2005 and 2006, earning £220m, ($389m).
4 Oct 2007
Producer Phil Spector was set to be retried for the murder of actress Lana Clarkson following the collapse of the first trial in Sept of this year. The first trial ended with the jury deadlocked 10-2 favouring conviction. Los Angeles Superior Court Judge Larry Paul Fidler set another hearing for the case on 23 October.
4 Oct 2006
Former R Kelly employee (who claimed to have been a 'mentor and guide' to Kelly since he was a teenager) Henry Vaughn filed a lawsuit against the singer accusing him of assault, false imprisonment, and a breach of contract that defrauded him of songwriting royalties. Vaughn also claimed that Kelly and his associates dragged him to the basement at Kelly's Olympia Fields home and 'repeatedly struck him about the face and body with his fists.
4 Oct 2005
Mike Gibbins drummer with
Badfinger
died in his sleep at his Florida home aged 56.
Badfinger
had the 1970 UK No.4 & US No.7 single 'Come And Get It'. He had also been a member of The Iveys during the 60's.
4 Oct 1999
It was reported that the sister of
Jimi Hendrix
was planning to exhume her brothers body and move it to a pay-to view mausoleum. Other plans for the new site included a chance for fans to buy one of burial plots around the guitarist's new resting-place.
4 Oct 1982
The Smiths
made their live debut at the Ritz in Manchester, England, supporting Blue Rondo A La Turk.
4 Oct 1980
Winners in the Melody Makers readers poll included,
Kate Bush
who won Best female singer, Peter Gabriel won Best male singer, Best guitarist went to Ritchie Blackmore,
Phil Collins
won Best drummer,
Genesis
won Band of the year, Best single went to
Pink Floyd
for 'Another Brick In
The Wall
(Part 2)' and Saxon won brightest hope.
4 Oct 1980
Queen
started a three week run at No.1 on the US singles chart with 'Another One Bites The Dust.'
4 Oct 1978
Country singer
Tammy Wynette
was abducted, beaten and held in her car for two hours by a kidnapper wearing a ski mask. He held a gun on her and forced her to drive 90 miles from Nashville, Tennessee. She was later released and the kidnapper escaped.
4 Oct 1975
Pink Floyd
went to No.1 on the UK album chart with
Wish You Were Here
. The album featured a tribute to ex band member
Syd Barrett
, 'Shine On You Crazy Diamond'. Also No.1 in the US. For one of the shots on the album's cover, two stuntmen were used, Danny Rogers and Ronnie Rondell, who was dressed in a fire-retardant suit covered by a business suit. Initially the wind was blowing in the wrong direction, and the flames were forced into Rondell's face, burning his moustache. The two stuntmen changed positions, and the image was later reversed.
4 Oct 1970
US singer
Janis Joplin
was found dead at the Landmark Hotel Hollywood after an accidental heroin overdose. Joplin had the posthumous 1971 US No.1 single 'Me And Bobby McGee', and the 1971 US No.1 album 'Pearl'. She was known as "The Queen of Psychedelic Soul" and as "Pearl" to her friends, Joplin remains one of the top-selling musicians in the United States, with over 15.5 million albums sold in the USA.
4 Oct 1969
4 Oct 1969
The Beatles
Abbey Road
album went to No.1 on the UK chart. The final studio recordings from the group supposedly contained clues adding to the 'Paul Is Dead' phenomenon: Paul is barefoot and the car number plate 'LMW 281F' supposedly referred to the fact that McCartney would be 28 years old if he was still alive. 'LMW' was said to stand for 'Linda McCartney Weeps.' And the four Beatles, represent; the priest (John, dressed in white), the Undertaker (Ringo in a black suit), the Corpse (Paul, in a suit but barefoot), and the Gravedigger (George, in jeans and a denim work shirt).
4 Oct 1968
On the first night of a UK club tour
Led Zeppelin
(billed as The Yardbirds featuring
Jimmy Page
) appeared at the Mayfair Ballroom, Newcastle upon Tyne, England, supported by Terry Reid's Fantasia, tickets cost 10/6. The Mayfair was a regular venue for up and coming acts,
Pink Floyd
Mott the Hoople,
Def Leppard
and
AC/DC
had all appeared at the club which was demolished in 2000.
4 Oct 1963
The Beatles
made their first appearance on the UK ITV pop show 'Ready Steady Go!'
4 Oct 1962
The Tornadoes were at No.1 on the UK singles chart with the instrumental, 'Telstar', (named after a communication satellite). The track went on to be the first major hit from a UK act on the American chart also reaching No.1.
4 Oct 1961
Bob Dylan
played a showcase at New York's Carnegie Hall to 53 people.
4 Oct 1957
Winners at this years Annual NME readers poll included Pat Boone who was voted the world's No.1 singer, with
Elvis Presley
voted second. The top two UK group's were The King Brothers and The Stargazers.
Born on this day in music
4 Oct 1985
Barbadian singer Shontelle Layne, known professionally as Shontelle, who had the 2009 UK top 10 single 'T-Shirt'.
4 Oct 1984
Katina Sergeevna, singer, with the Russian music duo Tatu, who scored the 2003 UK No.1 single 'All The Things She Said'. The duo represented Russia in the Eurovision Song Contest 2003 with the song 'Ne Ver', Ne Boysia', finishing third.
4 Oct 1977
Richard Reed Parry, Canadian multi-instrumentalist, composer, producer, best known as a core member of the Grammy Award-winning indie rock band Arcade Fire who had the 2005 album Funeral, and 2017 US No.1 album Everything Now.
4 Oct 1965
Neil Sims drummer Catherine Wheel, (1992 UK No.35 single 'I Want To Touch You').
4 Oct 1963
Lena Zavaroni, UK singer, (1974 UK No.10 single 'Ma He's Making Eyes At Me'). She died on 1st October 1999 from to anorexia nervosa. She was discovered on TV talent show Opportunity Knocks, became the youngest British singer to earn a silver disc.
4 Oct 1961
Jon Secada, US singer, (1992 UK No. 5 single 'Just Another Day').
4 Oct 1959
Chris Lowe, keyboards, Pet Shop Boys, (1986 UK & US No.1 single 'West End Girls', plus three other UK No.1 singles and over 20 other UK Top 40 singles).
4 Oct 1957
Barbara Kooyman, Timbuk 3, (1987 UK No.21 single 'The Future's So Bright I Gotta Wear Shades').
4 Oct 1947
Jim Fielder, bassist, from jazz-rock American music group Blood Sweat & Tears. They scored the 1969 US No.2 single 'Spinning Wheel', and the 1969 US No.12 single 'You've Made Me So Very Happy'. They had a US No.1 with their second album Blood, Sweat & Tears in 1968.
4 Oct 1929
Leroy Van Dyke. In 1961 he had a No.1 US country hit and No.5 pop hit with Walk On By. He had two other top-ten country hits, Auctioneer and If A Woman Answers.