October 5th: The Biggest Music Headlines
Scroll down the page to see all the music headlines, stories and events for October 5 throughout music history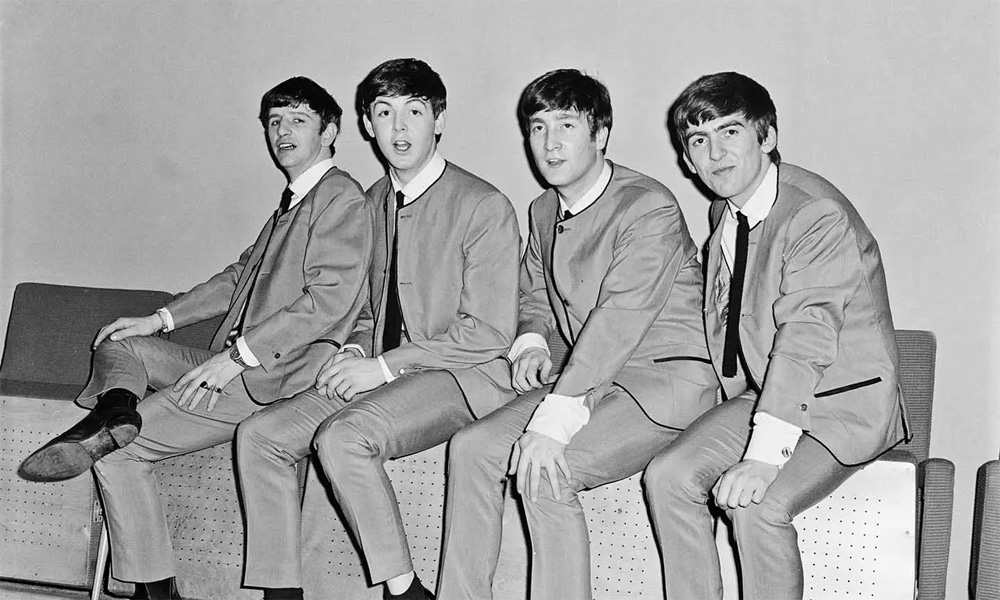 The Beatles Release Debut Single, 'Love Me Do'
On October 5, 1962, The Beatles changed the musical landscape forever with the UK release of their debut single, "Love Me Do." The jaunty track spent 26 weeks on the pop chart, peaking at No.17, and later appeared on the band's debut album, Please Please Me, released in March 1963. The single would be released in the US a year and a half later, in April 1964, and it went straight to No.1.
On October 5, 1973, Elton John released his seventh studio album, Goodbye Yellow Brick Road. It became John's best-selling studio album and features some of his best-loved songs, including "Candle in the Wind," "Bennie and the Jets," and the title track. Ranked as one of the 500 Greatest Albums of All Time by Rolling Stone, the record was inducted into the Grammy Hall of Fame in 2003.
In 1966, Jimi Hendrix, Mitch Mitchell, and Noel Redding formed The Jimi Hendrix Experience. They played their first show together just over a week later, on October 13, at the Novelty in Évreux, France.
In 1970, the highly-anticipated Led Zeppelin III was released in the UK. The album, which peaked at No.1 on both sides of the Atlantic, featured a broad range of instrumentation and some of the band's most recognizable tracks, including the fiery "Immigrant Song." It has since been certified 6X Platinum in the US alone.
In 1974, Olivia Newton-John scored her first No.1 in the US with "I Honestly Love You."
In 1999, Roger Daltrey announced that The Who would reunite. Their highly-anticipated first show back together took place on October 29 in Las Vegas.
Looking for more things that happened on this day in music?
Keep scrolling for all of the headlines for October 5.
BORN ON OCTOBER 5:
1937: Garth Hudson (The Band)
1941: Doris Coley (The Shirelles)
1944: Jim Capaldi (Traffic)
1961: Pete De Freitas (Echo & the Bunnymen)
1967: Butch Vig (Producer)
1970: Zelma Davis (C+C Music Factory)
Looking for more artists born on this day?
Keep scrolling for all of our October 5 birthdays.
---
What to find another day?
---
October 5th
5 Oct 2020
Taylor Swift
was at No.1 on the US chart with her eighth studio album Folklore. It was a surprise album, released in July following the outbreak of the COVID-19 pandemic in early 2020 when Swift cancelled a concert tour and quarantined herself, during which time she conceived Folklore.
5 Oct 2015
Stevie Wonder
's divorce from fashion designer Kai Millard was finalised after several years in court. The pair were married in 2001, but split in 2009 and Stevie filed for divorce in 2012.
5 Oct 2011
David Cassidy filed a multi-million dollar lawsuit against Sony, claiming he had not been paid royalties for sales of Partridge Family merchandise which bear his image, including lunchboxes, magazines and board games. Cassidy told CNN "It's just a matter of being fair and doing the right thing. Just be fair, be real, be genuine, don't be greedy."
5 Oct 2008
Pink
started a three week run at No.1 on the UK singels chart with 'So What', the singers third UK No.1 hit.
5 Oct 2007
Isaac Hanson from US pop band Hanson had surgery to remove a blood clot from his lungs after being diagnosed with a potentially fatal condition. The guitarist who had developed Paget-Schroetter Syndrome was expected to make a full and speedy recovery.
5 Oct 2006
Jeffrey Borer, who admitted secretly videotaping
Michael Jackson
on a private jet, was sentenced to six months of home detention and fined $10,000. Borer, who was the owner of private jet firm XtraJet, had instructed an employee to buy and install two video recorders on the plane.
5 Oct 2006
Reggae legend
Bob Marley
was honoured with a heritage plaque at his former north London home at 34 Ridgmount Gardens in Camden. The event was part of Black History Month, a season of events promoting the contribution of African-Caribbean communities in London.
5 Oct 2003
Beyonce started a nine week run at No.1 on the US singles chart with 'Baby Boy.' Outkast were at No.1 on the US album chart with 'Speakerboxxx / The Love Below.'
5 Oct 2000
Beatles fans across the world rushed out to buy copies of the Fab Four's autobiography. Stores in Japan and Britain opened at midnight to satisfy demand for the book, the first written by the band members. Publishers said the 350,000-word volume, at a cost of £35, had already attracted more than 1.5m orders worldwide.
5 Oct 2000
UK TV show
Top Of The Pops
issued a Top 40 chart based on singles that had spent the longest time on the UK chart. No.3 was 'My Way' by
Frank Sinatra
, No.2 'She Loves You',
The Beatles
and No.1 'Relax' by Frankie Goes To Hollywood'.
5 Oct 1999
Roger Daltrey announced that
The Who
were reforming, making their first performance in Las Vegas on Oct 29th. The show was also to be broadcast live on the Internet.
5 Oct 1996
'Breakfast At Tiffany's' by American group Deep Blue Something was at No.1 on the UK singles chart. The song is a reference to the classic 1960 Audrey Hepburn film of the same name.
5 Oct 1992
American singer Eddie Kendricks of The
Temptations
died aged 52 of lung cancer one year after having one lung removed. His was the lead voice on 'The Way You Do The Things You Do', 'Get Ready', and 'Just My Imagination'. As a solo artist, Kendricks recorded several hits of his own during the 1970s, including the US No.1 single 'Keep On Truckin'.
5 Oct 1991
Guns N' Roses started a two week run at No.1 on the US album chart with 'Use Your Illusion II'.
5 Oct 1989
Motley Crue played a warm-up show for their forthcoming Dr. Feelgood tour at the Whisky a Go Go, West Hollywood, California, under their pseudonym The Foreskins. The show was also used for the filming of their next video, 'Kickstart My Heart'.
5 Oct 1987
Former
Smiths
guitarist Johnny Marr began rehearsals with The Pretenders in preparation for the band supporting
U2
on their North America tour.
5 Oct 1985
Midge Ure was at No.1 on the UK singles chart with 'If I Was.' The former Ultravox and Slik singers only solo No.1. The song features Mark King of Level 42 on bass guitar.
5 Oct 1984
Queen
played the first of nine concerts at the Sun City Super Bowl, Sun City, Republic of Bophuthatswana (integrated into South Africa's North West Province in 1994). The 1984 'The Works' tours saw the reintroduction of older material to Queen's live set, including songs from the first three albums.
5 Oct 1980
UK music weekly The NME had
Joy Division
's 'She's Lost Control' as single of the week. The song is about a girl who singer
Ian Curtis
worked with at a disability center. One day she didn't come to the center and Ian later learned that she died from a epileptic seizure.
5 Oct 1975
Stevie Wonder
appeared at the Wonder Dream Concert in Kingston, Jamaica, a Jamaican Institute for the Blind benefit concert. Along with
Bob Marley
, Peter Tosh and Bunny Wailer, the three original Wailers, performing together for the last time.
5 Oct 1974
Mike Oldfields 'Tubular Bells' went to No.1 for the first time on the UK album chart 15 months after being released. It went on to sell over 10 million copies worldwide.
5 Oct 1974
Olivia Newton-John started a two week run at No.1 on the US singles chart with 'I Honestly Love You', the singers first of five US chart toppers
5 Oct 1974
The Beach Boys
went to No.1 on the US album chart with Endless Summer, the group's second US No.1.
5 Oct 1973
Elton John
released his seventh studio album Goodbye Yellow Brick Road. Under the working titles of Vodka and Tonics and Silent Movies, Talking Pictures, Bernie Taupin wrote the lyrics to the album in two and a half weeks, with John composing most of the music in three days while staying at the Pink Flamingo Hotel in Kingston, Jamaica. Goodbye Yellow Brick Road has now sold over 30 million copies worldwide and is his best-selling studio album.
5 Oct 1970
Led Zeppelin III
was released in the UK on Atlantic records. The album peaked at No.1 on both the UK and US charts. It has now been certified 6 times Platinum by the Recording Industry Association of America (RIAA) for US sales in excess of 6 million copies.
5 Oct 1967
The Doors
played the final night of a five night run at Steve Paul's Scene in New York City.
5 Oct 1966
Having moved to and living in London, England, Jimi Hendrix, Mitch Mitchell and Noel Redding played together for the first time - The
Jimi Hendrix Experience
were formed.
5 Oct 1965
Johnny Cash
was arrested crossing the Mexican border into El Paso, Texas after customs officials found 100's of pills in his guitar case. He received a suspended jail sentence and a $1,000 fine.
5 Oct 1962
The Beatles
debut single '
Love Me Do
' was released in the UK. It spent 26 week's on the chart peaking at No.17. Beatles producer George Martin has said when '
Love Me Do
' was released, it was the day the world changed.
5 Oct 1958
Cliff Richard and The Shadows played their first gig together when they appeared at the Victoria Hall, Hanley, England.
Born on this day in music
5 Oct 1988
American musician Kevin Olusola a member of the a cappella group Pentatonix. Together with Pentatonix, Olusola has released seven studio albums, won three Grammy Awards, and sold over six million albums. They scored the 2017 US No.1 album 'A Pentatonix Christmas'.
5 Oct 1985
Nicola Roberts, from English-Irish pop girl group Girls Aloud, which was created through the ITV talent show Popstars: The Rivals in 2002. They scored the 2002 UK No.1 single 'Sound Of The Underground' and over 20 UK Top 20 singles. They hold the record for "Most Consecutive Top Ten Entries in the UK by a Female Group.
5 Oct 1978
James Valentine, guitarist, Maroon 5, who had the 2004 UK No.1 album 'Songs About Jane', the 2004 US No.1 & UK No.4 single 'She Will Be Loved' and the 2014 US No.1 album V.
5 Oct 1977
Kele Le Roc, (1998 UK No.8 single 'Little Bit Of Lovin').
5 Oct 1966
Dave Dederer, Presidents Of The U.S.A. (1996 UK No.8 single 'Peaches').
5 Oct 1961
David Bryson, guitarist from American rock band Counting Crows, who had the 1994 UK hit single 'Mr Jones', and the 1996 US No.1 album Recovering The Satellites. They received a 2004 Academy Award nomination for their song 'Accidentally in Love', which was included in the film Shrek 2.
5 Oct 1960
Paul Heard, M People, (1993 UK No.2 single 'Moving On Up', plus over 15 other UK Top 40 singles).
5 Oct 1957
Lee Thompson, sax, vocals from English ska band Madness. They have had 15 singles reach the UK top ten, hits include 'One Step Beyond', 'Baggy Trousers', 'Our House' and 'It Must Be Love'.
5 Oct 1955
Leo Barnes from Irish rock group Hothouse Flowers who scored the 1988 UK No.11 single 'Don't Go'. Their first album, People, released in 1988 became the most successful debut album in Irish history. It reached the No.1 slot in Ireland within a week and eventually reached No.2 in the UK Albums Chart.
5 Oct 1952
Harold Faltemeyer, (1985 UK No.2 7 US No.3 single 'Axel F').
5 Oct 1951
Bob Geldof
, Irish singer, songwriter, actor and political activist. The Boomtown Rats, (1979 UK No.1 single 'I Don't Like Mondays' plus 10 other UK Top 40 singles). Geldof was the driving force behind the Band Aid -
Live Aid
relief project after seeing a BBC news report on the famine in Ethiopia. He called Midge Ure from Ultravox, and together they co-wrote the song, Do They Know It's Christmas?
5 Oct 1950
British guitarist Eddie Clarke, who was a member of heavy metal bands Fastway and Motörhead. Of Motörhead's classic lineup, which consisted of Lemmy, himself and Phil "Philthy Animal" Taylor, he was the last surviving member. Clarke died on 10 January 2018 in hospital, where he was being treated for pneumonia. He was 67 years old.
5 Oct 1948
Russell Craig Mael, Sparks, (1974 UK No.2 single 'This Town Ain't Big Enough For The Both Of Us').
5 Oct 1948
Lucius Ross, rhythm guitarist for Funkadelic from 1968 to 1971 and played on their first three albums.
5 Oct 1947
Brian Johnson, singer with Geordie, who had the 1973 UK No.6 single 'Because Of You'. Joined
AC/DC
in 1980, after the death of
Bon Scott
. Had the 1980 UK No.1 and US No.4 album Back In Black, which has now sold an estimated 49m copies worldwide. Johnson's first group was called Gobi Desert Canoe Club.
Bon Scott
had first seen Johnson singing onstage, which included Johnson screaming at the top of his voice, rolling around on the stage, and finally being carried off. Scott didn't know that Johnson was then taken to hospital, where he was diagnosed with appendicitis.
5 Oct 1945
Brian Connolly, singer with English group Sweet, who had the 1973 UK No.1 single 'Blockbuster', plus 14 other UK Top 40 singles. Sweet scored four top-ten hits in the US: 'Little Willy', 'Ballroom Blitz', 'Fox On The Run', and 'Love Is Like Oxygen'. Connolly died of kidney and liver failure on 9th February 1997.
5 Oct 1943
American singer, guitarist, songwriter Steve Miller who had the 1974 US No.1 & 1990 UK No.1 single 'The Joker'.
5 Oct 1942
American Richard Street, who with The
Temptations
had the 1971 US No.1 & UK No.8 single 'Just My Imagination' and the re-issued 'My Girl' which was a UK No.2 hit in 1992. Street died on 27th February 2013 after a short illness.
5 Oct 1941
Arlene Smith, singer, from African-American girl group The Chantels, who had the 1958 top 20 hit 'Maybe' and the 1961 hit 'Look In My Eyes'.
5 Oct 1939
Abraham Reichstadt, singer, (UK No.1 single in 1968 with 'Cinderella Rockefella' as Esther & Abi Ofarim).
5 Oct 1938
Carlo Mastrangelo, Dion and the Belmonts, (1961 US No.1 & UK No.11 single 'Runaround Sue').