October 6th: The Biggest Music Headlines
Scroll down the page to see all the music headlines, stories and events for October 6 throughout music history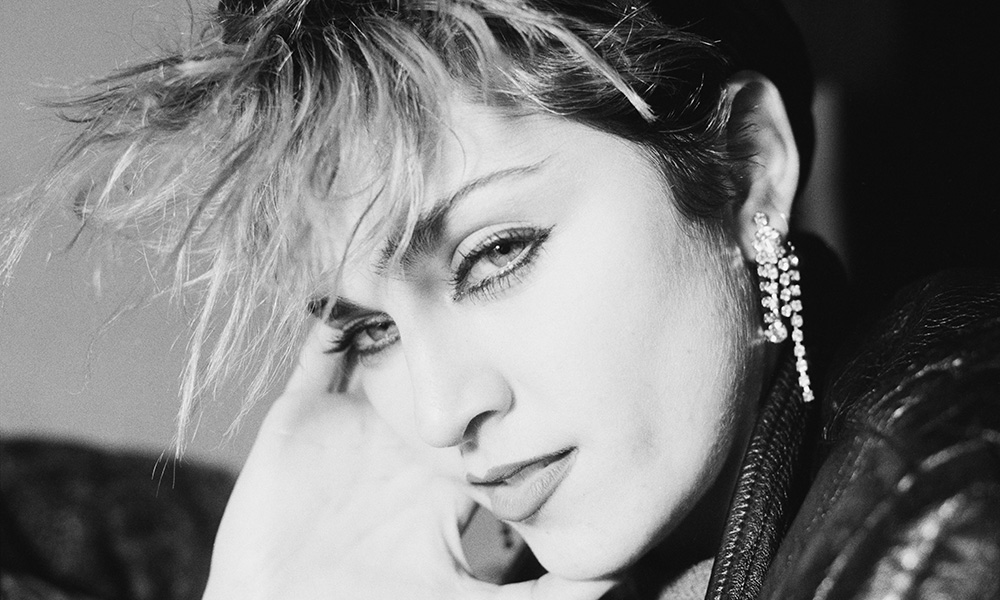 Madonna Makes Her Debut With 'Everybody'
On October 6, 1982, Madonna began her illustrious music career with the release of her debut single, "Everybody." The dance track was originally recorded as a demo by The Material Girl and slipped to Mark Kamins, a DJ at one of Madonna's favorite New York City nightclubs, Danceteria. Impressed, Kamins passed it along to A&R Sire Records, who signed the budding artist for a two-song deal. "Everybody" peaked at No.3 on Billboard's Hot Dance Club Songs chart, but did not enter the Billboard Hot 100. It would later appear on Madonna's self-titled 1983 debut album.
In 2020, guitar aficionados and rock fans across the globe mourned the loss of Eddie Van Halen, who died at the age of 65, following several years of health issues, including a battle with throat cancer. Considered to be one of the greatest guitarists of all time, the Rock and Roll Hall of Famer co-founded Van Halen in 1972, serving as its guitarist, keyboardist, and primary songwriter until his death. The virtuosic musician was best known for his instantly-recognizable, rapid-fire, two-handed arpeggios; in addition to writing some of the greatest riffs in modern rock music.
In 1969, The Beatles released the dreamy single, "Something." The song was an important moment in Beatles history, as it marked the first George Harrison-penned track to be released as an A-side. Paired with "Come Together" on Side B, "Something" would go on to top the Billboard Hot 100, and appear on Abbey Road.
In 2019, legendary drummer, songwriter, and Cream co-founder, Ginger Baker, died at age 80. Known as "Rock's First Superstar Drummer," the highly influential artist also formed the short-lived band Blind Faith, alongside Eric Clapton, Ric Grech, and Steve Winwood, and formed his own supergroup, Ginger Baker's Air Force, in 1969. Baker's genre-bending styles and over-the-top showmanship made him a coveted collaborator. During his lengthy career, the Rock and Roll Hall of Famer worked with the likes of Fela Kuti, Charlie Haden, and Public Image Ltd., among many others.
In 1972, David Bowie recorded "The Jean Genie" at New York City's RCA Studios. The energetic track became the lead single from his 1973 album, Aladdin Sane, and spent 13 weeks on the UK charts, peaking at No. 2.
Looking for more things that happened on this day in music?
Keep scrolling for all of the headlines for October 6.
BORN ON OCTOBER 6:
1937: Garth Hudson (The Band)
1941: Doris Coley (The Shirelles)
1944: Jim Capaldi (Traffic)
1961: Pete De Freitas (Echo & the Bunnymen)
1967: Butch Vig (Producer)
1970: Zelma Davis (C+C Music Factory)
Looking for more artists born on this day?
Keep scrolling for all of our October 6 birthdays.
---
What to find another day?
---
October 6th
6 Oct 2020
Eddie Van Halen
, the revered guitarist and co-founder of the rock band Van Halen died at the age of 65, the Dutch-American musician had been receiving treatment for throat cancer. Halen, whose full name was Edward Lodewijk Van Halen, and his brother Alex Van Halen began performing together as teens, but formed the core of what would later become Van Halen after meeting David Lee Roth in the early seventies. Van Halen have sold more than 80 million worldwide, making them one of the best-selling groups of all time.
6 Oct 2020
American singer-songwriter Johnny Nash died of natural causes age 80. He is best known for his 1972 hit 'I Can See Clearly Now'. Primarily a reggae and pop singer, he was one of the first non-Jamaican artists to record reggae music in Kingston.
6 Oct 2019
Ginger Baker
, the legendary drummer and co-founder of rock band
Cream
died at the age of 80. The drummer co-founded Cream in 1966 with
Eric Clapton
and
Jack Bruce
. The band released four albums before splitting in 1968, after which he formed the short-lived band Blind Faith with Clapton, Steve Winwood and Ric Grech. Baker, one of the most innovative and influential drummers in rock music also played with Blind Faith, Hawkwind and Fela Kuti in a long and varied career. In 1962, joined Alexis Korner's Blues Incorporated on the recommendation of Charlie Watts - who was leaving to join the Rolling Stones and later gained early fame as a member of the Graham Bond Organisation alongside bassist Jack Bruce.
6 Oct 2019
Larry Junstrom, a founding member of Lynyrd Skynyrd and longstanding bassist with the band .38 Special died at the age of 70. Junstrom played bass with Lynyrd Skynyrd from its formation in 1964 until he was replaced by Leon Wilkeson in 1971. He then joined .38 Special in 1976 with Donnie Van Zant, the younger brother of the Lynyrd Skynyrd frontman Ronnie Van Zant.
6 Oct 2016
The death of English songwriter, record producer, and musician Rod Temperton was announced. He initially made his mark as the keyboardist and main songwriter for the R&B funk/disco band Heatwave. Temperton was recruited by Quincy Jones to write songs for
Michael Jackson
, including '
Thriller
', 'Off the Wall', and 'Rock with You'.
6 Oct 2011
Starship's 'We Built This City' was named 'the worst song of the 1980s' in a poll by Rolling Stone magazine. 'The Final Countdown' by the Swedish band Europe came in second and 'Lady in Red' by Chris de Burgh was third. Also making the top five were Wham!'s 'Wake Me Up (Before You Go Go)' and 'The Safety Dance' by Men Without Hats.
6 Oct 2010
A set of
John Lennon
's fingerprints were seized by the FBI from a New York memorabilia dealer who intended to sell them for $100,000 (£62,621) minimum bid. The prints were taken at a New York police station in 1976 when Lennon applied for permanent US residence. The bureau believed the card was still government property and was investigating how it landed in private hands.
6 Oct 2007
Bruce Springsteen
was being sued for $850,000 (£415,973) by a man who claimed he backed out of a contract to buy a horse. Springsteen and his wife Patti Scialfa were both named in legal documents filed in Florida by Todd Minikus. He claimed the couple pulled out of a deal to pay $650,000 (£358,097) for a horse, named Pavarotti.
6 Oct 2007
Queen
's groundbreaking promo for their 1975 hit
Bohemian Rhapsody
was named the UK's best music video in a survey of music fans. Out of 1,051 adults polled by O2, 30% named the six-minute video, (which took only three hours to shoot and cost a mere £3,500 to make), their favourite.
6 Oct 2005
A The
Rolling Stones
concert at the University of Virginia, in the US, was halted eight songs into the show at the Scott Stadium after police received a bomb threat targeting the stage area. A 45-minute police sweep of the area found nothing unusual, and the band completed the show. The Stones were touring to promote their latest album, 'A Bigger Bang.'
6 Oct 2004
Britney Spears
threw a full cup of cola over a photographer. The snapper was waiting to take pictures of the singer and her new husband outside a subway take-away shop in Malibu, California.
6 Oct 2000
Manhattan Supreme Court sentenced rapper Busta Rhymes to five years probation after pleading guilty to a gun possession charge.
6 Oct 1999
Winners at The Mobo Awards included Kele Le Roc, for best newcomer and best single. Shanks & Bigfoot won best dance act. TLC won best video for 'No Scrubs'. Lauryn Hill, won best International act and Tina Turner won a Lifetime Achievement Award.
6 Oct 1998
6 Oct 1991
Michael Jackson
gave away the bride at Elizabeth Taylor's seventh wedding, held at Jackson's Neverland Ranch. The Groom was construction worker Larry Fortensky, whom Taylor would divorce in 1997.
6 Oct 1984
David Bowie
scored his sixth UK No.1 album with 'Tonight', featuring the single 'Blue Jean'.
6 Oct 1982
Madonna
released her debut single 'Everybody' on Sire Records. The track failed to enter the Billboard Hot 100 chart, it did however, appear on the dance charts and the song helped Madonna achieve her first appearance in a dance magazine.
6 Oct 1979
Led Zeppelin
's In Through The Out Door was at No.1 on the US album chart. Six versions of the cover were released, each depicting the same bar scene photographed from one of six different angles.
6 Oct 1979
'Gotta Serve Somebody' gave
Bob Dylan
his twelfth US top 40 hit when it entered the chart for the first time. Recorded at Muscle Shoals Sound Studios in Muscle Shoals, Alabama, the song won Dylan the Grammy Award for Best Rock Vocal Performance by a Male in 1980.
6 Oct 1979
6 Oct 1978
Australia's 'King of rock 'n' roll' Johnny O'Keefe died aged 43 of a heart attack. He was the first Australian rock'n'roll performer to tour the United States, and Australia's most successful chart performer, with 29 Top 40 hits between 1958 and 1974,. O'Keefe's 1958 hit, 'Real Wild Child', was covered by Iggy Pop in 1986.
6 Oct 1973
Cher started a two week run at No.1 on the US singles chart with 'Half-Breed', the singers second US No.1. The single didn't chart in the UK.
6 Oct 1972
During sessions at RCA Studios, New York City,
David Bowie
recorded 'The Jean Genie', which became the lead single from his 1973 album Aladdin Sane. The track spent 13 weeks in the UK charts, peaking at No.2, making it Bowie's biggest hit to date. The line "He's so simple minded, he can't drive his module" would later give the Scottish band
Simple Minds
their name.
6 Oct 1969
George Harrison
's song
'Something'
was released as the "A" side of a Beatles' 45, a first for Harrison. Along with Lennon and McCartney's 'Come Together', the single went on reach No.1 on the US chart the following month. Both tracks were lifted from the
Abbey Road
album.
6 Oct 1967
The Doors
appeared at the Cal State Gymnasium, Los Angeles, California. With The Nitty Gritty Dirt Band and The Sunshine Company.
6 Oct 1967
Pink Floyd
appeared at the Miss Teenage Brighton Contest, Top Rank Suite, Brighton, England, playing the musical interlude during the contest.
6 Oct 1967
6 Oct 1964
The Beatles
spent the afternoon recording 'Eight Days A Week' at Abbey Road studios in London. Late evening was spent at The Ad Lib Club, London, partying with The Ronettes and
Mick Jagger
.
6 Oct 1959
Jerry Keller was at No.1 on the UK singles chart with 'Here Comes Summer'. A One Hit Wonder, Keller went on to be a vocalist for television jingles throughout the 1970s and 1980s.
Born on this day in music
6 Oct 1982
William Butler, synthesiser, bass, guitar, percussion the Grammy Award-winning indie rock band Arcade Fire, who had the 2005 album Funeral, and 2017 US No.1 album Everything Now.
6 Oct 1975
American rock music drummer Patrick Keeler who is best known for playing in The Greenhornes, The Raconteurs, and The Afghan Whigs.
6 Oct 1971
American heavy metal musician Donnie Steele best known as one of two original guitarists in Slipknot. Steele co-founded Slipknot in 1995, performing on the band's debut demo Mate. Feed. Kill. Repeat. He left the band in 1996.
6 Oct 1966
Tommy Stinson, bassist with The Replacements one of the definitive American alternative rock groups. He joined Guns N' Roses. in 1998. He also formed Bash & Pop.
6 Oct 1964
Matthew Sweet, singer guitarist, (solo single 'Girlfriend'). The Thorns.
6 Oct 1961
Tim Burgess, Drums, T'Pau, who had the 1987 UK No.1 single 'China In Your Hand' and the 1987 US & UK No.4 single 'Heart And Soul', (which was initially a flop in the UK). T'Pau took their name from a Vulcan elder of the same name in the sci-fi series Star Trek.
6 Oct 1960
Richard Jobson, The Skids, (1979 UK No.10 single 'Into The Valley'), Armoury Show, TV presenter.
6 Oct 1958
Tim Mooney, drums, American Music Club, (1993 album 'Mercury').
6 Oct 1954
American singer-songwriter David Hidalgo from Los Lobos (Spanish for "the Wolves"), who had the 1987 UK & US No.1 single with their cover version of 'La Bamba', which was a 1958 hit for Ritchie Valens and one of early rock and roll's best-known songs.
6 Oct 1951
Gavin Sutherland, The Sutherland Brothers, (1976 UK No.5 single 'Arms Of Mary'. Wrote the million seller 'Sailing' a No.1 for Rod Stewart in 1975).
6 Oct 1951
Kevin Cronin, from American rock band REO Speedwagon, who had the 1981 US No.1's 'Keep On Loving You' and 'Can't Fight This Feeling'. They named the band REO Speedwagon, from the REO Speed Wagon, a flatbed truck.
6 Oct 1949
Bobby Farrell, from German vocal group Boney M, who had the 1978 UK No.1 & US No.30 single 'Rivers Of Babylon' and with more than 150 million records sold, they are one of the best-selling artists of all time. He died of natural causes on 30th Dec 2010 at the age of 61.
6 Oct 1949
Thomas McClary, guitarist from American funk/soul band, The Commodores, who had the 1978 UK & US No.1 single 'Three Times A Lady' as well as the hits 'Easy' and 'Nightshift'.
6 Oct 1948
Jamaican singer Millie Small, (Millie), who scored the 1964 US & UK No.2 single 'My Boy Lollipop'. It remains one of the biggest-selling ska songs of all time, with more than seven million sales. She died on 5 May 2020 aged 72 after suffering a stroke.
6 Oct 1945
Robin Shaw, from English pop group The Flowerpot Men who had the 1967 UK No.4 single 'Let's Go To San Francisco'.
6 Oct 1917
Bob Neal, ex DJ, agent and one time
Elvis Presley
manager, died on 9th May 1983.