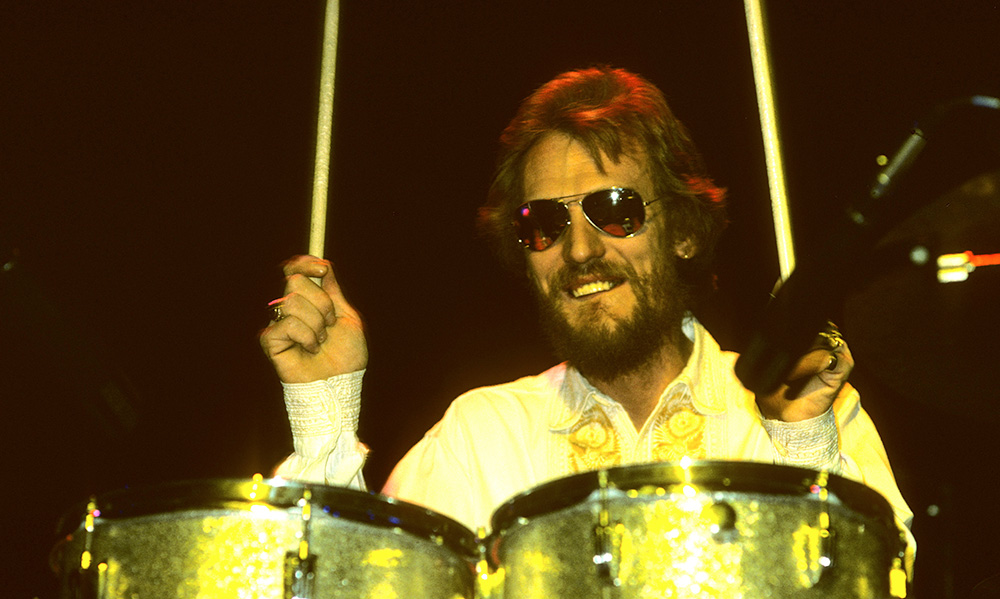 Ginger Baker the English drummer and co-founder of Cream died on 6 October 2019 age 80. He was married four times and fathered three children. The musician had struggled with heroin addiction throughout his life, having begun using the drug in the 1960s.
Born Peter Edward Baker on 19 August 1939 in Lewisham, South London he was nicknamed Ginger for his flaming red hair. His early ambition was to ride in the Tour de France but he was forced to quit the sport when, aged 16, he was involved in a crash with a taxi. Instead, he took up drumming. The strong legs he'd developed on long bike rides helped him play the double bass drum set-up he favoured.
In 1962, he joined Alexis Korner's Blues Incorporated on the recommendation of Charlie Watts – who was leaving to join the Rolling Stones and later gained fame in 1963 as a member of the Graham Bond Organisation alongside bassist Jack Bruce – but it was their partnership formed in 1966 with Eric Clapton as Cream that made all three musicians superstars.
Regarded as the world's first 'supergroup' Cream fused blues and psychedelia to dazzling effect on songs like "Strange Brew", "Tales of Brave Ulysses", "Sunshine of Your Love", "White Room", "Badge" and "I Feel Free".
They sold more than 35 million albums and the group's third album, Wheels of Fire (1968), is the world's first platinum-selling double album. The set was made up of studio recordings on one disc and the second recorded live at the Fillmore. The 16-minute instrumental track "Toad" written by Baker (which first appeared on their 1966 album Fresh Cream) is a drum solo (with a brief guitar and bass introduction and ending), and is notable as one of the earliest recorded drum solos in rock history.
Along with the Jimi Hendrix Experience, the band expanded the vocabulary of heavy rock, especially during their incendiary live shows, where the three musicians would stretch simple riffs into long, exploratory improvisations.
Tensions between Bruce and Baker led to their decision in May 1968 to break up, though the band were persuaded to make a final album, Goodbye and tour, culminating in two final farewell concerts at the Royal Albert Hall on 25 and 26 November 1968 which were filmed by the BBC and released as a home video, Farewell Concert.
Following the band's demise, Baker teamed up with Clapton and Steve Winwood in 1969 to form Blind Faith, but they split after one album and tour. He followed this by the ambitious 10-piece Ginger Baker's Air Force, which combined his interests in jazz and Afro-fusion releasing two albums, both in 1970. Baker also played with Hawkwind, Fela Kuti and John Lydon's Public Image Ltd, in a long and varied career.
The drug-related death of his friend, Jimi Hendrix, persuaded Baker it was time to leave the London music scene and get clean. He left Britain to live in Nigeria and in November 1971, Baker set up a recording studio in Lagos, then the capital of Nigeria. During this period he helped Paul McCartney record the classic Wings' album Band On The Run, where they recorded "Picasso's Last Words (Drink to Me)", on which Baker shook a tin of gravel as percussion, although their relationship soured over claims that he was never paid.
In 1974 Baker formed the hard rock band Baker Gurvitz Army back in London, with brothers Adrian and Paul Gurvitz (on the guitar and the bass respectively), but after three albums – the last two of which failed to chart – in two years, the group fizzled out.
In 1993 he moved to a ranch in Colorado to raise ponies. Also that year he recorded Sunrise on the Sufferbus with the hard rock band Masters of Reality, an album that produced the hit single "She Got Me (When She Got Her Dress On)".
Cream were inducted to the Rock and Roll Hall of Fame in 1993, briefly reuniting to play three songs, then teamed up again in 2005 for a series of concerts in London and New York.
In 1994, he formed The Ginger Baker Trio with bassist Charlie Haden and guitarist Bill Frisell. He also joined BBM, a short-lived power trio with the line-up of Baker, Jack Bruce and Irish blues-rock guitarist Gary Moore.
In 2012, he became the subject of a documentary – Beware of Mr Baker – which illustrated how his jaw-dropping drumming was neither as wild nor as extraordinary as his personal life. In the opening scene, Baker was seen attacking director Jay Bulger with a metal cane, declaring: "I'm going to put you in hospital." He later settled down to reflect on his life and musical journey of broken bands, ex-wives and neglected children he'd left in his wake.
In February 2013, Baker said he had chronic obstructive pulmonary disease from years of heavy smoking, and chronic back pain from degenerative osteoarthritis.
Baker recorded his final album, Why? in 2014. Two years later, he underwent open heart surgery and announced his retirement from touring.
In February 2016, Baker announced he had been diagnosed with "serious heart issues" and cancelled all future gigs. Writing on his blog, he said, "Just seen doctor … big shock … no more gigs for this old drummer … everything is off … of all things I never thought it would be my heart …"
Baker once told Rhythm magazine: "It's the drummer's job to make the other guys sound good."