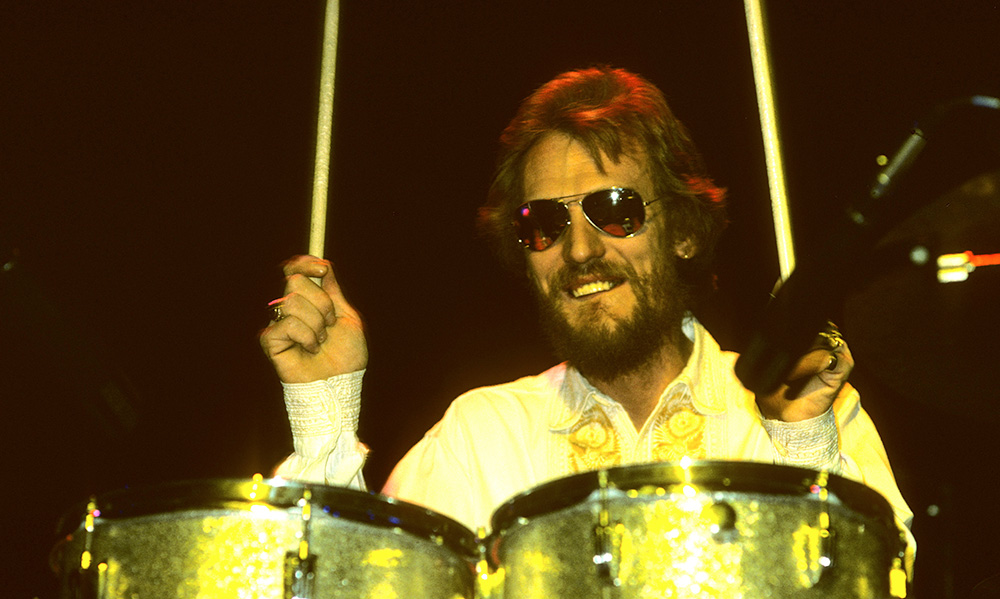 Ginger Baker the English drummer and co-founder of Cream died on 6 October 2019 age 80. He was married four times and fathered three children. The musician had struggled with heroin addiction throughout his life, having begun using the drug in the 1960s.
Born Peter Edward Baker on 19 August 1939 in Lewisham, South London he was nicknamed Ginger for his flaming red hair. His early ambition was to ride in the Tour de France but he was forced to quit the sport when, aged 16, he was involved in a crash with a taxi. Instead, he took up drumming. The strong legs he'd developed on long bike rides helped him play the double bass drum set-up he favoured.
In 1962, he joined Alexis Korner's Blues Incorporated on the recommendation of Charlie Watts – who was leaving to join the Rolling Stones and later gained fame in 1963 as a member of the Graham Bond Organisation alongside bassist Jack Bruce – but it was their partnership formed in 1966 with Eric Clapton as Cream that made all three musicians superstars.
Regarded as the world's first 'supergroup' Cream fused blues and psychedelia to dazzling effect on songs like "Strange Brew", "Tales of Brave Ulysses", "Sunshine of Your Love", "White Room", "Badge" and "I Feel Free".
They sold more than 35 million albums and the group's third album, Wheels of Fire (1968), is the world's first platinum-selling double album. The set was made up of studio recordings on one disc and the second recorded live at the Fillmore. The 16-minute instrumental track "Toad" written by Baker (which first appeared on their 1966 album Fresh Cream) is a drum solo (with a brief guitar and bass introduction and ending), and is notable as one of the earliest recorded drum solos in rock history.
Along with the Jimi Hendrix Experience, the band expanded the vocabulary of heavy rock, especially during their incendiary live shows, where the three musicians would stretch simple riffs into long, exploratory improvisations.
Tensions between Bruce and Baker led to their decision in May 1968 to break up, though the band were persuaded to make a final album, Goodbye and tour, culminating in two final farewell concerts at the Royal Albert Hall on 25 and 26 November 1968 which were filmed by the BBC and released as a home video, Farewell Concert.
Following the band's demise, Baker teamed up with Clapton and Steve Winwood in 1969 to form Blind Faith, but they split after one album and tour. He followed this by the ambitious 10-piece Ginger Baker's Air Force, which combined his interests in jazz and Afro-fusion releasing two albums, both in 1970. Baker also played with Hawkwind, Fela Kuti and John Lydon's Public Image Ltd, in a long and varied career.
The drug-related death of his friend, Jimi Hendrix, persuaded Baker it was time to leave the London music scene and get clean. He left Britain to live in Nigeria and in November 1971, Baker set up a recording studio in Lagos, then the capital of Nigeria. During this period he helped Paul McCartney record the classic Wings' album Band On The Run, where they recorded "Picasso's Last Words (Drink to Me)", on which Baker shook a tin of gravel as percussion, although their relationship soured over claims that he was never paid.
In 1974 Baker formed the hard rock band Baker Gurvitz Army back in London, with brothers Adrian and Paul Gurvitz (on the guitar and the bass respectively), but after three albums – the last two of which failed to chart – in two years, the group fizzled out.
In 1993 he moved to a ranch in Colorado to raise ponies. Also that year he recorded Sunrise on the Sufferbus with the hard rock band Masters of Reality, an album that produced the hit single "She Got Me (When She Got Her Dress On)".
Cream were inducted to the Rock and Roll Hall of Fame in 1993, briefly reuniting to play three songs, then teamed up again in 2005 for a series of concerts in London and New York.
In 1994, he formed The Ginger Baker Trio with bassist Charlie Haden and guitarist Bill Frisell. He also joined BBM, a short-lived power trio with the line-up of Baker, Jack Bruce and Irish blues-rock guitarist Gary Moore.
In 2012, he became the subject of a documentary – Beware of Mr Baker – which illustrated how his jaw-dropping drumming was neither as wild nor as extraordinary as his personal life. In the opening scene, Baker was seen attacking director Jay Bulger with a metal cane, declaring: "I'm going to put you in hospital." He later settled down to reflect on his life and musical journey of broken bands, ex-wives and neglected children he'd left in his wake.
In February 2013, Baker said he had chronic obstructive pulmonary disease from years of heavy smoking, and chronic back pain from degenerative osteoarthritis.
Baker recorded his final album, Why? in 2014. Two years later, he underwent open heart surgery and announced his retirement from touring.
In February 2016, Baker announced he had been diagnosed with "serious heart issues" and cancelled all future gigs. Writing on his blog, he said, "Just seen doctor … big shock … no more gigs for this old drummer … everything is off … of all things I never thought it would be my heart …"
Baker once told Rhythm magazine: "It's the drummer's job to make the other guys sound good."
Important Dates In The Life Of Ginger Baker:
26 May 2022
English drummer Alan White best known for his tenure in the progressive rock band Yes died age 72. In 1969, White joined John Lennon and Yoko Ono's Plastic Ono Band, playing drums on the singles 'Instant Karma! and 'Imagine', as well as most of Lennon's 1971 Imagine album. White also performed on over 50 albums by other musicians, notably George Harrison, Ginger Baker's Air Force, Terry Reid, Joe Cocker and The Ventures.
6 Oct 2019
Ginger Baker
, the legendary drummer and co-founder of rock band
Cream
died at the age of 80. The drummer co-founded Cream in 1966 with
Eric Clapton
and
Jack Bruce
. The band released four albums before splitting in 1968, after which he formed the short-lived band Blind Faith with Clapton, Steve Winwood and Ric Grech. Baker, one of the most innovative and influential drummers in rock music also played with Blind Faith, Hawkwind and Fela Kuti in a long and varied career. In 1962, joined Alexis Korner's Blues Incorporated on the recommendation of Charlie Watts - who was leaving to join the Rolling Stones and later gained early fame as a member of the Graham Bond Organisation alongside bassist Jack Bruce.
1 Mar 2016
76-year-old
Ginger Baker
posted on his blog that he had cancelled all of his scheduled shows for the year and was going into immediate retirement. The former drummer for
Cream
and Blind Faith revealed that his doctor had just diagnosed him with serious heart problems, causing him to announce all forthcoming shows.
5 Nov 2014
The funeral for
Jack Bruce
was held in London, attended by
Eric Clapton
,
Ginger Baker
and noted musicians Phil Manzanera, Gary Brooker, Vernon Reid and Nitin Sawhney among others. Dozens assembled at the Golders Green Crematorium paying a last tribute singing "Morning Has Broken", "Strawberry Fields Forever" and "Theme for an Imaginary Western". The Scottish-born bass player and singer had died last month as a result of liver disease.
2 May 2005
Eric Clapton
joined former
Cream
members
Ginger Baker
and
Jack Bruce
for the first of four nights at London's Royal Albert Hall 36 years after they had split up. Tickets were changing hands for more than £500 on eBay and fans had flown over from the USA to witness the reunion, which Clapton aged 60, is said to have agreed to because of the failing health of the other former members of the band.
17 Mar 1990
British multi-instrumentalist. Rick Grech who had worked with Family, Blind Faith, Traffic, and
Ginger Baker's Air Force
died of renal failure at the age of 43, as a result of alcoholism. As a session musician Grech also worked with
Rod Stewart
, Ronnie Lane, Vivian Stanshall, Muddy Waters,
The Crickets
, the
Bee Gees
and
Gram Parsons
.
1 Jan 1984
Alexis Korner died of lung cancer aged 55. Know as "the Founding Father of British Blues", he was a major force behind the UK early 60s R&B scene. Formed Blues Incorporated; members at various times included
Jack Bruce
,
Ginger Baker
, Long John Baldry, Graham Bond and Charlie Watts. Had hits with CCS, including a version of
Led Zeppelin
's 'Whole Lotta Love' which was used as the theme for BBC's
Top Of The Pops
for several years. He became a radio presenter in the Seventies.
12 Jan 1983
29 Aug 1981
The two day Rock on the Tyne festival began in Gateshead, England, featuring Ian Dury, Elvis Costello,
U2
,
Rory Gallagher
, Doll By Doll, Wang Chung, Becket, Dr Feelgood, The Gingers Nutters (featuring
Ginger Baker
), Trimmer and Jenkins and Lindisfarne.
19 May 1979
8 May 1974
UK 36-year-old British keyboard player, Graham Bond, took his own life. The artist was briefly a member of Blues Incorporated, a group led by Alexis Korner, before forming the Graham Bond Quartet, with a lineup of Bond on vocals and organ,
Ginger Baker
on drums and
Jack Bruce
on bass.
7 Mar 1971
Jamacan saxophonist and flautist, Harold McNair died of lung cancer aged 39. He had worked with Donovan, Melanie and
Ginger Baker's Air Force
, and had toured Europe with Quincy Jones.
16 Aug 1970
The final day of the three day UK Yorkshire Folk, Blues & Jazz Festival at Krumlin, Yorkshire took place featuring
The Kinks
, Mungo Jerry, Yes,
Ginger Bakers Air Force
and Edgar Winter. Weekend tickets, £3.
23 May 1970
The
Grateful Dead
played their first gig outside the US at 'The Hollywood Rock Music Festival', in Newcastle under Lyme, Staffs, England. Also appearing at the festival was
Free
,
Ginger Baker
's Air Force, Colosseum, Family,
Black Sabbath
and Traffic.
20 Sep 1969
Blind Faith started a two-week run at No.1 on the UK chart with their self-titled debut album. The only release from the
Eric Clapton
, Steve Winwood,
Ginger Baker
and Rick Grech line-up also reached No.1 in the US. Their only UK gig was in Hyde Park, London on 7th Jun 1969.
7 Jun 1969
British supergroup Blind Faith, featuring
Eric Clapton
,
Ginger Baker
, Rick Grech and Steve Winwood made their live debut at a free concert in London's Hyde Park. Their only album release provoked controversy because the cover featured a topless pubescent girl, holding a silver space ship which some perceived as a phallic symbol. The US record company issued it with an alternative cover which showed a photograph of the band on the front. Rumours about the girl's relationship to the band fuelled the controversy; among them were that she was a groupie kept as a slave by the band members.
26 Nov 1968
Cream
played their farewell concert at the Royal Albert Hall, London. Also on the bill were Yes and Taste. The concert was filmed and released as
Cream
's Farewell Concert which has often been criticized for both its mediocre sound and visual effects: during
Ginger Baker's
drum solo, he seems to change clothes at lightning speed due to careless post-editing.
9 Aug 1968
Deep Purple
,
Tyrannosaurus Rex
, Ten Years After, The Nice,
Ginger Baker
, Traffic, John Mayall, Spencer Davis, Taste, Jerry Lee Lewis and Arthur Brown all appeared at the three day National Jazz & Blues Festival, Kempton Park Racecourse, Sunbury On Thames, England.
9 Dec 1966
Supergroup
Cream
released their debut studio album Fresh Cream in the UK. The three piece of
Eric Clapton
,
Jack Bruce
and
Ginger Baker
also released their second single 'I Feel Free' on the same day.
8 Oct 1966
Cream
drummer
Ginger Baker
collapsed during a gig at Sussex University, England after playing a 20 minute drum solo. He later recovered in a local hospital.
29 Jul 1966
Eric Clapton
,
Jack Bruce
and
Ginger Baker
made their live debut as
Cream
at The Twisted Wheel, Manchester, England. The group's third album, Wheels of Fire, was the world's first platinum-selling double album.
16 Jul 1966
Jack Bruce
,
Ginger Baker
and
Eric Clapton
formed
Cream
. The three piece group only lasted two years, leaving behind some classic recordings including 'Sunshine of Your Love,' 'Badge,' 'Strange Brew,' and 'White Room.'