September 12th: The Biggest Music Headlines
Scroll down the page to see all the music headlines, stories and events for September 12 throughout music history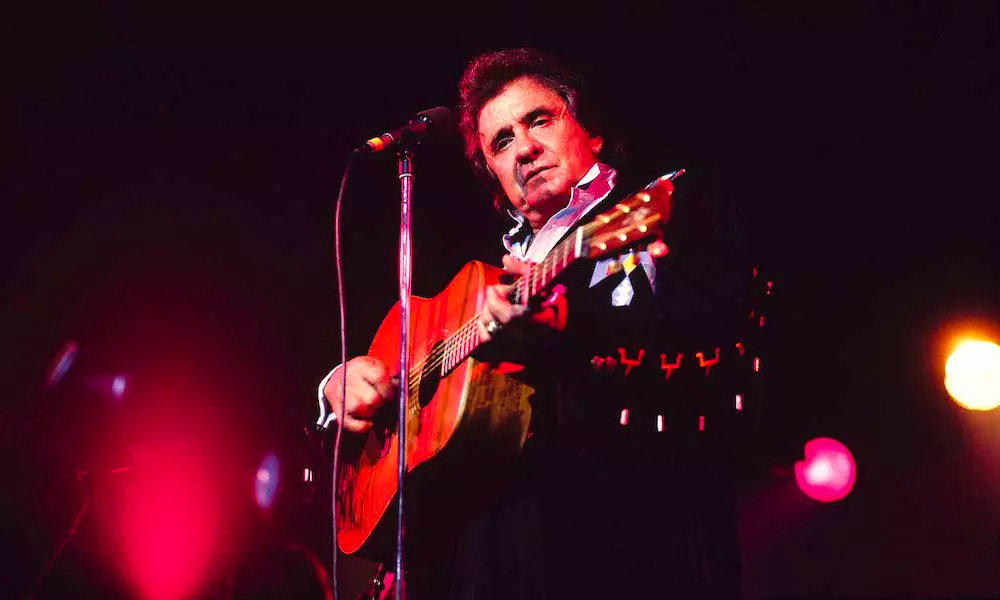 Johnny Cash Dies At The Age Of 71
On September 12, 2003, Johnny Cash died at the age of 71, leaving behind a legacy of foundational music, with a catalog that spanned country, folk, blues, rockabilly, and rock hits. Rising to fame in the mid-50s, the "Man in Black" would go on to release nearly 100 albums and more than 150 singles, including "Folsom Prison Blues," "Ring of Fire," and "Walk The Line." As popular as his originals were, though, Cash experienced a late career renaissance, thanks to his minimal and moving covers of songs like Nine Inch Nails' "Hurt" and Soundgarden's "Rusty Cage." One of the best-selling artists in the history of popular music, Cash was an inductee of the Rock and Roll Hall of Fame, the Country Hall of Fame, and Gospel Hall of Fame.
In 1989, Aerosmith released their tenth studio album, Pump, via Geffen Records. The album, which featured the Grammy-winning hit "Janie's Got a Gun" and the chart-topping "Love in an Elevator," peaked at No. 5 on the US charts and was certified septuple platinum by the RIAA in 1995.
In 1954, Frank Sinatra reached No.1 on the UK singles chart with "Three Coins In The Fountain." The song was the first of three eventual UK chart-toppers for the icon.
In 1975, Pink Floyd released their ninth studio album, Wish You Were Here. Hailed among the greatest rock albums of all time, the record reached number one in both the US and UK and has since sold over 20 million copies worldwide.
In 1963, The Beatles scored their second No.1 on the UK singles chart with "She Loves You." The song was not only the UK's highest-selling single of the decade, but remains the Fab Four's best-selling single in their home country.
In 1966, N.B.C. aired the first episode of The Monkees TV show in the US. The series ran for a total of 58 episodes.
In 1970 Creedence Clearwater Revival scored their first UK No.1 album with Cosmo's Factory. In the US, it occupied the top slot for nine weeks, selling over three million copies.
In 1970, Smokey Robinson and The Miracles scored their first UK No.1 with "The Tears Of A Clown."
Looking for more things that happened on this day in music?
Keep scrolling for all of the headlines for September 12.
BORN ON SEPTEMBER 12:
1931: George Jones
1944: Barry White
1952: Neil Peart (Rush)
1952: Gerry Beckley (America)
1966: Ben Folds
1978: Michael Paget (My Bloody Valentine)
1981: Jennifer Hudson
1994: RM (BTS)
Looking for more artists born on this day?
Keep scrolling for all of our September 12 birthdays.
---
What to find another day?
---
September 12th
12 Sep 2017
Mark Ronson was being sued for alleged copyright infringement over his hit 2014 song 'Uptown Funk'. Lastrada Entertainment, which owned the rights to the Roger and Zapp 1980 funk classic 'More Bounce To The Ounce', filed the lawsuit against the English producer claiming 'Uptown Funk' copied the first 48 seconds of 'More Bounce To The Ounce'.
12 Sep 2013
Ray Dolby, the US engineer who founded Dolby Laboratories and pioneered noise reduction in audio recordings, died of leukemia at the age of 80. The analog Dolby noise-reduction system works by increasing the volume of low-level high-frequency sounds during recording and correspondingly reducing them during playback.
12 Sep 2007
The surviving members of Led Zeppelin announced they would reform for a star-studded tribute concert in London. Robert Plant,
Jimmy Page
and John Paul Jones would play at a show to remember the late Atlantic Records founder Ahmet Ertegun. The place of
Led Zeppelin
drummer
John Bonham
, who died in 1980, would be taken by his son Jason. The one-off concert, the trio's first performance for 19 years, would take place at the O2 arena in London on 26th November.
12 Sep 2006
Jamiroquai singer Jay Kay was arrested and cautioned for common assault following an altercation with a photographer after an incident outside a London nightclub.
12 Sep 2004
American drummer and arranger Kenny Buttrey died in Nashville, Tennessee, Worked with
Neil Young
, (Harvest, and After the Gold Rush),
Bob Dylan
(Blonde on Blonde, Nashville Skyline & John Wesley Harding), and Bob Seger,
Elvis Presley
, Donovan,
George Harrison
, Joan Baez, Dan Fogelberg, Kris Kristofferson, Jimmy Buffett,
Chuck Berry
and Area Code 615.
12 Sep 2003
US singer songwriter
Johnny Cash
died of respiratory failure aged 71. One of the most influential musicians of the 20th century, known as "The Man in Black." He traditionally started his concerts by saying, "Hello, I'm
Johnny Cash
." Had the 1969 US No.2 & UK No.4 single 'A Boy Named Sue', plus 11 other US Top 40 singles. Cash also had his own US TV show in late 60s early 70s.
12 Sep 2002
The son of
Rod Stewart
was sentenced to 90 days in jail and ordered to undergo drug rehabilitation after pleading no contest to attacking a man outside a Malibu, California restaurant. 22 year-old Sean Stewart had been arrested on Dec. 5th, 2001, after he was seen kicking the man in the face and stomach. Stewart was also sentenced to five years of probation and ordered to pay $5,600 to the victim.
12 Sep 1999
The Vengaboys went to No.1 on the UK singles chart with 'We're Going To Ibiza!' The song was originally known as 'Barbados' a No.1 for Typically Tropical in 1975. The Vengaboys gave it a new title with revised lyrics.
12 Sep 1997
Founder of the Polar Music record label, songwriter, producer and
ABBA
's manager Stig Anderson died of a heart attack. Anderson co-wrote some of ABBA's biggest hits, such as 'Waterloo', 'Mamma Mia', 'S.O.S', 'Fernando', 'Dancing Queen', 'Knowing Me, Knowing You' and 'The Name of the Game.' His funeral was broadcast live on Swedish television an honour otherwise only reserved for distinguished statesmen or royalty.
12 Sep 1995
INXS singer
Michael Hutchence
pleaded guilty to punching photographer Jim Bennett outside a London hotel. He was fined £400 and ordered to pay £1,875 costs.
12 Sep 1990
Stevie Nicks and Christine McVie from
Fleetwood Mac
announced they were leaving the band at the end of their current tour. At the time, some believed that Nicks' and McVie's departures were hastened by bad blood in the wake of Fleetwood's memoir, Fleetwood: My Life and Adventures in
Fleetwood Mac
Fleetwood Mac.
12 Sep 1989
Aerosmith
released 'Pump' their tenth studio album which featured the hit singles: 'Love In An Elevator', 'The Other Side' and 'Janie's Got a Gun'.
Aerosmith
found themselves in law school textbooks after a small rock band named Pump sued
Aerosmith
's management company for service mark infringement.
Aerosmith
won the case.
12 Sep 1987
Michael Jackson
kicked of his Bad World Tour by playing the first of three sold-out nights at Korakuen Stadium in Tokyo, Japan. By the end of the 123-date tour, Jackson had played to over 4million fans across fifteen countries.
12 Sep 1986
Public Image Ltd guitarist John McGeoch needed 40 stitches in his face after a two-litre wine bottle was thrown at the stage during a gig in Vienna.
12 Sep 1975
Pink Floyd
released their ninth studio album
Wish You Were Here
in the UK. The album which explores themes of absence, the music business, and former band-mate
Syd Barrett
's mental decline peaked at No.1 on both sides of the Atlantic and went on to spend a total of 84 weeks on the chart.
12 Sep 1970
Bob Dylan
joined Joan Baez, Pete Seeger and Arlo Guthrie at the Woody Guthrie Memorial Concert held at the Hollywood Bowl in Los Angeles, California.
12 Sep 1970
Creedence Clearwater Revival
scored their first UK No.1 album with Cosmo's Factory. It enjoyed a nine-week run at No.1 in the US where it sold over three million copies.
12 Sep 1970
Smokey Robinson
and The Miracles were at No.1 on the UK singles chart with 'The Tears Of A Clown', their first UK No.1.
Stevie Wonder
(who was discovered by Miracles member Ronnie White), and his producer Hank Cosby wrote the music for the song.
12 Sep 1967
Filming continued for
The Beatles
Magical Mystery Tour. The bus headed for Widecombe on the Moor, where a local fair was being held but the bus driver (Alf Manders) took a shortcut to bypass heavy traffic and ended up stuck on a bridge, the coach ended up having to drive in reverse for a half-mile before it could turn around. They then head for Plymouth, followed by a 20-car convoy of journalists and photographers.
12 Sep 1966
N.B.C. aired the first episode of The
Monkees
TV show in the US. The series ran for a total of 58 episodes.
12 Sep 1964
The
Supremes
, The Shangri-La's,
Marvin Gaye
, Dusty Springfield, The Ronettes, Millie Small, The
Temptations
, The Miracles and Little Anthony and the Imperials all appeared at The Fox Theatre, Brooklyn, New York.
12 Sep 1963
The Beatles
were at No.1 on the UK singles chart with 'She Loves You', the group's second No.1. It became the biggest seller of the year and the biggest selling Beatles single in the UK.
12 Sep 1954
The first 'teen idol',
Frank Sinatra
was at No.1 on the UK singles chart with 'Three Coins In The Fountain,' the singer's first UK No.1. The song was The Academy Award winning Best Original Song of 1954.
Born on this day in music
12 Sep 1994
RM (Kim Nam-joon), South Korean singer, songwriter, with the boy band BTS. They became the first Korean act to top the US Billboard chart with their studio album Love Yourself: Tear (2018). BTS also became the fastest group since
The Beatles
to earn four US No.1 albums, doing so in less than two years. They became the first Asian act to chart a No.1 song in the US since Kyu Sakamoto with 'Sukiyaki' (1963).
12 Sep 1981
Jennifer Hudson, Academy Award-winning American actress and singer. One of the finalists on the third season of American Idol, she went on to star as Effie White in the 2006 motion picture musical Dreamgirls.
12 Sep 1978
Michael Paget, musician, singer, songwriter, and guitarist in the Welsh metalcore band Bullet for My Valentine. Their second album Scream Aim Fire peaked at No.2 on the UK chart and US Rock chart in 2008.
12 Sep 1974
Jennifer Nettles, American Grammy-winning country music artist, lead vocalist with the duo Sugarland. 2009 US No.1 album 'Live on the Inside'.
12 Sep 1968
Kenny Thomas, singer, (1991 UK No.4 single 'Thinking About Your Love').
12 Sep 1967
Jon Stewart, guitarist from English Britpop band Sleeper, who scored the 1996 UK No.10 single 'Sale Of The Century'.
12 Sep 1966
Ben Folds, songwriter, keyboard player from American alternative rock trio Ben Folds Five. Their single 'Brick' from the 1997 album Whatever and Ever Amen gained airplay on many mainstream radio stations. Folds went on to pursue a successful solo career.
12 Sep 1956
Barry Andrews, keyboards, XTC, (1982 UK No.10 single 'Senses Working Overtime').
12 Sep 1952
Gerry Beckley, America (1972 US No.1 & UK No.3 single 'Horse With No Name').
12 Sep 1952
Neil Peart, drummer, Rush, (1980 UK No.13 single 'Spirit Of Radio' 1982 US No. 21 single 'New World Man'). Peart was made an Officer of the Order of Canada on May 9, 1996. The trio was the first rock band to be so honored, as a group. Peart died on 7 January 2020 age 67 after battling brain cancer for three years.
12 Sep 1944
Barry White, soul singer & producer. (1974 UK No.1 single 'You're The First The Last My Everything', 1974 US No.1 single 'Can't Get Enough Of Your Love Babe'). White died from Kidney failure on 4th July 2003 aged 58.
12 Sep 1944
Colin Young, from British soul band The Foundations who scored the 1967 UK No.1 single 'Baby Now That I've Found You' and the 1969 US No.3 single 'Build Me Up A Buttercup'. The group was the first multi-racial group to have a No.1 hit in the UK in the 1960s.
12 Sep 1943
Maria Muldaur, American singer, songwriter, who had the 1974 US No.6 & UK No.21 single 'Midnight At The
Oasis
'.
12 Sep 1940
Tony Bellamy, Redbone, who had the 1971 UK No.2 & US No.21 single 'The Witch Queen Of New Orleans' and the 1974 US No. 4 hit single, 'Come and Get Your Love.' Redbone are accredited in the NY Smithsonian as the first Native American rock/Cajun group to have a No.1 single in the United States and internationally. He died on December 25, 2009 of liver failure.
12 Sep 1931
US country singer George Jones who had a string of number one songs between the 1950s and 1990s. Nicknamed Possum, his signature song was He Stopped Loving Her Today, a track about love and death. He was married to
Tammy Wynette
between 1969 and 1975 and the pair recorded several songs together in the 1970s. Jones died on 26th April 2013 aged 81.