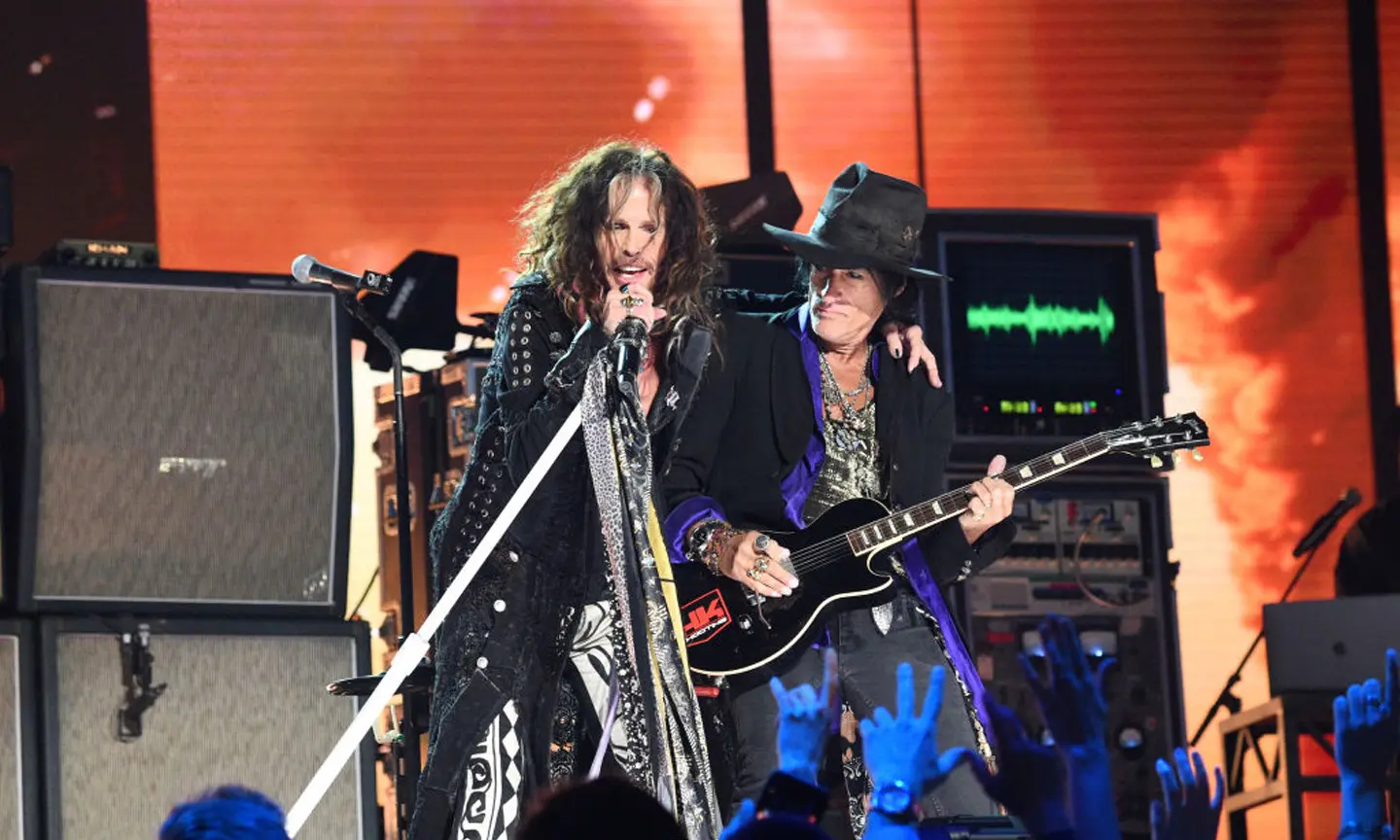 Talking about the secret of Aerosmith's long-lasting success, singer Steven Tyler once said; "Great melody over great riffs is, to me, the secret of it all." And he's right, since their formation in 1970, the 'Bad Boys from Boston' have brought us just that.
Steven Victor Tallarico was born on March 26, 1948, at the Polyclinic Hospital in Manhattan, New York, and moved to the Bronx when he was three years old. Tyler formed his own band called the Strangeurs who were later known as Chain Reaction in New Hampshire, in 1964.
By the mid 60's Joe Perry and Tom Hamilton had formed the Jam Band (commonly known as "Joe Perry's Jam Band"), and had moved to Boston, Massachusetts in September 1969. There they met Joey Kramer, a drummer from Yonkers, New York. Kramer knew Steven Tyler and had always hoped to play in a band with him.
In 1970, Chain Reaction and Jam Band played at the same gig. Tyler immediately loved Jam Band's sound and wanted to combine the two bands. In October 1970, the bands met up again and started to hatch a plan. Tyler, who had been a drummer and backup singer in Chain Reaction, adamantly refused to play drums in this new band, insisting he would only take part if he could be lead vocalist. The others agreed, and a new band was born.
The band moved into a home together at 1325 Commonwealth Avenue in Boston, where they wrote and rehearsed. When deciding what to call the band, "the Hookers" and "Spike Jones" were both consider, but it was Joey Kramer who said when he was in school he would write the word Aerosmith all over his notebooks. The name had popped into his head after listening to Harry Nilsson's album Aerial Ballet, which featured jacket art of a circus performer jumping out of a biplane. So 'Aerosmith' it was.
Finalizing the lineup in 1971, the band started to build up a local following. Columbia Records President Clive Davis was invited to see the band play at Max's Kansas City in New York City. Aerosmith was not originally scheduled to play that night at the club, but they paid from their own pockets to secure a place on the bill. Davis liked what he saw and Aerosmith signed to Columbia in mid-1972 for a reported $125,000 and issued their debut album, Aerosmith.
1975's Toys in the Attic established Aerosmith as international stars, starting with the single "Sweet Emotion", which became the band's first Top 40 hit, followed by a successful re-release of "Dream On" which peaked at number 6. "Walk This Way", re-released in 1976, firmly put Aerosmith on the map when it reached the Top 10 in early 1977, (it also helped revitalize their career in the 1980s when it was covered by rappers Run–D.M.C.).
Released in 1976, the band's fourth album Rocks went platinum and then things started to get a little messy. According to Perry due to their drug consumption, both Tyler and Perry were not as involved in the writing and recording of the follow-up album Draw The Line. Tyler later stated; "What I specifically remember was not being present in the studio because I was so stoned. I just didn't care anymore".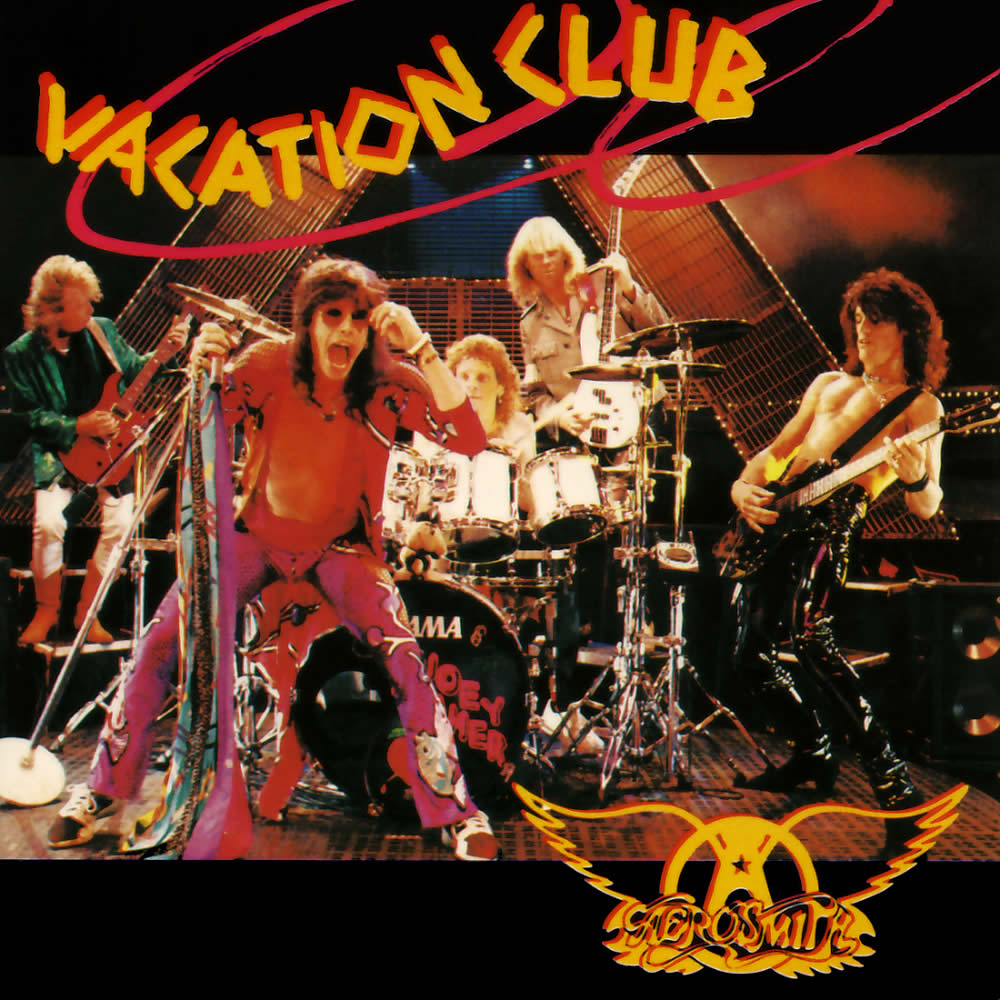 Tensions within the band were now slowly coming to a head. During a gig in 1979, a heated argument broke out backstage, Joe Perry's wife, Elissa, threw a glass of milk at Tom Hamilton's wife, Terry. Following the show, Tyler and Perry got into a heated argument when Tyler confronted Perry about his wife's antics, and after the course of the argument, Perry quit the band. Steven Tyler's drug issues were starting to affect his performance and songwriting, and he reached rock bottom when he collapsed on stage during a show in Portland, Maine in 1980.
In 1984, the group signed to Geffen Records and began working on a comeback. In 1986, Tyler and Perry appeared on Run–D.M.C.'s cover of "Walk This Way", a track blending rock and roll with hip hop, which hit number 4 on the Billboard Hot 100. The song and its frequently aired video confirmed rap's mainstream appeal and resurrected Aerosmith's career by introducing the band's music to a new generation.
Two years later, Tyler completed a successful drug rehabilitation program, after an intervention by his fellow band members, a doctor, and manager Tim Collins, who believed that the band's future was over if Tyler did not get treated and clean.
Aerosmith were back! Permanent Vacation was released in September 1987, becoming a major hit and the band's bestselling album in over a decade with over 5 million copies sold in the US alone. Three singles, "Dude (Looks Like a Lady)", "Rag Doll", and "Angel, all reached the Top 20 of the Billboard Hot 100. Pump released in 1989 gave the band another 3 hits; "What It Takes", "Janie's Got a Gun", and "Love in an Elevator", plus even more sales when it passed 7 million copies sold. The band also won its first Grammy for "Janie's Got a Gun".
The rise of Aerosmith continued when in 1998 they released the Diane Warren-penned power ballad "I Don't Want to Miss a Thing". It debuted at number one on the US Billboard Hot 100 (the first No.1 for the band after 28 years together), and gave them their biggest UK hit so far. And with the help of the music video intertwined with scenes from the film Armageddon, it became the second most played video of 1998.
"Great melody over great riffs is, to me, the secret of it all". The Demon of Screamin' was spot on, and after a spell as a TV judge on American Idol, Aerosmith continues to walk this way.
Important Dates In The Life Of Aerosmith:
25 Nov 2011
Don DeVito, a longtime Columbia Records executive who produced the key
Bob Dylan
albums Blood on the Tracks and Desire died aged 72 after a 16-year battle with prostate cancer. DeVito had also worked with artists including
Bruce Springsteen
,
Billy Joel
and
Aerosmith
. DeVito started off as a guitarist touring for Al Kooper, and had his own band, The Sabres, which later broke up mid-tour. According to Columbia, DeVito was stranded in Fort Smith, Ark., when he happened to meet
Johnny Cash
and developed what would become a lifelong friendship; Cash would later introduce DeVito to Dylan.
26 Oct 2011
Aerosmith
were forced to delay a concert in South America after Steven Tyler fell in his hotel bathroom. The singer suffered cuts to his face and lost two of his teeth ahead of a concert in Asuncion, Paraguay. He was said to have received stitches and had emergency dental work, forcing the gig to be postponed by 24 hours.
19 Jan 2011
Aerosmith
singer Steven Tyler made his debut appearance as a judge on American Idol, during the premiere of the show's tenth season, (replacing
Simon Cowell
).
5 Aug 2009
Steven Tyler was airlifted to hospital after falling off stage during a gig at the Sturgis Motorcycle Rally in South Dakota. The 61-year-old
Aerosmith
singer fell from a catwalk onto a couple of fans, he suffered neck and shoulder injuries. About 30 minutes after the accident, guitarist Joe Perry came out to tell the crowd that the remainder of the show had been cancelled.
27 Apr 2009
Aerosmith
were to hold a free concert in Hawaii to placate angry fans who brought a legal case against them. Fans filed a class action case, which claimed the band had cancelled a sold-out show in Maui two years ago, leaving hundreds of fans out of pocket in favour of a bigger gig in Chicago. Lawyers for the would-be concert-goers said Aerosmith had now agreed to put on a new show, and would pay all expenses. Everyone who bought a ticket to the original concert would receive a free ticket.
25 Aug 2006
Aerosmith
bassist Tom Hamilton was undergoing treatment for throat cancer causing him to sit out the first half of the band's Route of All Evil Tour, the first time he would miss any shows in the band's history. Longtime band friend David Hull filled in for Hamilton until his return.
27 Nov 2005
Multimillionaire defence contractor David H. Brooks booked New York's Rainbow Rooms and his daughter Elizabeth's favourite acts for her 'bat mitzvah' coming-of-age celebration. The stars who appeared included 50 Cent,
Tom Petty
,
Aerosmith
, Don Henley,
Joe Walsh
and
Stevie Nicks
. 50 Cent who was paid $500,000 to appear performed only four songs but he did manage to work in the lyric, "Go shorty, it's your bat miztvah, we gonna party like it's your bat mitzvah". The party cost an estimated $10 million, including the price of corporate jets to ferry the performers to and from the venue.
13 Aug 2004
'Angels' by Robbie Williams was voted the best single which should have been a No.1 but never was, in a poll for VH1. The ballad, which reached No.4 in December 1997, beat Savage Garden's 'Truly, Madly, Deeply' and
Aerosmith
's 'I Don't Want To Miss A Thing.' Other songs said to have deserved a No.1 included
Madonna
with 'Ray of Light', 'Beautiful Stranger', 'Crazy For You' and 'Material Girl',
Bon Jovi
with 'Always' and
Oasis
with 'Wonderwall' and 'Live Forever'. Sir Cliff Richard's hit 'Millennium Prayer' was voted the worst No.1 single of all time.
18 Nov 2003
American composer and orchestral arranger Michael Kamen died of a heart attack in London aged 55. Worked with
Pink Floyd
,
Queen
,
Eric Clapton
, Roger Daltrey,
Aerosmith
,
Tom Petty
,
David Bowie
, Eurythmics,
Queen
sryche, Rush,
Metallica
, Herbie Hancock, The Cranberries,
Bryan Adams
, Jim Croce, Sting, and
Kate Bush
. Kamen co-wrote the
Bryan Adams
' ballad '(Everything I Do), I Do It for You.'
5 Sep 1998
Aerosmith
scored their first US No.1 single with the Diane Warren written song 'I Don't Want To Miss A Thing'. The song which was featured in the 1998 film Armageddon gave the band their first No.1 single after 28 years together.
15 Jul 1998
Aerosmith
were forced to cancel a forthcoming US tour after Joey Kramer was involved in a freak accident. The drummer's car set on fire and was completely destroyed as he was filling up with petrol. He was admitted to hospital with second-degree burns.
29 Apr 1998
Steven Tyler broke his knee at a concert in Anchorage, Alaska delaying
Aerosmith
's 'Nine Lives' tour and necessitating camera angle adjustments for the filming of the video for 'I Don't Want to Miss a Thing.'
13 Aug 1994
27 Jun 1994
Aerosmith
became the first major band to let fans download a full new track free from the internet.
8 May 1993
Aerosmith
entered the US album chart at No.1 with 'Get A Grip', a No.2 hit in the UK. The album went on to sell over 20 million copies worldwide as well as winning the band two Grammy awards.
20 Apr 1993
Aerosmith
released 'Get A Grip' their 11th studio album which became their best selling album to date with sales over 20m. The album which featured the hits: 'Livin' On The Edge' and 'Crazy' also featured guests Don Henley and Lenny Kravitz.
13 Apr 1993
The first
Aerosmith
Day was observed in the Commonwealth of Massachusetts after the band were given their very own holiday.
21 Nov 1991
Aerosmith
made a guest appearance in the Simpsons TV animated comedy. Other acts who have appeared on the show included:
Red Hot Chili Peppers
, The Smashing Pumpkins, Sonic Youth,
U2
, The Moody Blues, The B-52's,
The Who
,
R.E.M.
, Phish, Blink-182,
Metallica
, and The White Stripes.
20 Aug 1990
12 Sep 1989
Aerosmith
released 'Pump' their tenth studio album which featured the hit singles: 'Love In An Elevator', 'The Other Side' and 'Janie's Got a Gun'.
Aerosmith
found themselves in law school textbooks after a small rock band named Pump sued
Aerosmith
's management company for service mark infringement.
Aerosmith
won the case.
20 Jun 1987
Aerosmith
appeared at the Cotton Bowl in Dallas, Texas, the first night on their Permanent Vacation 147 date world tour. Over the years the venue has been the home to the Texxas Jam, which has featured
Deep Purple
, Boston, Journey, Ted Nugent, Scorpions, Cheap Trick,
Van Halen
, Blue Öyster Cult, Sammy Hagar, Rush, Nazareth, Styx, Foghat,
Santana
and the
Eagles
.
Eric Clapton
notably held his first massive 3-day Crossroads Guitar Festival here in 2004.
10 Oct 1978
Joe Perry and Steve Tyler from
Aerosmith
were injured after a cherry bomb was thrown on stage during a gig in Philadelphia. The group performed behind a safety fence for the rest of the tour.
3 Oct 1978
The members of
Aerosmith
bailed thirty fans out of jail after they were arrested for smoking pot during an
Aerosmith
concert at Fort Wayne Coliseum.
26 Aug 1977
Uriah Heep,
Thin Lizzy
, The Sensational Alex Harvey Band, Eddie and the Hot Rods, Golden Earing,
Aerosmith
, Doobie Brothers, Hawkwind, Racing Cars, John Miles, Graham Parker, The Enid, No Dice and Frankie Miller's Full House all appeared at the 17th three day Reading Festival, England. A three day ticket cost £7.95.
8 Apr 1975
Aerosmith
released their third studio album Toys In The Attic. The album is their most commercially successful in the US, with eight million copies sold and features the hit 'Walk This Way' which peaked at No.10 on the Billboard Hot 100 in early 1977 when re-released and was one of the songs that helped break
Aerosmith
into the mainstream in the seventies.
19 Jul 1974
The Ozark Music Festival was held over three days on the Missouri State Fairgrounds in Sedalia, Missouri. One of the largest music festivals ever held, some estimates have put the crowd count at 350,000 people. Acts who appeared included, Bachman–Turner Overdrive, Blue Öyster Cult, the
Eagles
, America, Marshall Tucker Band, The Nitty Gritty Dirt Band, Boz Scaggs, Ted Nugent, Lynyrd Skynyrd,Electric Flag, Joe Walsh,
Aerosmith
and Spirit.
27 Apr 1974
A free afternoon event was held in the parking lot of the University of Connecticut, Ice Hockey Arena in Storrs. The four acts that appeared,
Aerosmith
Bruce Springsteen
, Fairport Convention and Fat Back. Springsteen then went on to play another gig that evening at the University of Hartford in Connecticut.
7 Jan 1974
Aerosmith
played at the Michigan Theatre in Detroit, the first date on their 56 date North American Get Your Wings Tour.
5 Aug 1972
Aerosmith
signed to CBS Records for $125,000 after record company boss Clive Davis saw them play at Max's Kansas City Club New York.
13 Jul 1972
6 Nov 1970
Aerosmith
performed their first ever gig when they played at Nipmuc Regional High School in Mendon, Massachusetts. Sometimes referred to as "The Bad Boys from Boston",
Aerosmith
became the best-selling American rock band of all time, having sold more than 150 million albums worldwide. They also hold the record for the most gold and multi-platinum albums by an American group.
25 May 1965
Blues harmonica player, singer and songwriter, Sonny Boy Williamson died in his sleep. Van Morrison,
Aerosmith
,
The Who
, The Animals, Yardbirds and Moody Blues all covered his songs. According to the
Led Zeppelin
biography Hammer of the Gods, touring the UK in the 60s, Sonny Boy set his hotel room on fire while trying to cook a rabbit in a coffee percolator.