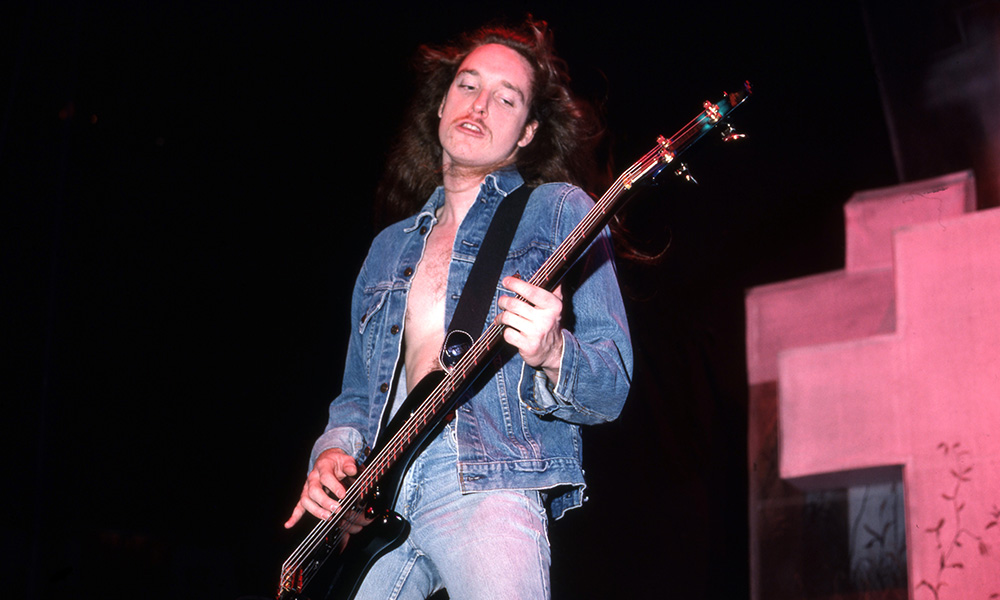 On 27th Sept 1986, Metallica bass player Cliff Burton was crushed to death after the band's tour bus crashed between Stockholm and Copenhagen. During a European tour, members from the band drew cards for the most comfortable bunk on the tour bus, Burton had won the game with an Ace of Spades and was asleep when the tour bus ran over a patch of black ice and skidded off of the road. He was thrown through the window of the bus, which fell on top of him.
Burton was born on February 10th 1962, to Jan and Ray Burton. Ray was a native of Tennessee and worked as an Assistant Highway Engineer in the San Francisco Bay Area.
After leaving high school Burton joined local group Trauma. In 1982, Trauma traveled to Los Angeles to perform at the Whisky a Go Go, among those in attendance was his future bandmates, drummer Lars Ulrich and singer-rhythm guitarist, James Hetfield.
Both were impressed with his bass playing skills and Burton was asked to join Metallica. Apparently, he took some persuading, as he didn't want to leave the Bay area.
Now a full-time member Cliff contributed largely in the songwriting department of Metallica performing on its debut studio album, Kill 'em All, (which was going to be titled Metal Up Your Ass).
The band's second studio album, Ride The Lightning, showcased the band's increasing musical growth along with Burton's own songwriting abilities – he received credit on six of the album's eight songs. One of the highlights of the album was the last track, "The Call Of Ktulu," an instrumental that displayed Cliff's "lead bass" approach.
1986 was also a very eventful year for Metallica. It saw the release of their 3rd album; they went out on the road supporting Ozzy Ozbourne for a US tour.
After touring the US, they headed over to Europe, continuing their Damage Inc. tour in support of the latest album, Master of Puppets.
On September 26th, Metallica played in Stockholm, Sweden. It was an especially great night for the band. It was the first time James resumed his rhythm guitar duties in months after he had broken his left arm. It seemed nothing could stop the mighty Metallica machine.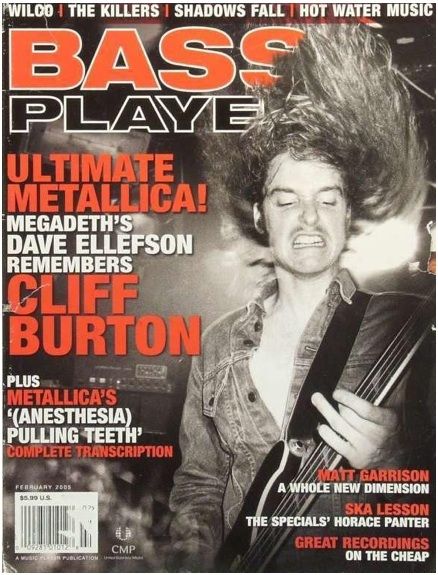 Metallica was en route on a road between Stockholm and Copenhagen, to their next gig that was scheduled for September 27th. Earlier that night the band drew cards for the assignment of the bunks on the tour bus. As fate would have it, Cliff drew the ace of spades and chooses Kirk Hammett's bunk. Around dawn, the bus driver lost control of the bus and overcorrects with the steering wheel to get back on the road. The bus begins to skid out of control and rolls several times before coming to a halt.
Cliff was ejected and pinned underneath. The band scrambled out the bus to find Cliff motionless. The emergency services arrived along with a crane to lift up the bus, the band hoped Cliff could be saved. However, after lifting the bus up, a cable snapped causing the bus to fall on Burton again. According to Mick Hughes, Metallica's sound engineer, no one was sure if Cliff was still alive at that point but after this terrible misfortune, nothing could save him.
Burton wasn't just a metal bassist. He loved music and life. When travelling with the band in the tour bus it was always Cliff who commandeered the tape-deck, deciding what they would all be listening to as they ate up the miles that day. Special Cliff mix-tapes included varied selections from the likes of Lynyrd Skynyrd, Bach, Kate Bush, Simon & Garfunkel, Peter Gabriel, The Police, Velvet Underground, R.E.M., Stanley Clarke, ZZ Top and Motorhead.
On October 3, 2006, a memorial stone was unveiled in Sweden near the scene of the fatal crash. It is located by the parking lot to Gyllene Rasten.
Burton was posthumously inducted into the Rock and Roll Hall of Fame with Metallica on April 4, 2009.
Important Dates In The Life Of Metallica:
1 Sep 2022
The
Metallica
classic 'Enter Sandman' topped a list of songs with misheard lyrics, while
Mick Jagger
was named as the singer people struggle most to understand. A survey of 1,000 Americans by WordFinder also suggested that 65% of people, on discovering they've been wrong for years about a favorite song, decide they prefer the incorrect version. "Enter Sandman" came on top overall, with 70% of listeners believing the line "Exit light, enter night" was actually "Eggs and light end all nights." 52% heard
The Beatles
sing "I get high, I get high, I get high" on 'I Want to Hold Your Hand' rather than the real words "I can't hide, I can't hide, I can't hide."
Nirvana
's 'Smells Like Teen Spirit' came next: "With the lights out, it's less dangerous / Here we are now, entertain us" heard as "With the lights out, it's Las Vegas / Hear me all now, entertainers".
28 Sep 2019
Metallica
cancelled their forthcoming tour to allow frontman James Hetfield to enter rehab. In a statement band members Lars Ulrich, Kirk Hammett and Robert Trujillo said: "As most of you probably know, our brother James has been struggling with addiction on and off for many years. He has now, unfortunately, had to re-enter a treatment program to work on his recovery again". In a separate statement, Metallica pledged to refund all tickets sold for their WorldWired tour, which was scheduled to begin 17 October in Perth, Australia.
16 Jul 2019
Metallica
brought their WorldWired tour to Finland drawing almost one per cent of the country's population in a record-breaking concert. The show at Kantola Event Park in the city of Hämeenlinna was attended by over 55,000 people. That's about one per cent of Finland's entire population of more than 5.5 million people.
22 May 2017
Drake
broke
Adele
's record for the most wins at the Billboard Music Awards after the Canadian rapper picked up 13 prizes, beating
Adele
by one. The event which was held in Las Vegas also saw Twenty One Pilots pick up top duo/group and top rock artist with
Metallica
winning in the rock album category.
23 Mar 2016
Gloria Gaynor's hit 'I Will Survive' was selected to enter the US National Recording Registry. It joined
Metallica
's Master of Puppets and Mahler's Symphony No 9 on the list of culturally significant recordings.
9 Jan 2016
Stars paid tribute to
Motorhead
frontman Lemmy at his funeral at Forest Lawn Memorial Cemetery.
Motorhead
drummer Mikkey Dee, Foo Fighters'
Dave Grohl
, Slash from Guns N' Roses, Robert Trujillo and Lars Ulrich from
Metallica
, Judas Priest singer Rob Halford and Anthrax frontman Scott Ian. all spoke at the service. Lemmy's bass guitar was plugged in to a stack of amplifiers and the volume turned up, with the congregation applauding as feedback from the speakers filled the chapel.
8 Dec 2013
Metallica
played a gig inside a dome at the Argentine Antarctic Base Carlini, thus becoming the first band ever to play on all seven continents. During the concert audio was transmitted to an audience made up of competition winning fans from Latin America through headphones. Staged in conjunction with Coca Cola Zero, it was only the second ever gig to take place on the continent, following a performance in 2007 from a group of musical scientists, called Nunatak, at British Antarctic Survey's Rothera Research Station as part of the Live Earth climate change awareness concerts.
28 Aug 2012
Celebrity Net Worth named
Ringo Starr
as the world's richest drummer, with an estimated fortune of $300 million.
Phil Collins
was ranked second with $250 million, former
Nirvana
drummer Dave Grohl was third with $225 million, the
Eagles
' Don Henley came in forth with $200 million and
Metallica
's Lars Ulrich was fifth with $175 million. Also making the top ten were
U2
's Larry Mullen and The
Rolling Stones
' Charlie Watts.
28 Oct 2011
The organisers of a planned
Metallica
concert in India were arrested after the show was called off, leading fans of the band to destroy the stage and vandalize equipment.
Metallica
had been booked to play in Delhi on Friday, but they postponed the show after a security barrier in front of the stage collapsed. The four promoters of the gig, were arrested on fraud charges after they refused to refund tickets. Around 25,000 people had purchased tickets to see what would have been
Metallica
's first-ever concert in India.
29 Dec 2010
Pollstar reported that
Bon Jovi
were the highest earning touring act of the year, taking in over $200 million (£130.7m). Australian rockers
AC/DC
landed at number two for the second year in a row, with tickets sales from their recent trek totaling $177m (£115m).
U2
which was the top worldwide act in 2009, came in at third place, with ticket sales totaling $160.9m (£104.6m). Lady Gaga followed in fourth place, with
Metallica
at number five.
12 Mar 2010
Over 130 people were arrested and eight people were hospitalised as fans tried to gatecrash a
Metallica
show in Colombia. 1,500 police and four tanks were brought in to manage the crowds as property was vandalized and destroyed, as thousands of ticketless fans rioted during Metallica's first Colombian concert in eleven years.
27 Sep 2008
Metallica
started a three-week run at No.1 on the US album chart with 'Death Magnetic', the bands ninth studio album.
14 May 2008
Metallica
kicked off a 26-date North American and European tour at the Wiltern Theatre, Los Angeles, California.
4 Apr 2007
A Swedish couple ran into trouble with authorities after trying to name their baby
Metallica
. Michael and Karolina Tomaro went to court with the country's National Tax Authority about naming their daughter after the rock band. The six-month-old had been baptised
Metallica
, but tax officials said the name was "inappropriate". Under Swedish law, both first names and surnames need to win the approval of authorities before they can be used.
10 Feb 2005
Prince
topped Rolling Stone magazine's annual list of the years biggest money earners after his 2004 tour grossed over $90 million (£53 million).
Madonna
came in second place after earning $54.9 million (£34.3 million) and
Metallica
came third with $43 million (£25.3 million).
28 Nov 2004
Metallica
played the last show on their 137-date 'Madly in Anger with the World Tour' at the HP Pavilion in San Jose, California. It became the fourth-highest grossing tour of 2004, reaping $60,500,000 in ticket sales.
27 Aug 2004
Winners at this years Kerrang! awards included The Darkness for best British band and best live band, best band on the planet award went to
Metallica
.
Green Day
were inducted into the Kerrang! Hall of Fame, Lostprophets won the best single for 'Last Train Home' and best album went to Muse for 'Absolution'.
18 Nov 2003
American composer and orchestral arranger Michael Kamen died of a heart attack in London aged 55. Worked with
Pink Floyd
,
Queen
,
Eric Clapton
, Roger Daltrey,
Aerosmith
,
Tom Petty
,
David Bowie
, Eurythmics,
Queen
sryche, Rush,
Metallica
, Herbie Hancock, The Cranberries,
Bryan Adams
, Jim Croce, Sting, and
Kate Bush
. Kamen co-wrote the
Bryan Adams
' ballad '(Everything I Do), I Do It for You.'
6 Nov 2003
Metallica
kicked off their 137-date Madly in Anger with the World Tour at Yoyogi Taiikukanin Tokyo, Japan. The Madly in Anger with the World tour was the fourth-highest grossing tour of 2004, reaping $60,500,000 in ticket sales.
4 Jul 2000
A man fell 80 feet to his death during a
Metallica
concert at Raven Stadium, Baltimore.
4 May 2000
Metallica
were demanding online music service Napster cut off 335,000 users who they claimed had been illegally trading their songs. The band had passed on the names of all those they considered to be "stealing" their material over the internet in the latest development in an ongoing battle over the protection of music copyrights on the web.
12 Apr 2000
Metallica
filed a suit against Napster, Yale University, The University of Southern California and Indiana University for copyright infringement.
3 Nov 1997
Metallica
came to a out of court agreement with a fan who claimed he lost his sense of smell after being dropped on his head by fans at one of their shows four years earlier.
23 Jun 1996
Bryan Adams
went to No.1 on the UK album chart with '18-Till I Die'.
Metallica
went to No.1 on the US album chart with their sixth studio album 'Load'. The album has now sold over five million copies in America alone.
8 Aug 1992
A riot broke out during a Guns N' Roses and
Metallica
gig at Montreal stadium when
Metallica
's show was cut short after singer James Hetfield was injured by pyrotechnics. Guns N' Roses took the stage but frontman Axl Rose claimed that his throat hurt, causing the band to leave the stage early. The cancellation led to a riot by the audience who overturned cars, smashed windows, looted local stores and set fires.
17 Jul 1992
The first night of a North American tour by Guns N' Roses,
Metallica
and Faith No More tour opened at the RFK Stadium in Washington DC.
16 Mar 1992
During a
Metallica
gig at Orlando Arena fans dangled an usher by his ankles from the balcony as trouble broke out at the concert. The band were charged $38,000 (£22,353) for repairs and cleaning after the audience trashed the building.
21 Nov 1991
Aerosmith
made a guest appearance in the Simpsons TV animated comedy. Other acts who have appeared on the show included:
Red Hot Chili Peppers
, The Smashing Pumpkins, Sonic Youth,
U2
, The Moody Blues, The B-52's,
The Who
,
R.E.M.
, Phish, Blink-182,
Metallica
, and The White Stripes.
31 Aug 1991
Metallica
started a four-week run at No.1 on the US album chart with,
Metallica
. The album featured 'Enter Sandman' 'Sad But True', 'The Unforgiven' and 'Nothing Else Matters' went on to sell over 10 million copies in the US alone.
3 Aug 1991
Metallica
held a playback party to launch their self-titled album at Madison Square Garden in New York City.
Kurt Cobain
and Krist Novoselic from
Nirvana
both attended.
22 Feb 1989
A category for Heavy Metal was included at the Grammy Awards for the first time.
Metallica
performed on stage, but the award went to Jethro Tull. Many audience members booed. Meanwhile, Bobby McFerrin won Record Of The Year and Song Of The Year for 'Don't Worry, Be Happy', Tracy Chapman is named Best New Artist and Tina Turner won Best Female Rock Vocal Performance for 'Tina Live in Europe'.
27 Sep 1986
Metallica
bass player
Cliff Burton
was crushed to death after the bands tour bus crashed between Stockholm and Copenhagen. During a European tour members from the band drew cards for the most comfortable bunk on the tour bus, Burton had won the game with an Ace of Spades and was asleep when the tour bus ran over a patch of black ice and skidded off of the road. He was thrown through the window of the bus, which fell on top of him.
3 Mar 1986
Metallica
released their third album, the highly influential album, Master of Puppets, considered by many in the metal community to be the best metal album of all time. This was the last
Metallica
album with bassist
Cliff Burton
who was killed when the group's tour bus over-turned in southern Sweden while touring to promote the album.
25 Jul 1983
American heavy metal band
Metallica
released their debut studio album Kill 'Em All. The release is regarded as a groundbreaking album for thrash metal because of its precise musicianship, which fuses new wave of British heavy metal riffs with hardcore punk tempos.
14 Mar 1982
Metallica
made their live debut when they appeared at Radio City in Anaheim, California. Metallica formed in Los Angeles, California, in late 1981 when Danish-born drummer Lars Ulrich placed an advertisement in a Los Angeles newspaper, The Recycler, which read, "Drummer looking for other metal musicians to jam with Tygers of Pan Tang, Diamond Head and
Iron Maiden
." Guitarists James Hetfield and Hugh Tanner of Leather Charm answered the advertisement.